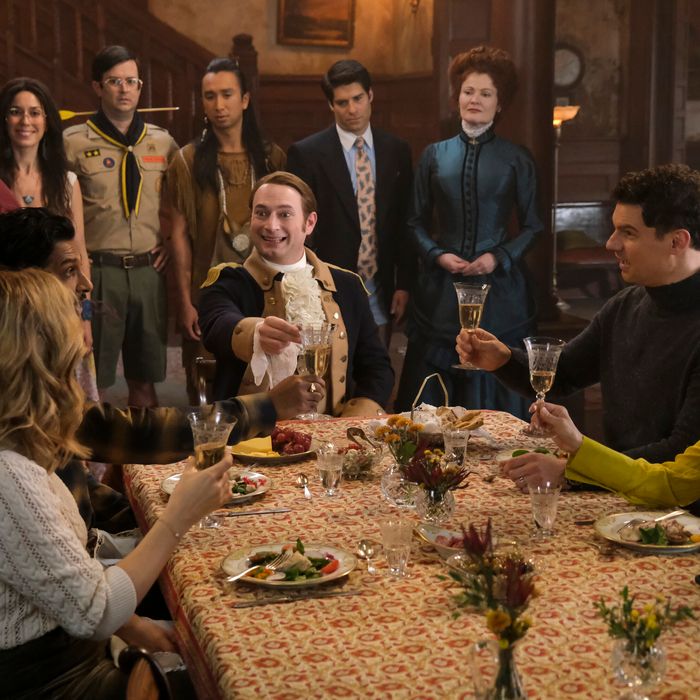 Photo: Photo: Vulture; CBS/Bertrand Calmeau
Sam puts it best when she reminds us that no matter how content you are with your life, "some people bring out the worst in you." For Isaac Higgintoot, we are all painfully aware that this person is Alexander Hamilton. For Sam, it turns out to be a woman named Isobel with whom she attended journalism school — a woman who winds up as a guest at the B&B while working on her next big story. I mean, Isobel mostly seems like a stuck-up bitch who Sam shouldn't worry about, and yet, Sam just can't help feeling a little embarrassed that her career as a writer hasn't exactly taken off. These feelings of jealousy and insecurity make for a perfect storm as Sam and Isaac get mixed up in a nice little sitcom plot this week.
Sam's finished writing Isaac's biography (it really puts a new spin on the term "ghostwriter," doesn't it?). While she's been able to get some meetings to pitch the book, most publishers don't seem interested in "a regular guy who was near some things and then crapped himself to death." When the final editor passes, Sam panics — having his story told is all Isaac's ever wanted. So, she lies. She tells Isaac that the book is going to be published. All of his dreams are coming true! When Jay points out that this lie seems like a slippery slope — we've all seen sitcoms before! — Sam tells him that it's a victimless crime. Isaac will never know! They can make a few fake books, and it'll be totally fine.
Of course, it's not totally fine. When Sam tries to explain to the ghosts that she doesn't want to post about the big news on social media because it feels a little "braggy" they take it upon themselves to post for her. This, in true sitcom form, spirals out of control. Sam loves the attention to the point where she may have forgotten that she didn't sell a book. Eventually, Isobel hears the news, and surprise, surprise, she actually knows the editor. She thinks they should call him to celebrate! This forces Sam to come clean in front of all the ghosts. Well, it was good while it lasted.
We get a really lovely scene between Sam and Isaac when she apologizes for lying and lets him in on the bad news about the book. She knew he needed a win and wanted to feel important, and she admits that she kind of needed that stuff, too. She loves her life, but Isobel brought up a whole host of insecurities. Sam tells Isaac that he doesn't need fame or a book "to be a significant person" because he's a good person and the people that matter know and love him. Plus, he killed a guy with a sniper rifle of his own invention and then got that guy to go out with him in the afterlife — that is honestly an incredible feat; If only she could include that little tidbit in the book. Isaac reminds Sam that she's a good person, too, and that she's important to him and to everyone at Woodstone. It's such a nice little sentiment … that ultimately doesn't matter much since, right at that moment, the editor reaches out after somehow seeing the Facebook post; They want in on the Isaac Higgintoot book now that it seems like someone else is interested. I mean, sure? This show is about a lady who can talk to a bunch of ghosts, so I guess we don't need total accuracy on the nuances of how the book publishing world works. As Isaac would say: Huzzah!
Elsewhere in the mansion: A Viking deals with his rage issues. When a soap Thor, Flower, and Alberta are watching ends on a cliffhanger, the Viking blows a gasket — and breaks the television. We've all been there. Well, we probably haven't used our ghost power to short-circuit a TV, but yeah, cliffhangers, they're the worst. The outburst prompts Flower to question what she, a hippie who is in need of good vibes and good vibes only, is doing with an anger-filled, violence machine. If Thor really wants to date her, she wants him to get those anger issues under control. And so, Thor turns to the least angry ghost he knows: Pete.
The troop leader really can't catch a break, can he? First, he's being repeatedly mocked for his wife cheating on him with his best friend, and now, he's being sought after because he's such a pushover. All those years as a travel agent dealing with terrible clients (traveling really can bring out the worst in people) did teach him how to bury that anger deep, deep down, and he's more than happy to share his "Take It" method with Thor. With a little time, yes, Pete believes he can turn Thor into a "doormat," too. A Viking can dream!
Before long, Pete puts Thor to the test in front of Flower. First, Sas spoils the next episode of It's Getting Hot in Here (yep, Kevin B. did get it on with Heidi in the Heat Suite). Alberta goes after cod ("worst of all the fish") and the braids in Thor's beard that represent his fallen comrades ("they look stupid"). Somehow, Thor keeps his obvious anger at bay. Unfortunately, those two tests have nothing on the real one: Isobel's husband, as it turns out, is from Denmark. A Dane! In Thor's house! It is the perfect little twist for this storyline.
Sharing space with a Dane would probably be enough to set Thor off on a regular day, but he's working hard to impress Flower. And yet, even with the best intentions, once Soren (it's Flula Borg, everybody!) goes off on how Norway sucks and Danes are better than Nords at everything, Thor can't bottle up his fury any longer. He rages, like, really, really, "if I was alive, I'd cut your head off and drink your blood" rages. Thor is who he is, and that happens to be a man whose mortal enemy is any person from or even tangentially related to the country of Denmark.
Thankfully, Flower recognizes this, too. She shouldn't force Thor to change who he is — plus, it was actually a major turnoff for Flower when she saw Thor just "taking it" like a little Pete Martino. If she's honest with herself, she's into the rage and definitely not into Pete. Again, Pete doesn't love hearing about how he's a sexual dud, even in imitation form, but you know he's not going to do anything about it. Hey, you know that whole thing about Isaac and Sam needing a win? If anyone should be at the top of that list, it's Pete. Here's hoping the guy gets one soon.
Ghouls Just Want to Have Fun
• Hetty encourages Trevor to continue to be as crude as possible around the mansion, especially toward Sam, so as not to arouse suspicion that he's now a kept man, even though all he wants is to be respectful of the new lady in his life (he is the softest softy, we know this). Trevor obliges, but I don't think their cover will matter much now that Nigel and Nancy have caught them hooking up. Nigel and Nancy! The two ghosts with the most reason to embarrass Hetty! Oh, this is getting good.
• When Trevor balks at making remarks after Sam holds up two melons from the store, Hetty offers him many options: "Boy, I'd like to get my hands on those melons; Can I honey-dew ya?; Let me tap on those things to see if they're ripe — that's just to name a few!" Hetty has a real talent!
• Hetty: "I think you've redeemed yourself as a well-known pervert." Trevor: "Thank you, that's very nice of you to say."
• I love that Sam buys Alberta magazines whenever she's at the store so that she can check out the latest Jason Mamoa picks. Sadly, this week, the mag is light on Mamoa but does include "a picture of The Rock putting out his garbage cans." That's just fine with Alberta, who notes, "If I put my thumb over his face, I can pretend."
• Jay suggests he and Sam run over to Starbucks for some coffee, but she can't: It was apparently "built on the site of a former hospital for the criminally insane," and she refuses to go near it because "it's a hellscape." Are there more cons to Sam's power than pros? You be the judge!
• Isaac, after learning that his story will finally be told: "I'm going to live forever — but in a fun way now!"
• Okay, but really: If Gavin is not the father of that baby, who is?! We need to know!