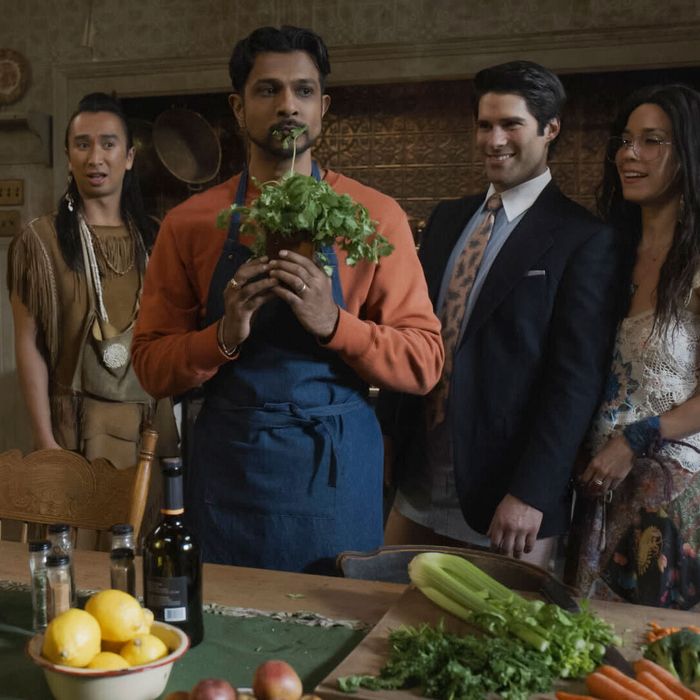 Photo: Vulture; Photo: CBS
Last week, I called for Pete Martino, the butt of every joke, to finally get a win. This week, he gets less of a win and more of an "almost sent to eternal damnation after being tricked into trading his soul to Elias Woodstone" type of situation. So, I guess, sort of the opposite of a win.
That's right, ghosties, Elias Woodstone, Hetty's terrible robber baron husband and man who loves using his ghost power to wreak "horny, horny havoc" on the B&B, is back. During a communal reading of Pete's daughter's latest family e-newsletter, in which they learn the fate of Little Pete's journey to acquiring a Spiderman retainer, Hetty sighs, "this is hell" and lo and behold, a portal to hell opens up in the floor, and Elias pops out. Now, I don't think the two things had anything to do with each other, but this isn't the first time Hetty's mentioned the bad place and a portal opened up, so who knows! But from a comedic timing standpoint, it's perfect. Elias is on a 48-hour furlough from hell, which he says is exactly as bad as you think it is: "It's hot, the devil is mean, and" they play Chumbawamba's "Tubthumping" on a loop — "and it does not grow on you." He's returned to the mansion because he is seeking Hetty's forgiveness. He's a changed man, er, ghost, he tells them. He even views the women in the room as equals now! He wants to be good.
No one buys it for a second. And they're right not to! Elias asks Hetty to forgive him in writing — by signing a handy-dandy little paper he has there. Thankfully, Isaac looks at it a little closer and realizes it's a contract: If Hetty signs the paper, Elias is free to leave hell and spend the rest of eternity in the place where he died, which, of course, is the mansion. Well, no one wants that, especially not Hetty. There's no way Hetty is signing anything. Elias is desperate — he's also a real asshole — so of course he has a plan B. He has "the boys downstairs" fabricate an email from Pete's daughter to Sam saying that Little Pete was in an accident and in critical condition. Well, wouldn't ya know, Elias explains that if Pete were to agree to give his soul to the devil and go back to hell with Elias, Little Pete could be saved. Pete doesn't hesitate to shake Elias's hand and make that deal — he would do anything to keep the people he loves safe. What an idiot! Elias reveals the ruse — Little Pete was never in danger! — and now he's holding Pete's soul hostage unless Hetty signs the document and allows him to spend his eternity at the mansion. Hetty won't even make eye contact with Pete while she weighs her options since having to spend eternity with Elias would be like hell for her (Rebecca Wisocky is a master in this scene, per usual), and the whole scary mess doesn't even help Pete get out of the friend zone with Alberta. Hasn't this man/ghost been through enough?!
It may take a little time, but of course Hetty isn't going to let Pete go to hell just so she doesn't have to deal with Elias. But there's another problem: For the contract to work, Hetty has to be sincere in her forgiveness. Now, that's a hurdle right there. Hetty's all for forgiving her husband for gambling away her family's china and then blaming it on their valet, who went to prison for it, but she has a much more difficult time getting over Elias taking all of her cocaine and replacing it with wig powder. That's not something one just gets over, okay?
The whole thing seems futile, and Pete's fate feels sealed until Hetty finally opens up about why she can't forgive Elias: releasing him from hell would make him happy, and after everything he's put her through, she can't bring herself to do that. It's Alberta who reasons with her: She, too, has had relationships with terrible men, but what she learned is that fixating on them and the pain they caused doesn't hurt them because they don't care; it only hurts Hetty to hold on to what Elias did, and Hetty deserves to be happy. Let! Him! Go!
So she does! And she feels like a weight has been lifted! Do I wish Ghosts dug a little deeper with the complex emotions Hetty and Alberta are feeling here? Sure! But it's nice to see the subject even being broached, I guess. And lest you think Elias will be sticking around for good, there's one last twist to the story that frees Hetty from having to live out a real nightmare scenario. Of course the moment the contract is signed, Elias admits that he was lying about being on his best behavior — he's going to cause so much trouble for every single person at the B&B, and he cannot wait to get started. But Sam already has a plan for this: she tells Elias that if he steps out of line even once, she'll have Thor toss him in the vault to spend eternity locked away alone. For Elias, that's a fate worse than hell. He's decided he'd rather go back after all. Elias caused all of this drama and turmoil for, what turns out to be, nothing. You know what? That honestly tracks.
Elias does have a few hours left on his furlough from hell, though, so he decides to cause a little bit of trouble while he has the chance. While all of this Elias nonsense has been going on, Sam's had a second crisis to deal with: Jay gets high while cooking the guests' lunch thanks to a visit from Flower, and he can't remember what he served them. That wouldn't necessarily be a problem, but then one guest comes to compliment the chef and tells Jay that her friend is the host of the wildly popular food show The Menu Hunter, and she called her up to tell her how good Jay's cooking was; the Menu Hunter is on the way to the B&B to try Jay's dish. Thanks to some "advice" from Trevor, Jay decides to "get Flowered" again so he can try and recreate the dish. Things go haywire, and in the end, with a little Star Wars–themed pep talk from Sam about how Jay already has everything he needs to make something great, Jay decides to make something brand new for the Menu Hunter. She's already loving it before Elias arrives and walks through her to make her horny as hell, but after Elias walks through her, well, she's really into it. Like, really, really into it. You get it. It looks like Jay and the B&B will be featured on the show, which means that in the end … Elias kind of helped everyone out? Don't tell him, or he might try to come back to steal someone else's soul or, at least, make everyone really horny. That's fun for a little while, but then things might just get uncomfortable after a while, you know?
Ghouls Just Want to Have Fun
• It feels like a missed opportunity not to have Trevor share at least one scene with Hetty and Elias. Not only would it be awkward as, uh, hell, which means it would be fun for us, but also … would putting Hetty's two lovers side by side only strengthen the argument that Trevor is kind of a great boyfriend? Let's get Hetty and Trevor out in the open, guys!
• Matt Walsh is great as Elias, and it's nice to know that he could pop up (literally!) any time to cause chaos.
• It's the way Brandon Scott Jones says "but tall" that really sent me: "Speaking of dentistry, a lot of people think George Washington's teeth were wooden, but it was actually just his personality. He was boring, but tall."
• "You cannot let Pete go down on us! No one wants to see that!"
• When Isaac points out that Hetty's "never been much of a kid person," and that's why she doesn't understand Pete's choice to save his grandson, he response is quintessential Hetty Woodstone: "That's nonsense, I employed hundreds of them!"
• "Hell is mostly emails and Zooms that should've been emails."