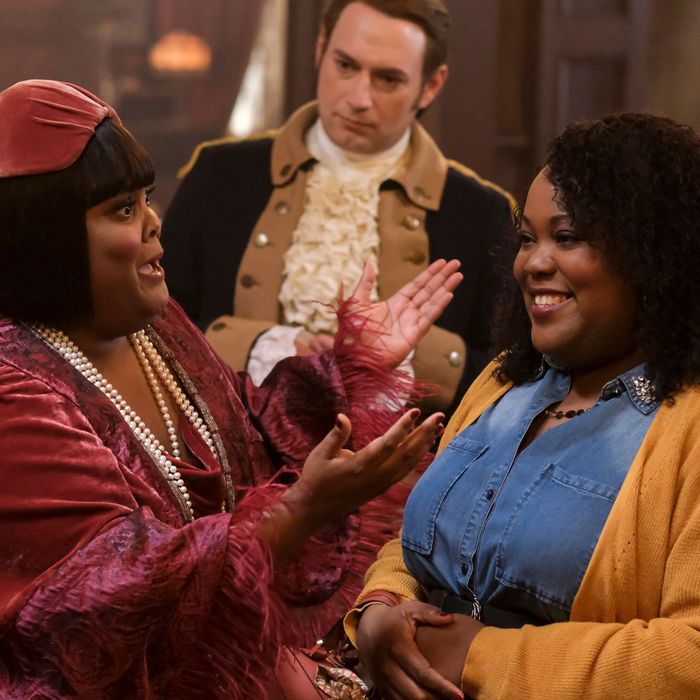 Photo: Bertrand Calmeau/CBS
Parenting is tough. It's especially tough when you're a ghost. It just is! Alberta is the latest of our Woodstone ghosts to learn that the hard way (see also: Pete, Thor) when the great-granddaughter of her younger sister Reese arrives at the B&B.
Alicia comes seeking out Sam — she's a big fan of Sam's Alberta Haynes podcast and wants to know more about her relative. Suffice it to say, Alberta's beside herself with excitement to be able to "interact" with a living relative. It has been 100 years! She has so many questions about her family! Who cares if those questions make Sam look like a creep? This is Alberta's time! Alicia, a single lawyer inspired by Alberta, seems great. Well, sorry, she seems great until Creepy Todd shows up to record a new episode of the podcast with Sam and Alicia, and Todd and Alicia hit it off. There is flirting, if you can believe it. There is a romantic walk. There is a dinner date at the B&B. Once again, Alberta is beside herself, but this time with terror. She can't believe it, her descendant "is hot for Todd."
The ghosts point out to Sam that this might be her fault — she has been editing the podcasts to make sure Todd sounds, well, less like a complete weirdo. She is, apparently, a great podcast producer. They realize that the only way they can stop this budding romance is to make Alicia aware of what Todd is really like. According to Thor, they need to "cod-block" Todd. Sam doesn't have time to explain the real term — Thor's very into both reality TV and cod, hence cod-block. Honestly, it's fun to let him have this one. Sam isn't thrilled with inserting herself into Alicia's life, but Alberta pleads with her: She died young and never had a chance at being a mother, and steering Alicia in the right direction might be her only real shot at parenthood. Sam's a sucker for an emotional plea, so cod-block she will. Someone has to deny "two lonely people a chance at love," you know?
Once Todd and Alicia's dinner date gets going, cod-blocking is a breeze. They really do seem to be having a nice time. As they chat, Alicia brings up that she has always thought about ditching her legal work to pursue a music career. Todd thinks she should go for it — Alberta went after her dreams too. Surely she would be Alicia's first supporter of taking such a big risk. Little does Todd know that Alberta is right there listening to this conversation, and she couldn't disagree more. (If only all podcasters could be haunted by their subjects.) It doesn't take long for Sam to make Todd's peculiarities known to Alicia. She starts small with the fact that he still lives in his mother's basement and runs the Alberta Haynes Museum out of his garage, but then drops the heavy hitters into the conversation: Todd's giant back tattoo of Alberta's face and that little gem about buying Alberta's toenail on the internet in hopes of cloning her one day. See? Cod-blocking is easy.
Just because Alicia's eyes are open to what a freak Todd is doesn't mean that she isn't still thinking about their conversation about chasing her dreams of becoming a musician the next day. Alberta's frustrated — she just saved her relative from a life with Toenail Todd, and now she has to watch her flush a great career down the toilet to go after something likely unattainable. "That's the thing about parenting: The victories are very short-lived," Pete commiserates with her. Both Pete and Thor try to relate to Alberta's predicament, but even they admit that their experience with parenting is pretty different from Alberta's — Pete's daughter was just a kid when Pete died, and Thor's a father to an "adult male baby ghost" and most of his parenting tips are about accepting Danes, so not the most helpful.
Alberta pushes Sam to talk to Alicia again, but Alicia's resolute: The only thing she'll regret is not trying. Then she starts singing, and it's gorgeous. Alberta is moved, and she begins harmonizing with her, and everyone else is impressed. "Screw it. You tell her to go for it," says Alberta. She wants Alicia to try. Support and encouragement? How very parental of our dear Alberta.
But wait! The big news comes at the very end of the episode. Sam and Todd interview Alicia for the podcast. You might recall that the last clue they found in the case of Alberta's murder was that note between Alberta's then-boyfriend Earl and a woman called "T" plotting to get rid of her. Alicia doesn't have any guesses as to the identity of T, but she does know that her great-grandmother Reese dated Earl after Alberta's death. Suddenly, it dawns on Alberta — Reese is short for Teresa. Could T be Alberta's sister? Did Alberta's own sister have something to do with her murder? Will CBS produce a few episodes of this podcast even if it means we must give airtime to Creepy Todd? Only time will tell!
There's another major drama in the house that is less murder-y but equally compelling. Oh, baby, it is time: Hetty and Trevor are going public. Admittedly, I thought this reveal might come to light in a more audacious, ridiculous manner, but instead, the other ghosts find out about Hetty and Trevor because … Hetty and Trevor decide to tell them … because Hetty and Trevor maybe, sort of, really like each other? It's very sweet, especially on Trevor's side of things, and I love that Ghosts went this route.
So how did Hetty and Trevor get from basement hookups to letting everyone in on their secret? It's thanks mostly to Nigel finally using his knowledge of their tryst as blackmail. Bless that, as Hetty calls him, "filthy little teapot." Nigel wants Trevor's bedroom, because there's a TV in it, and he threatens to tell everyone about what he saw in the basement unless Trevor gives it up. Trevor doesn't want to give it up, and he certainly doesn't want to move into a room full of books for obvious Wall Street–bro reasons, but Hetty almost immediately agrees to the deal. Trevor doesn't understand why they don't just tell everyone, then he realizes that what he thought was "just a bit," just some super-mean foreplay, isn't a bit at all — Hetty's actually embarrassed to be with him. She explains that part of it is that she was a woman of such high status in her day, but most of it is because of the no-pants thing. It's tough to date a man who never wears pants regardless of the circumstances (you get it). While it was fun and exciting for Trevor to be hooking up in secret, now that he knows the truth, it just makes him feel bad about himself. He breaks up with Hetty. The man with no pants has a lot of self-respect, and you have to give it up for that.
So consider Hetty utterly confused when she finds Trevor, post-breakup, moving into the library and letting Nigel take his room. Trevor explains that Nigel was still threatening to tell everyone the truth, regardless of their current relationship status, and while he doesn't care, Trevor knows that Hetty does. He gave up his room for her. Trevor is a good guy, and we know this.
The whole thing rattles Hetty. Trevor's selflessness and affection for her is, well, basically the opposite of what she'd experienced with Elias. In return, she decides to do something surprising: She gathers the ghosts and finally tells them the truth about her relationship with Trevor. Well, she tries to anyway. Unfortunately, Hetty uses phrases like "engaged in amorous congress" and "scrumping." Trevor is the one who has to stand up and inform everyone that they've been "doing it" for the full message to get across. Jaws drop, Flower asks about a third, and Isaac applauds his best friend for finally finding her "stable boy." There's sure to be more commentary on the whole thing, but for now, the group is pretty into this pairing! Plus Trevor gets his room back from Nigel. All in all, it's a good day for No Pants.
Ghouls Just Wanna Have Fun
• Pete, when he misinterprets what Alicia means when she says she's on all the (dating) apps and "they're a nightmare": "She hates apps? Has she tried jalapeño poppers? The only nightmare is when you're done."
• Sorry, other ghosts, but I laugh every time Thor calls cars "land ships."
• Trevor explaining to Hetty why he gave up his room for her: "That's the kind of guy I am. The kind of guy you could've had if you weren't embarrassed of me. Now please leave. My shirt's not long enough to cover my butt, and I want to roll over."
• Isaac to Alberta when he sees that Todd has returned to the B&B: "Oh, he's back. To clarify, I said 'He's back,' not 'His back,' which is the thing that has your face on it."
• Apparently, Trevor has been trying to get Hetty to do a little role-playing in which she's a mermaid and he's "the co-owner of a wholesale-fruit-and-vegetable business." Hetty's response? "We're not doing Splash. Stop asking."