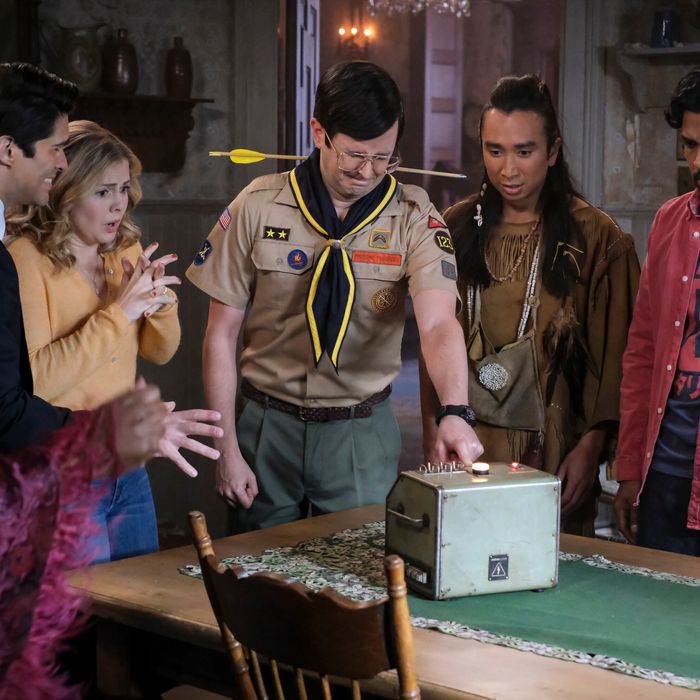 Photo: Vulture; Photo: CBS/Bertrand Calmeau
Oh dear, sweet, poor Freddie; he knew not what he signed up for. By the end of "Ghost Hunter," Jay and Sam's assistant quits — for good, if he has any sense — and before the Arondekars can persuade him to stay, Freddie lists off everything he's been put through in just a few short weeks working at the B&B. It is extensive and troubling and certainly makes you wonder why he stayed as long as he did. Know your worth, Freddie! My guy was fired due to a misconception that he was a murderer, rehired by way of burrito, dumped thanks to his meddling boss, and then his other boss bought his old car for ghost-related reasons that seem a touch psychotic to the layperson. Yet, despite all this, it is only once Freddie becomes convinced Woodstone is haunted that he decides he's out of there. Freddie draws the line at ghosts.
Sam and Jay try to play dumb for a little while when Freddie first brings it up, but while laughing off strange humming (Alberta) or pens randomly rolling off tables (Trevor) is doable, they can't ignore that security footage of computer keys moving by themselves. They let Freddie run with his plans to de-haunt the house since most of his ideas are silly, ineffective ones — the ghosts love sage, haven't you heard? — but eventually they run into some trouble. Big Trouble. Ghosts possibly getting eviscerated from existence Trouble.
Freddie has special-ordered a Latvian ghost-hunting machine called the Ghost Trap 2000. When the ghosts notice a little sticker on it that says "two and under," they assume it's some toy that Freddie got tricked into buying. And yet … when they see that Freddie has set an Oreo on top as bait (Freddie might have a future in ghost hunting, because they all want to sniff it), no one wants to be the first. Pete chickens out, but the moment Thor's "manhood" is called into question, he can't help but touch the machine. The bad news is that the Ghost Trap 2000 is legit. Thor gets pulled inside, followed shortly by Flower, who immediately forgets what she just witnessed and touches the machine, too. The bad news turns to Terrible News when Sam inadvertently triggers a four-minute countdown to complete ghost evisceration while trying to turn the machine off. Now, that's when the ghosts really lose it.
There are a few things going on here in the midst of all the chaos. First of all, after trying to trick Freddie into thinking he's ridiculous for suggesting ghosts are real, Sam and Jay now need to go to him and ask for his help in figuring out how to turn the thing off. He willingly calls the ghost-trap company, but the whole situation does nothing to quell his feelings that his employers are uncomfortably odd. The man was always either going to have to find out about the ghosts or quit, and Freddie has made it clear he's not a fan of ghosts. Keeping Freddie around would only further endanger our ghosts, so good-bye to you, sir!
More importantly, we get some good old-fashioned emotional development for several characters. When Jay learns that Sam didn't ask him what he thought about the ghost trap in the first place, his nose is immediately out of joint. Sam explaining that ghost stuff is usually her own thing only makes him feel worse. He's the guy standing there in the Atari T-shirt, after all! He loves this stuff and also has extensive knowledge of sci-fi pop culture. He might be helpful. He just wants to be a part of it all. Sam recognizes that her husband wants to be heard and also that he's probably right — he might have a good perspective on a lot of these ghost problems. So when Jay posits that the whole "two and under" thing could mean that the trap can only hold the energy of two ghosts and that sending a third ghost in there could overwhelm the system, shutting it down and freeing Thor and Flower, Sam wants to go with that plan. The ghosts aren't thrilled to be risking one more ghost's, er, "life" "so that Jay feels heard," but his passionate speech about how even though he doesn't see or hear the ghosts, he still cares about them and would never want to hurt them is so lovely — it seals the deal. One more ghost needs to go in, and the clock is ticking.
The need for a volunteer willing to risk evisceration gives Pete a chance to redeem himself after chickening out earlier. Throughout the series, he's been taking baby steps toward not always playing it safe. As he tells the group, he lived his life constantly worrying about something bad happening and that bad thing, by way of an arrow through the neck, still happened. So why not be brave? I mean, Pete has a much longer inspiring speech to give than that, but time is of the essence here; Pete goes into the machine.
Inside the trap this entire time, Thor and Flower have been contemplating the end of their existence. You'd think dying the first time would be the worst thing that could happen, but that was before we were introduced to the Ghost Trap 2000. Even with all of this machismo (Thor readily admits that he bases a lot of his "identity on being large"), Thor has grown much more comfortable with showing his vulnerability over the time we've known him. It's why here, even though he was rejected the first time, Thor can tell Flower that if this is the end, he's "happy to at least spend final moments with Flower." It's so unexpectedly swoony, and Flower's into it, too. "I like when you say stuff like that," she tells him, "more so than when you say stuff about dismembering Danish people." This is the rom-com of my dreams, to be honest. Thor has put himself out there once again, and this time it pays off. When Pete arrives inside the machine, he finds Thor and Flower furiously making out.
Jay's theory about overloading the machine winds up being correct. The trap overloads and short-circuits, freeing Thor, Flower, and Pete. Seconds later, Freddie arrives to inform them that they could just unplug and replug in the machine to set free any trapped ghosts — information that could've been very useful four minutes prior before everyone almost had a complete nervous breakdown. Regardless! Freddie's hitting the road, and in the end, Jay feels like part of the group, Pete faced his fears and comes out a hero, and Flower feels inspired to do something scary herself: She wants to take Thor up on his offer for a one-on-one date; no third required. Nothing like a harrowing life-or-death-or-other-death situation to bring about some big changes at the Woodstone B&B.
Ghouls Just Want to Have Fun
• We say good-bye to Jessica in this episode, too — but not for Sas's lack of trying. Freddie actually sells his haunted car at the beginning of the episode, and the ghosts beg Sam and Jay to buy it from the new owner. It's not long before Sas realizes it'll be awful for Jessica to have to miss out on the fun ghost stuff going on in the house and Jessica realizes she'll feel terrible forcing Sas to come out there and sit with her all the time. Plus, she misses the open road (Sam and Jay already have their own car; this would be a "lawn car"). They decide their love is not meant to be, and then Jay has to convince the owner to take the car back. All-in-all, quite sad for ol' Sas and extremely emasculating for ol' Jay.
• Nichole Sakura was such a fun and game guest ghost, and I will dearly miss her perfect delivery of lines like "So it's less good than a dog, my situation."
• Of course Hetty has an opinion on the types of toys parents give their kids: "What's wrong with a simple stuffed raven or a good old-fashioned lead rattle, am I right? Parents these days!"
• Isaac explains that the phrase "bite the bullet" came from his era since they "had to literally bite bullets during surgery because [they] lacked anesthesia." Flower asks him how that worked out for all of them back then and Isaac's response is, "Sort of depended on how good your barber was." Now, that's a good 18th-century-based joke right there.
• That cheeky, perfectly timed cut to the title card at the top of the episode was a hoot.
• I laughed so hard when the entire ghost-trap situation came down to Thor and Flower needed a third to break them free and poor Thor could only remark, "Why does it always come down to this?"
• "You want us to buy a lawn car? Just to sit on the lawn? Who are we, Tony Stark?"