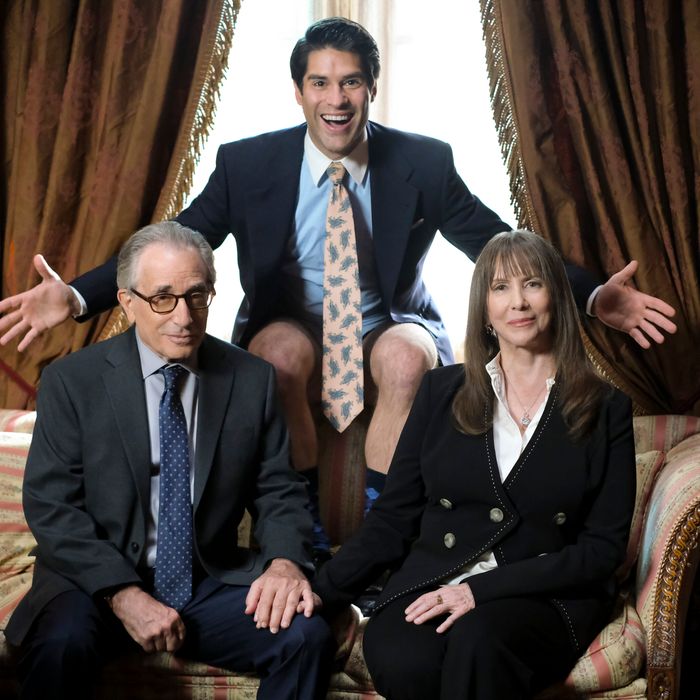 Photo: Bertrand Calmeau/CBS
Let's not bury the lede here: Tara Reid — the actual Tara Reid — shows up at an impromptu memorial service for Trevor, her biggest fan. It is undoubtedly the best day of his life — er, death. Probably both, to be honest. It's a good thing Trev has something to celebrate, since the other circumstances around his memorial are pretty upsetting for our dearly departed No Pants. And I'm not just talking about how Trevor finally learns the truth about Mel Gibson, an actor he idolized enough in his youth that he made Mel his bat-mitzvah theme, but I am talking a little bit about that. The news hits him hard! Alas, so does the news of his parents' divorce.
So why, after all this time, are we having a memorial service for Trevor? Well, as you may recall, in season one, we learned that when Trevor died at the mansion after a drug-fueled evening with his finance bros, his "friends" dumped his body in the lake on the property. When Jay takes a few B&B guests out fishing for their new "Bait & Plate" outing, instead of catching a fish the guests can have Jay cook up for their dinner, they reel in a human skull. Trevor could recognize that chiseled jawbone anywhere ("You could slice brisket with that thing!") and the coroner confirms it: The remains belong to Trevor. Hetty offers Trevor both a hearty congratulations and her sincere condolences because, really, what does one say? It's not like there's a section of Hallmark cards for "They found your corpse!"
It's not long before Trevor's parents, Lenny and Esther, arrive at Woodstone for a little closure. Unfortunately, closure is the opposite of what Trevor gets when Lenny and Esther tell Sam and Jay about how they got divorced not long after Trevor died. "I come from a broken home? I'm a ghost of divorce?" asks a shocked Trevor. He hates this! He also feels like his death is very much to blame for their split, and he has a plan to fix things: He wants Sam to help him Parent Trap his parents.
Trevor has Sam invite his parents to stay the weekend to host a memorial service for him, and all the while he can feed Sam intel about how to rekindle their relationship. He has Sam and Jay serve them red snapper soup, just like they ate every year on their anniversary, and has them play his parents' song, "The Best of Times" from La Cage aux Folles. When Sam suggests Esther and Larry snuggle up to watch The Horse Whisperer, which Trevor tells her his mom always described as "sensual," well, it seems like the Parent Trap might actually work. But then Lenny takes a work call and Esther is reminded of one of the many reasons their marriage didn't work. Trevor can yell, "No, Mom! Come back! Make love to Dad!" all he wants, but the Parent Trap has been thwarted.
Trevor doesn't want to give up, but Jay thinks he needs to take the loss and move on: "We tried to get two elderly people to smush at their son's memorial weekend and we just didn't get quite there." Inspired by the movie, Sam has an idea to put this whole thing into another gear: Trevor should find his mom's phone and text his dad inviting him to spend the night; or, as Jay succinctly puts it — Sam wants Trevor to sext his dad. "I love it," Trevor says, visibly moved. This show is so weird and I treasure every minute of it.
We don't know what, exactly, Trevor sexted to his dad while pretending to be his mom (do we want to?), but the next morning at the memorial service, we learn that whatever it was, it worked. Alberta, Hetty, Sas, Flower, and even Nancy the basement ghost can attest to it, since they all decided to watch the entire show, as it were. While this reunion is great news for Trevor, something else happens at the memorial that distracts him: Tara Reid shows up. Apparently, since Trevor's brother couldn't make it, he did the next best thing — he used Pop In, which is sort of like Cameo but for in-person appearances, and hired his brother's favorite actress to attend his memorial. Again, Trevor is moved. Everything's coming up Trevor! Except for, like, the whole thing where he's dead and his body's been rotting in a lake for two decades. REGARDLESS.
Then Tara Reid stands up to make a speech. Perhaps it is part of her deal with Pop In and its tie-in with Taco Bell, or maybe Tara Reid feels moved enough to honor Trevor. Either way, she immediately reveals that Lenny slipped her his business card earlier, implying he hit on her (because no one believes Lenny assumed Tara Reid might be interested in wholesale lighting). Yet again, Esther is reminded why she and Lenny didn't last — even if she did have a really nice time making love to her ex-husband on the eve of their dead son's memorial. Relationships are complicated, you know?
Trevor goes into a tailspin over not being able to get his parents to reconnect, so Sam takes action — probably seeming like a crazy person in the process (she's used to this by now, right?). Sam pushes Lenny and Esther into explaining why they aren't together anymore, noting that, if Trevor did happen to be in this room, he might feel guilty about his death causing their divorce. The reason why they split probably isn't shocking to anyone except maybe Trevor, but it wasn't his death that caused his parents to get a divorce; they were having issues long before Trevor died.
Trevor "was the best thing" to come out of her and Lenny's marriage, Esther says. "I'm so glad you were our son," she says aloud, just in case Trevor might be listening. We know he is! It's very lovely, and all Trevor wants to do is hug his mom. Alberta steps in as "mama bear" and gives Trevor the space (and embrace!!) to let it all out. The whole premise of this episode is demented but also so, so sweet!
The situation with Trevor's parents pushes Sam to air out some of the things she worries about in her own marriage. She is a child of divorce, too, and sometimes she stresses that even though she and Jay seem strong now, what happens down the road? What happens when they have kids or those kids move out and they're empty nesters? Jay assures his wife that she has nothing to worry about. Plus, they'll never really be empty nesters since they "have eight idiot kids who can literally never leave." It's all Sam needs to hear. Like I said, demented and sweet!
Ghouls Just Want to Have Fun
• Isaac and Nigel hit a little bump in the road when Nigel's creepy ex, Jenkins, lets it slip that he and Nigel "liaisoned" on Christmas Eve. Isaac confronts Nigel, who admits to it, but as the apparent Ross Geller of Ghosts, repeatedly reminds Isaac: "We were on a respite!" Isaac considers making Nigel jealous by starting something up with the "pervy Puritan" ghost at the Farnsby house, but Isaac is just not that desperate yet. He forgives Nigel since they, indeed, were on a respite, and decides he wants Nigel away from Jenkins — not because he doesn't trust his boyfriend but because Jenkins sucks — so asks Nigel to move into the mansion. I can't wait to see whose feathers get ruffled by the new housemate's arrival.
• The ghosts show no mercy when they roast Pete about his wife cheating on him. They keep referring to him as "a famous cuckold," and I laugh every single time. Sorry, Pete!
• Thor's more familiar with a different type of Parent Trapping, as evidenced by the opinion he gives Sam on the matter: "Very difficult to build trap big enough to capture both parents, but if you succeed, you and small man eat like kings."
• Sorry, but when you book Tara Reid, you should really be using Tara Reid to the fullest extent. She does at least, uh, pop in for one more scene at the end when Trevor tries to pull the ol' "trip over a vase" trick to get her to die in the mansion, but Sam catches on to it just in time.
• Very happy to see Nancy show up so that she can teach the ghosts what "get some strange" means!
• "We've finally heard back from the coroner, who, frankly, we have spoken to way too many times since we moved in."