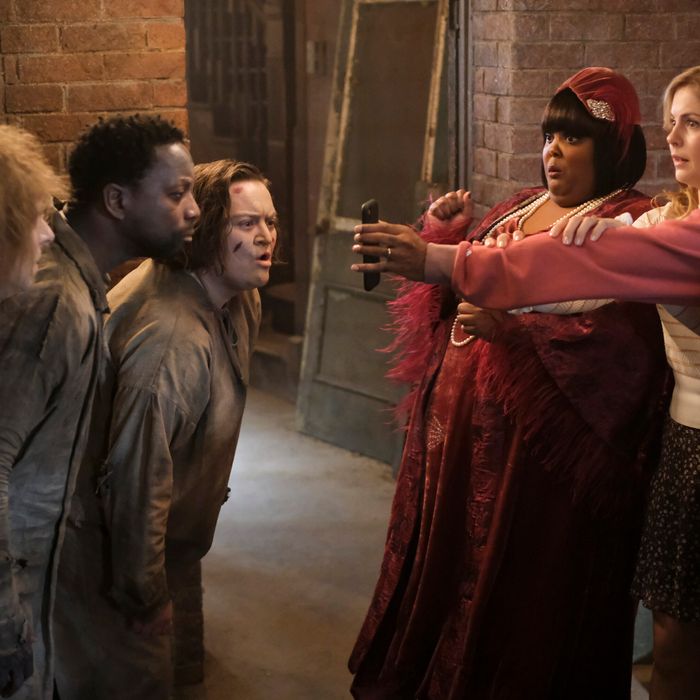 Photo: Bertrand Calmeau/CBS
There's nothing like a deadline, a healthy supply of red murder-board yarn, and the crushing guilt of holding a secret from your friend for a century to get to the truth of a murder mystery. That's right, ghosties, this week we finally get the answer to who killed Alberta Haynes. The answer might surprise you! Also, Al Capone is involved? It's a killer killer reveal, if you know what I mean.
Thanks to a little switcheroo of editor-in-chiefs at the Ulster County Review — the previous guy is in rehab for porn addiction, we learn, thanks to excellent use of Shiki — Sam is forced to wrap up the Alberta Haynes murder-mystery podcast in 24 hours because it's getting canceled. The new guy hates it. The new guy also doesn't wash his hands after he pees — another shout-out of gratitude to Shiki, our woman on the inside. Creepy Todd is unavailable to help solve Alberta's murder because he's on a Disney Cruise with his mother and her new boyfriend, who "got a job as a Goofy," which is one of the best and saddest mixes of words I've ever heard. Anyway, this news is quite unfortunate or fortunate, depending on if you're merely watching Creepy Todd creep everyone out or the person whose toenails are sitting in Todd's mother's garage. Anyway, the gang doesn't need Todd's help to figure out who murdered Alberta! They have Jay's murder board full of evidence and red yarn that he's really jazzed about. Just kidding, as Thor points out, Jay's murder board helps absolutely no one figure out anything. But! What they do have is ghosts. Ghosts who were there the night Alberta died. Ghosts who might be able to piece enough together to figure out this whodunit.
At this point, there are pretty much two suspects: Alberta's sister Teresa, who we know ended up with Alberta's boyfriend, Earl, after Alberta died, and Clara, the lead singer at Alberta's nightclub who Alberta ratted on for bootlegging and tossed in prison, giving Alberta the No. 1 spot at the club. Alberta desperately does not want it to be her sister; the thought of being betrayed by her is almost too much, but that note they found in the wall addressed to Earl about getting rid of Alberta was signed "T," and that's pretty compelling evidence.
We return to the night in question: New Year's Eve 1928. Hetty's son is hosting a big party at the mansion to ring in what will surely be "the greatest year yet" (!!), and Alberta is the musical entertainment. Everything seems pretty normal. Teresa isn't acting strange, there's a weird moment in which Alberta spots Earl arguing with Hetty's son about bootlegging prices, but it doesn't seem to be a big deal. Clara's hanging around in "either a conspicuous or inconspicuous hat," no one can decide, but she isn't doing anything too suspicious. At one point, Alberta takes a break in her room with Earl. Once he leaves, there's a knock at the door, and she finds the fated bottle of booze and a note that reads, "Good luck!" She takes a swig and that's a wrap on Alberta Haynes (in this life).
Once the group realizes that Clara must have cut a deal with the cops in order to get out of prison so quickly and that she was there to get Alberta and Earl arrested, not killed, all signs — excuse me, strings of red yarn — again point to Teresa. They go back to the evidence at hand. Since back in season one, Creepy Todd actually drank from the bottle of booze that killed Alberta, they know the poison is the same one found in rat poison. They also know a bottle of rat poison is in the basement.
Sam wonders if anyone has ever checked with the Basement Ghosts to see if they remember anything about that night. The answer is no. Well, the answer is more specifically, "I didn't know until very recently that they could speak." I'll give you one guess as to who that was! And guess what? The ghosts in the basement do remember someone coming downstairs that night to get the rat poison. And he had a big scar on his face. Guys, it was Al Capone. The twist that Al Capone is involved and that Al Capone got the patented Alberta Haynes Facepalm of Rejection is a perfect and hilarious twist. Alberta's been out here facepalming men for over a century, and she doesn't care if they're notorious gangsters or friendly, if a little too eager, troop leaders. We love this for her. However, the best part of this reveal is that Al Capone didn't make the poisoned booze to kill Alberta; he wanted to kill himself — that's how much he was in love with her. He obviously does not, thanks to … dun, dun, dun … Teresa, a fact we learn from Nigel. Nigel saw Teresa stop Al Capone from hurting himself, take the bottle away, and remind him that he should pay his taxes.
All of the Al Capone wildness aside, this means that Teresa now possesses the murder weapon. Alberta is wrecked. Her sister was her best friend; no matter what, they had each other's backs. Now, she'll have to spend the rest of her afterlife with this pain. It's awful!
But it's also not the end of the story. Throughout this entire day of investigating, Hetty's been a little … off. She's been pushing to conclude the story without all the evidence and gets cagier and cagier as the day goes on. She clearly knows something. After seeing how devastated Alberta is about her sister, she finally cracks: Teresa didn't kill Alberta; Hetty's son Thomas did, and Hetty has known the entire time.
Hetty divulges everything: Her son Thomas (the "T" from the note) was having an affair with Earl. That fight Alberta saw between the two men earlier in the night? It wasn't about bootlegging; it was over Earl refusing to leave Alberta for Thomas, it was Earl breaking things off completely. Heartbroken and angry, Thomas, who was given the bottle of poison by Teresa, decided to murder Alberta. Shocking, right?
What's lovely about this show is that it transitions from a fun murder mystery to a deep story of friendship and sisterhood almost seamlessly. Alberta is, of course, relieved that her sister didn't betray her, but she's almost just as hurt to learn that Hetty did. Hetty has become like a sister to her after all these years. Hetty tries to explain: She was ashamed to have raised a murderer, and then, even when she knew telling Alberta was the right thing to do, she worried it would end their friendship. Hetty's not wrong: Alberta is so hurt she doesn't think she'll ever be able to forgive her. Sure, they break up the intensity with various ghosts falling through the walls while trying to eavesdrop, but still, that's some gutting stuff right there. With one episode left to go in the season, maybe the biggest mystery now is if Alberta and Hetty can patch things up.
Ghouls Just Want to Have Fun
• Trevor, Pete, and Flower are off on their own adventure this week, playing off the fact that older people tend to fall for scams and, technically, they're all getting up there in age. First, they figure out how to withdraw a grand from Sam and Jay's bank account to give to a Nigerian Prince who emails Pete's secret email account, and then they get super-excited when they learn about reverse mortgages on TV. It's silly but cute, and they are all banned from using the computer ever again.
• Pete has an email account solely to get a daily joke from Reader's Digest. Never change, Peter.
• There is just something so inherently funny about two dudes calling themselves the "thigh guys." Well, one dude. Trevor is definitely not as enthusiastic about it as Pete is.
• "Pete, someone is in trouble. Are you a travel agent or aren't you?"
• Season three better have more of that ridiculous English accent Jay does whenever he knows Nigel is in the room.
• I love that everyone's so happy for Alberta when she thinks that Al Capone murdered her. Even Nancy: "Congrats on your high-profile murder, Alberta. I'm really happy for ya."