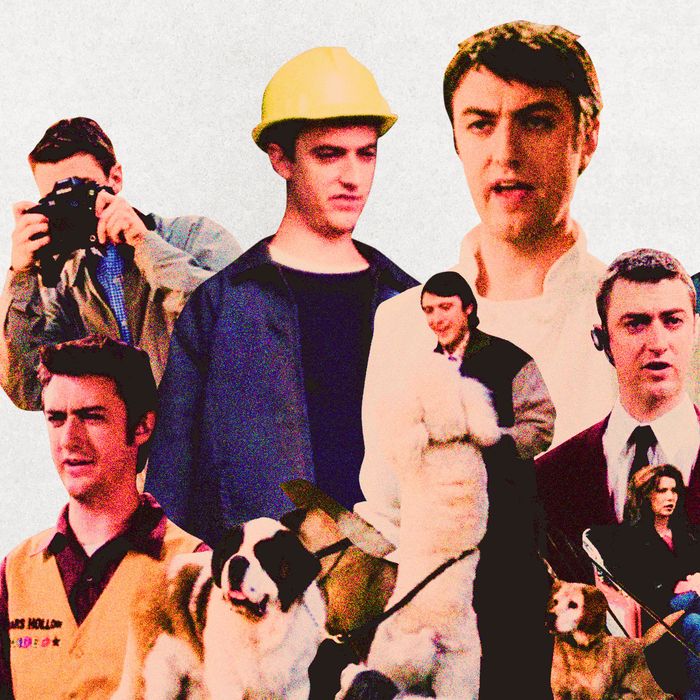 Photo-Illustration: by Vulture
Kirk Gleason has a net worth of $250,000.
This revelation comes halfway through Gilmore Girls' fifth season, when the show's jack of all trades and master of none (portrayed with childish stoicism by Sean Gunn) enters into a bidding war for Stars Hollow's hottest manse on the market. It's treated as a shock, and yet makes total sense: Of course Kirk has amassed a small fortune. He has worked as a mold inspector, skydiver, pedicab driver, ribbon collector, etc. And it doesn't hurt that he's been living with his mother for his entire life, too. "I've been working for eleven years," Kirk explains in the episode. "I've had 15,000 jobs." The actual number is probably around 70, but his relentless passion for an honest day's work has made him an unsung hero of the gig economy.
As the Gilmore Girls folklore goes, Kirk and his vocational pursuits weren't fully actualized until a few episodes into the first season. Gunn was initially hired to portray a "DSL installer" named Mick in episode two, in what was — by all reports — supposed to be a onetime guest spot. That is, until the show saw potential for a larger oddball role.
"A few weeks later, my manager called me and said, 'Hey, Gilmore Girls wants to book you.' And I was like, 'What? They're bringing the DSL installer back? Is he now installing DSLs all over the town? That doesn't make any sense,'" Gunn recalled to Vulture. "They wrote a character who was delivering swans at a wedding two episodes later. They looked at a couple of actors, and Amy Sherman-Palladino was like, 'No. I want someone like the guy who played the DSL installer.' Somebody said, 'Amy, why don't you cast him again?' She's from a show-business background, and her dad would do roles like that. He'd go on a program like The Lucy Show multiple times and play different characters. Something about that was funny to her. So they booked me as the swan delivery guy."
Gunn's nameless swan fella was officially introduced as Kirk in episode five, and the rest — like his stint as an Easter egg–hunt organizer — is history. "I didn't know what the deal was, and then I kind of got it: This guy pops up around town. I'm not kidding when I say it took me seven or eight episodes to figure that out," Gunn said with a laugh. "I kept thinking that the gag was going to grow thin. Every time I got a call, it would be a surprise to me. I thought the calls would stop coming, but they never did."
In celebration of Gilmore Girls' recent 20th anniversary, Gunn indulged Vulture by ranking what he considers to be Kirk's most memorable jobs throughout the show's run. (Out of respect for both of our schedules, we didn't even dare to attempt the full list.) "That's a testimony to how many different fun little aspects of Kirk there were to play," Gunn said. "I got to do so much, and I'm very, very grateful for it."
15. Kirk's Diner owner (season seven, episode two)
"That job is funny and encouraging. But honestly, it has to be ranked last. It's a little bit of a different show [in season seven] without Amy. Out of respect for Amy's stewardship of the show, it's only the right thing to do to put it last. That said, it was a promising start. It was probably the only scene in that episode — or perhaps the entire final season — that Amy would've written herself. A scene that I was in, at least. It's a legitimately funny scene, and I have respect and empathy for those writers who had to take over. I can only imagine how difficult it must've been for them to take over a job they weren't super equipped for, in my opinion."
14. Video-store clerk (season two, episode twelve)
"This will show you the neurotic actor I am, but there's a moment in the video-store episode where I try to take my time with a beat because I thought it was funnier if I did some pausing. They whipped the pauses out of me over the years. So I tried something with those beats, and they edited all of them out. And I don't think the comedy works as well because of it. I wasn't fully happy with my performance in that episode. I'm a maniac when it comes to that. You hear about actors who don't like to watch themselves act because they're super-critical? I'm the opposite. I watch everything I do and make mental notes about everything I'm trying to accomplish. I could go back and critique just about every scene I had and tell you what moments worked or could've been funnier. I'm doing that constantly."
13. Doose's assistant manager (season one, episode five and season four, episode 21)
"In the beginning of the first season, there's a moment between Kirk and Miss Patty, which later becomes a bit of a hiccup in the Gilmore Girls canon. Miss Patty is "meeting" Kirk for the first time, but over the course of several seasons the story is rearranged so that Kirk has grown up in the town, and everyone knew him as a child. That's a fun little piece of minutiae and shows you how early the episode was. I remember those market scenes well and can say that I loved acting with Michael Winters, who played Taylor Doose."
12. Dragonfly Inn employee (season five, episode 12)
"I always felt like Kirk was going over to the other side of the tracks when I would be in scenes like that, where I was at the Dragonfly Inn. There was also the Bracebridge Dinner at the Independence Inn, where he was a contract worker for one night. It was always fun to be where I felt I was a stranger. This happened again in A Year in the Life, where I actually went to family dinner with Rory and Lorelai at Emily's house. That was so, so weird after 15 years of never doing a scene there."
11. Realtor (season six, episode 17)
"Kirk seemed to be pretty good at that job and made decent money, even if we never got the full scope of the size of the Stars Hollow area. Listen, if you go to those small towns in Connecticut, they're not that far out from Stars Hollow. I know from talking to Amy that there's one particular town that sparked the idea for Gilmore Girls, but there are two or three places where she borrowed things from. Our town is fictional, sure. But it's a pretty decent fictional version of what those towns are actually like. There are cool shops and town squares and gazebos. Everything in Stars Hollow works a little better than anywhere else."
10. Beauty-shop clerk (season 3, episode 12 and season 4, episode 1)
"Weirdly, I don't remember filming those scenes in the beauty store that well. Some scenes really stick out and are still clear as day to me, but not this. I do recall Kirk giving skincare advice, so it's nice for him to embrace a softer side. This is the best example of Kirk as a tool for the show, though. We follow the Gilmore girls walking in the town and popping into stores. By having one person you can always plug into a scene when you need them, it immediately familiarizes the location as being a part of this town and having a history. I'm willing to bet that Amy found it incredibly useful as a writer to have Kirk as a Swiss army knife for comedic relief — or a scene that was new to the audience but [was supposed to be familiar to] the characters themselves.
9. Dog walker (season four, episode 15 and season six, episode eight)
"It was a little bit of a pain in the ass to shoot, because every one of those dogs had their own wrangler watching and supervising the scene. But I love dogs and all animals, so it didn't bother me too much. I love that episode because, in the last few minutes, Kirk is randomly spewing nonsense words and hoping that one of the dogs will respond so he'll be able to guess what that dog's name is. We shot the scene super-late at night, and it was one of the only times filming Gilmore Girls where I was having a hard time keeping a straight face. I kept cracking up at those damn dog names. Lauren [Graham], Alexis [Bledel], and Scott [Patterson] were there too, and it was a really fun night. I didn't break often, but I did for that scene."
8. T-shirt peddler and designer (season three, episode 17)
"The main thing that comes to mind from that episode is all of the T-shirts that people still wear now. "Babette Ate Oatmeal" is pretty common. Every once in a while, I'll see a hardcore fan wearing a "Faux Poes Foes" shirt and give them an appreciative nod. My wife has never seen the show and periodically we talk about going back and watching some of Kirk's defining episodes. This would be one of them. My mind is blown that, two decades later, people are still wearing and buying those shirts."
7. Mailman (season three, episode 16)
I love that job. Kirk also sold mailboxes, which I always think of as being tethered to the post office. It seems like the quintessential Kirk job to me. At any moment, if you were transported to Stars Hollow, you would see Kirk walking around with a bag and trying to deliver mail.
6. Movie-theater employee (season five, episode five; season five, episode 14; and A Year in the Life)
"I like this one because Kirk works this job at different points in his life: He's dressed as Eraserhead and is somewhat of an adult when we come back for A Year in the Life. In the regular series, it's the first scene where Kirk introduces his girlfriend, Lulu. It was a fun set that we didn't use very often. Kirk considers himself an avant-garde filmmaker, so it makes sense that he would want to work there. In Kirk's mind, Eraserhead is total nonsense and doesn't mean anything, so that's what he does in his movies. He's like, This is great. This is what people say art is, so I'm gonna say it's art too."
5. Engagement-ring salesman (season six, episode one)
"The thing about Kirk is that, to me, he's like a 10-year-old grown man. He's not even dangerous enough to be a teenager. He's a man-child. It makes him charming and sweet and innocent in the way young children are, but he also throws tantrums and wants to show that he's right all the time. He can have major bouts of immaturity. So when Kirk is revealed to be an old lady Casanova who takes their rings, that's creepy and weird and I find it funny as hell. I tend to have a darker sense of humor, so when we add in something like that for Kirk and people say, 'I don't know if I like that element, that's a little much for me,' I'm like, 'Too bad, I absolutely love it.'"
4. Öööber proprietor (A Year in the Life)
"Just an awesome job. Of course Kirk wouldn't know what Uber is. I have a couple of mixed feelings about Kirk, because I'm so grateful to have done that character — if you asked me right now, if there was a demand for another season and the money was right, I would step right back in and gladly do it again, because I loved the collaboration and the people I worked with. But it's also tricky. As a character actor, it's harder to break out into broad comedy. I consider myself to be a multifaceted actor and it has been harder to break out from this role than I would've liked. It was so much fun to come back for A Year in the Life. It was great to see everyone again and have such well-written and funny scripts. I was filming Guardians of the Galaxy Vol. 2 at the same time, so I was flying back and forth every few days between California and Georgia to do those projects simultaneously. It took a lot of mental work to stay focused. But the good thing is Kirk was like an old slipper. The scripts were the same, and the character was the same, so it didn't take any preparation on my part, except for memorizing my lines.
But people are constantly fucking asking me to say 'Öööber,' like I'm an organ-grinder monkey. I'm like, No, I'm not going to stand here and say Öööber over and over again for your personal benefit. I have a good line to respond to those people. I say, I'm sorry, the lawyers of the Uber corporation have prohibited me from mentioning them in any way. That's how I get out of doing it, but I really want to be like, Don't walk up to an actor and ask him to say that! I'm on Cameo, but it's something for me to do as me. I don't play Kirk on Cameo. I'm Sean. The reason for that is you can't afford me as Kirk."
3. DSL installer (season one, episode two)
"At that time in my career, I wasn't a newcomer. But I certainly didn't have a big acting career. I moved to Los Angeles from Chicago around 1998. Once I got an agent, I started to do some television work and was booking pretty well for guest-star roles. I remember when I got the audition, my manager at the time called me and said, 'Hey, I have this role for you for a show called Gilmore Girls. Your agent wants you to pass on the role.' The role was called DSL Installer, which reveals the age of the show — and me, unfortunately. My agent didn't want me to audition because it was a co-star role, and I was booking larger roles at the time. But I was like, 'Well, let me read it.' I read the scene, and it was very funny. It was between him and Lorelai. I read it and was like, I totally understand this material. It was rapid-fire. I was a fan of Howard Hawks and Preston Sturges, and I knew that old style of bang-bang-bang comedy. So I decided to take the role anyway.
I knew who Lauren Graham was from being a television junkie and knew she was a good actress. Everyone was super nice. That was the second episode, but it felt like the first — since the first episode was a pilot shot in Toronto many months earlier. After the pilot got picked up, they moved the whole production and recreated the set in the Los Angeles studio, so there was a feeling of newness among everyone. I had an absolute ball. I loved the style of Gilmore Girls. I felt very comfortable doing that scene right out of the gate. I heard later that after I auditioned, when I left the room, Amy turned to everybody and said, 'That's the guy.' It was a very joyful experience."
2. Hockey announcer (season three, episode 15)
"I love that episode so much. I remember filming it like it was yesterday. The hockey-announcer job was one of my favorites because it was easy. I wasn't in most of the shots that day. I got to sit down for hours. They put one camera on me, and I just tried to be funny with what I was saying. My favorite quote from the entire series comes from that job, when the Stars Hollow hockey team loses their game: 'So it's back to the desert for the Minutemen, perhaps for another 40 years. Of course, by then, I'll be 70 years old. A lot of the rest of you will probably be dead. Taylor, you'll be dead. Miss Patty, you'll be dead. That man in the hat, you'll be dead.' He's so nonchalant about it. That moment has tickled me for 20 years, I laugh about it all the time. I should note there was no improvising at all. There isn't a single syllable that has ever been improvised by anyone on Gilmore Girls. Literally. Every syllable was verbatim. If you said 'didn't' and the script said 'did not,' we'd have to do it again. I say that from experience."
1. Filmmaker (season two, episode 19)
"The experience of working on this short film — with the great Mary Lynn Rajskub and Jon Polito — is one of my fondest Gilmore Girls memories. They were both actors who I already admired. I arrived at the set and didn't know who was playing those roles, so when I saw those two phenomenal actors roaming around, it was a terrific surprise. By that point in season two, we were in the pocket of understanding Kirk as a character — as a collaboration between Amy, the creator, and myself, as a performer. We were firing on all cylinders. I can watch that film and understand exactly why Amy found it hilarious and what she found funny and weird about Kirk. It really works. I still see people wearing 'Film by Kirk' shirts, which gives me so much joy. And that dance? Where I take my shirt off? I'm the youngest of six, so the idea that I have to get in the middle of the room and entertain everybody is in my DNA. To quote the man himself, I have good taste."