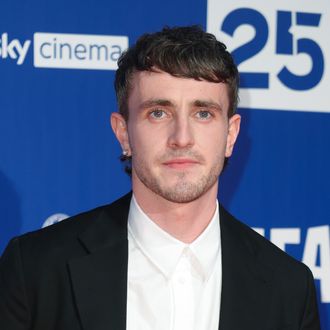 Photo: Mike Marsland/WireImage
A horde of eligible actors entered the Gladiator 2 casting arena (not including Timothée Chalamet, whose manager claims has not auditioned for anything "in more than seven years"), and Paul Mescal has emerged victorious. Per Deadline, the Normal People star is set to lead Ridley Scott's Gladiator sequel for Paramount. The original 2000 movie starring Russell Crowe as Maximus won five out of the 12 Oscars that it was nominated for, including Best Picture. So, you know, no pressure! The follow-up will center on Mescal as Lucius, a Roman with some pretty well-known relatives: He's the son of Lucilla (Connie Nielsen), the nephew of Commodus (Joaquin Phoenix), and the grandson of Marcus Aurelius (Richard Harris). Gladiator 2 will be directed and produced by Scott, with Napoleon screenwriter David Scarpa handling the script. Costume designer Janty Yates and production designer Arthur Max, who both worked on the original movie, are also onboard to bring us back to around 200 BCE, when the movie will reportedly be set. According to Deadline, the movie, which has been in development since 2018, will finally release on November 22, 2024. Hopefully we'll be entertained with more information soon.
This post has been updated.