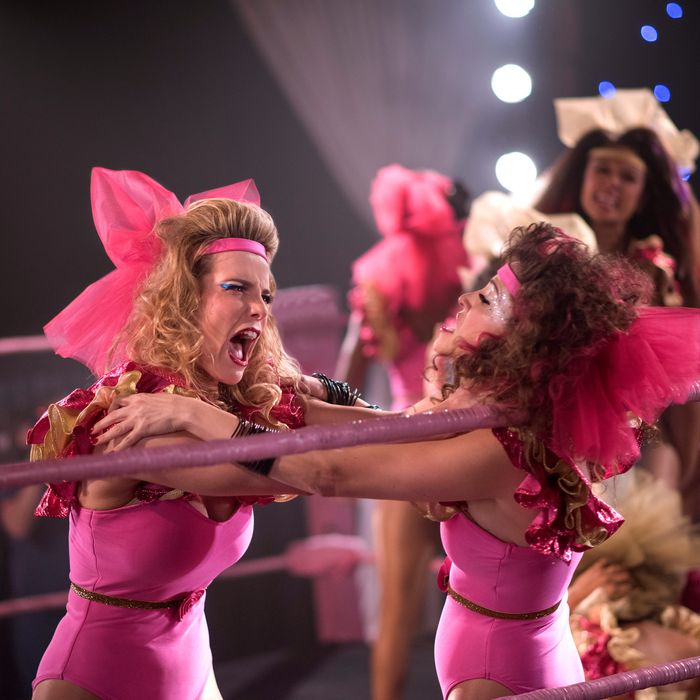 The women of GLOW, in a moment of camaraderie.
Photo: Erica Parise/Netflix
The first episode of GLOW begins with an audition by struggling actress Ruth Wilder (Alison Brie), who is reading for the part of a business executive. After delivering a convincing monologue — "I will not be bullied into submission" is one of her lines — she thanks the casting director for the opportunity to try out for a strong female role, those being so rare, at which point the casting director informs her she's been reading the man's part. The woman in the scene, it turns out, has a single line: "Sorry to interrupt; your wife is on line two."
It's a terrific opening scene that also functions as a statement of purpose. GLOW was about women in the 1980s who joined a seemingly exploitative all-women wrestling show, but used the experience to assert their power and identity. What looked on the surface like it could be a silly, semi-gratuitous comedy, was actually an exploration of the dynamics between women trying to succeed in a world constructed by men who stand to reap the most benefit from women's success. In other words: It focused on women who refused to be bullied into submission.
Unfortunately, yesterday, GLOW had no choice but to submit to being canceled by Netflix. (The streaming giant actually canceled two series executive produced by Jenji Kohan, GLOW as well as the one-season-only Teenage Bounty Hunters.) The original plan had been to proceed with a fourth and final season of GLOW; earlier this year it was in production long enough to complete the fourth season's first episode and start on a second before the pandemic shut things down, as noted by Deadline, which first reported news of the cancellation. But Netflix executives apparently decided that the cost of resuming production under COVID-19 protocols, a challenge on a series where actors are frequently (and literally) on top of each other in a wrestling ring, would be too extensive.
"COVID has killed actual humans," series co-creators Liz Flahive and Carly Mensch said in a statement. "It's a national tragedy and should be our focus. COVID also apparently took down our show." They added, "There are a lot of shitty things happening in the world that are much bigger than this right now. But it still sucks that we don't get to see these 15 women in a frame together again."
There certainly are far worse things happening in the world, but Flahive and Mensch are correct to say that this cancellation sucks, and not just because it means they don't get to finish GLOW as they had planned.
It sucks because, in addition to focusing on women's stories, GLOW also put women at the forefront behind the camera. Its showrunners were women. In each season, more than half of its directors were women, including the late, gifted Lynn Shelton, who died suddenly earlier this year of a previously undiagnosed blood disorder. The writing credits on the vast majority of episodes also belonged to women.
The ensemble cast included women of different races, ethnicities, and, significantly, sizes, a testament to the fact that any woman can be powerful in spandex. Because of the ridiculous theater that typified the original "Gorgeous Ladies of Wrestling" during that era, some of the characters were often saddled with gross stereotypes. Season two's "Mother of All Matches" confronted that issue directly by placing Tammé (Kia Stevens) — wrestling name: Welfare Queen — in a pivotal match against Liberty Belle (Betty Gilpin), a.k.a. Debbie, that Tammé's son comes to watch. The fact that Debbie mocks Welfare Queen, who is Black, for being poor and having too many kids hits Tammé as blatantly unfunny with her son, a Stanford student, watching. After the mostly white people in the audience start shouting at her to get a job, she suddenly starts crying and exits the ring. It's a heartbreaking thing to witness. GLOW did this kind of thing regularly: placed us in the '80s as some may remember it, with its high energy, gravity-defying hair, and shameless jokes, then revealed how insensitive, crass, and alienating it often was.
The fact that the show was able to walk that line between silly camp and sincere social commentary was one of GLOW's greatest feats. It took its characters and underlying themes seriously, but never took itself too seriously. At times it reveled in the fun of its era, filling its soundtrack with upbeat songs by everyone from Starship to Siouxsie and the Banshees to Scandal. It was really entertaining. But it also had depth, and it packed all of those elements into episodes that only lasted 30 minutes.
It's also frustrating not to see a season four of GLOW because of where things ended in the last episode of season three, at the end of the season's Las Vegas story arc. After acquiring a TV station with Bash (Chris Lowell), Debbie, who will be the president of this new network, offers Ruth a job as director of the new wrestling show they are planning. Ruth turns it down. Debbie is baffled. "You don't want to be happy, successful, powerful?" she asks. Ruth says she doesn't want what Debbie wants. In a way, their argument recalls first scene of the series, in which Ruth's expectations of what her career may give her don't match those of another woman — the casting director.
Season four would have shown us the next steps that Ruth and Debbie, portrayed with such care by Brie and Gilpin, take on their paths toward some measure of happiness, success, and power on their own terms. We won't get to see that now. We won't get to see what happens with the on-again, off-again romance between Ruth and Sam (Marc Maron, the boyfriend of Shelton, who has had a hell of a year), either.
Most importantly, we won't find out how Mensch, Flahive, and their fellow writers close out a series that began with a single woman, speaking directly to a camera, fully believing that she has as much right to say "manly" words as any guy does. It is tempting to blame Netflix for that; I do wish they could have found a way to make a last season of GLOW work, maybe by not green-lighting a couple of other shows or, I don't know, getting a reverse mortgage on the money spent making Insatiable? Can you do that? Can you get a reverse mortgage on a TV show?
But as Mensch and Flahive said, it's really COVID that took down GLOW. And COVID, perhaps, might not have been able to cause that damage if it had been more effectively addressed by our government and its spread had been curtailed more quickly. Given the circumstances, it's not that far a leap to suggest that GLOW has ultimately ended — along with so, so many other things that brought us joy — because a bully beat it into submission. That's the most frustrating, maddening part of all.