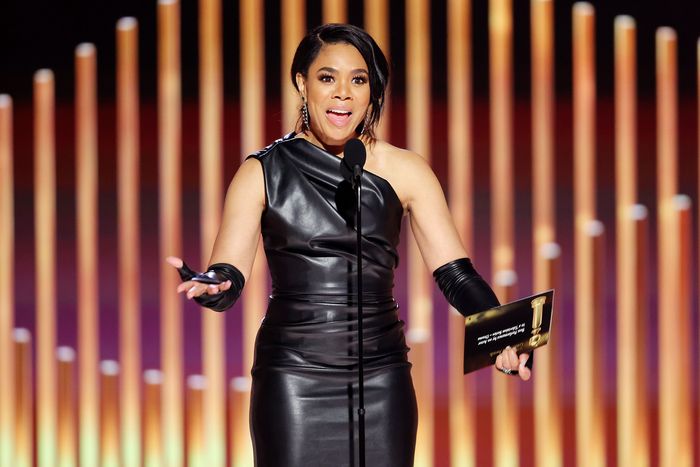 Photo: Rich Polk/NBC via Getty Images
The Golden Globe Awards has always been the unserious awards show, the awards show with sketchy ethics, the one during which everyone gets drunk on live television so they can say they came for the free booze if anyone questions their behavior. But for many years, the industry acted as if it was important: The Globes marked the start of awards season, provided a hint at what might happen at the Academy Awards, and shined a spotlight on films and TV shows that mainstream audiences might have missed.
That is, until 2021, when a Los Angeles Times investigation revealed that the Hollywood Foreign Press Association, a nonprofit, was engaging in financial improprieties and had zero Black members. Talent pulled out of attending the 2022 ceremony, NBC opted not to broadcast the show, and while Golden Globes were still technically awarded, no one really paid attention.
Which brings us to Tuesday night, a weird night for an awards show and the NBC return of the ceremony. It was as if this telecast, hosted by a truth-telling Jerrod Carmichael and, unofficially for a couple of stretches, Jennifer Coolidge, took an edible at the beginning of the evening and got a teensy bit higher as the minutes passed. Several incidents could be cited as the ultimate encapsulation of the evening's anything-goes vibe: Carmichael asking if he could trade the three Golden Globes Tom Cruise returned to the HFPA for disappeared Scientologist wife Shelly Miscavige, Quentin Tarantino pronouncing the Best Picture nominees as though he were really angry with cinema and it knew why, Michelle Yeoh joking that she would beat up pianist Chloe Flower if she played over her speech … or was she joking?
But the moment that best captured this year's extra-chaotic energy was presenter Regina Hall accepting a Golden Globe on behalf of Kevin Costner. "Kevin Costner, he so much wanted —" she started, then paused because she was laughing too hard. "I always like how they write this: 'He so much wanted to be here' — no, I'm sure he did." When she got to the teleprompter bit about Costner not being able to attend because storms forced him to shelter in place in Santa Barbara, she started laughing harder: "He's stuck in Santa Barbara. Let's pray, everyone."
Hall was trying to be serious and dignified but could not because the ridiculousness of the task at hand made her bust out laughing. And that, my friends, is the Golden Globes in a nutshell. And at the 2023 ceremony, it was as though everyone in the ballroom at the Beverly Hilton realized the telecast did not happen last year and that NBC might not air it next year, so they may as well get real and get some stuff off their chests.
In his opening monologue, Carmichael sat on the edge of the stage and noted that, as host, he had been invited to serve as "the Black face of an embattled white organization." Colin Farrell, upon accepting a Golden Globe for The Banshees of Inisherin, called out his co-star Barry Keoghan for eating crunchy nut cornflakes one morning during production: "You should never send a man to work on an empty belly." Eddie Murphy, recipient of this year's Cecil B. DeMille Award, offered three pieces of advice to younger actors: "Pay your taxes, mind your business, and keep Will Smith's wife's name out of your fucking mouth!" The audience erupted into cheers.
Coolidge shouted out The White Lotus's creator, Mike White, for casting her in the series, which has, in turn, convinced her neighbors to talk to her. And White openly wept at everything she said while producers shoved a camera into his face so the world could watch him sob in 4K HD. A short time later, while accepting the Globe for Best Limited Series, White announced he was drunk because the food was gone by the time he got there, then called out everyone in the room who passed on a pre–White Lotus series he pitched with Coolidge. "Everybody passed," he said, pointing his finger at the entire room. "I know you all passed."
That dash of bitters with the gratitude also came through via Yeoh's speech with a line so good it belongs in an award-winning movie or TV show: "I remember when I first came to Hollywood. It was a dream come true until I got here."
The producers of the 2023 Globes gave attendees the tools they needed to make themselves and the show feel loose — free alcohol, allegedly scant amounts of food, and an international platform — then basically let an awards show be an awards show. Carmichael didn't do any lengthy bits outside of his monologue. In keeping with how the Globes has typically operated, there were no video tributes to the year in film and television or musical performances. It was just people coming out to present awards and people receiving those awards and giving speeches.
In many of those speeches, there was a sense that people wanted to take the moment to reflect on the arcs of their careers in case they never got the chance again. A teary Ke Huy Quan spoke about almost giving up on acting. Quinta Brunson talked about seeing her comedy inspirations in the room, people like Henry Winkler, Bob Odenkirk, and Seth Rogen. Ryan Murphy, who received the Carol Burnett Award, thanked basically everyone he ever hired to star in one of his shows. Flower was clearly instructed to play off some speakers — it was weird for the Hollywood Foreign Press to interrupt the makers of the best-international-film winner, Argentina, 1985  — but on several occasions, the producers of the broadcast just let people fly as long as they wanted.
No one was pretending the Golden Globes ceremony was totally fixed and everything is fine now. But the producers seemed to believe that if you're going to bother hosting an awards show, you may as well let it breathe, lean into the elements of surprise that live TV offers, and enable the honorees to enjoy themselves while still mocking the frivolity of the whole exercise. This year's Globes got that part right.
Or, as the great Guillermo del Toro put it while accepting his prize, "Some of us are drunk! What can be better?"