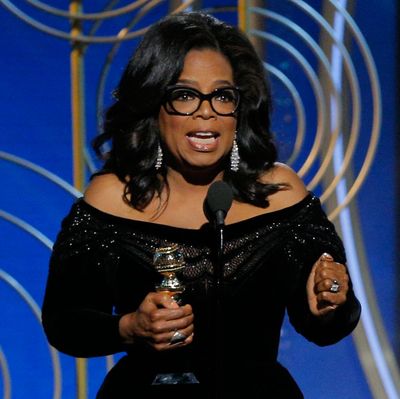 Photo: Paul Drinkwater/NBCUniversal via Getty Images
The annual Golden Globe Awards is kind of like the Oscars' more fun, way drunker little sibling, where the nominees can hang out and gossip about whatever they want without the added pressure of waiting to see if the year's Best Picture is actually the year's Best Picture. There are always fun surprises! The hosts are a hoot and do not have a history of stupid tweets! There are fancy new awards! We're definitely going to tune in, and so should you — and here's how you'll be able to do it.
The Andy Samberg and Sandra Oh–hosted Globes will be held on Sunday, January 6, and per tradition, E! News will be leading the red-carpet coverage beginning at 6 p.m. ET — their fashion analysis can be viewed on live television on the E! network, the official E! website with your respective cable log-in, or on the E! smartphone app. Red carpet and general preshow coverage will also continue with NBC beginning at 7 p.m. ET.
If you couldn't care less about "fashion" and "lewks" and just want to watch the actual ceremony, you have a few options. Of course, if you have cable, you have a simple task ahead of you. The Globes will air live on NBC beginning at 8 p.m. ET, which can also be accessed on the network's official website and/or smartphone app with your cable log-in. If you don't, here's how you can bend the system in your favor. Hulu's Live TV plan, YouTube TV, Sling TV, and PlayStation Vue are all streaming the ceremony live, and they conveniently offer free trials for your viewing pleasure. (Unfortunately, the ceremony won't be livestreamed anywhere for free. Sorry! Blame NBC!) Just remember to unsubscribe when the trial period ends and voilà — a zero-dollar Golden Globes experience to commence your new year.