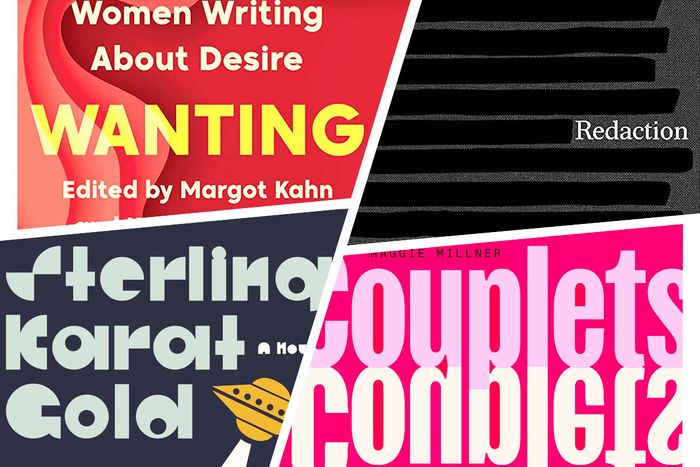 Photo-Illustration: Vulture
As the title of this column states, this is a space to talk about new books. But have you ever stopped to consider the paradox of talking about books that don't actually do anything new?
This month's entries seek to push against that: New interpretations of tech culture, new definitions of love and desire, and new translations of a classic author are joined by a refreshing new spin on the English novel and a new way to view a thought-provoking art exhibition. As always, in preparing this list I've tried to filter "books that I like" through the lens of "books that don't already have a ton of coverages," since these kinds of lists tend to function as a fiction-PR depository. Ideally, the net effect will get readers to think in a way they haven't before.
The genesis for this beautifully produced art book is a 2019 collaborative poem-painting project, originally shown at MoMA PS1, between painter Kaphar (a TED Talk hall-of-famer) and poet Betts (who is also a graduate of Yale Law School). The artworks, which reflect true stories of people held without trial because they can't afford cash bail, turn court filings and illustrations of incarcerated people into startling comments on the absurdity of America's criminal justice system. The story of Redaction is also the story of the duo's friendship, and as a series of metaphorical conversations, Kaphar's playful and subversive paintings — like a portrait of Andrew Jackson shredded and disheveled — sit across from Betts's hypnotic and consistently surprising poems as interludes. The interplay serves as both a resting place and thematic establishment for the plates' cumulative power. As a transition, translucent paper stock sits atop illustrations of incarcerated persons and the poems — effectively deconstructing Redaction's structure. Seeing the building blocks of these soberly pared-down documents drives home the infuriating fact that prisoners aren't born, but made.
A work of history that situates its subject as both a Rosetta stone and a cabal of robber barons, the great strength of Harris's work is that it's fun to read. The tech class considers itself unique, but by taking Palo Alto back to its founding, Harris proves that nearly every problem within its community — wealth fetishization, junk science, porous ethics, an egregious indifference to diversity — is embedded in how it has functioned since creation. There are countless "founders" who will recoil upon hearing that the only difference between Moore's law and sifting for morsels of gold is the decimation of pocketbooks instead of communities. But that doesn't make it any less true. Harris doesn't wrap your brain around reams of Marxist theory (though there is a lot of that), and he doesn't beat readers over the head with diatribes about a correct way of living. Instead, he makes his case, and it's a necessary one.
Early-aughts nostalgia is in full swing, but before you dust off your Helen Hunt and Mel Gibson DVDs, I'd encourage reading this eclectic anthology of essays. "Women want to want," Kahn and McMasters note in their introduction. "And wanting — which demands hunger and requires autonomy — remains, for women, a dangerous concept." Karen Russell, Larissa Pham, Lisa Taddeo, Amanda Petrusich, Camille Dungy, and other writers quarrel with this notion of desire as a suppressed emotion, which as a reading experience feels less concerned with stepping over the line than with assessing the reaction of the player on the other side. Yet the diversity of desires (and writing techniques) raises the cumulative effect of Wanting to the level of triumphant. Torrey Peters on transitioning during anti-gay violence in Uganda? Melissa Febos on the orgasm's relationship to frission? Both stories negotiate the consequences of claiming what one wants, and there are plenty more examples alongside them.
A profound new translation of the German Nobel Prize winner, whose reputation since his death in 1955 has matured into that of a paragon of "high" culture. Although it contains a magnificent rendition of his classic novella Death in Venice, and the first new English version of Chaotic World and Childhood Sorrow since 1936, the greatest achievement of this book may very well be recontextualizing Mann within the jumbled, pan-continental tradition he shares with other expatriate writers like Joyce and Nabokov. As Searls notes in his introduction, Mann's Brazilian-born mother was of Portuguese, Black, and Indigenous descent. This renders Mann Black by the one-drop rule, which Searls's translations acknowledge but aren't shackled by. With simple choices, such as using the phrase "hideous Africans" versus "hideous Negroes" in the story "Louisey," Searls simultaneously addresses historical discrimination while expanding its understanding, leaving contemporary readers to ponder the wonder of Mann's crystalline sentences instead of his place within an institutionally racist hierarchy. His writing may be German in origin, but it belongs to all of us.
In this debut narrative-in-verse, a woman who notices Millner reading Middlemarch at a bar causes her to upend her life of "sex and teaching, kale and NPR, / and the boyfriend at the center" to negotiate first an open relationship, then a breakup so she can pursue the woman who surfaced her latent desires. From an artistic standpoint, the perfection of Millner's aesthetic choices raise the erotic, emotional, and existential mess of a personal awakening toward the epic. The entirety of the action seems to take place in a little over a year, yet several lifetimes' worth of reflections and experiences are embedded in its pages: "For any fierce, untrammeled feeling, / now I know I'd give up almost anything."
Poverty, an antiquated idea of masculinity, and the tribulations of the insufficiently English inform Waidner's Goldsmiths Prize–winning work, which spins an already surreal premise of a "trial" — hosted on a Patreon account that the main characters use to pay their rent — into space exploration, time travel, and a revenge plot. After Sterling, the book's protagonist, is bizarrely attacked by a group of matadors, they are forced to prove their innocence or find themselves locked up (in the process leaving their roommate/best friend Chachki Smok, a first-generation immigrant and fashion design student, out on the street). The defense against an ambiguous crime carries shades of Kafka, and the book's refusal to provide a backstory to the brutal logic informing its environment recalls Conrad. Like those kindred spirits, the formal resistance in Waidner's work is formed by the circumstances around its writing — in their case, austerity Britain and the classist, anti-queer, and migratory erasures that have ensued.
The observation that the number of transistors on a microchip doubles every two years.