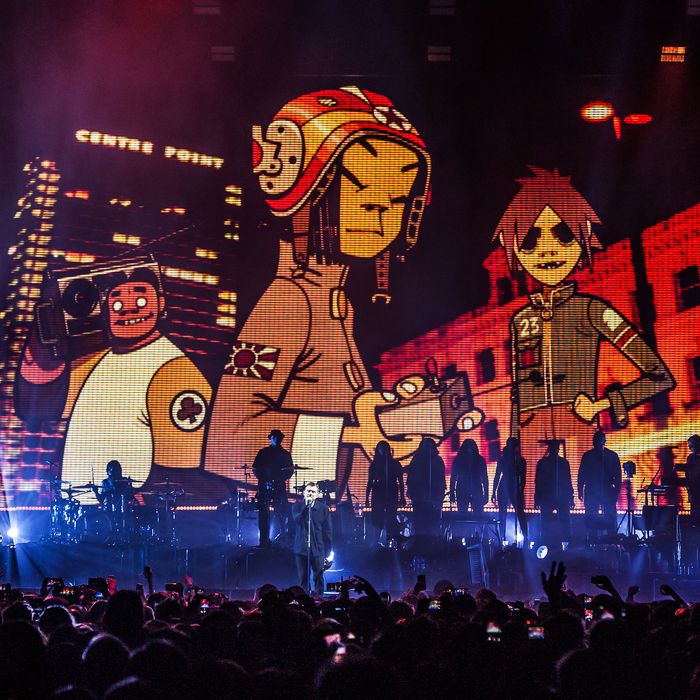 "In a sense, Gorillaz is what I would have been if I hadn't been in Blur."
Photo: Brian Rasic/WireImage
Damon Albarn probably didn't anticipate the devastating global reach of COVID-19 when he once again revived Gorillaz in late January. Or maybe he did. Maybe that was the point all along. After all, Albarn is a melancholy — and adaptable — pop-music wizard who works best in bleak times. That he would stretch out the next Gorillaz album across several months as a singles series called Song Machine, in which every song pairs Albarn with what feels like a speed dial of his very famous friends — (Peter Hook dusting off his New Order bass on "Aries"; Skepta and Tony Allen, who sadly passed away this past April, dueling on "How Far?"; Elton John toning down the glitter on "The Pink Phantom" with 6LACK) — is a testament to his ability to read the room and reflect pop's mood, even if it's not what we want to hear. Albarn, who understands how numbing and bland history can feel, is most proud of this foresight. "I'm a kind of pop Nostradamus," he laughs. The title is an honor.
Like most Gorillaz albums, Song Machine is interesting as a whole yet more enjoyable as a collection of moments; Blur remains Albarn's go-to vehicle for making more straightforward albums. The best Song Machine "episode" so far remains "Désolé," with the excellent singer-actress Fatoumata Diawara leading a minor-key burn that, like Albarn's best songs, has a calculated off-ness that hits in waves. The remote connection of the Gorillaz feels especially appropriate now. "These episodes will be gripping, no doubt," he continues. "Gorillaz kind of exist in parallel universes, so we're able to react in a really fast emotional way now."
Albarn compares Song Machine to the freewheelin' spirit of fan-favorite D-Sides, and it fits nicely alongside the doomsdays of past Gorillaz albums: Y2K (Gorillaz), George Bush (Demon Days), the Great Recession (Plastic Beach), the iPad (The Fall), and Donald Trump (Humanz and The Now Now). As for dealing with the real world, Albarn is just as cryptic as one of Gorillaz co-founder Jamie Hewlett's cartoons. "Life goes on," he says. "And life will go on. What this has to teach us is to pause. We will get through it, just not everyone will get through it. But that's the reality on planet Earth any day of the year. We live in an era of hysteria, and this is a manifestation of that hysteria."
As this first series of Song Machine comes to a close this week, Albarn breaks down some of the highs and lows of Gorillaz and beyond.
Best Gorillaz Song
"Clint Eastwood." I mean you don't get more perfect than that, really. It's just complete hybrid, weird shit. And, you know, it came from switching on the Suzuki Omnichord [a portable electronic instrument] and the first preset was the beat. That can only happen once: [you take an] electronic instrument and the first thing you play you use, and it becomes a massive hit. As a result of that, in the proceeding 20 years I've bought a lot of electronic instruments hoping that that eventually would happen again. I mean, maybe we just peaked early, but for me, it wasn't peaking early because I'd already done 10 years [laughs].
Best Gorillaz Album
They're all works in progress, really. I suppose in a way the first one [2001's self-titled] was the most unknown as a journey because I've never done anything like that. And then the second one [2005's Demon Days] was just meeting such a talent in Danger Mouse and collaborating so well together, which was a real revelation. Then the third one [2010's Plastic Beach] was kind of like the fullest expression of us visually, perhaps. [2017's] Humanz was a subterranean, weird night. And then [2018's] The Now Now is kind of, in a way, the same as [2010's] The Fall; they're postcards from various places of the world. And this one I don't know, what will it sound like by the time it's finished? I have no idea. But it will be interesting. It's a whole year in our lives really.
Most Underrated Gorillaz Album
The Fall. I didn't finish it, but that doesn't mean it isn't a great album. If you can just imagine the songs being finished, it would be marvelous [laughs].
Most Overrated Gorillaz Album
There isn't one.
Worst Gorillaz Song
Why can't you ask what the worst Gorillaz video is?
Worst Music Video
"Strobelite." It's just rubbish.
Best Live Era of Gorillaz
The one that's got the job done the most successfully is the current group of musicians. They were just world-class in their delivery. But you're never going to be able to replace someone like [bassist] Paul Simonon. So, it's different and it's always different each time. No one can do what [Happy Mondays front man] Shaun Ryder does. When Lou Reed was in the band briefly, it was a totally different experience to when Ike Turner was in the band; and when Dennis Hopper came onstage at the Apollo that was a very different kind of band it turned into. It's about who is leading the energy in that moment in time.
Best Jamie Hewlett Moment
I'm a great fan of the "Tomorrow Comes Today" video. I love the aesthetic of that one. You know, stuff like "El Mañana" is so beautiful. He can do so many things. He's like me, he just likes trying different things. Sometimes we get it right, sometimes we don't get it quite so right. But we never get it wrong. Because there is no wrong.
Strangest Use of "Feel Good Inc."
It was used by the BBC network for this Christmas [ad] that wasn't particularly, I don't know … It wasn't really my cup of tea.
Most Bizarre Fan Encounter
Once, in the '90s, I got up early one morning and opened the door and there was a fan listening at the letterbox who had apparently been there since the early hours of the morning. Just listening at the letterbox. Then they proceeded to tell me that they had written all my songs and it was about time I came clean, and went to the papers and told them they had done it.
Best B Side
"Hong Kong." I love that song very dearly. That's one of my best songs. I feel like it carries a lot of poignancy now. Especially the bit at the end about the DJ being the last one to leave. That's why writing songs the way I do, there are moments where they have huge clarity, and then they become weird again.
Most Blur-like Gorillaz Track
I don't feel there's a huge amount of difference between the two. "Girls and Boys" could have been a great Gorillaz song. "Song 2," too; Gorillaz has a drum machine. I play all the instruments [laughs], that's the bloody difference. When you hear Gorillaz, it's just basically me when it comes to the music. But I mean, rhythmically, it's different because I work with [producer and Gorillaz dummer] Remi Kabaka. I never worked with Remi when I was in Blur; it's just different. But my contribution is the same. I don't suddenly become a different person. In a sense, Gorillaz is what I would have been if I hadn't been in Blur.
Most American Thing You've Done
Gorillaz is my most Pan-American band. I include South America in that. Blur was my most British band. And The Good, The Bad & The Queen is my most English band. "Song 2" was an American song. That should have been called "The Wooo-hoo Song." People are like, "Fucking [Albarn "wooo-hoo's" loudly] oh hell yeah, I know that one." The "wooo-hoo's" they love. The names have always been distracting to what the actual hooks are. Like, "Clint Eastwood" should be "I Ain't Happy." That's probably why "Feel Good Inc." is my biggest hit ever because it actually has the name in the song. That's where I've been going wrong. I've got to amend that.
Best Lyric
I think some of my favorite lyrics are going to be coming down the line, tin about Episode Six or something. But I have to change the title because the person I've done it with feels it's a bit too provocative. That's deliciously cryptic. I like talking about things that haven't happened yet. It's quite a thrill. [Editor's note: Episode Six ended up being "Strange Timez" featuring Robert Smith.]
Lyric That Makes You Want to Crawl Into a Ball and Weep the Most
I find all my lyrics embarrassing, so it's just an ongoing thing. I don't know why I keep doing it to be honest with you. I find it very hard, the whole process. I love writing music. I find it relatively effortless. But the lyrics I find really difficult. I suppose it's a balance because I find the music so easy, you know, the yin and yang in it. Sometimes I would like to be more like Elton John in the sense that he had Bernie Taupin. However embarrassed I am by my lyrics, I need to deliver that embarrassment.
Most Joyous Musical Moment
Listening to Buena Vista Social Club when my partner was pregnant. That was the most joyous experience music has ever given me.
 Moment You Wanted to Quit the Most
I never wanted to quit. I'm a lifer.
This interview has been edited and condensed for clarity.