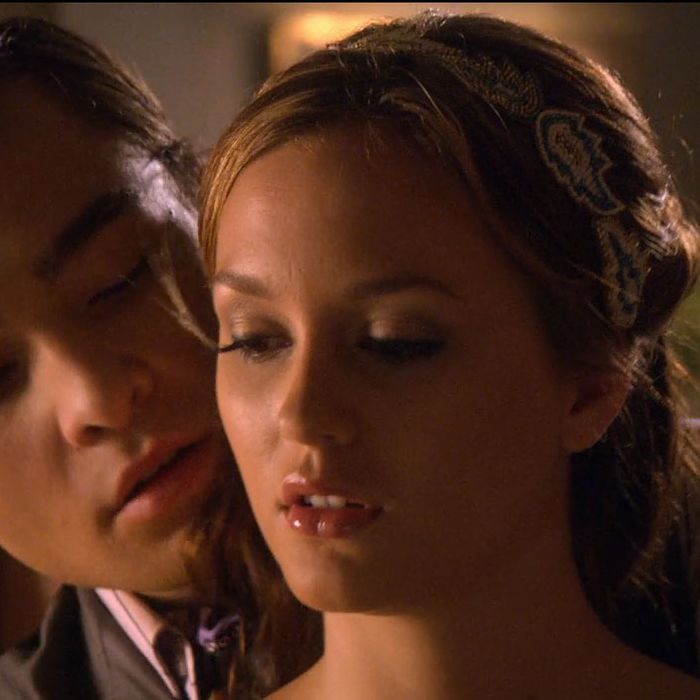 Ten years ago, Gossip Girl introduced America to a group of beautiful, backstabbing, rumor-obsessed teenagers living the good life on Manhattan's Upper East Side. While the actual Gossip Girl was obsessed with Blake Lively's blonde-bombshell socialite Serena van der Woodsen, it became immediately clear that Serena's best friend (and sometimes greatest enemy) Blair Waldorf easily stole the show. Leighton Meester's uptight, intelligent, evil mastermind perfectionist of a character could cut down enemies with a biting one-liner, as easily as she could win over your heart with her vulnerability. She had ambition for days. She had contempt for, well, everyone. And man, could the girl wear a headband.
Like any good fashionista, Blair had a headband for every occasion. From demure to outrageous, no Waldorf ensemble was complete without the perfect hair accessory. To celebrate a decade with Gossip Girl's true power player, Vulture presents a collection of Blair's greatest headband hits for your sartorial viewing pleasure.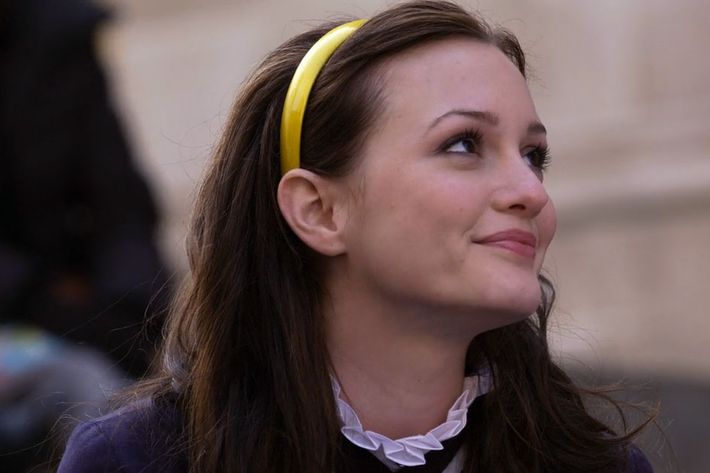 "Pilot" (Season 1, Episode 1)
From the moment we first meet Blair Waldorf, the Upper East Side's prep-school queen bee, she's serving up top-notch headwear. This simple yellow number isn't the first headband Blair sports (she wears a softer, floppier black number for her series grand entrance), but this one tells us so much more about our favorite schemer: It's chic, vibrant, well-coordinated with her school uniform, and it keeps her hair out of her face while she ices out the recently returned Serena van der Woodsen for skipping town without saying good-bye. Blair may feel completely betrayed by her best friend, but this classic yellow headband never lets on. It's bitchy business as usual on the steps of the Met.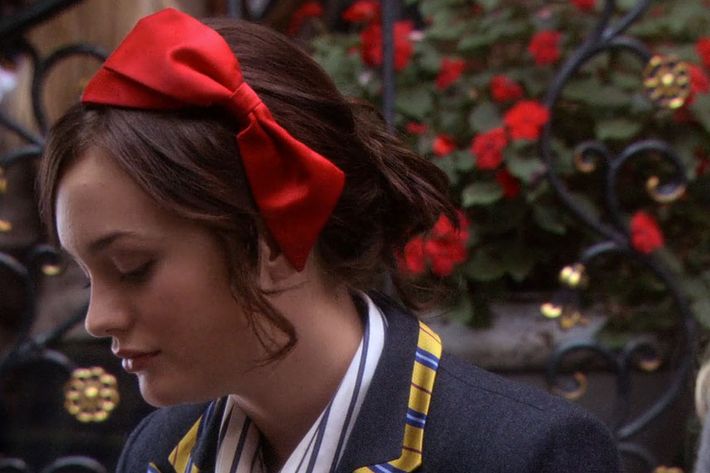 "Victor, Victrola" (Season 1, Episode 7)
This red double-bow headband goes well with the Constance Billard school uniform, but it makes much more of a statement. It's also extremely versatile: Blair wears this headband while putting Little J. in her place when the Brooklynite attempts to move up the popularity ladder, while she has a friendly girl chat with Serena (they're BFFs again!), and most importantly, it doesn't look out of place as she goes to scout the burlesque club Chuck Bass wants to buy before she heads to first period. This headband's got legs.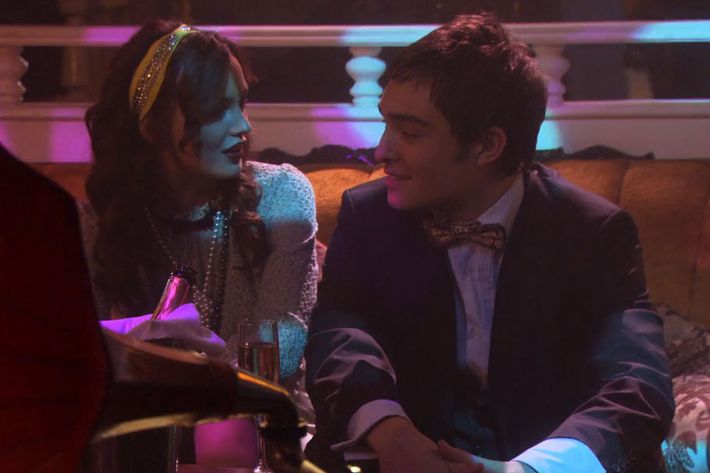 "Victor, Victrola" (Season 1, Episode 7)
Although that red headband works hard, Blair knows it's not fit for nighttime. In the same episode, she switches over to this fancy chartreuse piece, complete with rhinestones for her evening activities. These include cutting loose the dead weight that is Nate Archibald and seeking post-breakup refuge at Chuck's aforementioned club. Just as Blair has the uncanny talent to select the appropriate headband for any moment, she also knows that some moments call for no headband at all (gasp!). For instance, when performing a striptease at a burlesque club that is considering an offer from a high-school junior; the headband is the first thing to go.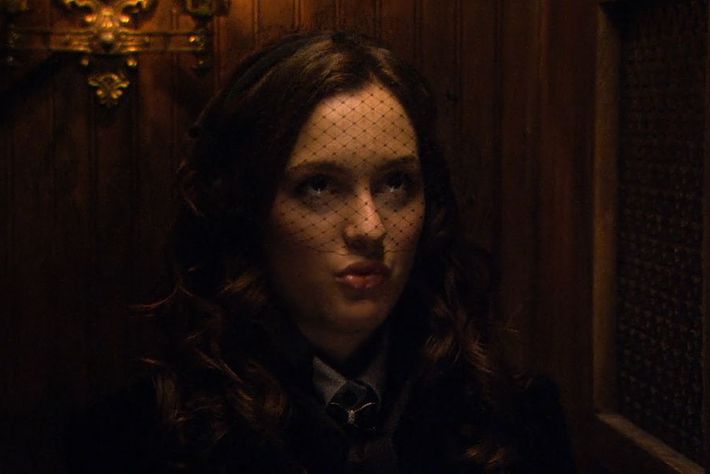 "Seventeen Candles" (Season 1, Episode 8)
Any NYC queen bee worth her weight has a black veil attached to a headband at the ready. A girl never knows when she may have to head to confession and ask a priest to punish her with a penance of flogging for losing her V-card to Chuck Bass. A true queen bee is always prepared.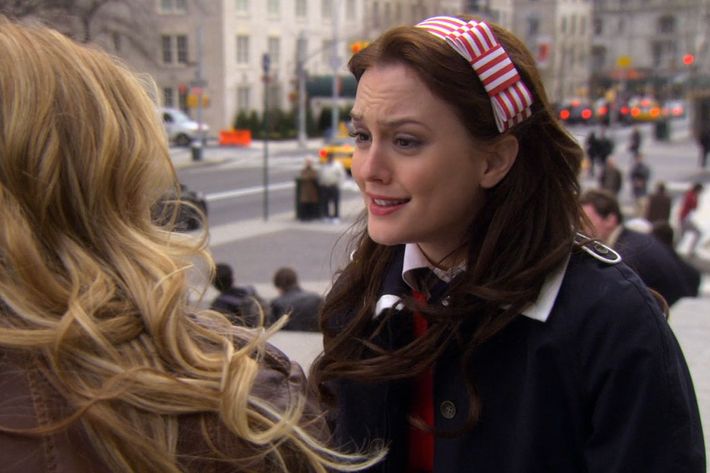 "All About My Brother" (Season 1, Episode 16)
True fact: Blair makes every headband work with her school uniform. This sweetly striped number reveals a bit of her softer side, which brings out some vulnerability when it comes to her ridiculous popularity battle with Jenny Humphrey. (Seriously, Little J. is so out of her league it is laughable.) Blair wears her headbands like armor, which is why, even though she's hurting from possible usurpation one minute, she can still burn Dan the next. Blair is the superhero of the Upper East Side.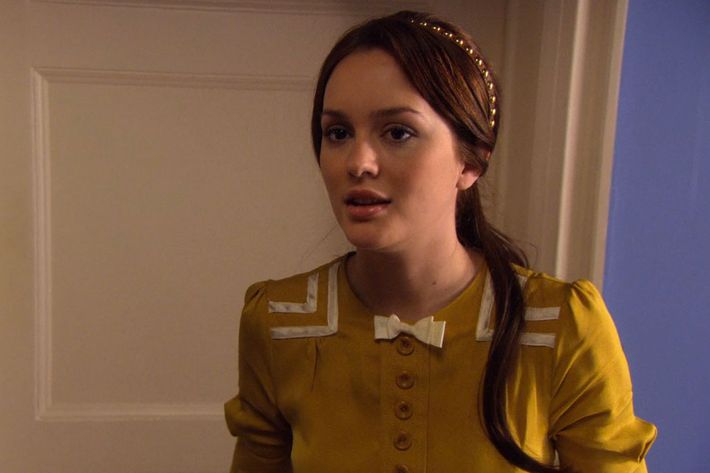 "Woman on the Verge" (Season 1, Episode 17)
This brown, leather, and gold-studded headband is glorious on its own, but it's included here because of the incredible ensemble it is a part of. Blair wears this enviable outfit while tending to Serena, who goes on a bender after the return of everyone's favorite Gossip Girl villain, Georgina Sparks. Most people would be human disaster zones after searching the streets of Manhattan all night for their extremely inebriated hot mess of a best friend, but not Blair Waldorf. Even in a crisis, Blair Waldorf is a put-together queen.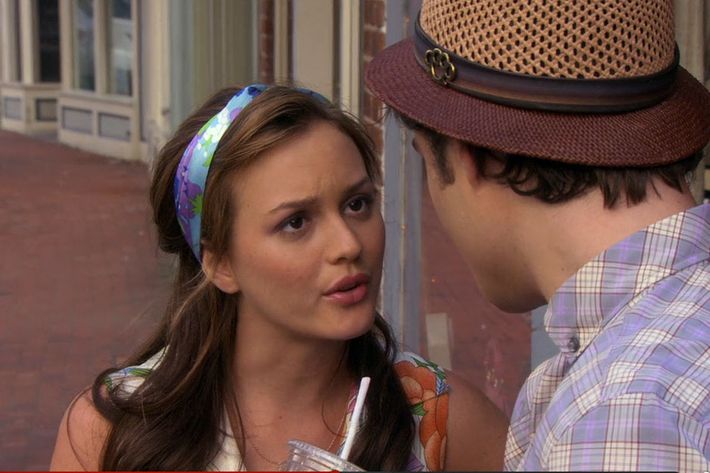 "Summer, Kind of Wonderful" (Season 2, Episode 1)
You didn't think Blair was going to vacation in the Hamptons and not bring a headband or two along, did you? Although her beach trip features many fab headpieces, this colorful headscarf takes the top spot. Paired with her summer glow, it goes a long way in her futile attempt to prove she's over Chuck Bass. As Blair shows us time and time again, a headband can do magical things, but its power only goes so far. You look great, B., but you're not fooling anyone.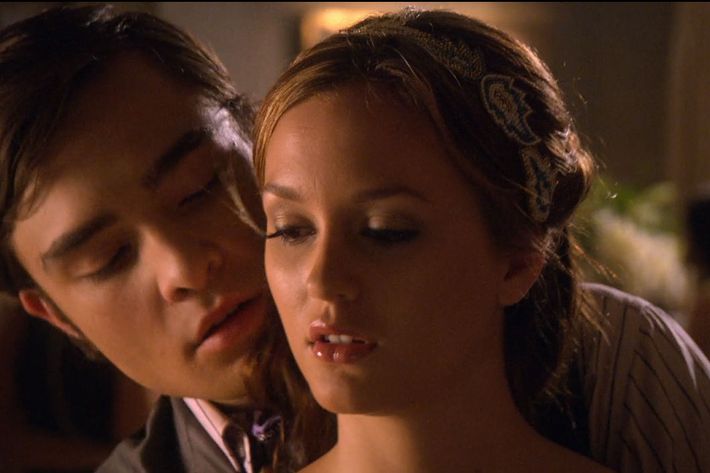 "The Dark Night" (Season 2, Episode 3)
It takes a lot of guts to make out with your ex during a blackout while your new boyfriend — who is an actual English lord — is waiting downstairs. And it also takes a beautiful beaded headband. Our girl's got both.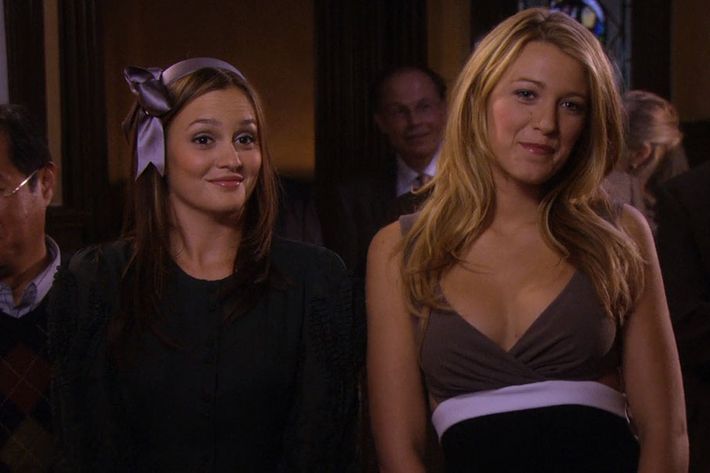 "New Haven Can Wait" (Season 2, Episode 6)
A silk ribbon turned into a giant bow is, perhaps, peak Blair Waldorf headwear. That's why it is the perfect piece to wear when she and Serena have their first physical fight. It begins with some light scheming to show off during a Yale campus visit, and ends with Blair throwing her purse at Serena's head, and Serena ripping off Blair's headband ("I hate your stupid headbands!") before putting her in a headlock. The classiest cat fight there ever was.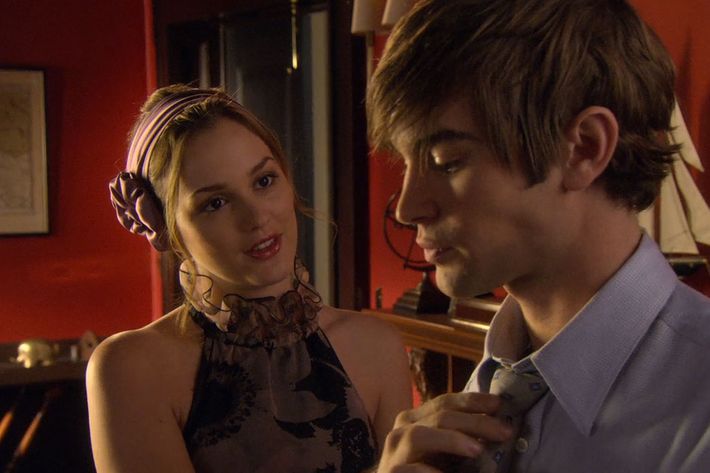 "Seder Anything" (Season 2, Episode 21)
Here's another stellar headband elevated even further by the outfit it's paired with. Not everyone could pull off a giant headband and a high neckline, but Blair Waldorf isn't everyone. She looks elegant and memorable — which is exactly how she wants to look while attending a van der Bilt wedding-rehearsal dinner. (Oh, Tripp, you handsome troublemaker.) Unfortunately, all that excess fabric doesn't soften the blow when Nate breaks up with Blair, after learning she struck a deal with Grandfather van der Bilt to secure a place in the bridal party. It's only temporary, but quite sad, nonetheless. Does Blair wear soft headbands to be prepared in case of future crying? That sounds like something Blair would do.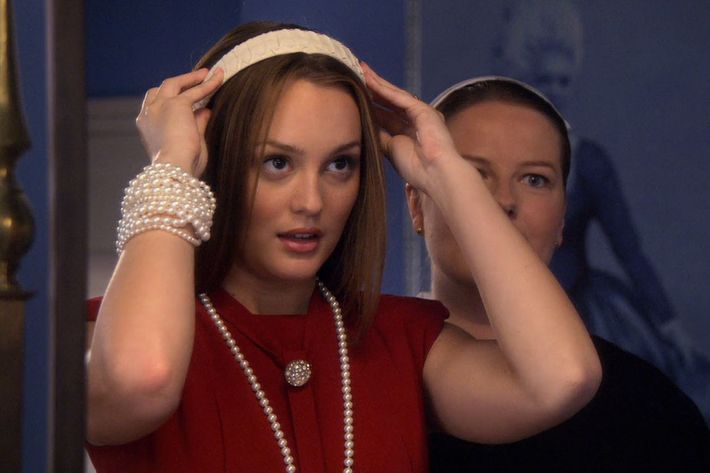 "The Freshmen" (Season 3, Episode 2)
The checklist for a successful first day at college: Chic notebooks? Check. Ample supply of pens? Got 'em. The perfect white headband to match your pearls and white pumps? Obviously.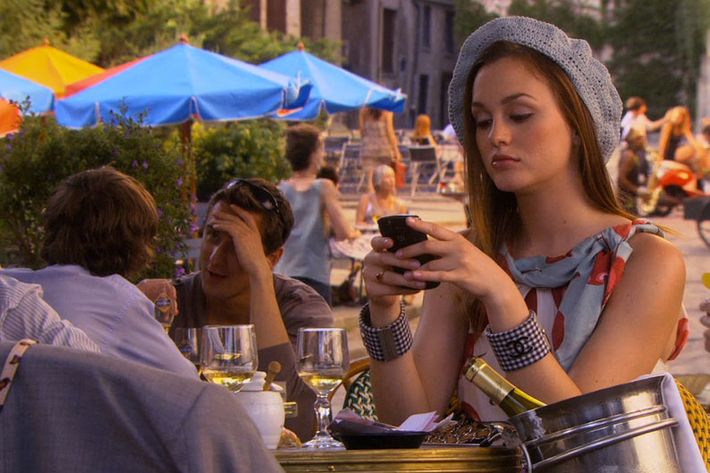 "Belles de Jour" (Season 4, Episode 1)
When Blair spends her summer in Paris with Serena, trying to forget Chuck (a summer tradition, so it would seem), she says au revoir to headbands and bonjour to berets. Never say Blair Waldorf does anything half-assed; her cultural immersion even extends to her headwear.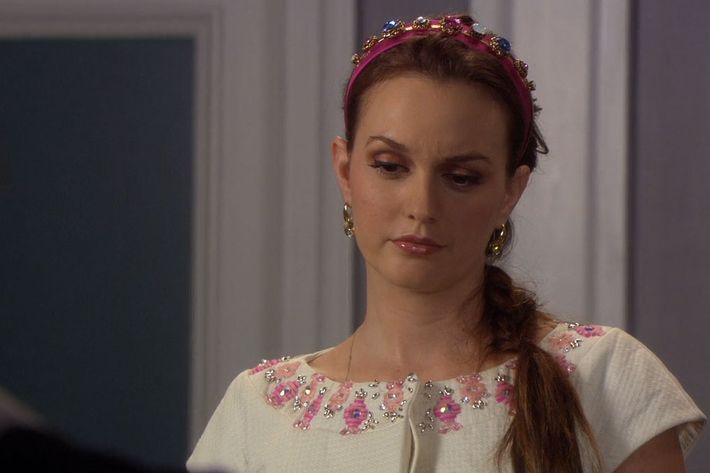 "High Infidelity" (Season 6, Episode 2)
In the final season of Gossip Girl, Blair picks up the mantle from her mother and begins a career in fashion. She's looking to prove her own talent — and what better way than a statement-making headband like this bejeweled pink one? Blair Waldorf stands in no one's shadow!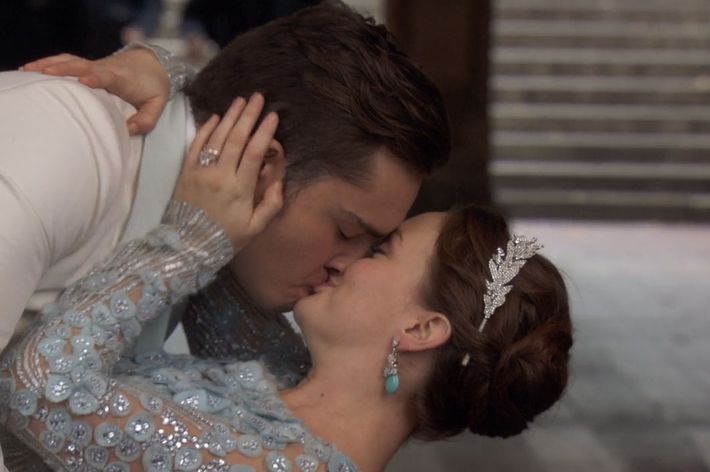 "New York, I Love You, XOXO" (Season 6, Episode 10)
Typical Blair Waldorf to save the best for last. What a drama queen. As if there's not enough to swoon over as Blair and Chuck finally tie the knot in Central Park before they get hauled off by the cops to be questioned about Bart Bass's death, Blair has to go and wear a gorgeous, glitzy headband to match her Elie Saab gown. Just as Blair and Chuck are perfect for each other, so, too, are Blair and this headband. Blair Waldorf and her hair accessories are Gossip Girl's truest love story of all.