Top Image: Andrew Eccles/New York Magazine
Gossip Girl was never about wondering who Gossip Girl was. When the show revealed the identity of its cruel, dishy narrator — a sort of Black Mirror Carrie Bradshaw but with singsongy epithets instead of facepalm-y puns — it was very much beside the point.
Gossip Girl was about talking about Gossip Girl. It was the perfect vehicle for discussion: Every member of the nubile young cast showed tremendous promise — as viewers, we just knew we'd caught them in the gangly glow of their Hollywood pubescence, and that like the casts of Friends or Jersey Shore before them, they were all going to go on to things bigger and more bananas. Did we know Blake Lively would end up marrying Scarlett Johansson's ex-husband and creating one of Hollywood's most enviable, perfect-skinned families? Maybe not. But we definitely could have guessed Chace Crawford would star in a failed ABC soap opera about oil. And, for that matter, that Leighton Meester would marry a character actor from The OC.
The plot of the show was also just dramatic enough to spark debate, while being absurd enough to incite joyous laughter. It was worth discussing for a day or two, and then who cared — something else insane would happen the next week. The actors were magnetic to the point where you rooted even for the bad guys, but the story lines were pure romance-novel pulp. Intentionally or no, it was a show made for internet commentary. And that's where we came in.
Jessica and Chris had begun writing the Daily Intelligencer blog at nymag.com not long before the show began. We were an odd pair: Chris was a sandy-haired, boat-shoe-wearing graduate of Yale. He came to New York from the New York Daily News, where he'd been a reporter for their gossip column. Jessica was a random yahoo out of Philadelphia who, for her tryout for the job at New York, Photoshopped different hairstyles onto then–New York attorney general Eliot Spitzer. Our jobs, improbably, were to filter the stories of the day through New York's unique sensibility, all day long, every day of the week. While we had never met, we immediately sensed a kinship in the form of a deadly aversion to boringness; we agreed to divide and conquer the most hideous bits of our portfolio: Chris took on Albany, because he knew where it was. Jessica agreed to cover Wall Street, because no one really seemed to understand what was going on there, and therefore, she figured, no one at work would really know if she was screwing up. We wrote crazy stuff and no one seemed to mind. In the fall of 2007, things were pretty sleepy — Spitzer was still months away from getting caught with a hooker, and few on Wall Street realized the beautiful music they were dancing to was the same tune they were playing on the Titanic.
Around that time, a screener for Gossip Girl, a New York–based show about Upper East Side teenagers, arrived on Chris's desk. (Chris got things like that; Jessica, meanwhile, got giant packages of bunion pads from Dr. Scholl's which she still has just in case.) He came up with a totally plausible reason why Daily Intel should cover it and not the (at that point also two-person, can you imagine) team at Vulture. "I think we should write up what the show got right and wrong about New York," he said in a meeting, in his calm and capable way, a pen and paper poised neatly on his lap, as though this was something that was needed.
And it was needed. The show, which premiered ten years ago today, was filmed in New York City, and not mostly indoors, the way 30 Rock was. The ambitious filmmakers shot in locations like the front steps of the Metropolitan Museum of Art (have you been to the front steps of the Met? It is never not covered with a murder of tourists) and Columbia University and Indochine: all places our readers could relate with. Despite its fantasy plotlines, there were real logistics going on. Not only could you debate whether one of the characters would actually do that to another, with a candlestick, in the billiards room — you could also question whether they could really get there in under 20 minutes in a limo with crosstown traffic.
So we waded in. For the first Reality Index, as it came to be called, Chris drew on his experience as a nightlife reporter who recognized the interiors of places like Level V, the Campbell Apartment, and Bungalow 8, while Jessica did shoe-leather reporting, calling the Palace Hotel to ask if they ever served teenagers martinis. (Duh! No! There are laws in New York! Also, we were pretty sure teenagers drank, like, Midori sours.) She also piped up to say the show's travel time to Brooklyn was unrealistic, which she knew about because, get this, in 2007, she was the only blogger in the office who didn't live in Manhattan.
The headline of the first reality index was: Gossip Girl: The Most Important Show of Our Time. Why? We don't remember exactly, but mostly we called it important because we wanted to talk about it. And we were not the only ones: The internet wanted to talk about it. The commenting community that grew up around our recaps became its own entity: Every week, after the recap, we would post a recap-of-the-recap, in which the best reader comments were highlighted and dutifully tallied. And the writers of Gossip Girl read much of it — it was one of the first shows to recognize that its audience was in an active, weekly dialogue with its creators. The commenters gently shaped the show, and the show surprised its audience with how much it was willing to thrill and defy them. Creators Josh Schwartz and Stephanie Savage aggressively worked to keep it visually stunning and rhetorically inventive, and it dazzled for six straight years.
In retrospect, Gossip Girl was undoubtedly "important," as we hyperbolically claimed after watching the pilot screener. Not just in the way that any show set in New York, about New York, becomes kind of a time capsule for the era in which it is filmed — in its case, the manic Second Gilded Age, in which the city under Bloomberg fully realized the identity it aspired to during the Sex and the City years, as a playground for the rich. A year after we started the recaps, the stock market crashed, the world met Ashley Dupré, Obama was elected, Bernie Madoff's scheme was uncovered, and suffice it to say we were never bored again. But the Gossip Girl recap remained one of the most popular things on the site.
As the show expanded its insular world, keeping up with the times by including Ponzi schemers and prostitutes and cult members, our world expanded and changed, too. The recaps moved off of Daily Intel to live on Vulture. Occasionally, people would ask to watch the show with us; we always demurred, because watching with us was utter torture — the constant rewinding and "What did he say?" and "What street was that"? caused even Chris's Live-in Boyfriend to evacuate the apartment on Gossip Girl nights.
That boyfriend eventually became Chris's Husband, and Jessica's Husband, a beloved character in the recaps who grudgingly enjoyed The Show, stopped being Jessica's husband. (The two continued texting about it.) Chris got a new job at Vanity Fucking Fair in the spring of 2011 and freaking left Jessica to do the recaps on her own, which nearly killed her. "I didn't, you know, think it would last this long," she said to Penn Badgley in a phone interview at one point in maybe 2012. "I know," he said morosely. "Me neither."
Sigh. There is a little bit of a lie that pop culture teaches you about New York City, and that is that if you come and live here, you might be a regular somewhere. On Seinfeld, it was the coffee shop. On Friends, Central Perk. How I Met Your Mother had the bar, and so on and so on, and wasn't Lisa Kudrow also a waitress in Mad About You? Whatever. The truth of the matter, for those of us who live here, is that you are lucky if your dry cleaner remembers your phone number. A metropolis of 8 million people will never be a clubhouse.
But for six years, Gossip Girl was our regular. For the people who watched the show and lived in the city (and even those who didn't live here), it was a constant. If you knew it, you knew it. We would repeat classic lines to one another — "tights are not pants" — and nonsense phrases that your recappers or commenters invented, like "the cleavage rhombus" or "Chair" (for Chuck-and-Blair), became code words between people who all had something in common. It was a gift from a tight scrum of creative writers, magpie costume designers, and promising actors who hung on for a well-arced six seasons.
You don't get a gift like that too often. So consider this our thank-you note, Gossip Girl. We were lucky to have you.
XOXO,
Jessica and Chris
Season 1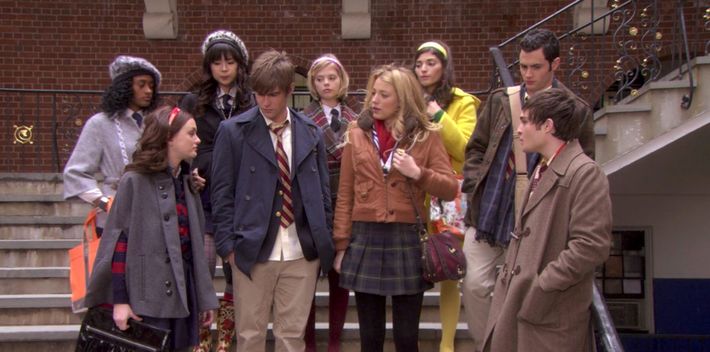 Season 2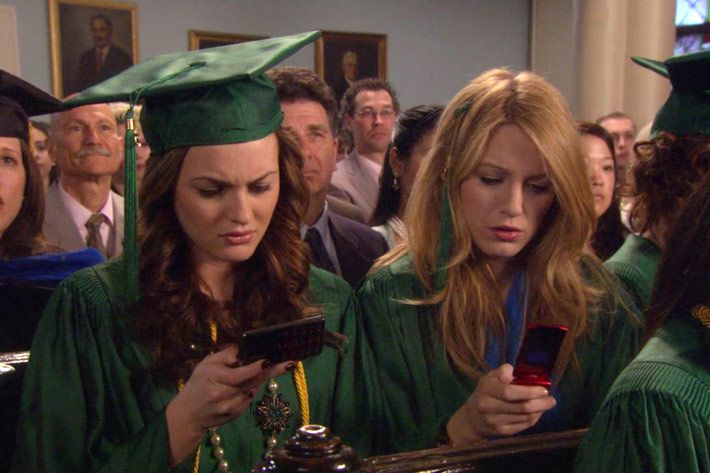 Season 3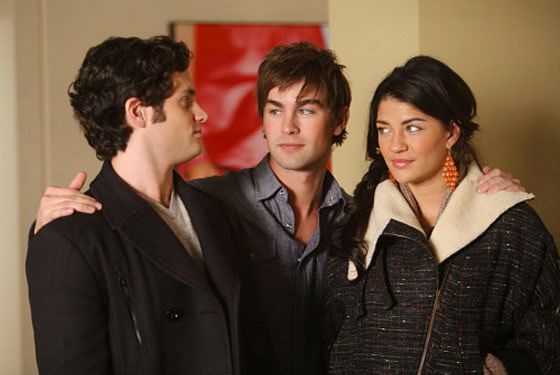 Season 4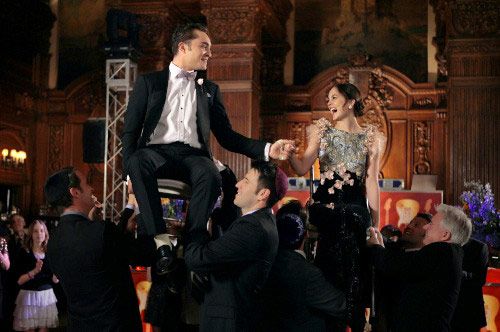 Season 5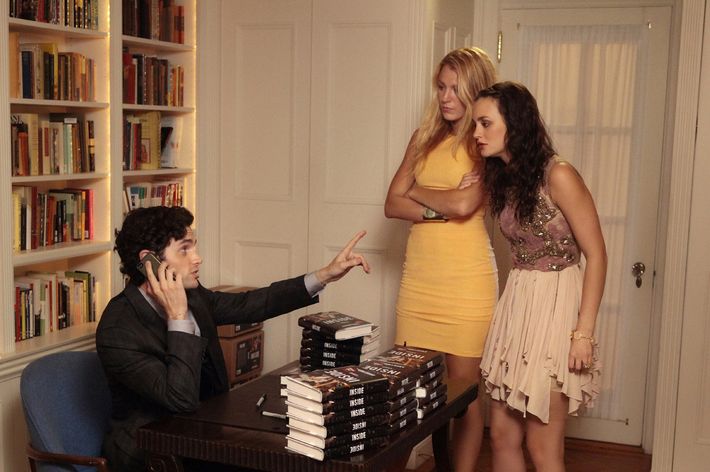 Season 6