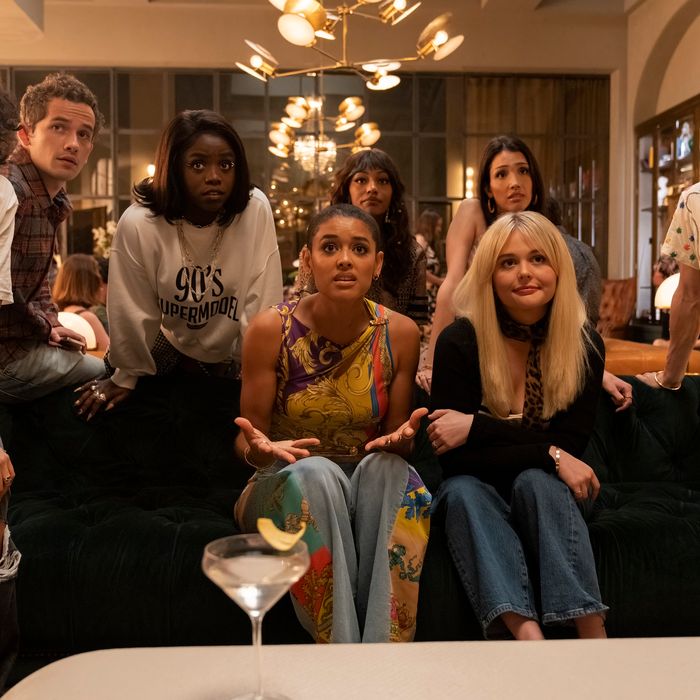 Photo: Vulture; Photo: Warner Media
And just like that, our only source into the scandalous lives of Manhattan's elite has been axed. Last week, showrunner Joshua Safran announced that Gossip Girl would not be moving forward with a third season at HBO Max. So this season finale may be a series finale, and if it is the last we'll ever see of Julien & Co., at least they went out on top.
Let's cut to the chase: They catch Kate Keller! Of course, she can't resist Zoya taking the credit (and rights meetings) and falls for the perfectly produced bait to lure her in. Lock her up, I say! What a satisfying ending for a character who has caused us so much grief. And let's give it up for those cameos. We get Andy Cohen! We get a Nate Archibald Spectator mention! We get Eric van der Woodsen's husband! And even better, we get someone other than Camille de Haan (who is literally such a bitch!) putting the plan into play.
And what a treat! The band gets back together for our finale after calling an emergency meeting at Dumbo House. This is Gossip Girl at its finest. I am obsessed with their conniving ways, utterly delighted that they use their access — a direct line to Roger Menzies plus a burner Realme, which I (and everyone else) had never heard of — to their advantage, and totally tickled by the alias Eugenia Sandoval. And I'm thrilled by their phishing scam that Kate obviously falls for. If she didn't have Jordan in her life, the jig would have been up last season. The fact that the Gossip Girl account was tied to her email or phone number proves she lacks the genius to steer the ship, but I digress.
Julien has access to the account, and our group quickly realizes that one of their own is feeding Gossip Girl spoilers. These kids don't know who to trust! Luna La is over these stupid-ass high-school games. And Obie Bergmann, that fucking little tattletale rat! But Obie, like most teenage boys, is messy. After the group disbands, defeated and doubtful, Obie goes through Julien's phone while she's in the shower. He makes a fatal error however. He doesn't leave the phone as he found it. If you're going to snoop, make sure to take note of what accounts a phone is logged in to and how a bed is made (or not) and leave the scene as if nothing has happened. Why is Obie so addicted to Gossip Girl? Why is he acting as a double agent? It's because this Freudian case study is obsessed with screwing over his family and naïvely believes that Gossip Girl is the only one who can make it happen.
After some tapping around, Julien realizes that Obie is the weak link and quickly alerts the others. This wouldn't be a Gossip Girl finale without a final plan by Julien. And it sounds foolproof for once! They are going to stage a takeover of the account before taking public ownership of it. Once they get the credit, the attention-obsessed anonymous behind the account will burst onto the scene. Zoya volunteers as tribute to fall on the Gossip Girl stake, and Audrey gets her mom to whip up a dress from rehab. They're going to go public at none other than the Met Gala. I scream. Yes! This is absolutely what this show is about — teens meddling at high-stakes, exclusive events.
Gideon delivers, and Zoya's initial look is a slay. Audrey is giving Marie Antoinette, and, of course, Aki is wearing a suit from the Consistency Project. Andy Cohen pops up, declaring that the new Gossip Girl is far more brutal (I beg to differ) and laments that there's not even a Chuck and Blair (fair point). Eric van der Woodsen's husband makes an appearance claiming that GG brought his husband to ruins.
Oh! I almost forget about all our little side story lines amid our mission to take down GG. The throuple is on the brink of downsizing into a couple — much to Max's dismay. He hooks up with Heidi, but Aki and Audrey hook up without him, and it seems like there's too much shit to weather the storm. Julien has the audacity to tell Oscar de la Renta's Fernando Garcia that Luna isn't a model … which is one of the most ridiculous things I, and Luna, have ever heard. Have you looked at the legs on that girl? And her cheekbones could cut glass. She's a born model! But this (rightfully) sends Luna over the edge, and I feel we won't see her around these parts again. Obie promises Julien that he will not stop the steal, and she reluctantly grants him access to the account. He uses it, predictably, to bring his family down. And guess what? No one cares.
Zoya walks the red carpet in a Kiki Hope original with a message plastered across her apron (?) that reads "I Am Gossip Girl." The crowd goes wild! Who is this random teenage girl? Audrey slips her mom's name to the press and secures coverage (a true pro). Jordan feels so blessed. They're finally free! Someone else has taken the credit. They can go on with their lives. Kate pretends to agree, but you can tell she's seething. Then she receives the push notification that breaks the camel's back, and the rest is history … for two months at least.
Cut to la dolce vita. It's summer vacation, and Julien and Obie, Audrey and Aki, and fifth wheel Zoya are shacking up in the Fendi private suites in Rome. Luna La has made it big — she's starring in an international Oscar de la Renta campaign — and looks down on the group from billboards that span the sides of buildings. Meanwhile, Monet is stuck under Camille's clutches on a family vacation. This feels cheap. These two carried the show! The least we can do is grant them some shots on location. Aki has no clue why they're in Rome but is happy to be there all the same. The couple hasn't heard from Max, who is going full Chuck Bass at Berghain. Zoya meets Philip Price (played by Aaron Dominguez), and we get a glimpse of what her love life could look like if it weren't cut short by the overlords at HBO.
Then we get the real reason why we're on holiday. Julien Calloway has yet another scheme up her sleeve: meeting her mom's sister Aunt Naomi, who is living out an Under the Tuscan Sun fantasy. Julien wants to get to know her long-lost family and makes the trek à la The White Lotus's Di Grassos. My only issue with this ending is it makes me think of my least-favorite character, Nick Lott. Did Nick not know anything about his ex-wife or her family? I understand Davis being in the dark but Nick? He is far too nosy. But loving this show means loving its plot holes, so I guess I can't complain.
As for what's next, I'll be rewatching the original. XOXO.
XOXO
• Beautiful gowns: Kate's interpretation of Carrie Fisher's "You're right, you're right, I know you're right."
• It wouldn't be the finale without a final Shanism: Thank you for "Call Me by Your Lame." ("Tritanic" was pretty good too.)