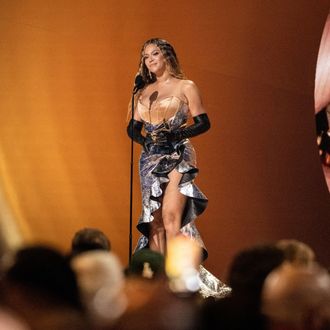 Photo: Timothy Norris/FilmMagic
Sorry — for another year, not even the Grammys will be a safe space for you to not hear about cryptocurrency. Once again, the music honors will take place at Crypto.com Arena, the former Staples Center that is somehow keeping that name even after its sponsor website pulled services from the U.S. The ceremony will take place February 4, 2024, beginning 5 p.m. PT/8 p.m. ET, and will air on CBS and Paramount+.
Nominations, meanwhile, will be revealed on November 10. Ahead of that, the Recording Academy announced a number of changes — most prominently, reducing the number of nominees in the Big Four categories (Album, Record, and Song of the Year, plus Best New Artist) from ten to eight. The Academy previously upped the nominees in those categories to ten just two years ago, out of diversity concerns; there had been eight nominees since the 2019 awards. Also, the nonclassical Producer of the Year and Songwriter of the Year will move to the general category, where all Academy members can vote on those awards. The Grammys are adding three awards this year, for Best African Music Performance, Best Pop Dance Recording, and Best Alternative Jazz Album. Oh, and at least you won't have to worry about AI — the Academy added a rule against contributions by artificial intelligence to submissions.
This year's Grammys will cover music from October 1, 2022, through September 15, 2023, as the Academy is in the middle of once again changing its eligibility period. Expect the big question to be how many Grammys Taylor Swift can add to her collection for Midnights.