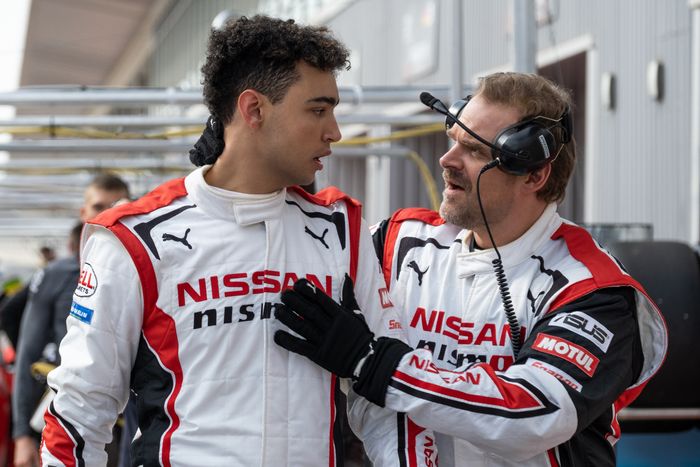 It's an ad.
Photo: Columbia Pictures
Gran Turismo may be named for a video game, but it's based on the life of a gamer — Jann Mardenborough, who made the leap from being a teenage racing-simulator obsessive to becoming a real race-car driver. If that sounds like the stuff of a fairy tale (or an Ernest Cline novel), it's more accurately described as a product of brand synergy. Back in 2011, when Mardenborough was 19, he was chosen to compete on a reality show created by Nissan and PlayStation in the hopes of generating some youthful brand synergy. Contestants who'd qualified by proving their Gran Turismo prowess were put through training and elimination challenges on an actual track, with the ultimate prize being a chance to drive for Nissan in an international race. The game, or, as the screen version of Mardenborough is always careful to specify, the simulator is a key element while also not that important to either the plot, once it gets going, or to the film's visual style. Gran Turismo may occasionally harken back to its main character's days honing his skill in his parents' house in Cardiff, a period that's left off-screen, but it doesn't look like a video game.
What it looks like is an ad, from its opening sequence, a promo reel about how game designer Kazunori Yamauchi set out to craft the most accurate simulator possible in order to "make racing accessible to everyone." A famous figure in his own right, he makes a cameo but is otherwise played by actor Takehiro Hira — which gives the impression that Yamauchi was deemed inadequately cinematic to appear as himself even as his genius is saluted. Archie Madekwe, who plays Jann, seems similarly selected for his teen-drama-ready looks over his screen presence. That's fine during the many montages that carry Gran Turismo through training camp, competition rounds, qualifying races, and, eventually, to the 24 Hours of Le Mans, the French endurance race that makes up the final act. But whenever the action slows down enough for him to talk, the film's relationship to its lead's performance starts to feel like that of a parent trying to extract details from their sullen kid about how school was that day. Madekwe's done no favors by being paired with David Harbour as his reluctant mentor Jack Salter, when Harbour gives an amusingly embittered performance and is about a hundred times more alive onscreen.
The problem lies as much with how the character of Jann is written as with Madekwe's acting. The film, directed by onetime District 9 wunderkind Neill Blomkamp, wants to position its protagonist as a populist underdog breaking through into the elitist world of racing, while at the same time highlighting the publicity-stunt nature of his presence there (Orlando Bloom plays a slick Nissan exec named Danny Moore who masterminds the competition as a marketing opportunity). This confusion also warps the glimpses we get of Jann's home life. Jann clashes with his dad, a former soccer pro turned rail-yard worker played by Djimon Hounsou who is — very reasonably! — concerned about his oldest son dropping out of college to stay in his room all day playing video games. This is, the film insists, an example of a father not supporting his child, though until the competition invite materializes miraculously out of the blue, Jann has done nothing to pursue his professed dreams of becoming a race-car driver except, well, play Gran Turismo.
And the worthiness of playing Gran Turismo is as much of a point as the film is able to summon. It may have a hard time figuring out what to do with Jann, but as a person with feelings and a future, Jann also doesn't really matter. Both his rivalry with a nepo-baby driver played by Josha Stradowski and his romance with a girl from home (Maeve Courtier-Lilley) barely register. The film has this dreamlike sheen, its characters always gleamingly lit regardless of their surroundings. It barely explores the difference between driving a car in a game and on a track, with time slipping by in a way that makes it unclear whether weeks, months, or years have passed. The line between a movie and an advertisement has gotten increasingly blurry — movies used to be a way to sell toys, but now toys have become the sole basis of movies. But Gran Turismo, in its texturelessness, the lack of joy in its depictions of gameplay, its too-sleek race footage and void of a main character, is particularly egregious in what it's doing. It doesn't even aim for the vindication fantasies of past gamer turned savior movies like The Last Starfighter or Pixels. It offers instead a numbing sort of reassurance that it's industrious to keep playing your game of choice — that someday, it will all be worthwhile, even if you can't see how yet.