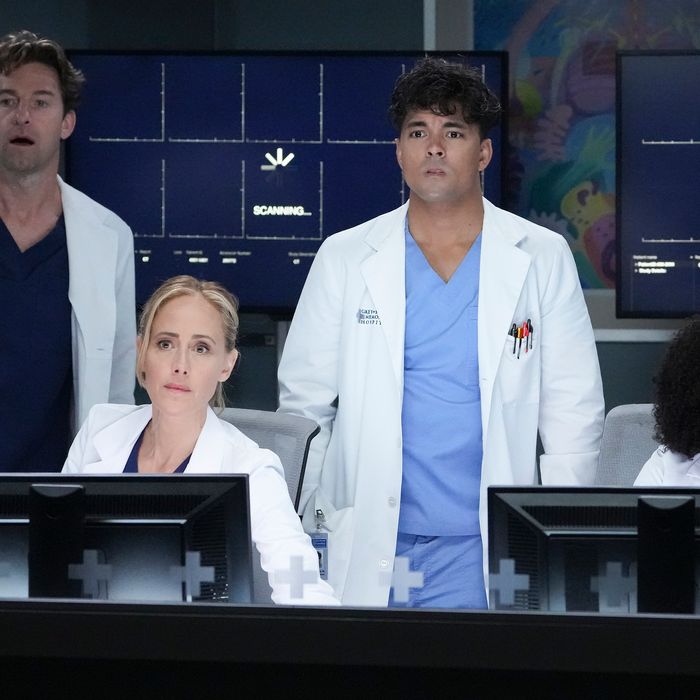 Photo: Eric McCandless/ABC
Link's in the hot seat this week. After losing rising football star Jermaine Talbott to a post-op pulmonary embolism and inducing the ire of all of Seattle, Link's mostly been lying low, moping around the hospital, getting secretly hot and horny for Jo, you know, the usual. The Tank died back in episode eight, which seems impossible, and now it's finally time for Link to get back on the surgery saddle and get a win. Does he have to perform one of the most complicated surgeries in history to get that win? Sure, why not.
Owen calls Link in for a consult on Sam Sutton, an Air Force vet who pancaked himself onto a giant boulder and has now broken 93 bones in his body among several other injuries. Sam decided to go wingsuit flying, which is basically skydiving without a parachute, and wound up here, facing, at the very least, incredibly painful surgery and a long, long road to full recovery. Now, before you start ranting about how wingsuit flying is objectively dumb, which is what I wanted to do with every bone in my body, Owen does explain to Link that a lot of vets come home and start seeking out activities like this as a way to cope with the dullness of "regular life." "Sam's not a daredevil, he's a veteran coping with trauma," Owen says. Regardless of the reasons behind it, you can still see Link hesitating to do what needs to be done for Sam. He can barely touch him during his initial exam, and once he sees how extensive Sam's injuries are, he wants to go about his surgeries as cautiously as possible. He's in his head, and it's certainly not helping that Sam's best buddy and former co-pilot is there asking if they should get a second opinion since Link's the doctor who killed the Tank.
Link decides he wants to do staged surgeries. They'll go in one limb at a time, letting Sam recover in between each surgery. As Owen points out, this is risky — Sam could get sepsis waiting for surgery, and they'd be forced to amputate. On the flip side, Link could do one 19-hour surgery and fix everything in one go. The downside there, Link notes, is a greater chance of complications from anesthesia, like post-op clots, etc. Hmmm, I wonder why he's worried about that. Later, Link will say he's "haunted" by what happened with Jermaine, and that is 100 percent evident here. He tells Owen he's doing staged surgeries and that is that on that.
But Owen is gonna Owen. When Link presents Sam with his surgical plan, Owen butts in to tell him about the other option. For Sam, to lose a limb would be a death sentence anyway: Thrill-seeking is basically keeping him alive at this point. I get (sort of) where Owen's coming from — he's trying to act in what he believes is the patient's best interest. Still, this is Link's surgery! And to do it in front of the patient! It's a real dick move. Not surprisingly, Sam's an "all or nothing" kind of guy, and he wants the 19-hour surgery.
We get several moments of Link trying to figure out how to prepare for this surgery, and the guy is struggling. Owen arrives to be "helpful" by yelling about how they need to get Sam into surgery ASAP and to just sack up or whatever. I guess you could argue that Owen is trying to instill confidence in Link and show that he believes Link is a wildly talented surgeon, but you could also argue that Owen is an ass. Anyway, nothing really helps until Jo appears and calms Link down. When he tells her he'll need a huge team of surgeons to pull this off, she's first on the volunteer list. I have become very endeared to these two people who always seem to want the best for each other and know how to give that to one another and I won't apologize for that! I've been through too many Amelia Shepherd relationships for that!
The big surgery gets montaged and goes incredibly well. What a great moment for ol' Link. Obviously, Sam has a long road ahead of him and surely something will go wrong at some point, but for now, this is a moment of celebration for Link. There's also that whole element of Sam having the hots for Jo, which will definitely put a damper on things for Link when he finds out. But you know what? Sam was scraped off a slab of rock, all four of his limbs were in traction, and that man was still able to successfully flirt with Jo, so you kind of have to give it to him a little. I don't know if this says more about Sam or Jo, but still, a round of applause for the hot boy in a full-body cast. Link spends the day at Sam's side post-op — he's very worried about complications, and you can't blame him for that — but guess who arrives to sit by Link's side and support him? Jo does. So, in the end, I doubt Link's going to have much to worry about when it comes to whom Jo might be flirting with.
Elsewhere, there's a nice little story line between Nick and Lucas, two sad hotties cut from the same cloth — even more than we knew! Nick's offered to mentor Lucas, who is still struggling in the program even though he's obviously talented. Lucas is supposed to be on Nick's service, but he's late and then royally screws up the long list of things Nick ordered him to do. A woman goes into hypoglycemic shock because of the screwup! Nick rightfully reams Lucas out, but ends his reprimand in an interesting way: He tells Lucas that he should look into getting his ADHD meds adjusted before stomping off. Lucas's face tells us that he didn't think he had ADHD until that very moment. You can tell that, although a bit of a shock, it immediately makes a lot of sense to Lucas.
Later, Nick finds Lucas to apologize for the flippant ADHD comment and Lucas confides in him that he's never been diagnosed but that it would explain so much about, well, his entire life. He's always believed himself to be the black sheep, both in his medical programs but also in his family — but being neurodivergent would explain a lot of the issues he's had. Nick confides in Lucas, too: He noticed all of the classic symptoms because he's head of his residency program, sure, but also because Nick was diagnosed with ADHD when he was in college. If Lucas is at all worried that this could hold him back in his career, he has nothing to worry about — he just needs to get a diagnosis and get it under control. This Nick-Lucas relationship has been so lovely to watch this season. I'm almost positive Nick's going to ride off into the sunset with Meredith when she returns for the season finale, and while I want Mer to get her happy ending, what a bummer for us!
There's another quite sweet little relationship getting some development this week: We get to spend some time within the budding friendship between Simone and Jules. While working on Sam's case with Link, Jules assures Simone she has everything she needs to take on the maid of honor duties from Lucas and it'll be totally fine. That's great and all, except Simone had no idea Lucas gave up the gig. There's two things going on here. First of all, Lucas not being able to take on the man of honor role clearly signals that he really does have feelings for Simone and surely brings Simone's feelings for him back to the forefront — not great for her impending nuptials. But we'll put that aspect of it aside. The second part of this situation is that Simone is worried Jules doesn't really know her, but Jules doesn't think that's the case. Sure, she asks her some get-to-know-you questions to cover her bases (Simone's a Taurus and in the movies-or-TV debate, Simone chooses sleep), but she understands Simone in ways that really count. During Sam's case, Jules can tell Simone is uneasy about the whole thing. She knows Simone must be thinking about Jermaine. Jermaine's death affected Link, obviously, but it's done a number on Simone, too. Jules recognizes that. Maybe Jules knows Simone better than she thinks — and she definitely knows her better than Simone knows Jules. Jules has been feeling anxiety about Sam, too. The last time she was on an ortho case, she had to perform an amputation, and she fears what might happen to her if she has to do that again. Simone didn't pick up on that at all.
In the end, Simone wants to make an effort, too. It's why, even after a long day, she comes to Jules's side as Jules sits with her roommate Max, who came into the ER with a UTI that quickly escalated to sepsis. It's a small moment, but a meaningful one, especially on a show that has a history of some pretty great friendships. Friendship is magic, I don't make the rules!!
The OR Board
• Helm's rant about taking better care of interns and residents really strikes a chord with Teddy, who convenes a bunch of the attendings to figure out a way to change things. They commiserate over their own residency horror stories, which only makes it clearer to them that they want to fix this problem. Mika spends the day worried she's going to get fired for having an extracurricular job and gives a spectacular "going out in a blaze of glory" speech before realizing that they don't want to fire her — they want to give her a grant. This is nice, and Mika's the best.
• Bailey talking about how terrible this one attending was to her when she was a resident and needed time off for a family funeral and then revealing it was Webber was high comedy. They are the duo that keeps on giving.
• So it looks like Helm may be rejoining the ranks of Grey Sloan's finest. After this meeting of the minds regarding the residency program, Webber goes to Joe's to apologize to Helm for not really listening to her the last time he tried to get her to come back to work. Now he's listening. "What would it take to bring you back?"
• Amelia's reign of terror was cut short thanks to Addison's intervention, and this week, she's on an apology tour. It works well with Mika, but Winston is much less inclined to forgive and forget what she said to him so easily. You know what? Good for him! She was awful to him, and it shouldn't be so simple for her to take it back. I'm sure at some point they'll bond over a surgery or something, but for now, let Amelia stew in it!!
• Kwan is supposed to be taking care of Max (and, per Max's request, not informing Jules about her health issue), but it all blows up and Max winds up in the ICU and Jules is furious when she finds out. Of course I want Max to come out of this okay, but the major takeaway from this story line is that Kwan and Jules FOR SURE have real feelings for each other, and I can't wait for them to admit it.