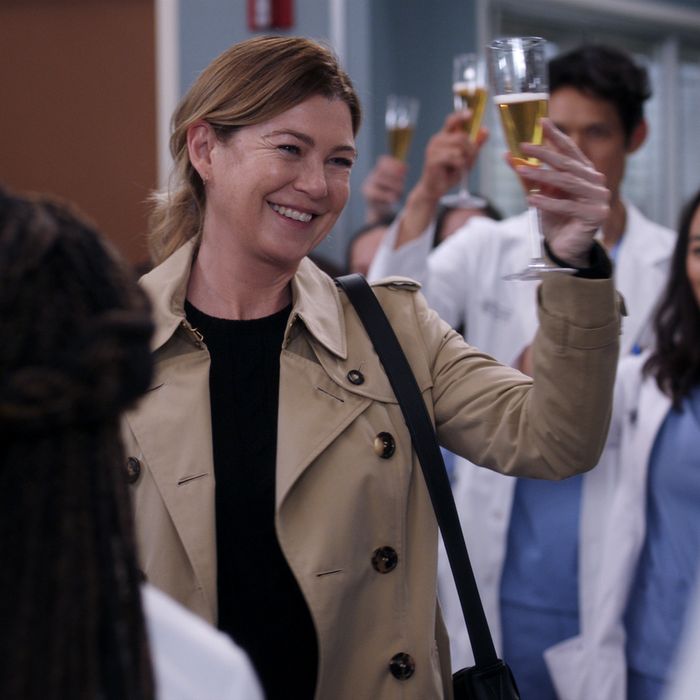 I am laughing. I am laughing so hard. I am laughing so hard, because Meredith Grey's final move as she departs Seattle for a new life in Boston is pulling the ol' fake-out, "I'm sorry, I can't hear you. You're breaking up" phone move when she doesn't want to deal with Nick's declaration of love? That's how she's going out? It's so ridiculous that I both hate and love it. It is a baffling choice in an episode full of baffling choices. I'm sorry, but I cannot stop laughing! Am I having a mental breakdown? It's possible!
Let's talk this thing out, shall we? Grey's Anatomy has been on an extended hiatus since November — remember November? It was a very long time ago — and the ABC marketing department has used that time to hammer home the fact that this episode would be Meredith Grey's big "farewell to Seattle." After 19 seasons, Le Grey is fleeing the death trap that is Seattle Grace Mercy West Grey Sloan Memorial, and this, the seventh episode of the 19th season, would be her big good-bye. But we can't lay all of the expectation-setting at the feet of the promos for the episode: The cast and makers of the show have all been treating this like a big good-bye party for Ellen Pompeo too. Pompeo herself posted good-byes and thank yous to social media. The buildup to "I'll Follow the Sun" has been huge. But here's the thing: When it was first announced that Pompeo would be stepping back from her role on Grey's, it seemed pretty clear that she'd star in the first seven episodes of the season, return for the season-19 finale, and continue to do voice-over narration for the series going forward. (Plus some additional appearances post–season 19 are possible.) So technically, this isn't Meredith Grey (nor Ellen Pompeo) leaving Grey's Anatomy. And yet, there are a lot of episodes to go before the finale. And Meredith leaving Seattle is a huge moment for her character. It might not be the end of her story, but it's still a big freaking deal. Regardless of the way you personally view this specific episode — either as a real farewell or as a major Meredith moment left on a cliffhanger — it was wildly underwhelming and, honestly, kind of strange. That call with Nick at the end? Bizarre! In a pretty solid Grey's Anatomy episode, the character we were led to believe was the belle of the ball had very little to celebrate.
There are no emotional scenes between Meredith and her longtime mentors Webber and Bailey. Nor with her sisters. Not even anything with Jo, who has been through a lot with Mer and probably deserves a nice good-bye! There are no flashbacks. But on Meredith's final day as an employee of Grey Sloan Memorial, there is an abundance of turmoil for the interim chief of surgery — both professional and personal.
Meredith's final surgery at Grey Sloan? A big loss. In the previous episode, we were introduced to Tessa Hobbes, a famous children's-book writer with pancreatitis. Meredith and Nick performed a flawless, although tension-filled, Whipple and saved her life. Tessa winds up back in the hospital after lifting a heavy bag of groceries and tearing something in her abdomen. She's bleeding out. It forces Meredith and Nick to have to actually speak without yelling at each other, which is what they've been doing up to this point. Nick's upset that Meredith just decided to up and move to Boston without even thinking about including him in the process. He's very understanding of Meredith putting her family first. He just wanted to, at least, be a thought in her head as she made this momentous decision — especially since he just moved to Seattle for her. She hasn't asked him to come with her. She hasn't said anything to him about it at all. When they finally have the blowup we've all been waiting for, Meredith tells him that she's angry with him, because when she told him that she loved him, he didn't say it back. When he moved to Seattle, it was as if he wanted to slow things down — so why would she consider him in this decision? All of this sounds like two people who simply need to sit down and have an honest conversation at a normal decibel level. You know, communicate!
In true Grey's fashion, there are conversations about Tessa's situation that are in actuality about her doctors. Nick's upset by the whole Tessa thing, because none of this needed to happen. It's all because she picked up a bag of groceries — it's "so stupid," he keeps saying. "It didn't have to end this way." Meredith's response to all of this is to point out that it might be hard for someone to ask for help when they're used to being alone for so long — to suddenly change their ways. The connection between Tessa and Meredith is not difficult to make, and yet Nick just leaves that softball right on the floor. Does Meredith even know she's talking about herself? It's hard to say since later, after they lose Tessa in the OR, Meredith doesn't seem in any way looking to apologize or offer explanations to Nick. Instead, in a truly great callback, Meredith gives Nick a speech in the scrub room that echoes her iconic "pick me, choose me, love me" speech to Derek in season two: She tells Nick that she's a grown woman, and if he's making her choose, she is always going to pick herself and her family. "I'm not going to beg you to love me," she says. Now baby, that's growth!
After a bad going-away party and toasts that didn't even make me cry (I've cried at orange-juice commercials before, okay?), Meredith and her kids are off. Thanks to a last-minute reminder from Helm (?!) that Meredith is amazing and Nick is being an idiot if he doesn't fight for her, Nick takes off for one of those romantic run-to-the-airport moments. It is ruined by Seattle traffic. Still, Nick will not be deterred. He calls Meredith, already on the plane, and gives her this swoony speech about how he has loved her since the day he met her: "I've loved you every minute of every day that I've known you." I have butterflies just reading that line, and Meredith is going to go all "Oh, you're breaking up. Call you later, sir!" on this man?! Unheard of!
What's Nick going to do now? Just mope around Grey Sloan until Meredith calls him back? I don't hate that Nick might stick around a little longer, since his interactions with the interns have been a highlight this season, but still, that is how we're leaving it? Who knows what is planned for the season finale, but it now has a whole lot of work to do to rectify the final chapters of Meredith's story. The whole voice-over — Meredith reading Tessa's last story — is about "happily ever after" not being a real thing, that it's just new days and moving forward, but I call bullshit on Grey's Anatomy not giving Meredith a happy ending after everything she's been through. And there's something about the way she seems moved by the realization that Tessa got a chance to finish her final story on her own terms that leads me to believe Meredith might want to return to right some wrongs and go out the way she wants to. She has earned that, at least, right? We've earned that?
While Meredith's story line was disappointing, there were a few others in this episode that were super-compelling. Let's talk about Maggie and Winston! These two! You'd think that making medical history by way of a partial heart transplant in a newborn would bring them closer together, but nope! In the previous episode, Maggie tossed out some harsh words for her husband after learning that he was going to switch specialties to move out of cardio and save their marriage. Maggie is more important to him than being a heart surgeon, and working together so closely was killing them. But to Maggie, cardiothoracics is more than just a job. It's her passion, and she can't respect someone who would give it up just like that. When Winston says that she is his passion, she looks like she might tear a wall down or something.
After their successful partial heart-transplant surgery, Maggie uses it to once again show Winston what he's throwing away. Winston can't take it anymore. He has been waiting for her to apologize, and instead she's "doubling down." While they may have made history, he got a clear look at the way Maggie detaches herself from emotions. "You're cold," he tells her, and that's something he can't respect. Maggie's sleeping at Amelia's tonight. It's going to take a lot for these two to heal this growing rift. I'm very invested!
The other great thing this episode does is give us a real, satisfying passing-the-torch moment with the new interns. Mer's house survives the fire, but there's a huge hole in the attic now. Meredith's gone, obviously, and both Maggie and Amelia decide it's time to move out too. Separately, Meredith, Amelia, and Maggie all give their keys to one of the new interns — Simone, Lucas, and Mika, respectively — all in need of a place to crash for a while. Seeing them walking around the now-empty house, full of so many Grey's memories, was honestly the most moving part of the episode. The world — and that house — spins madly on.
And with it, a great big heap of sexual tension between Lucas and Simone. They are so into each other, and I am so into them! Simone explains what she meant by "I can't" after Lucas finally kissed her: She was engaged before she got kicked out of her residency program, and although she has feelings for Lucas, she doesn't want him to be a rebound. "I could be down to rebound," he tells her. Now, when I type that line out, it sounds so corny and ridiculous, but when he said it, I was shaken to my very core. Simone is much stronger and more level-headed than I am, and she still insists, as much as she may want to pursue something, that it's a bad idea — especially since they're now living together. Lucky for us, we know that many a surgeon has tried to resist their true feelings inside the walls of that house and they have failed, so really, the Simone and Lucas thing is only a matter of time. Like I said, the world spins madly on.
The OR Board
• After pleading her case to Richard as to why she's earned the chief of surgery spot and he offers it to her, Teddy tells him she needs to think about it. So that was fun and a waste of everyone's time!
• They gave the big "go get your perfect girl, you idiot" speech to … Taryn Helm?! The team behind Grey's Anatomy definitely thinks the audience likes Helm more than we actually do. But don't blame us! For years, Helm's only personality trait was "obsessed with Meredith Grey." Then she had a tiny burnout arc. At least now, behind the bar, Helm seems like an actual human with some depth to her. And was it just me or did anyone else notice a little chemistry between Helm and Mika? Is season 19 finally Helm's time to be a real, live character?
• Amelia sharing the story about Christopher — her son who only lived for 43 minutes — was quite moving but sort of random. We'll see what those memories do to her moving forward, I guess.
• Don't get me started on how the big cliffhanger from the previous episode — Is Meredith's house going to burn to the ground? — was resolved over on Station 19. Stop! Doing! This!
• Are Jo and Link going to get together for real at any point soon, or are they just going to deliver cakes to the wrong people all season?
• Zola shushing the interns because her Aunt Maggie deserves respect as she makes medical history in the OR? Iconic.