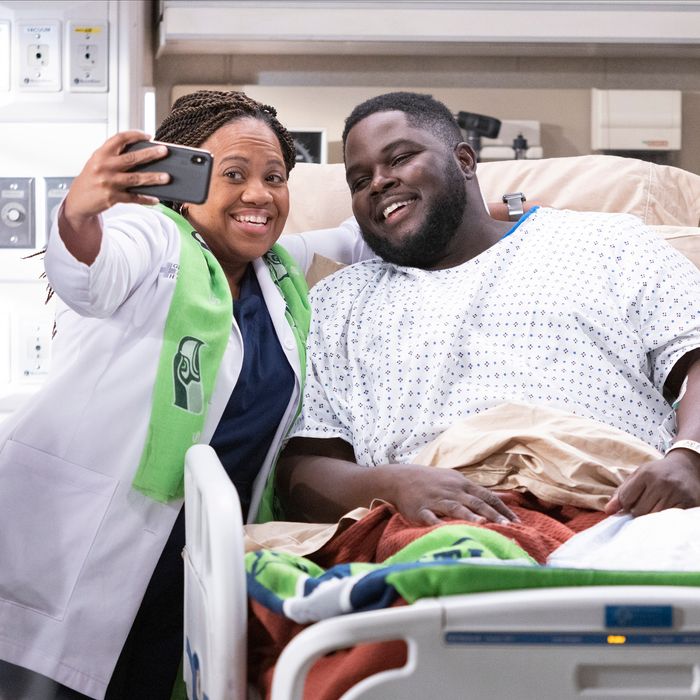 Photo: Liliane Lathan/ABC
Meredith Grey may be gone (for now), but it's business as usual at Grey Sloan Memorial. That means we get a couple of compelling patient stories and some romantic entanglements — even a make-out session on an elevator. Now, if that's not quintessential Grey's Anatomy, I don't know what is.
The big news around the hospital is Link's knee surgery on Jermaine Talbott, the Seattle Seahawks' No. 1 draft pick. He's just 22, has a huge football career ahead of him (he is called the Tank, after all), and seems like a lovely guy who wants success mainly so he can bring his family from Haiti to the U.S. Also, he has a torn ACL after a host of other knee injuries, and he's hoping star orthopedic surgeon Dr. Atticus Lincoln can fix him, with a fancy procedure known as the BEAR no less, and get him back on the field. Everyone at the hospital wants some time with the Tank — Bailey even makes him a scarf! — but it's Simone who makes the deepest connection with the young football star.
Now, any Grey's fan who's been around these parts for a while had to have been watching all this setup of the Tank's story — everything with his lovely mother and Link feeling nervous and multiple people talking about how this could make or break Jermaine's career — thinking there's no way we're getting a happy ending here. And THEN, when Link gets applause after a successful surgery, and it was only halfway through the episode, well, you had to have known we were headed toward tragedy. Sadly, your Grey's instinct isn't wrong: In recovery, Jermaine has a pulmonary embolism. Link, Winston, Simone, and Kwan try to save him — they attempt to resuscitate him for two hours!! — but Jermaine is gone.
Everyone is a wreck afterward. When Kwan finds Simone back in Jermaine's room trying to prepare herself to video-call Jermaine's mother and tell her the news, Kwan opens up a bit about losing his mother: "I've been on the other end of that call. It's impossible … There are no right words." I got to say, friends, Grey's Anatomy is doing a great job with these new interns. Each feels pretty fully realized, and much like our original crop of interns, each pairing reveals a different side or new layer to each of them. I'm growing attached, is what I'm saying.
They do their best with the call, but it's as awful as you'd expect, which means that Simone is still really feeling the pain of the loss when she winds up alone in the elevator with Lucas. She grabs that guy's face so fast to start making out with him! It's very steamy! And let's not overlook the significance of where these two are making out: Kissing in the elevator is a big deal on this show, and to bestow that honor on Simone and Lucas means this isn't just some fling. However, it won't be smooth sailing for our slow-burn interns. When they get home, looking pretty excited to get to bed, they run right into Trey, Simone's ex-fiancé. We don't know exactly what happened between them, but it seems like they're on pretty decent terms. That's all right! We've met other couples on this show who've made out in elevators and dealt with complex ex issues. There's hope for Simone and Lucas yet.
Link obviously takes the brunt of the loss. Back home, he wallows, and he drinks, and he seeks comfort from Jo, who tries to remind her friend that there wasn't anything he could've done differently. At one point, Link moves to kiss her, but Jo wisely pulls away. She knows he's drunk and sad; this is not the way for these two to pick things up again. I mean, yes, these two need to pick up the pace on their will-they-won't-they, but this is not the time. And by the looks of the horde of aggressive reporters waiting outside the hospital for answers from the doctor who "killed Jermaine Talbott," things will only get more complicated and much darker for Link.
Jo had an eventful day even before her best friend sought out her comfort. She and Jules wind up with a patient named Sierra, a mother of two who is 11 weeks pregnant. The more time Jules spends with her, the more she realizes this woman is wildly overwhelmed and depressed. Sierra opens up about the postpartum depression she had after both of her children were born — about how dark it got. She's terrified that she won't be able to survive that again. She and her husband weren't even planning on having another baby; their condom broke. It takes her a little while, but eventually, she asks about an abortion. Since she's only 11 weeks pregnant, they can do an in-office procedure, and she doesn't even have to be sedated. So that's what she and her husband — who is away for work but on the phone — decide to do; it's what's best for their family. Jo and Jules then walk Sierra (and us) step-by-step through her abortion. It's a pretty incredible scene for this show to do, and yet another instance of Grey's Anatomy reminding us that all types of people seek out abortions for all types of reasons.
But wait! Jermaine Talbott's death has unforeseen repercussions on another Grey Sloan couple. If you thought things couldn't get any worse between Winston and Maggie, buddies, you were wrong. They've decided to have a "cease-fire" until they can get to some couples counseling in three weeks. Mostly, "cease-fire" just means they avoid speaking to one another at all costs. After Jermaine dies, Maggie seeks out her husband to see how he's doing. She brings up their paper on their partial heart transplant as a way to distract him, but the gesture is just more fuel to their argument. Winston doesn't want distractions from feeling emotions, and Maggie uses work to avoid feeling anything. It's basically the same argument they've been having, but this time it ends with Winston reiterating Maggie's reminder that "some people can't be resuscitated," only when Winston says it, he isn't talking about Jermaine — he's talking about their marriage. Good luck to their therapist, I guess?
The OR Board
• So no one knows how Meredith pulled a fake "you're breaking up" on the phone as Nick poured his heart out? I need multiple groups of doctors to break that whole thing down immediately. This is Grey Sloan! Gossip already!
• At least we got a little intel on the whereabouts of a few missing doctors: Nick "left" for a few days, perhaps to change cell providers, and hey, look at that, we finally learn that Nico's off working with the Mariners.
• The search for the new chief of surgery comes to an end thanks to a nice little "the manipulator becomes the manipulatee" subplot. When Bailey encourages Teddy to negotiate with Webber and get what she deserves for taking on such a huge job, he tries to talk her out of it with words like "duty," and "sacrifice," and "service," and when that doesn't work, he tells her that he's decided to take the gig because it's not about money for him. He's being an ass, and Bailey will have none of it. She sends Amelia in to ask to be considered for the job, but her demands are even bigger than Teddy's, which makes Teddy's asks seem much more tolerable. Teddy Altman is the new chief of surgery at Grey Sloan. I guess that's what they mean by women helping women, you know?
• Is Owen Hunt the world's worst husband? He's trying to convince Teddy to take the chief of surgery job because it will benefit him, and then when they're called to the hospital day care because Allison bit Pru, he immediately leaves to let her handle it simply because he doesn't want to. I never thought I'd be saying this, but Owen needs a story line.
• There are so many characters on this show right now, especially with five new interns — who, honestly, are all working for me — that I think it's becoming a problem. No one is getting a fully fleshed-out story! It might be time to cut a few loose, everybody.