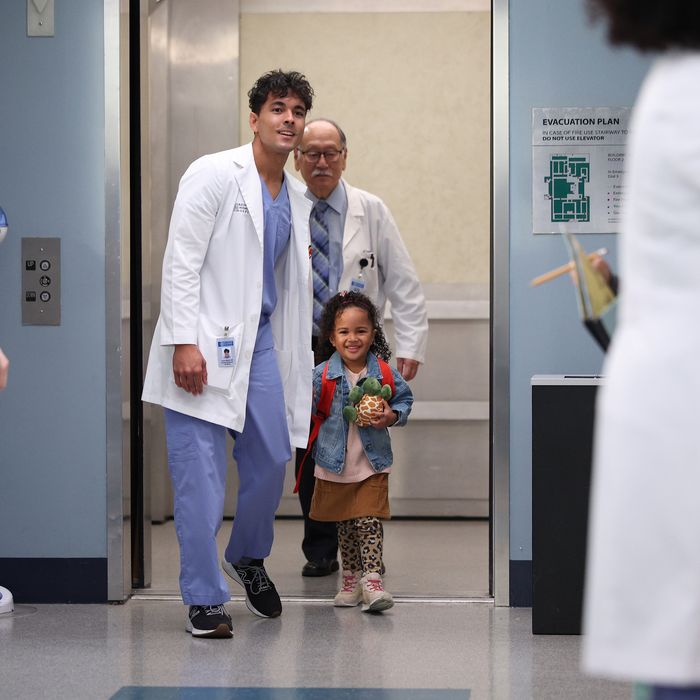 Grey's Anatomy
Shadow of Your Love / Mama Who Bore Me
Season 19
Episodes 14 and 15
Photo: ABC/Raymond Liu/ABC
The time has come for another daughter of Ellis Grey to bid farewell to the halls of Grey Sloan Memorial. For the most part, Maggie Pierce gets out of Seattle unscathed. Sure, there were some disastrous romances, some surgeries gone wrong, and the searing memory of having to watch her adoptive mother die of breast cancer, all that jazz. But Maggie never really had an actual near-death experience, and that's a big deal for someone who has spent nearly a decade at the place formerly known as Seattle Grace Mercy Death. When Maggie arrived at Grey Sloan nine seasons ago, she came looking for answers about the birth mother she never knew. She got a crash course in Ellis Grey thanks to her sister, Meredith, and her (surprise!) birth father, Richard Webber, and Maggie's ties to the iconic surgeon have been woven throughout her Grey's story. It feels only right to circle back to Ellis Grey as Maggie departs.
On her last day of work before heading off to Chicago to save lives by way of cutting-edge cardio research, Maggie gets called onto a case with a patient, Nola, who has a massive tumor on her heart. The tumor has been declared inoperable by several other heart surgeons but not by Maggie Pierce. She's excited by how complicated and challenging this tumor is. Maggie gets off on surgery, we know this. We love this. It's not long before she realizes she's going to need a partner in the OR to pull this off, and she asks Winston for the assist. The tumor is in the shape of a heart, which I guess is supposed to be symbolic of Maggie and Winston's flailing marriage — they are cutting out a toxic heart or whatever. Who cares? In the OR, these two are great together. There's no yelling about who's a coward and who isn't or who respects whom or who is emotionally dead inside. There's just the work. And the work is perfect. In fact, it's so perfect and Maggie and Winston are so hyped up after the successful operation that they immediately jump into bed together. I don't know, guys, every time I've been at a hospital, "horny" is the absolute last thing I've felt, but I guess I'm not a doctor. These two are so horned up! It's honestly kind of lovely to see.
Their truce doesn't last long. Despite feeling encouraged by how well they work together and how obvious it is that they both still love each other, it's clear the next morning that Maggie and Winston want different things. Maggie wants Winston to move to Chicago with her. She's inspired by him and challenged by him and thinks that, with a little more therapy, they could figure things out while she saves the world one heart at a time. Winston wants Maggie to stay and fight for their relationship in Seattle. He feels he's finally earning respect and building a career for himself at Grey Sloan. He doesn't want to yet again get a job simply because Maggie asks a hospital to give him one. Chicago is a once-in-a-lifetime opportunity, she says. There will be other opportunities because Maggie is a genius, he says. Then Winston really goes for the jugular when he talks about how he has to actively fight against becoming his father — it's why he prides himself on how steady and committed he is — and how Maggie needs to do the same when it comes to Ellis Grey. She needs to actively fight against being exactly like Ellis.
It takes Maggie some time and multiple conversations with other people to process what Winston is saying. Is he calling her out for being ambitious and putting her career first? Is he saying she's coldhearted? Is it all of the above? Thanks to Amelia, Maggie realizes that ambition isn't necessarily a bad thing and that her work is allowed to make her happy. Thanks to Catherine, she is reminded that she's anything but coldhearted — her life is full of family and friendship and love. Thanks to a patient dealing with a breast-cancer diagnosis, Maggie remembers her adoptive mother and the way she began living her most authentic life only when it was too late. Meanwhile, Winston's getting a reminder of his own: There are some post-op complications with Nola that he handles on his own while teaching Jules a thing or two, and he is reminded how much he loves what he's building at Grey Sloan.
All of this is to say that, in the end, Maggie and Winston are resolute in their decisions. They love each other, but it's not enough. So Maggie Pierce will be heading to Chicago alone to follow her greatest love: her work in cardiothoracics. Dear Lord, she and Cristina Yang should really start texting or something. Maggie has a sweet good-bye with Webber, who is very concerned she's going to forget him even though they've been in each other's lives for a decade. Sir, calm down! As a parting gift, he gives her a business-card holder that is a little replica of the bench they were sitting on when he realized he was her father. It is a gift both patently ridiculous and also kind of endearing? Like, just imagine this man searching for tiny benches online. Wild!
Maggie takes her tiny bench, gives Webber a hug, and eventually makes her way to the elevator. Ah, for Maggie's final parting gift, Grey's Anatomy has bestowed upon her an Elevator Moment. Maggie's leaving with the knowledge that, yes, she is like Ellis Grey in many ways, but she is also a little bit like her birth father, she is very much like the mother who raised her, and, most important, she is her own woman. It feels right that during her final trip down in the elevator she should be flanked by both of her mothers. And that's all she wrote for Maggie Pierce. I mean, she'll supposedly be back for the season finale, but you know what I mean.
Maggie and Winston aren't the only couple to officially call it quits in this double episode. Just as quickly as Kai arrives in Seattle, they leave once again, this time for a huge career opportunity in London. Okay, so it isn't that quick. The whole thing is full of angst (on Amelia's end) and tears (on Amelia's end) and anger (I think you get this by now) because Amelia cannot do anything without a truckload of angst and tears and anger. Good on her; at least she's self-aware enough to know that when people leave her — excuse me, abandon her — like Meredith and Maggie and now Kai, she spirals and picks fights and loses the ability to have a rational thought. Unfortunately, that self-awareness doesn't stop her from doing those exact things when Kai drops the London bomb.
Sure, there's a lot of change in Amelia's life right now, but you really have to feel for Kai. They're right to point out that Amelia has made this entire thing about herself. Not once did she stop to congratulate Kai on this major step forward in their career. Kai tells her the two of them are just in completely different phases of their lives. This isn't working, and Kai's leaving for London offers the opportunity for a nice, clean break. Kai and Amelia's relationship was severely underdeveloped and got lost in the character-overload shuffle of the past two seasons of Grey's, so perhaps they'll revisit this pairing down the road. But for now, prepare yourselves: You know the queen of spirals is going to be doing what she does best.
The OR Board
• Just as Link decides he's finally going to tell Jo he's in love with her — inspired by an impassioned speech from Owen, no less! — she learns that Luna has progressive hearing loss. Link tries to be there for Jo because they're a little family, it's undeniable, but she resents his role as cheerleader. Jo's not ready to look for silver linings or assurances that they'll figure it all out. She's still processing what this means. It leaves the two of them in an awkward place. The Link and Jo Couple Watch marches on.
• While Schmitt is stressed about picking a specialty, he winds up with a teen patient who's missing his bar mitzvah because of complications with colitis. Schmitt bonds with Grayson and winds up throwing him a hospital bar mitzvah alongside his zayde, who never got one. It's very cute! Afterward, Webber's like, Uh, son, you should go into peds. And so it is!
• Bailey's doxing has only gotten worse: She gets 248 calls from "unknown" numbers in one day, and eventually one of them sends her a picture of Tuck at school. Finally, she agrees with Ben that she needs to take the whole thing more seriously. She changes her phone number and moves her family into a rental for a little while.
• As predicted, Mika's taking on shifts at Joe's has wreaked havoc on her surgical internship: She misses out on a major surgery because she oversleeps. Kwan takes her place and she vows to make him pay, but we all know this is mostly her fault. Owen tells her to get her shit together OR ELSE.
• Anyone else alarmed by Catherine's repeatedly telling Webber that all of her scans and tests are routine and normal and everything is totally fine? Is Catherine Fox dying this season, y/n?
• Okay, fine, I obviously am crushing on resident Sad Boy Lucas, but what do you want from me? I'm a mortal woman, and he's over there holding little Pru's hand!
• Simone swears she's only stressed out about the wedding part and not the marriage part as Jules makes her aversion to marriage known, but is this a "lady doth protest too much" situation? Like, there's no way Simone is marrying this clown Trey at the end of the season, right? Give me a runaway bride, or give me death!!