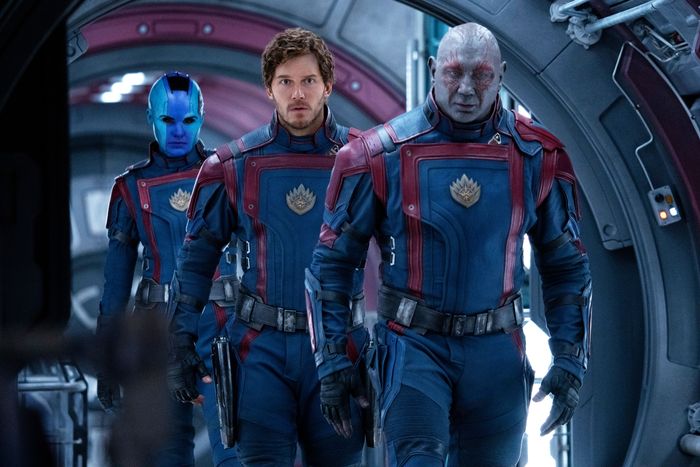 Six-zero-zero.
Photo: Jessica Miglio/Marvel
The Guardians of the Galaxy Vol. 3 promotional tour is going for broke: Last month, director James Gunn dropped the entire movie soundtrack in a Spotify playlist, then revealed that Chris Pratt is capable of saying the word "fuck." (Congrats to all who celebrate!) Gunn now has a new revelation: When his new movie hits theaters this weekend, fans will be watching one of apparently more than 600 distinct versions of it. Six-zero-zero. The Guardians film you see in one theater won't be the same as one you watch in another. Huh?
This isn't a Blade Runner or Brazil situation, thankfully. Releasing hundreds of versions of the same film to theaters isn't unusual these days — if we're talking about big-budget, effects-driven blockbusters. "It's definitely the most complex delivery Marvel's ever done," Evan Jacobs, Disney's VP of Finishing and Stereo, told The Hollywood Reporter, and Disney wants theaters to "maximize their screen size for the audience. So wherever you go to see it, you're gonna see the best version."
To the casual moviegoer, it may seem like the simplest thing in the world to switch on a projector and hit play, but as we've reported before, theaters are more complicated than that, and no studio exec wants the release of a $250 million franchise film to go visibly awry. Preparing cuts tailored to the sound, local languages, aspect ratios, and screen sizes permitted by theaters has become part of the worldwide release process. For reference, more than a thousand versions of Avatar: The Way of Water were sent to theaters for its release. As THR notes, it's typical for hundreds of discrete versions of Marvel films to be sent to theaters, though 600 is the most they've sent. This process is related to the choice of whether to see a film in Imax — remember the confusing, seven-option rollout of Denis Villeneuve's Dune? It's a similar deal here but at a much larger, less immediately perceptible scale. The variations from one Imax-3D theater to another may not be so drastic, but theoretically, movies are optimized for that theater to the best of the studios' and distributors' ability.
In the case of Guardians 3, Gunn apparently had a hand in preparing those 600 delivery versions — as he did in making Imax versions for his previous Guardians films. "He's essentially said, 'I'm gonna pop in and out creatively [and you'll] suddenly see something more immersive and bigger, that's going to fill your screen,'" Jacobs told THR. Some versions will be shown with a variable aspect ratio, in which about 45 minutes of the movie expand vertically from a letterboxed 2.39:1 ratio to a flat 1.85:1 — a change that might be timed to the visual, thematic, or musical demands of a given scene. Some select standard-format theaters will present this version, while most will show the film in 2.39:1 all the way through. Another 1.90:1 version was prepared for the Imax crowd.
If that all sounds overly technical, it's worth noting that directors have long seen distribution as an integral part of filmmaking itself. People like Gunn, Villeneuve, Christopher Nolan, and James Cameron typically attach letters to their films detailing how they should be shown. In 1975, Stanley Kubrick released Barry Lyndon with an exacting, ten-point memo specifying the lamberts onscreen and how the score should be played (on an LP): "An infinite amount of care was given to the look of 'Barry Lyndon'; the photography, the sets, the costumes; and in the careful color grading and overall lab quality of the prints, and the soundtrack," he wrote. "All of this work is now in your hands."
The idea is that the same care will go into Guardians of the Galaxy Vol. 3 — whether you wind up screening version No. 1 or 598. On Twitter, Gunn actually downplayed the "600" number, writing, "😂 I think of it more as maybe 10 versions but it still seemed like a lot to oversee." Presumably, the tweaks beyond those ten versions are so minor that they won't materially change your experience. Just hope that Chris Pratt's f-bomb sticks around in most of them.