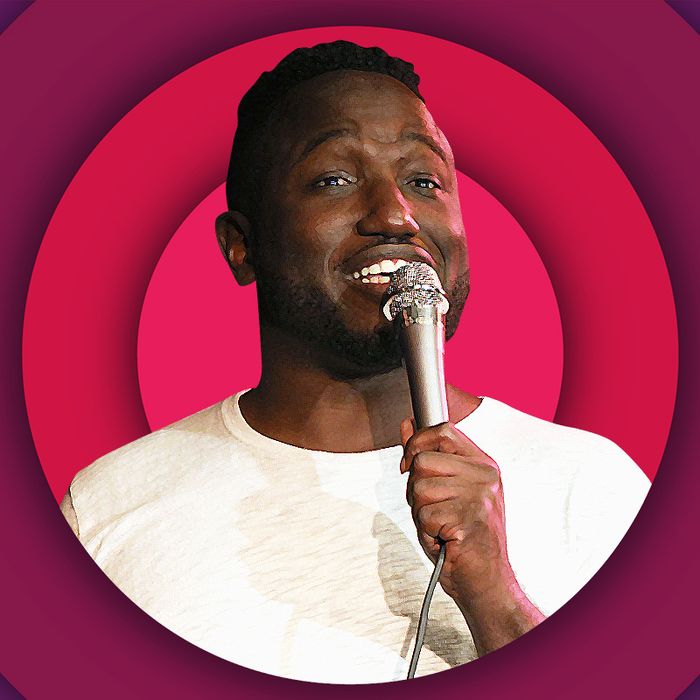 Hannibal Buress.
Photo-Illustration: Vulture and Mike Jordan/Getty Images for SXSW
The history of stand-up comedy lore is filled with stories of comics taking some time away — because internal or external reasons — and returning evolved. You can see such growth between Hannibal Buress's 2016 Netflix special, Comedy Camisado, and Miami Nights, the more personal and effectively inventive special Buress released on YouTube earlier this year. What happened in the years in between? Among other shifts, Buress moved back to Chicago, was diagnosed with ADHD, and got sober. Much of this growth stems from a much-publicized 2017 wrongful arrest, the story of which takes up the back half of Miami Nights. For those who have followed Buress's career, you'll recognize his signature mix of absurdity and nonchalance, but notice a new heft and focus.
On Vulture's Good One podcast, Buress discusses the special, sobriety, Hollywood, and more. You can read some excerpts from the transcript or listen to the full episode below. Tune in to Good One every Tuesday on Apple Podcasts, Spotify, Stitcher, Overcast, or wherever you get your podcasts.
On Sobriety
Somebody recently said — we were talking about drinking — he was like, "People that drink are so weird, and you're so strong for stopping drinking." And I was like, "Eh, it's not that tough to sober up once you hear the fucking TMZ voiceover saying your name, like, 'Hannibal Buress got drunk!'" Like well, that's it for me. That was a wrap for me, for drinking. I probably kept it up for the rest of December of 2017 and then shut it down in the new year.
I really had to reflect on how many of these drinking stories I had: "I got drunk and then this happened; I got drunk and said this." The New Orleans one is probably the only one that's not in a somewhat negative place, which is why I do cherish that story. I remember being back in New York and telling it, and realizing it's one of my few bits about having a good time. It's not sarcastic, it's not about me trying to one-up somebody with wit, or being mad. It's just, "We were drunk, we went to New Orleans, we did this thing, and it was fun." It's tough to write bits like that, because that's not the main place that comedy comes from. But the energy levels now, and the clarity and the time that you have gotten back because of it, I'll take that any day. This shit is still a struggle. That's my other reason, too. It's still going to be tough anyway, so let's not bring drinking into it and make it tougher than it needs to be.
On Getting an ADHD Diagnosis in Adulthood
I think in my next special I'll dive into ADHD more, and the tax that comes with that. I still gotta cancel this Pandora subscription, man. Shout-out to Pandora. It was nice back then in '08, '09, when I was introduced to you and to the idea of "similar playlists" and all that. But I haven't been using it.
[Comedy] says, from the beginning, "Sign up for an open mic" and you get onstage and talk. You get a reaction. Boom. You get a dopamine hit. Nice. You go chase that again. What did it cost you? Four or five hours? A great use of your time. I always dabbled in music and recorded music before I did stand-up, so I think about that, where, would I have done more music? It's easier to not do music. You can kind of dive in to stand-up even if it's only a couple minutes per week, two open mics. But the rest of that time, I'm just going to think about this and obsess on it. I really dove into it when I started. I found every book I could and I hyper-focused on it because it was rewarding. And I definitely love it, but I wish I was a little more aware of my brain chemistry so that I could work around my strengths and weaknesses.
If I had the awareness at 25 to say, Okay, I need a business partner or a collaborator or somebody that is just an organized person that is trustworthy. I need to figure out that part and work with them, and they handle all of the stuff. It's the what ifs, and the hows, and all of that: What jobs I would have taken, or what situations I would have handled better, if I knew I need to work out because my mind is going crazy right now. I need to sweat to mellow out instead of drinking eight Jamesons. Especially over these past few months, reflecting more on it, I definitely should not have been binge-drinking at any point in my life. Definitely not with ADHD I shouldn't have been drinking that much. But it was just me trying to quiet my brain down.
I go on the ADHD forum on Reddit, and it's funny just reading people's stuff, because I relate to it, of course. People post their struggles or successes and whatnot. And so a post on there, somebody will say "Today, I cleaned my room," and the comments section will go "YEEEEAAAAH! HELL YEAH, YOU DID THAT SHIT!" Or like, "Today, I cleaned my room and I brushed my teeth. Twice." [Screams.] Fire emojis and shit. But I'll look at it and go, "Yeah, good job, man. Congratulations."
On Hollywood
It's taken TV shows, touring heavily, and a bunch of other stuff over time to get to a spot where [feeling secure about money] is not the only thing. I think through experience … Experience is important. So now after doing enough stuff, I do a simulation in my head. So when I get a movie offer, I always think about the movie. I think, Do I want to sit in a hotel suite and answer questions about voicing a tarantula? I see the box office. I see the press junket. I see myself there. I see the journalists. I see the backdrop. And I think, Do I want to answer tarantula voicing questions? Do I want to answer about the cast and all of that? It ends up being a pass, because I imagine myself not feeling great in two years, with that other part of the obligation.
It's exciting, but it's limited. That's why I'm getting this money from the podcast — because it doesn't have the limits of the form. Because it's able to have these different combos, and people come to the show because of that. Either next year or 2022, I want to direct my first feature. That's the other part. I feel like I have that ability to knock that out. I've been in movies, and now, here's my Here's what I think of movie. And that'll give me peace for about 45 minutes.
On What Motivates Him Now
I can still have fun onstage. I enjoy coming up with bits. I think now, because of the lack of live performance, it's more exciting conceptually coming up with stuff. I get excited about that, and getting other people in on it: different ideas, different things develop, different folks to connect with, different ways of working. I'm always trying to figure out how to best work with my team of editors. Now, the business level is really exciting to me, just trying to figure out, Okay, what is this partnership? And how can I navigate certain situations and be really productive? Or just thinking longer-term, if somebody comes in for this commercial offer or some streaming thing and the money's low, and just thinking All right, what y'all got for your 20, 22 budget? That type of thing: Or maybe we could bring in this person for it instead. I get it excited about that because I feel like creatively I'm always kind of firing off.
I don't really feel stuck, ever. It's just about doing it. But I've never been in an I've got nothing! [rut]. There's always something, because I've taken on so much. I've got things from entertainment, start-up investments, real estate, non-profits. So there's a lot always to improve on and work on, so my brain is constantly racing. So when I find something or think of something that could make a situation, that's the excitement. That's what keeps me really active and going.