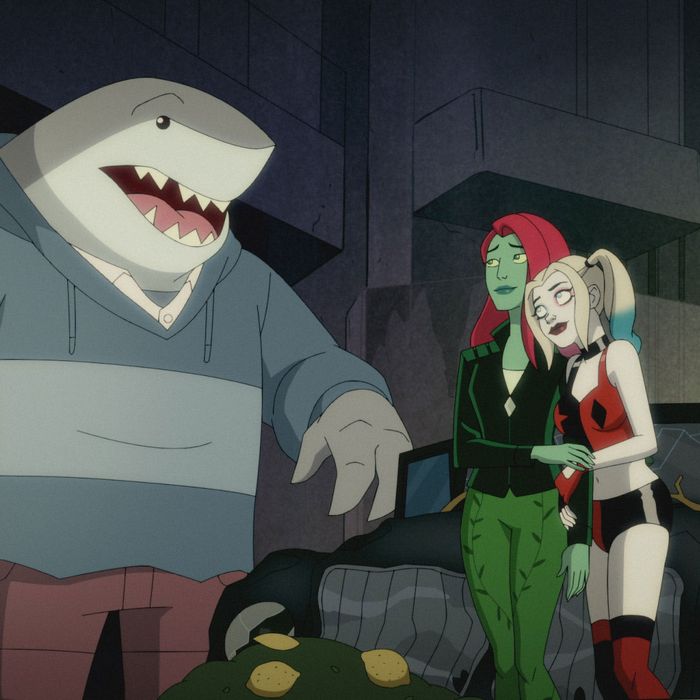 When Harley Quinn's phenomenal second season ended, the series hadn't been renewed, so it hedged its bets with closing images that could have worked as a series finale: a newly reconciled and romantically entangled Harley (Kaley Cuoco) and Poison Ivy (Lake Bell) driving off into the sunset, riding in a "Just Married" car meant for Ivy and C-list villain Kite Man, with the police on their tails. Luckily, our favorite supervillain got picked up for a third season after all, allowing the showrunners to explore what happens when the dynamic wacka-duo's Bonnie and Clyde/Thelma & Louise joyride doesn't end in disaster. The result — while as unrelentingly zany as you'd expect — is surprisingly nuanced!
You might not expect that level of nuance from the raunchy way the episode opens, however. The adult animated series, now a fixture of HBO Max (as opposed to the now-defunct DC Universe service where it originally premiered), begins with a Harley/Ivy sex scene. It's a fakeout, though, as what we're seeing is quickly revealed to be a porn parody. What's especially interesting is that Harley and Ivy (now dubbed "Harlivy," the episode's title, though they seem to prefer "Hivy") are the ones watching the X-rated send-up. They're lounging around in Superman's "no girls allowed" Fortress of Solitude before a hologram of his late father, the role made famous by Marlon Brando, tells them off. It's as tongue-in-cheek as you can get when reintroducing the often dour DC Universe, and it appears to be a mere pitstop on what the couple has taken to calling their "Eat Bang Kill" tour.
Cue a globetrotting montage of violence and robbery and revelry, with an especially striking image of the couple lying naked in a bed of money, and you have yourself a vision of the low-stakes, "be gay, do crimes" show that could have been. Instead, the duo's relationship remains front and center, and as usual, the writers don't make it easy for them. There are plenty of rib-tickling scenarios along the way — for instance, their first real "talk" as a couple happens aboard Wonder Woman's invisible jet (so essentially, in mid-air), which they've stolen and used to kidnap Queen Elizabeth (Kari Wahlgren) — but their early relationship issues make a shocking amount of sense. After all, the show's superhero farce has always been grounded in meaningful character dynamics, and the seeds of what's sure to be a season-long arc are clear up front, established not through dialogue (at least initially) but through their behavior during their crime spree.
Harley, a character molded in the image of the Joker, loves crime for crime's sake, and gets so caught up in her honeymoon phase with Ivy that she begins showering her with stolen riches to commemorate every little "anniversary" (one week, 12 days, and so on; the season opens just weeks after Ivy's wedding was blown to kingdom come). Ivy, on the other hand, is an ecoterrorist, and her main objective is to replace most human life with fauna, returning Mother Earth to what it should be, and despite tagging along for the "Eat Bang Kill" tour, she seems to want to take things easy. Harley is chaos. Ivy is serenity. Despite the cartoonish theatrics, they make for a depressingly realistic couple, where one partner is clearly more into things — a more head-over-heels romantic! — than the other.
Harley, of course, tries her best to temper her excitement and make things work, even taking Ivy back to a prehistoric garden she once conjured in the hopes of terraforming the Earth (Ivy called this "Iden" — "Eden with an 'I'"), but it only reminds Ivy of her failures. Much like in season two, Harley can't seem to stop screwing up, no matter how hard she tries. When the duo helps their pals, soft-spoken sweetheart King Shark (Ron Funches) and braggadocious thespian Clayface (Alan Tudyk) break out of prison, Ivy errs again when Amanda Waller (Tisha Campbell), head of the notorious Suicide Squad, spots them. (Waller calling Ivy a "Karen" is pretty great.) So, Harley takes it upon herself to concoct a vengeful kidnapping without realizing who Waller actually is. It turns out a movie-specific version of the Squad exists in this universe and there are many other in-world references, like Clayface auditioning for a Thomas Wayne biopic directed by The Suicide Squad helmer James Gunn, voiced by Gunn himself. But, the member of the Squad who shows up to rescue Waller is obscure comic supervillain Plastique (Wahlgren), a Quebecois separatist now remixed into a fashion-forward PR agent with an exaggerated Canadian accent.
What's even funnier is the fact that, as a member of the Suicide Squad, you'd expect she's intent not on carrying out her mission in order to commute her prison sentence. No, she's just an actual suicide bomber. It's the kind of shockingly hilarious shtick that makes pulling from every nook and cranny of DC lore such a joy to watch. Harley and Ivy survive, of course, but what doesn't survive is Iden, leading to even more apologies from Harley for fucking up yet again. ("I'm addicted to drama," she admits.) The more level-headed Ivy forgives her, of course — a romantic reconciliation made absurd by the presence of one Plastique's intestines adoring Harley's head — and while the episode has an ostensibly happy ending, it doesn't feel like this is the end of their tensions as a couple, or their fundamental tonal disconnect. After all, the image of them reconciling uneasily, as paradise burns to the ground around them, is hard to read as anything but an omen!
Elsewhere, a power-hungry Commissioner Gordon (Christopher Meloni), flanked by his own personal ED-209, continues his mayoral campaign, blissfully unaware that his shady new political confidant is named "Two Face" (Andy Daly) for more reasons than his split appearance. In an elaborate gag reminiscent of golden age Simpsons, every bizarre complaint people have about Gotham under its current mayor (Jim Rash) — from sewer ghosts, to buff squirrels, to rat families, to children driven buses — collides swiftly in a Rube Goldbergian domino-topple, resulting in the mayor being impaled by a pole ("Live by the polls, die by the poles," jokes Two Face). It's probably the funniest sequence in the episode, and it even partakes in the show's favorite activity — taking the piss out of Batman — by presenting us with a brief vision of a Fievel-esque mouse family where parents are killed in the chaos and the son grieves over his mother's pearls as he's taken in by a pencil-mustached mouse butler.
As a whole, the mile-a-minute jokes in "Harlivy" don't arrive with the same ridiculous fervor as prior seasons (especially when it comes to the couple's banter), but the show's margins are colored by such a ludicrous cast of supporting characters that the premiere still finds balance. There are enough gags to go around, and to support a genuinely sweet relationship saga that's far from over — though until things inevitably fall apart, the closing titles have taken to calling the series Harley Quinn and Poison Ivy, which is as much a matter of logistics as it is a promise its characters hope to live up to.
Jokes' Gallery
• "It costs 38 dollars to mail a letter!" Damn, Gotham needs another Bane revolution.
• "I loved you in The Drilling Joke," says a cop to porn stars Kylie Kryptonite and Britney Bionic.
• Alan Tudyk sure knows how to build his delivery as Clayface. "I need this job. I'll lose my SAG insurance, and the screeners. I use the elaborate boxes they send to store my leftovers. How will I keep my egg salad fresh?" is an avalanche of punchlines.
• When Harley jumps at the opportunity to leave Iden and stage a prison breakout, Cuoco's excited, squealing delivery of "I've got some terrible news" is utterly fantastic.