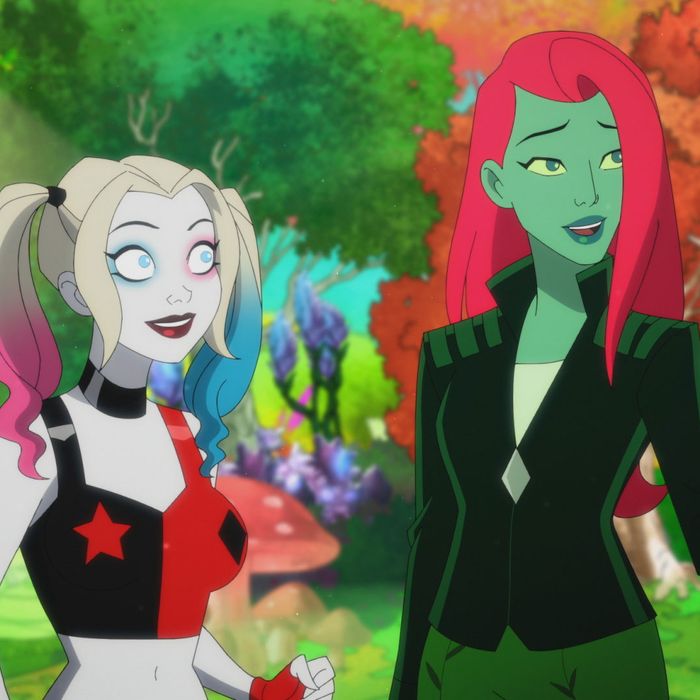 Nothing like an award-show episode to shine a direct spotlight on your characters.
Few things move from a plot standpoint in "The 83rd Annual Villy Awards," but it's a light, tight entry that lets Harley Quinn be brisk, snappy and casual, while also framing its Harley-Ivy romance through the lens of prior seasons. Practically every bad-guy in the series shows up, whether for a background appearance or a fleeting sight gag; the show is at its best and breeziest during parties and the likes, when they're all in one place, and the third season's third episode is no exception.
With the villains' mall hideout reduced to rubble (and their mutated plant pal Frank nowhere to be seen), Harley, Ivy, Clayface, and Shark King put their feet up at an expensive penthouse while its owner, the sultry, charismatic Selina Kyle/Catwoman (Sanaa Lathan), puts her own feet on Batman's shoulders. Harley may not spend much time at the fancy apartment, but from the moment she enters, she continues to feel like a screw up, shattering Selina's expensive Fabergé egg.
Over FaceTime, Selina warns them not to enter her secret room, despite Harley being tempted, and while this seems like the perfect setup for her to mess up further, the episode has a less thematically coherent but much more shockingly funny payoff in store. Clayface, hustling his way up the Hollywood ladder by acting as James Gunn's chair, invites Billy Bob Thornton (the star of Gunn's Thomas Wayne biopic) over for some rewrites while posing as the director. With celebs Gunn and Thornton voicing themselves in a largely inconsequential subplot, this half of the episode feels like part of a very different series. It does, however, lead to the bizarrely funny image of the prestigious actor's decapitated head rolling across Selina's polished floor after he accidentally waltzes into the secret room and gets mauled by a tiger. This presents Clayface with the perfect opportunity to transform into Thornton and live out his dreams of Hollywood stardom — that is, if he can keep his Shakespearean cadence in check.
The meat of the story, however, concerns Harley and Ivy's contrasting feelings about the Villys, a Hollywood-style award show where Gotham's best and darkest walk the red carpet before bestowing each other with trophies (for categories like Best Nom De Plume and, more pertinent to this episode, Best Couple). We learn the basics of this long-standing tradition through what feels like quickfire parody — it takes place at the theater where Batman's parents were shot; it names its keystone award after their killer, Joe Chill; it's the 83rd year of the awards, i.e., the same age as Batman in the real world — but these historical references end up being appropriate as Harley and Ivy's histories become central to the plot. Harley is overly keen to nab the award for Best Couple with Ivy, given that she previously won the award with The Joker (Alan Tudyk), her abusive ex, who happens to be the evening's host. Ivy, meanwhile, wants nothing more than to return to her lab and cook up her terraforming formula, but instead, she ends up sharing a ballroom table with her ex, the ever-optimistic Kite Man (Matt Oberg), who she left at the altar last season. Harley Quinn may be episodic, but the richness of its characters stems from them being forced to reckon with their pasts in increasingly silly ways.
The crowded ballroom allows for fun sight gags aplenty, whether in the form of obscure comics oddity Clock King, a man with a clock face for an actual face, or his newly invented poultry parody, Cock King. Tudyk's Joker even gets to put on a pitch-perfect award show intro send-up, the kind that one of late night TV's "Jimmys" might perform (in the opening video package, he leaves Robin's famous crowbar murder from the comics midway through because he "[has] a show to host" and a parody song to rap).
Harley learns that the results might be rigged and goes to hunt down one of the award accountants — who turns out to be a robot — because she's still desperate to be recognized outside the Joker's shadow. Ivy, meanwhile, gets a handful of quieter moments, primarily alongside Kite Man's new girlfriend, Golden Glider (Cathy Ang), a sweet and shy, yet dazzling, villainess who helps her realize that Kite Man and Harley are both willing to put their happiness aside for the people they love.
Harley follows up her messy android fistfight with a nice chat with Kite Man, who similarly helps her realize how lucky they both are to have their respective partners; that's more important than any trophy. "Harlivy" eventually wins Best Couple, but they don't stick around long enough to accept the award, having once again reached a tender reconciliation, and having left the need for other people's validation behind.
Jokes' Gallery
• If it took you a second to figure out that Thomas Wayne was played by Billy Bob Thornton, you're probably not alone; Clayface's confidence when calling him "William Robert" is nothing if not convincing.
• Joker's award show rap has a couple of choice lines, but "Grodd is here, dressed in a tux. So is bane, too bad he sucks!" is a step too far. Bane just wants his pasta maker back, man.
• The best Joker moment, however, comes when he lists off the evening's most prestigious supervillain guests: "Sinestro, Solomon Grundy, Kevin Spacey."
 
• King Shark doesn't get to do much this episode, but he does get to eat Billy Bob Thornton's corpse to dispose of the evidence. Plus, Ron Funches's dismayed delivery of "Ow, my penises!" when Ivy spills acid on him is impossible not to laugh at.