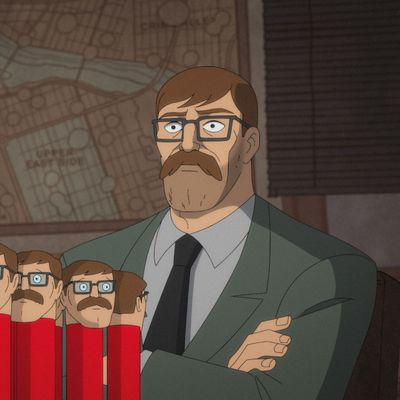 A spinoff episode that works as well as the main story (if not better), "Joker: The Killing Vote" is a rollicking, Simpsons-esque domino topple, representing Harley Quinn at its best and most comically efficient. Having crossed the halfway mark, the show's third season finally wraps up its "Gordon for mayor" subplot but introduces brand-new complications for Harley and Ivy in the process, despite neither one featuring in the episode.
Joker, now a sweater-sporting suburban stepdad, turns a corner in Gotham, only to be accosted by a shadowy Caped Crusader, a sequence crafted in the vein of Batman: The Animated Series. This isn't the first time the show has pulled from the '90s cartoon; Joker's appearance and Alan Tudyk's vocal performance are based largely on Mark Hamill's version of the character, a resemblance the episode deploys to its fullest potential. The encounter turns out to be a dream, as Batman unmasks to reveal Joker's new rival, Debbie (Amy Sedaris), a chipper soccer mom who bests the Clown Prince when it comes to parental involvement at school.
After an '80s-family-sitcom-style opening sequence, reintroducing Joker, his wife, Bethany (Krizia Bajos), and his stepkids, Sophia (Sammi Corona-Lampa) and Benicio (James Corleto), a laugh-track-laden exchange between Joker and a school administrator gets us up to speed. Joker wants to raise Sophia and Benicio with a strong influence from their Hispanic heritage, but the school's bilingual program is incredibly exclusive. The canned laughs fade as soon as Debbie arrives — the episode lays its pastiche to rest before it gets overbearing — and reveals to Joker that her kids were accepted into the program. The former Agent of Chaos is none too pleased and concocts a plan to run for mayor on an equitable-health-care-and-education platform — but not before a televised bank heist in which he steals from the rich and gives to the 99 percent. "I'm not LIKE a socialist," he responds to a reporter's accusation, before grinning maniacally into the camera: "I AM a socialist!"
The Joker's return to crime doubles as a send-up of the 2019 Joker film by giving its lead character (and Gotham's citizens) concrete concerns instead of nebulous ones, and in the process, it triples as a satire of democratic socialists like Bernie Sanders (or at least the way they're perceived) and fears of legitimate structural change. The other side of this equation — the Democratic Establishment — is the sad sack Commissioner Gordon, who has already spent the past few episodes running on a vague campaign with no real promises, courtesy of right-hand political adviser Two-Face. His daughter, Barbara, tries to push him to state something resembling actual policy, especially when the sitting mayor apparently succumbs to his wounds (reminder: He was impaled by a pole), but her advice doesn't take.
Between the Joker's political manifesto — common-sense solutions proclaimed in the cadence of lunatic ramblings — and his mundane, sincere family chatter being delivered with a similar glee, the show wields the character's familiar imagery with exacting absurdity, always calling into question how much he has actually changed and whether he's being sincere. He has, and he is. He would do anything for Sophia and Benicio; it's incredibly sweet. However, his platitudes and his red Mister Rogers sweater aren't nearly enough to convince the people around him.
If the send-ups of family sitcoms, Joker, Batman: The Animated Series, and real U.S. politics weren't enough, the series loops back on DC imagery even further with a role-reversed Killing Joke, the grisly comic in which the Joker maims Barbara and loads Gordon onto a roller coaster at an abandoned theme park and forces the commissioner to gaze at photographs of his injured and assaulted daughter. (The episode's title, "The Killing Vote," is an overt nod as well.) The show doesn't get nearly as macabre, but when Two-Face kidnaps Joker's stepson as blackmail for him to drop out of the mayoral race, the characters subtly acknowledge the irony of Benicio's being held hostage at an abandoned amusement park (the Joker is specifically forced to ride a roller coaster, much like the climax of the landmark graphic novel, only he's sent hurtling toward a broken track).
The inverted Joker imagery continues to pile up, with Gordon being forced to rescue the reformed psychopath by ripping off the car's bar constraint. For a brief moment, the commissioner resembles the Joker in one of the character's most vile and infamous pages from the comics, on which he stands over the slain body of the second Robin, Jason Todd, bloody tire iron in hand. (This imagery was parodied earlier in the episode, too, when the Joker tenderizes a bloody steak.) These visuals all fly by at a mile a minute, but despite the story being loaded with reminders of the Joker's violent past — in a tale in which he claims desperately to have changed — there's no dearth of hilarious jokes en route to the conclusion, which sees a now-reformed Gordon stepping aside so the Joker can take up office.
Things are all well and good — that is, until Harley and Ivy return from last week's New Orleans getaway, only to discover that Harley's abusive ex is running things once more. A harrowing prospect for the anti-heroine despite the Joker's sincere motives.
Jokes' Gallery
• There's a lot to love about the '80s-sitcom send-up, but the best bit has to be the opening lyric: "We live in a society, but baby it feels like it's just you and me."
• An exchange with more cogent political analysis than most serious streaming shows:
Gordon: "Oh my God, is my daughter some kind of JoBro?"
Barbara: "They prefer to be called Sane Clown Posse."
• Gordon comes within inches of figuring out Two-Face's whole deal when the backstabbing campaign manager asks him, "Why? Why do you keep trusting me? My name is Two-Face!" (Joker, however, outsmarts Gordon when he finally confronts their common foe with "You four-faced son of a bitch!")
• The funniest line this week comes courtesy of the Joker and Benicio when Gordon shows up in silhouette to rescue them from the death-coaster:
Benicio: "Superman! We're saved!"
Joker: "Oh, no, it's just Gordon. Keep screaming, son."