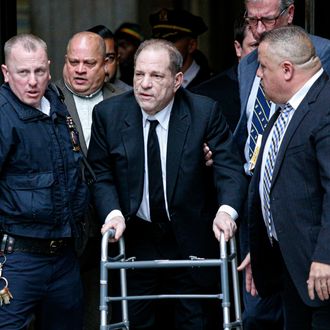 Harvey Weinstein
Photo: Kena Betancur/Getty Images
A jury of five women and seven men have now been selected for Harvey Weinstein's rape and sexual-assault trial in Manhattan court, including one woman who wrote a novel involving "predatory older men." Three alternates (who are substitute jurors in the event that a regular juror can no longer serve) were also selected. Seven jurors were selected Thursday, among them were three black women, one black man, and three white men. Friday morning three white men and two white women were added. The alternates include one white man, one Hispanic woman, and one black woman. The jurors and alternates selected were from four groups of 20 potential jurors, out of a pool of about 140. Each of the groups were put in the jury box to answer questions from Justice James Burke and lawyers from the prosecution and the defense.
In the final moments of jury selection (when the last panel left the room so lawyers could tell the judge who they wanted to keep and who they wanted to boot) there was drama over a white woman on the panel who had penned a book involving "predatory older men." Prosecutors did not oppose this woman being on the jury. Defense lawyers challenged including her on the jury "for cause," claiming she was "wishy-washy" when questioned about her book.
"On questioning, she made some comments that I think raise the issue on whether or not she can be fair and impartial," Weinstein lawyer Damon Cheronis said to Burke.
"The fact that an author who has a book coming out about predatory older men … and was respectively wishy-washy about her answers … [is] exactly the type of juror who should not sit on this jury," Cheronis said.
"She was not forthcoming about the book, about the subject of the book," he argued. "She lied about it all."
Prosecutor Joan Illuzzi, who repeatedly alleged that defense lawyers were trying to keep white women off the jury, said she believed the woman was forthcoming. She said that the woman's description of her book — that it was about women's empowerment, not predatory men — was "precisely" accurate. Burke shot down the defense team's request, and so she was selected.
"I think we got the best jury that we could under the circumstances," said Donna Rotunno, a Weinstein defense attorney, but added that the team was unhappy with the judge's ruling on the female juror. "I think that was an absolutely ridiculous decision," Rotunno said. "I think it was clear that one of the last jurors lied on her questionnaire and omitted some very important information."
Rotunno said that the defense has asked Burke for a mistrial.
Day 9: January 16, 2020
Seven jurors were picked for Harvey Weinstein's rape and sexual-assault trial in Manhattan court on Thursday; five more jurors and six alternates (basically, substitute jurors in case one of them can't keep serving for some reason) still need to be selected. The jurors selected so far include three African-American women, one African-American man, and three white men. They were selected from two groups of 20 potential jurors, out of a pool of approximately 140; the groups were placed in the jury box to answer questions from the judge and lawyers on both sides of the case.
After Justice James Burke asked them general questions, such as which neighborhood they lived in, what they did for a living, and whether they could be impartial, prosecutors and defense lawyers asked more direct questions.
With the first group, one of the questions prosecutor Joan Illuzzi asked dealt with Weinstein's appearance. (As Weinstein's case has progressed, he has looked increasingly unwell, and he has been showing up to court with a walker since December. Around 11 a.m. today, Weinstein's ankle monitor chirped in court.)
"Is there anything about the way Harvey Weinstein looks in court that negates in your mind that he could be violent, [be] a rapist?" or "This person couldn't possibly have been guilty of this crime, without hearing any evidence?" One man indicated that he felt that way.
When it was defense attorney Donna Rotunno's turn to ask questions with the first group, one of the things she brought up was that "women are the main focus" of the case. "Is there anyone sitting here," she said, who are "going to give women more credence or believe that they are more believable, more reliable, because they are women?"
No one seated in the jury box at that time raised their hand.
The questioning got far more intense with the second group of 20, as did lawyers' arguments over who should be a juror and shouldn't.
"Does anyone think an individual would have sex with someone they find unattractive for reasons other than love?" asked another Weinstein attorney, Damon Cheronis.
"Does anybody think somebody could have consensual sexual relations with someone and then years later, can change their story, and turn someone into a pariah and say what was once consensual was not and then say it's something different?" he also asked.
When it came time for the lawyers to tell Burke who they wanted on the jury, Illuzzi accused Weinstein's team of using their peremptory challenges — the ability to dismiss a potential juror without citing a reason — to exclude "young, white women" from the jury.
"They have now peremptorily challenged every young, white female on this panel," Illuzzi said. "They just have systematically eliminated every young, white female on the prospective jury."
Rotunno insisted, "We're trying to pick a fair jury," and insisted the women's backgrounds made them potentially biased. "This is not some conspiracy against the state."
Day 8, January 15, 2020:
Supermodel Gigi Hadid's surprise appearance as a potential juror for Harvey Weinstein's rape and sexual-assault trial "only contributes to the carnival-like atmosphere" surrounding the case, his lawyer argued in a court filing Wednesday. Hadid's role as a prospective juror emerged Monday, when she entered court as one of nearly 120 possible panelists; she is expected to return Thursday for additional questioning.
Weinstein's lawyer, Arthur Aidala, invoked Hadid's name in yet another attempt to get his trial moved out of Manhattan; he has claimed that extensive press presence will prevent a fair trial. In mentioning Hadid, Aidala also cited her friendship with model Cara Delevingne, who has alleged that Weinstein asked her to kiss another woman, and then tried to kiss her himself.
"On January 13, 2020, the model and celebrity Gigi Hadid was called as a prospective juror in this case. The presence of Ms. Hadid, who informed the Trial Court that she is able to be a fair juror even though she has met Mr. Weinstein before and is a noted friend of Weinstein accuser Cara Delevingne, only contributes to the carnival-like atmosphere," Aidala wrote. "Ms. Hadid attracts her own press and her presence also increases the number of spectators and protesters outside of the courthouse."
Meanwhile on Wednesday, it was revealed that the wife of a potential juror was apparently on Project Runway All Stars with Weinstein's ex-wife, Georgina Chapman. This potential panelist, Milk Makeup co-founder Mazdack Rassi, was ultimately excused from serving on the jury. Rassi's connection to Weinstein was revealed in court Wednesday during jury selection in the case. "I know Harvey and his family, his wife and children," Rassi said. "I don't think I can [be fair and impartial]."
Rassi is reportedly married to Zanna Roberts Rassi — a fashion editor who also co-founded the cosmetics line. According to Entertainment Weekly, she and Chapman were both on Project Runway All Stars. "Host Alyssa Milano will return alongside judge alums Isaac Mizrahi and Georgina Chapman. For the first time on All Stars, the judges will be critiquing blind runways. Marie Claire's Zanna Roberts Rassi will mentor the designers," the website reported. Photos of the two women and listings on IMDb.com suggest that they appeared on multiple seasons at the same time.
Another potential juror said, "I worked for the Weinstein Company on contract." These two jurors were among yet another pool of 120 potential jurors brought in for preliminary screening in Weinstein's trial. Since Tuesday, January 7, Justice James Burke has asked more than 600 prospective panelists basic questions — such as whether they knew anyone in the courtroom, whether they could be fair, and whether they had any scheduling conflicts. At least 180 of these people have already been dismissed after telling Justice James Burke they couldn't be fair. Others were dismissed for reasons such as scheduling. Potential jurors who haven't been cut will return Thursday morning, where attorneys on the case will question them.
Day 7: January 14 2020
A potential juror in Harvey Weinstein's rape and sexual-assault case told a Manhattan judge that he couldn't be impartial because he had seen the disgraced movie mogul "on the phone screaming at someone." "I don't know the defendant directly, but I live across the street from the Tribeca Film Center, and I've seen him several times over the years," the man explained, then saying he couldn't be fair and impartial in this trial.
"Because you have seen him across from the Tribeca Film Festival?" asked Justice James Burke, who has seemingly become annoyed that so many potential jurors want off the case. "On several occasions, I've seen him on the phone screaming at someone" the juror replied.
Later, when Burke asked whether anyone felt they couldn't be a fair and impartial juror in this case, the same male juror who mentioned the alleged screaming lifted his hand and stood. Burke quickly cut him off, pointing out that he had already said he couldn't be impartial. Burke then said that "a random remark by a prospective juror, you know, is obviously not testimony or evidence or has anything to do with the case." This man was ultimately excused from serving on the jury.
One week into jury selection for Weinstein's trial, Burke asked a pool of prospective jurors basic screening questions, such as whether they knew anyone involved in the case and whether they could remain fair and impartial. Another potential juror said he knew Weinstein, but did not elaborate.
One woman said she knows actress Rosie Perez "a bit." "We did a reading together," she said. It was previously revealed in court that Perez's name might come up at trial, or that she might be a witness. The Sopranos star Annabella Sciorra discussed her allegation that Weinstein raped her around late 1993 with Perez, according to Ronan Farrow in The New Yorker. Asked whether she should be a juror on the case if Perez testified, this woman said, "I feel like I'd be partial to her."
As Weinstein left the courtroom for the day, Vulture asked what he thought of someone seeing him yell on the phone. Weinstein answered with a smile.
Day 6: January 13, 2020
Supermodel Gigi Hadid made a surprise appearance at Harvey Weinstein's rape and sexual-assault trial on Monday — as a prospective juror in his high-profile case. Hadid raised her hand when Justice James Burke asked the pool of approximately 120 possible jurors whether they knew anyone in the courtroom. A few moments later, a court officer handed Hadid a microphone. "I have met the defendant," she said. When Burke asked whether she could remain impartial, Hadid answered "yes." Later, Burke read through a list of people who might be witnesses or whose names might come up in court, and asked whether anyone in the courtroom knew those on the list. Hadid stood once more and said she had met Salma Hayek. Read Vulture's full report on Hadid's jury service here.
Day 5: January 10, 2020
A prospective juror in Harvey Weinstein's rape and sexual-assault trial tweeted about serving on the case to promote his new novel, the former movie mogul's lawyer claimed Friday in a new court filing. The revelation was part of defense attorney Arthur Aidala's request to hold the next phase of jury selection in secret. This next phase of selection is when the potential jurors who weren't dismissed this week return to court to answer more probing questions. "At least one juror has expressed an ulterior financial motive for serving on Mr. Weinstein's jury and that he would find him guilty," Aidala wrote in his motion to Justice James Burke.
"At 2:05 p.m. on January 7, 2020, after jurors completed the written questionnaires in court, a prospective juror in this case tweeted to his/her nearly 7,000 followers: 'If anyone knows how a person might hypothetically leverage serving on the jury of a high-profile case to promote their new novel, [REDACTED], which [REDACTED] called a 'darkly funny book' and a 'witty black comedy,' dm me, please.'" You can see the post here.
"Over the course of the day, the tweet prompted several comments," Aidala also wrote, saying they included: "I don't know if this counts as jury-tampering but he's guilty.'" "This comment was 'liked' by the juror," Aidala wrote. Aidala further claimed that "this juror is already prepared to find Mr. Weinstein guilty, has tweeted about the case, and is considering how to profit from it."
Another juror "posted to Facebook about jury service in this case. When a friend messaged the juror if s/he had been 'paneled for Weinstein,' this juror reacted with a laughing emoji."
"Besides the fact that the juror was discussing the case on Facebook, making light of jury service in a case where the defendant faces life in prison suggests that this juror lacks the seriousness and diligence required for jury service in this case," Aidala wrote.
"After we conclude this type of whittling down of the jury pool, we think it's in both sides' best interest to do what has been done in other high profile cases … individual sequestered jury selection," he said in court.
"Denied," Burke said plainly. "If this is inconsistent with having a transparent, open jury selection, this is going to be denied."
While nearly 120 prospective jurors in Weinstein's rape and sexual-assault case were seated in the courtroom, approximately 60 protesters gathered across the street and chanted "the rapist is you!" The courtroom's windows were open. While many present in the courtroom could hear chanting, it's unclear if they could make out the words. (Vulture had to go downstairs to hear exactly what the protesters were saying.)
As Weinstein left court for the day, Vulture asked him what he thought about protesters saying "the rapist is you!"
He shrugged.
Day 4: January 9, 2020
On Thursday morning, the judge presiding over Harvey Weinstein's rape and sexual assault trial once again found himself talking about Weinstein's cell-phone use, explaining with exasperation that his comment about throwing the disgraced ex-producer in jail for using his mobile in the courtroom was meant to "scare him enough for him to discontinue using his phone."
Justice James Burke's comments came in response to the fact that Weinstein's lawyers pushed for his recusal on Wednesday, citing in filings the judge's comment in court: "Is this really how you want to wind up in jail the rest of your life, by texting and violating a court order?" Burke made this comment Tuesday after Weinstein was seen using his phone in the courtroom. This was at least the third time court authorities spotted Weinstein using his phone in the courtroom; Burke had repeatedly told him not to do this.
"First, the motion is denied," Burke said, sarcastically continuing, "I enjoyed your motion, especially the interesting photographs. I don't often get illustrations in my motions." (The motion included photos of the press at court, which also complained about the extensive media coverage preventing a fair trial.)
"More seriously, thank you for making the motions so I could have an opportunity to clarify," he continued. "Let me first just state the obvious: There is nothing prejudicial or inflammatory about scolding a recalcitrant defendant for repeated violations of court orders."
"Your client was defiant and noncompliant and challenging to court officers when asked not to use his phones," Burke said.
"Ironically, I was concerned that there might be a perception that Mr. Weinstein was getting better treatment and more chances than other defendants, but I didn't worry about that too much because judges seem to always give at least three strikes and then one final, final transgression," Burke said. "I certainly never actually meant that I was going to put your client in jail for life," Burke continued. "All I meant to do was scare him enough for him to discontinue using his phone."
Day 3: January 8, 2020
Over 45 potential jurors were excused Wednesday from serving on the jury in Harvey Weinstein's sexual-assault trial after saying they couldn't be fair, including one woman who claimed a friend had had an "encounter" with him. "I have a very close friend who had an encounter with the defendant," the woman said. She did not provide additional information on the alleged encounter in court. Outside the courtroom, after the woman had been excused, she declined to comment on her statement. Another woman had worked for one of Weinstein's ex-wives or knew someone who did, court proceedings revealed. These disclosures came in the early stages of juror screening.
As in Tuesday's selection process, Justice James Burke read out the names of people who might come up in court or be witnesses in the case and asked if potential jurors knew them and whether they had already made up their minds about Weinstein. Today's prospective jurors were far more candid about why they couldn't be fair or impartial. In addition to the purported Weinstein "encounter" and the mention of one of his ex-wives, many explained that trauma and media coverage would inevitably sway their decision. The majority of those who said they couldn't be fair were women.
"I read all the news, I have my mind made [up], and I don't think I'd be a fair juror," one woman said. Another said, "I read every article, and it's gonna be very hard for someone who's been assaulted multiple times." Later, another woman said, "I was assaulted in my past, so I don't think I can be a fair juror." "I have my mind made up," a fourth woman said.
There were 120 prospective jurors this morning; these were different from the pool of 120 jurors that had been brought in on Tuesday. In addition to those excused today on fairness grounds, dozens were excused because of logistical issues such as their schedules. In total, some 30 jurors were sent home with questionnaires and told to return next week.
After jury proceedings ended for the day, Weinstein's legal team filed paperwork asking Burke to recuse himself from the case, citing the "prejudicial and inflammatory comments made by the Court to Mr. Weinstein yesterday morning, which received widespread press attention, in which the Court admonished Mr. Weinstein for using his cell phone in the courtroom before it was in session."
Burke had threatened Weinstein with jail before jury selection began on Tuesday morning for using his cell phone despite being told not to.
Burke will decide on this request later.
Day 2: January 7, 2020
The names of more than 80 people who might come up during Harvey Weinstein's rape and sexual assault trial, either as witnesses or merely mentioned in court, were revealed Tuesday and include Salma Hayek, Charlize Theron, and Rosie Perez. Their names emerged during jury selection, when the judge told potential jurors that he was going to read a list of names of people who might testify or be discussed at some point, as well as several businesses, such as Weinstein's former film studio, The Weinstein Company, and would ask if they knew them and if so, whether they would be able to remain impartial.
Hayek has accused Weinstein of sexual harassment. Theron has accused Weinstein of lying to people about them sleeping together.  Mimi Haleyi, whose sexual-assault allegation is the subject of some of the charges against Weinstein, was also mentioned, as was Annabella Sciorra's name.
Sciorra has accused Weinstein of raping her around late 1993 and is poised to testify against him in the most serious charge, predatory sexual assault. According to Ronan Farrow in The New Yorker, Perez was a "friend who was among the first to discuss Sciorra's allegations with her." These names were revealed as jury selection began. During trials, potential jurors are asked to say whether they know people whose names might come up.
When 120 potential jurors walked into the courtroom shortly before 11 a.m., Justice James Burke announced that this case is " People of the State of New York Against Harvey Weinstein." None of the jurors appeared to react when Burke said Weinstein's name.
"I noticed that there was not too much reaction when the defendant's name was read and I must tell you that having heard of Harvey Weinstein and even being familiar with the allegations against him are not by themselves disqualifying and does not mean that you are not permitted to sit as a juror in this case," Burke said.
Burke then said "Both sides want a fair and impartial jury if that's an issue let us know … Your verdict must only be based on the sworn evidence … you will simply have to follow the rules and base your verdict on what you learn inside the courtroom."
He then asked whether anyone had already reached a decision in the case. Ten hands shot up right away. A total of 40 people wound up telling Burke that they couldn't be fair or impartial.
That group of 40 people were dismissed from jury duty in the case, as well as three more people who said they had health issues.
Earlier in the morning, Weinstein was threatened with jail before his rape and sexual-assault trial kicked off Tuesday morning for using his cell phone in court yet again.
Justice James Burke, who is presiding over the trial, grilled one of Weinstein's lawyers immediately after taking the bench about the disgraced producer's repeated cell-phone use in the courtroom, despite repeated warnings to refrain from doing so.
Burke told one of Weinstein's lawyers, Arthur Aidala, that he would hear arguments on bail regarding cell-phone use in the face of "repeated cautions and texting a moment ago."
"Are you going to pretend you don't know about this?" said Burke, whose obvious annoyance suggested that he was already fed up with the courtroom theatrics that have characterized the case.
"Mr. Aidala, would you like to say, for the record, what I told you regarding your client and electronic devices in the courtroom?" Burke said.
"You said you never want to see a cell phone in my client's hand" and to "bring a book," Aidala said.
"I encouraged him to bring a book," Burke said. "What did I say would happen," Burke continued, "since there had been repeated violations of this, including some on the record?"
"Your honor —"
"What did I tell would happen?" Burke pressed.
"I don't know," Aidala initially answered.
Burke insisted that Aidala sum up his prior discussion of cell phones.
"That you would hear arguments on bail," Aidala said.
"Because it was my intention to do what?"
"To change his bail conditions," Aidala said.
"To what?"
"I believe you said 'remand,'" Aidala answered, referring to when a defendant is detained during case proceedings.
Burke later said to Weinstein, "Is this really how you want to wind up in jail the rest of your life, by texting and violating a court order?"
After the cell-phone discussion, the Manhattan district attorney's office asked Burke to remand Weinstein following new sexual-assault charges in Los Angeles.
L.A. prosecutors announced on Monday that Weinstein was charged in relation to two alleged sexual assaults; in court papers, they requested that his bail be set at $5 million.
Weinstein's bail in his New York City case was recently increased from $1 million cash to a $2 million insurance company bond following allegations of "violations" with his ankle monitor.
Burke ultimately did not change Weinstein's bail.
When court resumed after the lunch break, it appeared he had heeded Burke's advice on bringing a book to court. Weinstein was carrying a copy of The Brothers Mankiewicz: Hope, Heartbreak, and Hollywood Classics. The book is about Herman J. and Joseph L. Mankiewicz, siblings who "wrote, produced, and directed over 150 pictures," according to Amazon.com.
Weinstein once again used a walker at the courthouse.
Day 1: January 6, 2020
On Monday morning, an unwell-looking Weinstein appeared increasingly dejected during a proceeding in Manhattan court as defense lawyers and prosecutors discussed details about his upcoming trial — including the possibility that jurors might see potentially embarrassing photos.
"There are other issues regarding specific exhibits in this case," said lead prosecutor Joan Illuzzi. "The defense is particularly sensitive about some exhibits."
"It is not the practice of the district attorney's office to ever … humiliate [a] defendant," she also said.
Whether and how the photos will be shown to jurors is poised to become an object of debate.
"Regarding the photographs that Ms. Illuzzi mentioned, we wanted to either file a motion or discuss that on camera with the court," said Weinstein lawyer Damon Cheronis, referring to the legal process where lawyers can discuss the issue with the judge behind closed doors.
"There were 72 photographs taken, and we're going to be asking for the admission of 7 of them," Illuzzi later said, saying they had taken steps to minimize "any undue prejudice" toward Weinstein.
"We believe the photographs … we do think they're very, very important for the jury to see," she said.
Justice James Burke will decide on how the photos are handled at a later date.
Lawyers for Weinstein also asked the judge to sequester the jury, in the event "something may happen," during the trial related to an investigation elsewhere. While this request came before Los Angeles prosecutors announced charges, the Los Angeles Times had previously reported that authorities were investigating alleged misconduct.
Burke denied their request to sequester the jury.
In a major setback to the defense, Burke also said that at this point, Weinstein's legal team would not be allowed to call New York Police Department Detective Nicholas DiGaudio — who had led the investigation — as a witness.
One of the six sexual-assault-related counts Weinstein had initially faced was thrown out in October 2018, after it was disclosed that DiGaudio didn't tell prosecutors about inconsistencies between accuser Lucia Evans's allegations and a witness's.
"The defense may not call Detective DiGaudio on their case, which is not to say that they may not vigorously cross-examine a witness about their dealings with him," Burke said.
When Burke said this, Weinstein put his head in his hands.
Prosecutors also said that Black Cube, a security firm hired by Weinstein, contacted a witness and "misrepresented who he was."
Actress Rosanna Arquette, who said Weinstein thwarted her career after she rejected him at a hotel, told Vulture that the disgraced producer's accusers are "not going anywhere."
"People need to focus on Harvey Weinstein; he's the predator. This is a criminal case, and they need to really look at this because this is happening all the time," she said. "This case sets a precedent for future cases. It's very important."
Paula Williams and Sarah Ann Masse, who have both accused Weinstein of misconduct, also spoke with Vulture about the trial and said the fact that he is going before a jury is a step forward. "It means a lot, it's very encouraging," Williams said.
The more than two dozen Weinstein accusers — who refer to themselves as the "Silence Breakers" — "all feel a personal sense of justice, just the fact that he is on trial," Williams said.
"Again, it is an opportunity for us to keep talking about this and hopefully change this culture," she said.
Masse said the trial is "the first step in a path that will bring us to a greater sense of justice … Even the fact that he's gone to trial, that he's facing criminal charges," she said, is a sign "we've made progress."
"It means that there's an opportunity now to see a dangerous man end up behind bars," Masse said.
Some protesters gathered outside the courthouse where Weinstein's trial will take place, holding posters with phrases like "Justice for survivors" and "Listen to survivors."
Weinstein also used a metal walker to enter what became a packed courtroom Monday. He shook his head when the photos were discussed.
Weinstein was arrested in New York City last May, following New York Times and New Yorker exposés in fall 2017 that detailed accusations of sexual abuse and assault against him.
Weinstein has maintained his innocence.
This is an ongoing news story and will be updated accordingly.