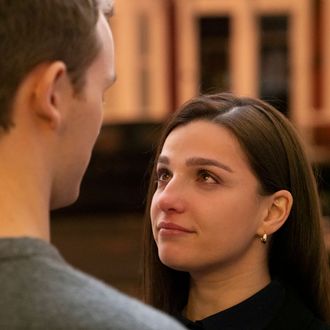 Yasmin and Robert.
Photo: Nick Strasburg/HBO
Throw on your purple sweatshirts, snort some coke, make some questionable choices, and rejoice! Industry (your favorite show about dumb, smart, wealthy 20-somethings) is on its way back. The business drama was renewed to ask a whole bunch of new questions on October 25 — after it concluded its second season on HBO on September 19, leaving its audience wanting more. The show, written by Konrad Kay and Mickey Down, follows the young traders of Pierpoint & Co. (a fictional international bank) as they navigate intensely terrible businesspeople and the potential for (and continual avoidance of) systemic change in their offices. Not much is known about the upcoming third season. Unless, of course, you want to look to the real world of finance for an inkling of what the show that has covered meme stocks and the pandemic might be tackling next. The secrets of the trading floor never stay secret for long. Below is everything we know about Industry season three.
What have the suits said about the season?
Back when Industry was first renewed in October, HBO seemed pretty chuffed with its little British show that could. "Industry reached new heights in season two, cementing its status as a buzzy hit with addictive storytelling, layered characters, a breakneck pace, and keen observations about contemporary workplace dynamics," Kathleen McCaffrey, the Senior VP of HBO programming, said. "We're incredibly proud of what Mickey and Konrad, Jami O'Brien, Jane Tranter and the team at Bad Wolf, together with our entire cast and crew, accomplished. We couldn't be more excited to continue our journey with them into season three."
"We just finished the writers' room for series three," Industry writer Joseph Charlton confirmed to Digital Spy on March 10. He teased the inclusion of some new characters, saying, "We're casting it at the moment. ​​I'm really excited about the casting conversations that are happening."
So, who's in the cast?
Season two starred Myha'la Herrold, Ken Leung, Jay Duplass, and Marisa Abela, among others, and we hope to see all of them back and in fine (read: terrible) form next season. However, there's a new face coming to the mean streets of Londontown. Game of Thrones star Kit Harington has been cast as a character named Henry Muck in the upcoming season. Hopefully, this time, he won't need to be brought back to life via deus ex machina.
What's season three about?
In vague terms, Charlton said that season three is "expanding out, and the frame's getting wider, and you're starting to see the bosses above those people, and then those bosses' bosses, and then how a big investment bank fits into the hierarchy of society more broadly than that." While that's not super-concrete, it makes sense given Industry's constant eye toward the systems and structures in place that make Pierpoint & Co. run the way it does.
More specifically, we know that Harington's Muck will be a CEO and founder of a green-tech energy company that is looking to go public. According to Deadline, in season three, Pierpoint is aiming to take a bet on ethical investing. Considering how the show took on U.K. health-care systems in season two, this isn't surprising. But, uh, since Industry tends to be more interested in how a capitalist need for profit underlies even the "ethical" choices made by high-powered individuals, we wouldn't bet on Harington playing another honorable man.
This post has been updated throughout.