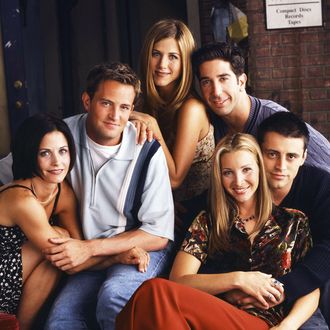 It's the only place you can watch
Friends
now.
Photo: NBC
And then there was HBO Max. Following last year's launches of Apple TV+ and Disney+, plus this spring's Quibi rollout, AT&T–owned WarnerMedia has now jumped into the streaming wars with its vision of video utopia. (This is particularly true if you've been missing Friends on Netflix, since the launch of Max means the Central Perk gang are back on streaming.) While HBO Max offers a ton of content — about 10,000 hours of movies and series at launch — the buildup to its debut has led to some audience confusion. People are understandably wondering whether they'll need both HBO and HBO Max, how much more this new service will cost them, and why there's so many different products with the name "HBO" attached. If you've got questions, we've got answers.
There are already so many HBOs: Regular HBO, HBO Go, HBO Now. What the [bleep] is the difference between them all?
First, it's okay to be confused. HBO has never made it easy to distinguish between its various products — though in mid-June, it did announce plans to try to simplify things. Here's how to tell them apart:
• HBO, of course, is HBO: the nearly 50-year-old pay service which you could only get via cable or satellite until about ten years ago. It lives on your TV set, and you can record shows and movies as they air or use your TV provider's video-on-demand platform to catch up. (Also, to be clear, it's not TV. It's HBO.) You can subscribe to HBO through a cable company like Comcast or Charter, a virtual cable provider like Hulu with Live TV or YouTube TV, the satellite service DirecTV or, more recently, via a digital subscription on a channel store like the ones operated by Apple, Amazon, or Roku. The price varies, but it's usually $14.99 a month.
• HBO Go is the streaming, on-demand version of HBO. Introduced in 2010, Go has all of HBO's original programs, plus its ever-changing catalogue of big feature films, and most can be streamed the minute they debut on linear HBO. (A few talk shows, such as Real Time with Bill Maher and Last Week Tonight with John Oliver get uploaded to Go a few hours after they premiere on TV.) Beyond whatever current shows and movies are in rotation on HBO, Go also includes access to most of the network's massive library of original series — everything from The Sopranos to Barry. You cannot buy or subscribe to HBO Go directly, however: It is only available, at no extra charge, to anyone who buys HBO as part of a cable or satellite package. You sign in to Go using whatever login credentials you've set up with your TV provider.
But don't get too cozy with HBO Go! On June 12, WarnerMedia said it was discontinuing Go and will shut the app down completely as of July 31. Instead, HBO is telling current cable and satellite customers who've been streaming the service via Go to instead switch to HBO Max. (We'll get to why you should be upset about this below, but the gist is that everything on Go is also on Max.) Most major cable and satellite providers have deals in place to let anyone with Go access use Max at no extra cost, so you're not going to pay more. The only hitch is if your cable provider doesn't have a deal with HBO for HBO Max. (More on that below too.)
• HBO Now was the exact same thing as HBO Go, except for people who don't have a cable package. We say "was" because as of June 12, HBO Now was officially retired — or so WarnerMedia says. (We wouldn't be surprised if folks who haven't updated their devices still have an app called HBO Now.) Now was launched in 2015 in response to the growing number of cord-cutters: HBO realized streaming-centric consumers who had no interest in paying for cable needed a way to get HBO, other than "sharing" somebody else's Go login. So they created Now, which streamed via an app you download from Apple or Android and costs $14.99 a month. It used to be the only way to get HBO without a cable subscription, but as noted above, you can also get HBO if you use Apple TV or Amazon's Fire TV platform, or if you get live TV from Hulu or YouTube. In any case, as of mid-June, HBO now calls what was HBO Now … just HBO. (By the way, Showtime figured this all out years ago: It's always called its digital version of Showtime … Showtime.)
What is HBO Max, then?
Well, as the barrage of ads you've probably seen for weeks will tell you, it's HBO and so much more. (It's okay to groan here.) Seriously, though, a key thing to understand about HBO Max is that everything on HBO comes standard with it. There's even a button you can click on the Max app that will basically show you just HBO stuff. The "Max" is the extra stuff WarnerMedia includes to convince people who don't currently pay for HBO to give in and subscribe: Hundreds of classic movies and TV shows, more kids programming, and original series not included with HBO.
What sorts of movies and TV shows will I get on HBO Max?
Anything HBO is on Max: The latest episode of Insecure, the new movies that drop every Saturday, the library of old HBO series such as Sex and the City and The Wire. Max adds on hundreds of movies (including big chunks of the Criterion Collection, Warner Bros. and MGM classics curated by Turner Classic Movies, and the Studio Ghibli catalogue) and some very well-known TV sitcoms (Friends, The Fresh Prince of Bel-Air, The Big Bang Theory). There are big movie franchises, too, including all of the Harry Potter and Lord of the Rings movies and, within a year, every Batman and Superman movie since 1980. Max also has animation from Crunchyroll, plus big primetime toons such as South Park, The Boondocks, and Rick and Morty. For kids, there's classic and recent episodes of Sesame Street, programming from Cartoon Network and new Looney Tunes cartoons. HBO Max is also making its own original shows, starting off with the Anna Kendrick rom-com Love Life and a reality competition devoted to voguing dubbed Legendary. Expect 30 or more Max originals by the end of 2020.
How much does HBO Max cost?
It's $14.99 per month. It is not a coincidence that this is the exact same price as HBO Now (which, remember, is now just called HBO), an old-school HBO subscription from your cable provider, or what Apple, Amazon, and other companies charge for a digital subscription to HBO. Since HBO Max includes everything that's on HBO, the company wants to send a message: Max gives you more for the same money.
I already have a version of HBO. How do I get HBO Max?
For many people, it will be pretty simple. If you have been using the HBO Now app (which, again, is now just the HBO app) to stream HBO through an Apple TV or Google device, select Samsung smart TVs, or on your phone, your HBO Now app should have magically transformed into HBO Max on May 27. (If it didn't, make sure you have automatic updates turned on, or look for an update to the app.) Similarly, if you get HBO via Apple TV channels, Hulu, Charter, or YouTube TV, you'll start seeing Max content show up on your user interface starting Wednesday. You can keep watching HBO shows the same way as always, but you may need to download the Max app to get content like Friends. If you get HBO through AT&T TV, Comcast's Xfinity TV or Flex Internet, DirecTV, AT&T U-verse, Spectrum, Altice, Suddenlink, Optimum, Cox Contour, Verizon Fios TV, or some smaller cable/broadband companies, you should also be able to use your login credentials from those companies for Max (after downloading the app). Comcast is also in the process of integrating Max into its Xfinity interface, which will allow users to search for Max content without switching to a separate app.
But as of now, there's one big caveat: HBO Max has not done distribution deals with Roku or Amazon. If you subscribe to HBO through those companies, you do not get free access to Max (though you can still get classic HBO content). More problematic, if you use a Roku player or Amazon's Fire TV devices to stream various apps — including the now-discontinued HBO Go and HBO Now apps — you can't even download the HBO Max app at all. Your HBO Now or HBO Go login technically gives you free access to Max, but only if you switch to an Apple TV player or Samsung TV, or if you have a PS4 or XBox One. (You can't subscribe via the latter two platforms, but existing credentials will work.)
In the meantime, if you have been streaming HBO Go or HBO Now on a Roku or Amazon device, you might be thinking, "Wait. I can't get Max, Go is dead, and HBO Now is changing. Am I screwed?" Welllll, no and maybe. The idea of HBO Now — that is, an HBO subscription you sign up for directly though HBO — is technically still alive. It's just called HBO instead of HBO Now. And as of this writing, Roku and Amazon still support the app formerly known as HBO Now. It will likely become simply HBO. You're good!
On the other hand, if you use Go and your cable company doesn't have a deal to give you Max, or if you've been streaming Go via Roku and Amazon devices, then it's quite possible HBO programming will get harder come July 31. HBO says it will still let Go refugees get their shows via the web (at HBOGo.com) until August 31, but that's a lot less convenient than watching via a dedicated TV app. It also leaves open the possibility that by September, those folks will have to find a new way to get HBO. But don't panic just yet: WarnerMedia is still talking to Roku and Amazon, and there's a chance the parties will find a way to reach a deal by summer's end. We'll update this section if and when that happens, but for now, this might help.
Is there a way to get HBO Max for free if I currently don't have HBO?
Yes — if you're an AT&T video, broadband, or cell phone customer (including DirecTV and AT&T TV). The company has already been offering free HBO to many of its customers, so you may already be getting HBO for free. Check your bill! But with the launch of Max, AT&T is expanding which customers get free access. In some cases, the free access is permanent; in others, it's good for a year or three months. AT&T put out a full list of which customers are eligible for which freebies here. If you're not eligible via one of these plans, give your AT&T provider a call anyway and ask if you can get free HBO Max. The entire company will be trying to sign up new Max customers these next few months, so there's a good chance someone will give you a deal.
How do I actually watch HBO Max?
As noted above, the service's content will be integrated into platforms such as Apple TV,  and if you are a current HBO Now user, the app should upgrade to Max by itself. The HBO Max app will be available to download on the Apple app store, the Google Play store, and Samsung's app store, as well as on the PS4 and Xbox One.
What if I don't want all this extra stuff and just want to stream HBO shows? Can I still do that?
You can, but WarnerMedia strongly discourages it. First, if you have cable or DirecTV, you can just buy an HBO subscription and watch on TV, recording shows you like with a DVR or using video on demand to catch up with library titles. You don't have to stream everything! If you don't have cable, you can get the HBO app (formerly HBO Now) on Roku or Amazon Fire TV, or subscribe to HBO via Amazon or Apple channels. Finally, for HBO die-hards who don't want to see The Sopranos listed next to The Big Bang Theory, there's a little HBO portal on the Max homepage that basically transforms Max back into Now, showing only HBO content.
Do I need to live in the U.S. to watch HBO Max?
For now, yes. There are plans to distribute the platform globally, but for now, it's an American thing. Though one bit of good news if you're in Canada: HBO Max original series such as Love Life will stream on Crave.
Can I watch Friends on HBO Max?
Yes! If you now want to cancel Netflix, just click here.