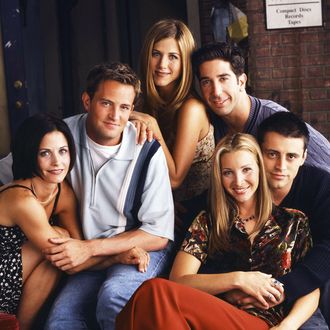 It's the only place you can watch
Friends
now.
Photo: NBC
This article was originally published in May and has been updated to reflect recent developments.
And then there was HBO Max: Following last year's launches of Apple TV+ and Disney+, plus this spring's Quibi rollout, AT&T-owned WarnerMedia has now jumped into the streaming wars with its vision of video utopia. (This is particularly true if you've been missing Friends on Netflix, since the launch of Max means the Central Perk gang are back on streaming.) While HBO Max offers a ton of content — about 10,000 hours of movies and series, and growing — the buildup to its debut has led to some audience confusion. People are understandably wondering whether they'll need both HBO and HBO Max, how much more this new service will cost them, and why (until recently) there were so many different products with the name "HBO" attached. If you've got questions, we've got answers.
I have heard of so many HBOs: Regular HBO, HBO Go, HBO Now. What the [bleep] is the difference between those services?
First, it's okay to be confused. Until a few months ago, HBO never made it easy to distinguish between its various products. The good news? It's now much simpler — though still a tad confusing.
➽ HBO, of course, is HBO: the nearly 50-year-old pay service which you could only get via cable or satellite until about 10 years ago. It lives on your TV set, and you can record shows and movies as they air or use your TV provider's video on demand platform to catch up. (Also, to be clear, it's not TV. It's HBO.) You can subscribe to HBO through a cable company like Comcast or Charter, a virtual cable provider like Hulu with Live TV or YouTube TV, the satellite service DirecTV or, more recently, via a digital subscription on a channels store like the ones operated by Apple, Amazon, or Roku.
➽ HBO Go was the streaming, on-demand version of HBO for anyone who got HBO through cable but wanted to watch via streaming. It passed away peacefully over the summer at the age of 10, along with its younger sibling HBO Now, the 5-year-old streaming version of HBO introduced in 2015 for cord-cutters who wanted HBO, but not a cable subscription.
So what's HBO Max?
HBO Max, which, as the WarnerMedia marketing machine has been telling folks for month, is HBO and so much more. (It's okay to groan here.) Seriously, though, a key thing to understand about HBO Max is that everything that you can see on the HBO linear channel (or the now dead HBO GO and HBO Max) comes standard with HBO Max. There's even a button you can click on the Max app that will basically show you just HBO stuff. So if you used to stream HBO through HBO Go or HBO Now, you just now have to do so through HBO Max.
Why the change?
New HBO owner WarnerMedia (and new WarnerMedia owner AT&T) decided the best way to get more people to pay for HBO — and compete with Netflix — was to add hundreds of classic movies and TV shows, more kids programming, and original series not included with HBO to the base HBO offering — and call it HBO Max.
So what are the movies and TV shows that come with HBO Max?
Anything HBO is on Max: The latest episode of Insecure, the new movies that drop every Saturday, the library of old HBO series such as Sex and the City and The Wire. Max adds on hundreds of movies (including big chunks of the Criterion Collection, Warner Bros. and MGM classics curated by Turner Classic Movies, and the Studio Ghibli catalogue) and some very well-known TV sitcoms (Friends, The Fresh Prince of Bel-Air, The Big Bang Theory). There are big movie franchises, too, including all of the Harry Potter and Lord of the Rings movies and, within a year, every Batman and Superman movie since 1980. Max also has animation from Crunchyroll, plus big primetime toons such as South Park, The Boondocks, and Rick and Morty. For kids, there's classic and recent episodes of Sesame Street, programming from Cartoon Network and new Looney Tunes cartoons. HBO Max is also making its own original shows, starting off with the Anna Kendrick rom-com Love Life and a reality competition devoted to voguing dubbed Legendary. Expect 30 or more Max originals by the end of 2020.
How much does HBO Max cost?
It's $14.99 per month. It is not a coincidence that this is the exact same price as the old HBO Now, or HBO from your cable provider, or what Apple, Amazon and other companies charge for a digital subscription to HBO. Since HBO Max includes everything that's on HBO and HBO Now, the company wants to send a message: Max gives you more HBO for the same money, and you don't need more than one service.
I already have a version of HBO. How do I get HBO Max?
If you previously used the HBO Now or HBO Go app to stream HBO through an Apple TV or Google device, select Samsung smart TVs, or on your phone, your HBO Now app transformed into an HBO Max app on May 27. (Make sure you have automatic updates turned on, or look for an update to the app.) Similarly, if you get HBO via Apple TV channels, Hulu, Charter, or YouTube TV, you've been seeing HBO Max content show up on your user interface since May. If you get HBO through AT&T TV, DirecTV, AT&T U-Verse, Spectrum, Altice, Suddenlink, Optimum, Cox Contour, Verizon Fios TV, or some smaller cable/broadband companies, you should also be able to use your login credentials from those companies for Max (after downloading the app).
Until late last week, if you used an Amazon Fire TV device or got HBO through Amazon channels, you could still get HBO shows but were unable to get HBO Max. But the two companies have worked out their differences, and as of Nov. 17, Amazonians can now download the HBO Max app and start streaming away using their current HBO or Amazon Channels logins.
If you do your streaming via Roku or a Roku-branded TV, however, you are still out of luck. As of mid-November, the two companies still were at loggerheads over a deal to bring the service to the Roku platform. (Check here regularly to see if the two sides make peace.) However, there is a way to get around this mess if you're really determined: Thanks to a software update, Roku devices made within the last few years are now able to play content cast via Apple AirPlay, which means you can download the HBO Max app to your phone or tablet and then cast it to your Roku. (I tried it; it works well!) If you're using a Google device, you can also cast your screen to most recent Roku devices, too.
Is there a way to get HBO Max for free if I currently don't have HBO?
Yes — if you're an AT&T video, broadband, or cell phone customer (including DirecTV and AT&T TV). The company has already been offering free HBO to many of its customers, so you may already be getting HBO for free. Check your bill! But with the launch of Max, AT&T is expanding which customers get free access. In some cases, the free access is permanent; in others, it's good for a year or three months. AT&T put out a full list of which customers are eligible for which freebies here. If you're not eligible via one of these plans, give your AT&T provider a call anyway and ask if you can get free HBO Max. The entire company will be trying to sign up new Max customers these next few months, so there's a good chance someone will give you a deal.
How do I actually watch HBO Max?
As noted above, the service's content is integrated into platforms such as Apple TV, and if you are a current HBO Now user, the app should have upgraded to Max by itself months ago. The HBO Max app is available to download on the Apple app store, the Google Play store, Amazon Fire TV store and Samsung's app store, as well as on the PS4 and Xbox One. And as mentioned previously, t's also included on a number of cable platforms, including Comcast Xfinity and Cox Contour.
What if I don't want all this extra stuff and just want to stream HBO shows? Can I still do that?
If you have a cable or DirecTV subscription and want to watch on a regular TV set, sure, you can still just watch an HBO channel or watch HBO shows via HBO On Demand. But for streaming? Nope. It's Max or nothing, bub.
Do I need to live in the U.S. to watch HBO Max?
For now, yes. There are plans to distribute the platform globally, but for now, it's an American thing. Though one bit of good news if you're in Canada: HBO Max original series such as Love Life will stream on Crave.
Can I watch Friends on HBO Max?
Yes!
If you subscribe to a service through our links, Vulture may earn an affiliate commission.