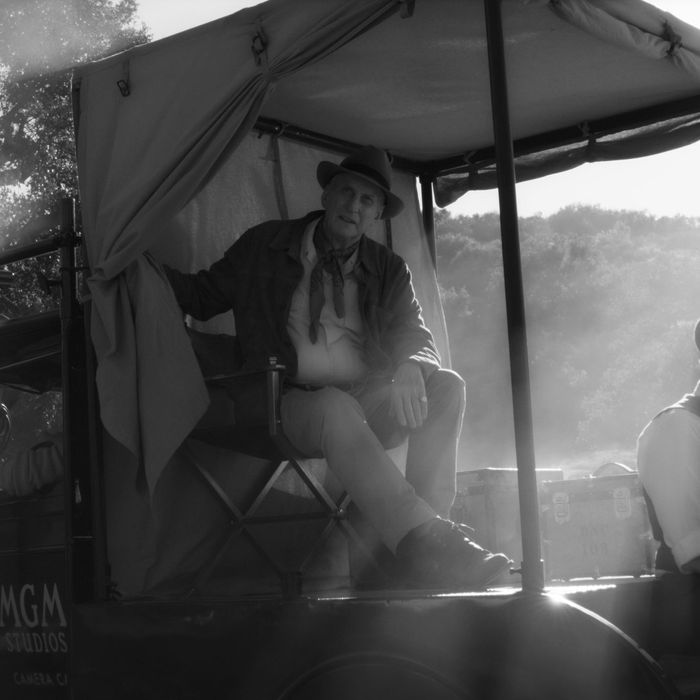 There's a whole lot of Hollywood history to be consumed.
Photo: Courtesy of Netflix
David Fincher's Mank paints 1941's Citizen Kane not so much as the masterpiece film from a 26-year-old boy genius named Orson Welles, but as an anguished script from the mind of Herman J. Mankiewicz, a less celebrated but perhaps just as influential Hollywood figure who witnessed firsthand the ugliest shades of the business. In a movie that refuses to treat Welles as many other films and books have, the director appears as a bit character in a saga that elevated him to Hollywood deity status despite the notion that the credit rained upon him might have been less than deserved. Instead, Fincher's latest male genius of focus is a gambling alcoholic screenwriter known by everyone as Mank, who shares prickly interactions with studio bigwigs like Louis B. Mayer (Arliss Howard), media magnate William Randolph Hearst (Charles Dance), and actress Marion Davies (Amanda Seyfried). Originally scripted by Fincher's late father, Jack Fincher, the black-and-white Netflix film depicts Herman as he pens his way through bouts of alcoholism and flashbacks of angst toward the people of his industry, eventually crafting the screenplay that was later called Citizen Kane.
While Fincher's film may not be the most accurate representation of the inception of Kane (more on that below), Mank's shifting of creative perspective begins to unfurl many intriguing threads of Hollywood history. The list of real-life figures included in Mank could inspire an entire course about the studio system in the 1930s and '40s, with its expansive cast of writers, actors, producers, media moguls, and journalists. But Mank itself brushes over these periphery characters. Rather than providing the viewer with a comprehensive history lesson, the film will tempt audience members into picking up their phone and swiftly Googling "Hedda and Louella" before the next allusion to a little-known Hollywood narrative takes them off guard. Our advice? Read our brief guide to Old Hollywood before settling into Mank, and once you're done — and thoroughly fascinated by its dense web of gossip and myth — start Googling. Or better yet, turn to the books, articles, films, documentaries, and podcasts that will let your newfound obsession with Citizen Kane–era Hollywood live on. Below is a guide to the best of the bunch.
Books
The Brothers Mankiewicz: Hope, Heartbreak, and Hollywood Classics, by Sydney Ladensohn Stern
An indispensable text after viewing Mank is The Brothers Mankiewicz, a double biography about the two influential lives of Herman and his brother Joe (who wrote and directed All About Eve, along with other Oscar-winning productions), long before and after the events depicted in Fincher's film. As part of Stern's research and insight, the book features a meaty section on Herman's experience with Kane, providing a clearer sense of his authorship. But as the book states, Herman's life in particular contained many passages worthy of a closer look, including his time producing Marx Brothers films, or sponsoring refugees before the beginning of World War II. In one of its best tidbits, the book offers a close look at Herman's 1933, blatantly anti-Nazi script that never got made into a feature, The Mad Dog of Europe.
Available at Bookshop. 
Young Orson, by Patrick McGilligan
If you're curious about the origins of Orson Welles and the budding theater and radio career that earned him the casual title of "boy genius," there's Simon Callow's Orson Welles Volume 1: The Road to Xanadu, the first of the author's three expansive Welles biographies. But there's also Patrick McGilligan's 2015 book, which looks at Welles' life before Citizen Kane, from the morning that Welles' birth was announced on the front page of the local newspaper in Wisconsin, through the creation of Citizen Kane.
Young Orson is available at Bookshop.
Citizen Kane: A Filmmaker's Journey by Harlan Lebo
After having previously written a coffee-table book for the film's 50th anniversary (Citizen Kane: The Fiftieth-Anniversary Album), author Harlan Lebo returned to the story of Welles and his movie to write extensively about the production. In particular, Lebo was able to access two copies of a "corrections script," and found that Welles revised Mankiewicz's script extensively.
Available at Bookshop.
This Is Orson Welles, by Peter Bogdanovich
Perhaps the most famous of the Welles books is this collection of interviews conducted by director and friend Peter Bogdanovich, which has insight on numerous projects from Welles's career, and was published in 1992 after his passing in 1985. It's about a whole lot more than Citizen Kane, but you can't really make a list about Welles literature without including this one.
Available at Bookshop.
The Times We Had: Life With William Randolph Hearst, by Marion Davies
Davies offered her perspective — and sense of humor — in this memoir that was released in 1977, after her death in 1961. The book provides a larger sense of 1930s Hollywood through her perspective, which only sometimes includes references to her relationship with Hearst. Orson Welles wrote the foreword.
Available at Bookshop.
Lion of Hollywood: The Life and Legend of Louis B. Mayer, by Scott Eyman
Informed by over 150 interviews, this expansive biography from Scott Eyman looks at the heavily influential and problematic figurehead of Hollywood, depicted in Fincher's movie by Arliss Howard. Eyman offers a more rounded portrayal than Fincher's version in Mank, while celebrating the immigrant's ascent into Tinseltown royalty.
Available at Bookshop.
The Chief: The Life of William Randolph Hearst, by David Nasaw
Aside from Mayer, one of the "villains" in Mank is undoubtedly the magnate William Randolph Hearst (played in the film by Charles Dance), who used fake news of his own to sell newspapers and gain media prowess. For more information about why Mankiewicz and Welles would be so inspired to tell a story about a man such as this, this bestseller from David Nasaw offers plenty of examples.
Available at Bookshop.
In Search of Marie-Antoinette in the 1930s: Stefan Zweig, Irving Thalberg, and Norma Shearer, by T. Lawrence Larkin
In brief moments during Mank, Seyfried's Marion Davies expresses her desire to star in a Marie Antoinette project, which did in fact exist (though the role went to Norma Shearer). But it comes with its own extensive history, including that of producer Irving Thalberg's intense efforts to get the film made. Consider this a dive into a rabbit hole that goes far away from Mank, but still captures the spirit of producing in Hollywood in the 1930s.
Available at Bookshop.
Ben Hecht: Fighting Words, Moving Pictures by Adina Hoffman
In 1926, Mankiewicz famously sent this telegram to writer Ben Hecht, who makes an appearance in Fincher's film: "MILLIONS TO BE GRABBED OUT HERE AND YOUR ONLY COMPETITION IS IDIOTS. DON'T LET THIS GET AROUND." The telegram launched a screenwriting career that would be one of Hollywood's most respected, as he became the celebrated writer behind Notorious, Scarface, Spellbound, and dozens of more scripts (Jean-Luc Godard called him "a genius"). Adina Hoffman tackles this legacy, and Hecht's personal politics, in this 2019 book from the Jewish Lives series.
Available at Bookshop.
I, Candidate for the Governor: And How I Got Licked, by Upton Sinclair
For all the American history that Mank brings back to the spotlight, Upton Sinclair's 1934 gubernatorial campaign is especially noteworthy. Played by Bill Nye, the author of The Jungle launched his own failed attempt to lead California with progressive ideas, but was famously squashed by efforts propped up by Hollywood money from the likes of Mayer and Hearst. Sinclair wrote about this whirlwind experience in this revered account, but for a perspective outside of Sinclair's first-person, there's also Greg Mitchell's The Campaign of the Century.
I, Candidate for the Governor: And How I Got Licked is available at Bookshop.
Articles
How Variety Covered the Era of 'Citizen Kane' and Herman J. Mankiewicz, by Tim Gray
The true story behind Mank might be effectively glimpsed via Variety headlines, given the publication's storied history of reporting on deals, parties, and drama in Hollywood. This article offers a brief look at a deep history, with much of the stories matching scenes in Fincher's film.
Available to read at Variety.
Raising Kane, by Pauline Kael
For viewers who might be confused as to why Mank imagines Welles as somewhat of a petty credit-stealer, this piece by Pauline Kael offers a large explanation behind that way of thinking. New Yorker film critic Pauline Kael fed fuel to the fire about writing credits for Citizen Kane with this 50,000-word essay, which was published as part of a book that feature the film's shooting script as well as across two issues of the New Yorker. After doing her own research and interviews with some associates of Mankiewicz and Welles (research that was later refuted throughout Welles discourse), Kael tried to argue Welles's minimal influence on the script.
Available to read on The New Yorker.
The Kane Mutiny, by Peter Bogdanovich
In an Esquire piece published in October 1972, director Peter Bogdanovich responded to Kael's piece diminishing Welles's involvement in writing Citizen Kane. It was later discovered by Welles historian Jonathan Rosenbaum that Welles did indeed provide heavy input, a fact that makes the Bogdanovich's rebuttal to Kael's claims all the more interesting.
Available to read at Esquire.
Mank and the Ghost of Christmas Future by Joseph McBride
And for an incisive and critical examination of how Fincher addresses this controversy, there's this recently published essay by film historian Joseph McBride, who has written three books on Welles. The extremely informative article brings into focus just how anti-Welles Fincher's film is, and the harm in a controversy that has persisted through film discourse.
Available to read on Wellesnet.
Harlan Lebo Delves Into Differences Between 'Citizen Kane' Script, Finished Film, by Ray Kelly 
If you want to get into the life of the screenplay, Welles historian (and author of Citizen Kane: A Filmmaker's Journey) Harlan Lebo has quite a treat. Earlier this year he went through a script from before shooting started on Kane (referred to as the Third Revised Final), and meticulously compared it to what the film eventually was. It's a fascinating look at the story's evolution, making clear that whatever Mankiewicz created with his typewriter during the events depicted in Mank would have changed by the time cameras started rolling.
Available to read on Wellesnet.
Feature Films
Citizen Kane
Forget the hubbub about whether Welles's film is the best film of all time, or simply just one of the best. If you haven't seen it, you should of course experience it before or after Mank; Fincher has made it so that it doesn't really matter. And if you've already seen it, I recommend revisiting it with Roger Ebert's wise and entertaining audio commentary on the film, one of the few the critic ever recorded. Scene by scene, Ebert helps the viewer understand the movie's innovation and intent, offering a film lecture that anyone could take. And if you can't find the commentary track, this 2004 article by Ebert lays out many of the ideas that he tackles, like a running list of the elements that make Citizen Kane singular and brilliant.
Available on HBO Max.
RKO 281
Based on the 1996 documentary The Battle Over Citizen Kane, this peppy showbiz drama from director Benjamin Ross depicts the making of Welles's debut, with a few more colorful touches than Fincher's film. For one, the Welles/Mankiewicz relationship as a fraught bromance, with Liev Schreiber playing Welles, and John Malkovich in the role of Mank. In telling the story Hearst and Davies, and how they inspired Susan Alexander and Charles Foster Kane respectively, the movie also echoes some of the shots and scenes used in Citizen Kane, as if trying to take the ideas behind Welles's film full circle.
Available to purchase on Amazon.
The Cat's Meow 
Like how Mank offers a "pre-Kane" look at the screenwriter, this colorful showbiz comedy film does the same for actress Marion Davies and her media-controlling partner William Randolph Hearst. Set in 1924, it's a mystery about the death of Charles Ince, who suddenly died during a yacht voyage orchestrated by Hearst. Legend has it that Hearst thought Charlie Chaplin was having an affair with Davies — and mistook Chaplin for Ince. This true story was considered for a deeper Hearst dig for Citizen Kane, but was excised. Directed by Welles associate Peter Bogdanovich, The Cat's Meow is an ideal choice for film viewers wanting more Davies, who is played here by Kirsten Dunst.
Available on IMDbTV.
Dinner at Eight
Mankiewicz's filmography as a screenwriter is full of collaborations and adaptations, and one of his most famous writing credits is for the ensemble drama Dinner at Eight, from 1932. The George Cukor comic drama also offers a sense of the biggest stars at the time, including Marie Dressler, Jean Harlow, Wallace Beery, Billie Burke, Jean Hersholt, and Lionel Barrymore.
Available on Vudu.
The Magnificent Ambersons 
To get a sense of what "1940s boy genius"–era Welles achieved without a Mank, look no further than his Kane follow-up, The Magnificent Ambersons, an adaptation of the novel by Booth Tarkington. The maligned sophomore film is no less gorgeous than Kane, and even more ambitious with its grandiose drama of an American family, though it was cut up by distributor RKO to Welles's dismay and dozens of scenes are lost. In 2018, it was given some long overdue love by the Criterion Collection.
Available on Vudu.
Going Hollywood
In 1933, Marion Davies made an MGM musical comedy opposite Bing Crosby, playing a school teacher who finds her way to Tinseltown. Crosby is a crooner on the rise who has Davies's affections; considering the time period of the movie, it's a curiously Hollywoodized version of Davies's own ascent into the business, given how Mank talks about how much influence Hearst had in her popularity.
Available for purchase on Amazon.
Duck Soup
Technically, watching a Marx Brothers movie counts within Citizen Kane discourse, given Mank's uncredited work as a producer on such films (along with Monkey Business and Horse Feathers). As a bonus, Marx Brothers movies are good for your health, so why not treat yourself to one of their best?
Available via The Criterion Collection.
Documentaries
The Battle Over Citizen Kane
Though it's currently only available on DVD, this two-hour documentary offers an in-depth look at the making of Kane, and the efforts to stop people like Hearst from destroying it before its release. The film by Michael Epstein and Thomas Lennon was nominated for an Oscar for Best Documentary in 1996, but received criticism from Welles scholars and critics alike (like Jonathan Rosenbaum, in this review of The Cat's Meow) for the erroneous connections it tried to make between Hearst and Welles.
Available for purchase on Amazon.
Magician: The Astonishing Life and Work of Orson Welles
If you're looking to bulk up on your knowledge of Welles, and his entire life as an artist across mediums, there's this 2015 documentary by Chuck Workman. The film functions as another reminder of just how talented Welles was, as he receives praise from interview subjects like Steven Spielberg, Martin Scorsese, William Friedkin, George Lucas, Jeanne Moreau, Sydney Pollack, Costa-Gavras, and more.
Available on Amazon, Vudu, iTunes, and Google Play.
Podcasts
You Must Remember This 
For her essential podcast about film history, Karina Longworth spent an entire episode in 2015 talking about the actress that Amanda Seyfried portrays in David Fincher's movie. As part of a series about MGM in the period, Longworth paints a richer, more sympathetic picture of the starlet, and also highlights Davies's abilities as an actor wrestling with her status in Hollywood, what with being in a romantic relationship with media magnate Hearst. The podcast episode is full of humanizing details, like how she had a stutter that made her segue from silent to sound pictures all the more nerve-racking.
You can listen to it online now.
Unspooled 
Paul Scheer and Amy Nicholson started their Unspooled podcast at the top, talking about Citizen Kane. For all of the podcasts out there that discuss the making of Kane and investigate its status as a pop-culture reference, this lively discussion from Scheer, longtime Kane fan Nicholson and cinematographer Steve Gainer is a funny and accessible approach to Welles's film. Scheer is a great example of someone who knows about Kane only from pop culture, and comes to appreciate the movie pretty quickly once he gives it a shot. "Nothing does what this film does that I've ever seen," says the new fan.
You can listen to it online now.
War of the Worlds 
Long before podcasts and audiobooks there were radio-theater productions, and Orson Welles and his Mercury Players made one so terrifying in 1938 that it caused a national panic. In his adaptation of H.G. Wells's novel about an alien invasion, the future director of Citizen Kane used the narrative news-update approach that would later appear in the film version. Of course, some audience members tuned in late and missed the note about this all being fiction, worrying until a commercial break made it clear the performances were theatrical. The controversial broadcast helped make Welles's talents all the more enticing to Hollywood, setting him on a path to collaborating, and clashing, with Mankiewicz.
You can listen to it online now.