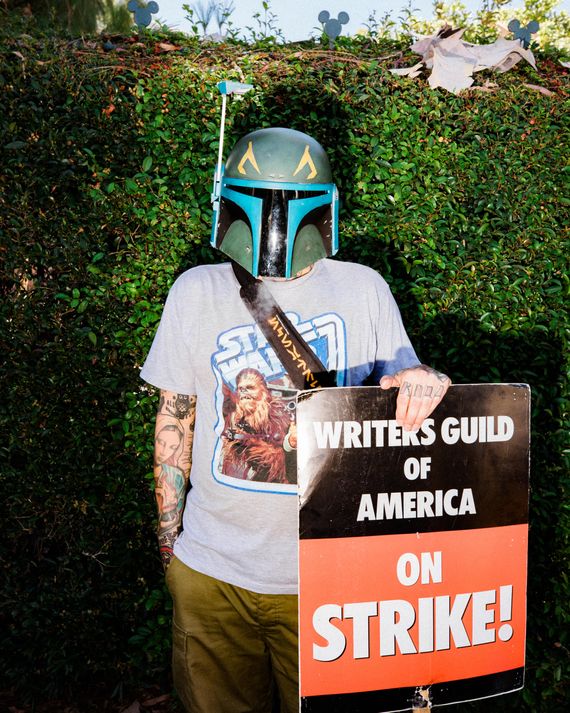 This article was featured in One Great Story, New York's reading recommendation newsletter. Sign up here to get it nightly.
Hollywood actors and writers are striking together for the first time since the Eisenhower administration, for what guild members see as an existential battle against a corporate class they suspect wants to trim labor costs down to zero. Writers' rooms have shrunk. Residual checks that once provided a living wage amount to a handful of dollars. So how's everybody feeling? We spoke to 19 workers from every corner of the industry — from actors to writers to camera operators. They shared their salaries, their meager residuals, and what they've been doing to survive during the strike. Even those who have ostensibly "made it" are stretching their paychecks as far as they'll go. Below them, Hollywood's lower-middle class is doing the uncomfortable math: How much longer until I have to go back to waiting tables? Further down the hierarchy, IATSE guild workers — assistants, editors, and other below-the-line workers, who are not on strike but still not working — face moral decisions around crossing picket lines and wonder if the folks above the line will have their backs when they want a better deal too. The town is more united than ever, but in any work stoppage, it's still hard not to feel like you're the one getting fucked the most.
The
Actress
Using
PTO
Days
for
Her
Netflix
Gig
Location: New York
Years in industry: 13
I have a rare hematological disorder, so a lot of my professional choices have hinged on keeping my health insurance. Without insurance, the medication I'm on costs $15,000 a month. In November 2020, I booked a recurring role — seven episodes — for a Netflix show. I had as much screen time as a couple of the series ­regulars, but I was not put on a series-­regular contract. I was making $8,000 an episode — $56,000 for seven episodes before taxes. That's a decent rate, but it's still not a series-regular rate. My manager had to stay on top of Netflix to make sure they actually paid me according to the terms of the contract I signed. They only contract you out in two-episode blocks, even if they know they are going to use you for more than two episodes. They do this so they can make changes to your contract and pay you less while also asking you to hold your availability for the entirety of the shoot. There should be guaranteed compensation for the entirety of a hold, and there isn't.
One of my friends had a recurring role on an FX show and got something like $30,000 per episode. Another friend was on a Dick Wolf show as a series regular, and they offered her only $15,000 per episode. Her agents were able to talk that up to $20,000. There's no regulation. They will try to get away with paying you as little as they can. In order to not lose my day job at a tech start-up, I used my PTO for shoot days. I didn't have a day off for 18 months, and shoot days are 14 hours long.
The
Streaming
Show
Star
Who
Paid
$6K
a
Month
for
a
Publicist
Location: Los Angeles
Years in industry: 3
Before I was a performer and TV ­writer, I was a public schoolteacher in New York City. I felt protected in that job. I made a living wage, I was able to live in the community I taught in and participate in the local economy. Now, as a quote-unquote star on a TV show, I don't feel I have access to financial security the way I thought I would.
As a performer on my TV show, I made $36,000 an episode. Twenty-five percent of that goes to my reps and 40 percent of what remains goes to taxes. Still, it's more money in a year than I've ever made before. As a guest star on another streaming show, I made about $5,000 per episode I appeared in. I'm lucky to be part of the 13 percent of SAG people who have health insurance right now.
The
Actress
Who
Fears
A-Listers
Taking
Her
Jobs
Location: New York
Years in industry: 10
I'm an immigrant, which is a very specific journey with regards to SAG and Hollywood. Once I submitted for my O-1 visa — the artist visa — you're limited to working in theater. With that visa, I couldn't get a restaurant job or a second job either — you can only work in an artistic endeavor. It forced me to work as much theater as I could. I got to know all the playwrights, who then became writers on TV shows.
One thing that's unfair right now is A-listers working on theater gigs. A big agency told me that for the next fall programming in New York, everything is booked. You don't have access to even audition because a lot of these TV actors are available. I am used to it because that's our industry. It's no surprise to be in a room where Meryl Streep's daughter is auditioning for a theater project. But the difference right now is I would say the A-listers should not get theater jobs. I see the greediness and the need to be relevant. In this moment, theater would be the saving grace for the working actor. Before taking any theater jobs, think about who's not getting that job who could make a living.
I joined SAG because of a role on a network show. I booked a co-star role in a pilot that then became a recurring co-star role and then became a recurring guest star. My health and my finances were much more stable once I was part of SAG. But the journey to get in, the initial fee, is $3,000. It's not nothing. And the monthly rates to keep up with their membership are not nothing. They're built in a way that is hard to access for the working actor. The Rock gave a seven-figure donation to the relief fund, so individuals are supporting us at the moment; internally it seems like they're trying to figure out the best way to distribute that help. To our surprise, there's no conversation about waiving our membership fees during the strike. If and when we get to that negotiation, the internal inequality needs to be addressed. Oprah is a SAG member, and she pays the exact amount of money I pay. I can't be paying the same fees that Oprah is paying. That makes no sense.
The
Married
Couple
Thankful
for
a
Decade-Old
Bit
Part
Location: Los Angeles
Years in industry: 15 and 16
Wife: As happy as I am this strike is happening, I shot a project that's gonna come out that I can't promote, and I'm not alone in that. That's a real bummer. I'm trying to look at the big picture and hope it's all for the best.
Husband: It only felt like in the last six months that it was getting back to pre-pandemic levels and we both had some really great work. So that's a bit frustrating, but I also feel fortunate our union is addressing this stuff now. This is one of the last moments to nip this stuff in the bud. I was pumped when I saw Fran Drescher going off in that speech. Because everything before that, I was like, Oh shit, we're gonna get a shit deal. But when she just went off, I was like, Yeah, there we go. I had been waiting for her to grow a pair.
Wife: Residuals are the difference between making our health insurance or paying thousands and thousands of dollars out of pocket. He did a big cable drama in the early 2010s, and that still shows up in chunks that are larger than some things we've done on Netflix. And that was in a cold open, like a one-line kind of thing.
Husband: I was in an establishing shot — the camera went by me as I said a line.
Wife: And you're still seeing returns on that.
The
Actress
About
'Geographical
Discrimination'
Location: Atlanta
Years in industry: 12
I'm 40. I got my first TV job when I was 28. I've made my living acting for the last six or seven years. I'm reading for series regular roles, and I was regularly doing top-of-show guest-star roles.
I made $8,000 off film and TV acting work in 2015. That's pretaxes and pre-agents. Right now, I have an Atlanta agent, an L.A. agent, and an L.A. manager. They get 21 percent collectively. I'm also doing theater, and I do audiobooks. In 2016, I did five episodes of Ozark and one episode of another hit Netflix show. I was paid scale, and I made very minimal residuals even though they turned out to be huge shows. I made $19,000 that year. I also had my children in 2015 and 2016, so I was pregnant at various times and less able to find work. In 2017, I only made $10,000, but that's when Ozark came out. So in 2017 I was able to get a manager and have more sway in negotiating. 2018 is when I started qualifying for health insurance — I made $44,000. 2019 is when I was offered a series-regular role on a Hulu show that lasted one season, and another recurring guest star role — I made $179,000 that year. My agents and manager figured it made more sense financially for me to ask to technically be a guest star than a series regular because as a guest star they have to transport me back and forth, house me, and give me a per diem. As a series regular, you become a local and pay for your own travel and housing with a stipend that never covers it all. This is also an issue being renegotiated in the SAG-AFTRA contract. I at least had a little power in that situation. Then in 2020 I made $42,000. I've only made series-regular money for one year and may never again.
The
Commercial
Actor
Who
Came
Around
on
Fran
Location: Los Angeles
Years in industry: 7
I joined SAG via commercials. One McDonald's commercial, due to residuals, ended up paying me over $40,000. If you do a single national union commercial for a big brand, you've made your health insurance. I'm in a lucky position right now. My wife is in the animation guild, and she's working. And even though SAG is striking TV and film at the moment, our contract with television commercials is still active, so I am still doing some stuff. And because residuals still exist in the commercial world, that is keeping us above water. I make enough where I qualify for the SAG-AFTRA Health Plan. Myself, my wife, and my 10-month-old are all on my health insurance. I don't take going on strike lightly, because this could very adversely affect my own family being able to get medical care if I don't qualify for next year. This is not a game for me.
I did not vote for Fran to be in charge because I wasn't fully sold on her. During the covid shutdowns, there were things that were said where I was like, "I don't know, Fran, I think you might be crazy." But I will eat those words. Because I thought we were going to cave. I thought the negotiating committee was going to take whatever deal was being thrown at us. So the fact that she and the committee put their foot down and said, "No, this is terrible." I was pleasantly surprised.
If my two top issues are not resolved, I won't vote in favor of a deal. We need to have a workable residual or some kind of revenue share in streaming. If we don't have either, we can't live in these expensive cities. Right now, you have to do a survival job so you can act. And given the availability they're asking of us to do these self-tape auditions, you can't do both. We get no notice. You are asked to do like a dozen pages in 24 hours. If I have to clock in at six in the morning at my survival job, how am I supposed to do all this accent work and do all this object work and become another human being and really convince you that I'm a Victorian-era chimney sweep, if I also have to be at Subway?
The
Extremely
Successful
Netflix
Co-Creator
Who
Had
to
Liquidate
Her
Savings
Location: Los Angeles
Years in industry: 15
My fiancé worked on an AMC show, and he has gotten upwards of $50,000 to $60,000 in residuals for many episodes he's worked on. I worked on one of the biggest Emmy-nominated genre shows of the year, that had much more viewership, and I got $8,000. And that's all I will get. I co-created a show for Netflix, but the residuals I've gotten from that show are to the right of the decimal point: 27 cents, 89 cents. Sometimes I save them up until they amount to $15 or $20, then I'll take myself out and buy a sandwich. It used to be that when you'd get a green envelope — writer residuals come in green envelopes — you'd breathe a sigh of relief because you might be paying off your mortgage for the next five months or you might be sending your kids to private school for the year. Now maybe you can get an ice-cream cone.
We just purchased a house this year. I have, for the first time in my life, had to liquidate my investments and retirement because I haven't had income since January. So far I've liquidated $50,000 of what I hoped would be my retirement income. I really struggled with that because it was a big deal to me coming from a financially insecure childhood to have any retirement investment at all. The fact that I had to dip into it was scary and embarrassing.
The
Former
Comedy
Central
Writer
Getting
Her
Meals
Paid
for
by
Drew
Carey
Location: Los Angeles
Years in industry: 5
I was working on a show that started out as a CBS All Access show. Then CBS All Access turned into Paramount+. Then Paramount+ moved us to Comedy Central. So it started out on streaming and then moved to cable. It was so interesting to see the difference between pay scale when we moved from streaming to cable show. I was a digital writer before it moved to cable, so I also had a different pay for that reason. But my personal pay more than doubled. It went from like $2,000 a week to $5,000 before they withheld anything. I finally made it to a union gig. I got about $200 of residuals from the full season I worked as a writer before it moved off of streaming. I've been told the residuals are much better on Comedy Central.
I moved into a nicer, more expensive apartment based on my new pay. I really thought I was a king. Because at a certain point, you have to trust the momentum and hope you'll continue. And then, of course, I went on strike and the show I was on was canceled. The most interesting thing has been watching the strike start and expecting this sort of terror to descend upon me. And I'm like, "Oh, no, this just feels sort of familiar."
I've been getting a lot of lunch at Bob's Big Boy. Drew Carey is paying for all meals there for people who show their WGA card for the duration of the strike. If I'm going out, I'm like, "Guys, let's go to Bob's Big Boy!" When he announced that, I thought there must be limits. It must be a onetime deal. Then I realized it was for any meal, all the way through the strike. I thought, Can he really afford that? And he absolutely can. That was humbling to realize — it just highlights how much wealth there is out there. I'm not trying to attack Drew Carey or anyone with this. That is the way to use your wealth. But it reminds you how much it's not being used to feed people, pay writers, and stuff like that.
We had a joint teachers-union protest with the Abbott Elementary writers. I know some of our writers have been going to hotel union workers' pickets. There's all kinds of labor movements happening in L.A., and to see it spilling over is pretty exciting. Before this, it wasn't common for me to walk seven or eight miles in a day. And now it happens multiple times a week. Writers are supposed to be clever and good with words, and now we're getting strong and tan and muscled. It's like we're creating their worst possible nightmare.
The
Showrunner
Living
for
Years
Off
One
Big
Check
Location: Los Angeles
Years in industry: 14
As executive producer working full time on a streaming show I was running, at the height of the production, I was making like $150,000 a year. After we closed the writers' room, I was working part time, so the money dropped a bunch. I probably made a total of $250,000 during my two and a half years of employment on the project. I had the unfortunate luck of being unemployed for the past six months, so that has to last me the six months I was unemployed this year before the strike started, and it'll probably have to last for another six months because I don't think this strike is ending anytime soon. And then who knows once the strike is over? How long will it be before I can sell another thing or get on a staff? When people hear writers are making $150,000 a year, they want to be like, "Well, oh, poor fucking writers," but you have to imagine it has to be stretched out for upwards of three to five years. I do not have parents with money. None of my friends went to Harvard. My writer friends tend to be more working class. So I see this strike as something much more life and death and serious than a lot of people seem to think it is.
There are people who are still trying to work during a work stoppage. There's this thing called fi-core in the union. If you become a fi-core member, it means you pay your dues but you don't have to abide by the laws the union does. It tends to attract people who have more of a libertarian, right-leaning perspective. And there are people like Aziz Ansari and Seth Rogen were trying to shoot a movie. I was actually involved with shutting down their production. Seth Rogen is obviously very publicly pro-strike, but then he was also trying to shoot a movie during the strike.
The
TV
Writer
With
Her
Parents
in
the
Midwest
—
But
Not
Forever
Location: Los Angeles
Years in industry: 10
I'm half of a writing team, so I have a writing partner. We work on every show together, and we split a paycheck. So we are working very consistently, but our bank accounts would not show that. They like to hire us because they get two voices for the price of one, but the downside is you get paid half of what single writers do.
On my last show, I was taking home $1,600 a week. That was after splitting it with my partner and after 20 percent was taken away for my agent and a manager. Which, by the way, was very stupid of me. I'm coming to the point for the first time where my savings have run out, and I don't have any foreseeable meaningful income.
The
Assistant-Turned-Writer-Turned-Assistant
Thankful
for
His
Car
Accident
Location: Los Angeles
Years in industry: 10
I started as a production assistant, and then got to writer's assistant, script coordinator, and finally, staff writer on a sitcom. Then the pandemic happened. That sitcom ended. After being like, "I'll never have to be support staff again," I went back to being a script coordinator for another sitcom. Then I got staffed again on that show's second season, and then that got canceled. One of the reasons the strike is important to me is because I have been waffling between being an established writer and having to restart every time, because these shows get canceled so quickly and have so few episodes.
Money is tight. Last week, I was in a thankfully only minorly horrible car wreck and the insurance called me the other day to tell me my car was totaled. It was such a bummer. I loved that car. Then they told me I was getting back almost $20,000 for it. I'm in such a financial crunch, I was like, holy shit, that's amazing! That's like being a script coordinator for ten weeks! I'm not buying another car with that money, at least not right now. It's going to help keep me afloat until the strike is over.
The
AHS
Crew
Member
Who
Refuses
to
Cross
a
Picket
Line
Location: New York
Years in the industry: 20
I was working on American Horror Story throughout the WGA strike. I am sure you are aware of all the Ryan Murphy crap that's been coming out about his shows shooting through the strike. One reason the the show continued shooting when everything else shut down is because so many of the workers on my job crossed the picket lines. The majority of the crew didn't care or feel like it pertained to them. It's not a mistake that this is the crew that works for that particular production — it goes up the ladder.
It was really demoralizing and difficult. I was lucky because I was in a position where I didn't have to cross the picket line because I work off set. My boss understood my position and the position of the other people on our crew who also were not willing to cross. He kept us away from set and from any location that might have a picket line going. On days there was picketing, myself and the handful of other workers would walk away. Everybody was disgruntled and angry they were being put in a position where we were being forced to make individual decisions that should not have been in our hands. When the first week of picketing started on my job, I was consumed with anxiety because I didn't know what to do. I talked to the business reps in IATSE — my whole crew did — to find out what the IATSE policy was. I also talked to the WGA. They were clear that what they consider crossing the picket line is physically crossing a picket line but that working off set and not seeing picketers is not.
The
Writer's
Assistant-Script
Coordinator
at
Target
Location: Los Angeles
Years in industry: 10
I'm on unemployment, so I make about $400 a week after tax, which is truly nothing in L.A. My fiancé — who was an assistant to a showrunner — and I are both out of work. For the last two weeks, I was helping a friend set up a YouTube Live show — ­setting up equipment, plugging in wires and stuff. It was more than you would make as a PA. On average it was about $375 a day. A few months back, I signed up for the Entertainment Community Fund, and I got a good amount of money from that — maybe $1,600. Right before the strike happened, a writer on the show I was working on was really nice and gave me $1,000.
I was talking with a friend who's also in a support staff role, and she was worried when they reach a deal the studios might reduce the support staff. I just hope that the outcome isn't, "Hey, let's fuck over the people underneath even more in an industry that's already pretty volatile."
There's a Target right down my street, so I applied. I was like, Sure, why not? It's in walking distance. It was bizarre, 'cause they have you do a virtual interview, which means they give you questions and you record a video. It's very Black Mirror–ish. I didn't get the job.
The
Editor
Who's
Not
Joining
the
Strike,
and
Doesn't
Plan
To
Location: New York
Years in industry: 10
When the strike hit, I was employed full time and had been for a while. I was laid off, and I wasn't expecting it. Since then, I've been a delivery worker to make some extra money. I'd sold stuff on eBay. Unemployment is only $500 a week, and when you have a mortgage and a kid and you're used to having a certain amount of money coming in and that's quickly cut off, you have to look for any way to supplement that $500 that you can.
I'm not okay with the strike if I'm being honest. I'm not a writer; I'm not going to see anything at the end of this road. All I'm going to see is $60,000 in lost wages. And they want to talk solidarity and all this shit. It's ridiculous. It's like, "Stand with us and lose your paycheck for month after month after month and foreclose on your home." I just don't agree with it. I think it's one greedy side fighting another greedy side. I have writer friends on Twitter crying poverty when I know they've made tons of money over the years showrunning. Think of the PA that makes $1,000 a week and is working paycheck to paycheck to cover his rent and food for the week or month. All we want to do is talk about the writers, but these are the people that are getting the most affected by it. They're not seeing anything at the end of this.
I respect a lot of the writers' demands. I think residuals with streaming is something that has to be addressed. I get it. But I don't feel a lot of empathy when I go through their previous contract and see what their minimum salaries are. A lot of late-night shows are typically 40-to-42-week runs. Their minimum is around $5,000 a week. And that's a minimum. That's a lot more than I ever made in a year.
I just hope the industry as a whole starts to see that it's not just actors and writers making film and TV. A lot of people aren't seeing the light at the end of this tunnel. I would like the thought to pass through these people's minds, and not in the form of like, "Here's a relief fund for $100 in groceries a week where writers are prioritized, but you could put your name on the list."
The
AMC
Writer's
Assistant
Who
Refs
High-School
Basketball
Games
Location: Los Angeles
Years in industry: 8
I was making about $23.50 an hour for AMC. Prior to that, I was a writer's assistant for a Peacock show, and I made about the same. I was in that range between $1,100 to $1,200 every week.
I have a side gig. I work as a basketball official for youth and high school. You can make up to $35 to $40 per game. More recently, I did ten games straight. That was a lot of work, but you bring home around $300 for a day. I filed for unemployment not too long after my last room wrapped. Shortly before the strike, I was given a co-write on a finale episode. The room wrapped before we could finish. We got to the outline, we turned that in, and we got to a first draft a couple of weeks before the strike happened. I was paid for the outline. That payment for the first draft would have been around a couple grand. I have no idea if I have any rights to being paid after such a long period. I don't have a team to reach out to and be like, "What happens with my payment?"
The
Starz
Camera
Operator
Whose
Show
Employed
Shady
Tactics
Location: Atlanta
Years in industry: 11
I was bumped to camera operator not long ago, and it was a huge step up for me. So I had some momentum before we all stopped. It was my third season on a Starz show. It was a ten-episode season and everything was written and the scripts were paid for, so we were able to finish shooting, which helped us get a couple more paychecks.
Our show had some strategies to inadvertently cross picket lines; they would send incorrect call sheets for the WGA so they didn't actually know where we were, then they would remove location signs for crew parking. None of us actually had to cross the picket line. They made it so we never saw any picketers, which is a little shady. I think, especially because we're in Atlanta, there weren't the big studio people picketing at all those places or marching down the street. We all kind of naturally shut down or finished our shows one by one until there was nothing left. We were one of I think five shows left in the country that was still going.
The
Assistant-Turned-Script
Coordinator
Monitoring
His
Mileage
Location: Los Angeles
Years in industry: 3
In 2021, I was hired as a production assistant for my first animated series, Max's Clone High. During that time, I also got a position there as a writer's assistant–script coordinator hybrid role where you're paid as one but you're really juggling two or three different jobs while you do that. Now I'm chillin' on unemployment, but I worked for one day last week, and I'll be working for another two weeks at the end of the month. Because the animation guild is not on strike. But what work can we do after that?
Pre-strike, my gross income was about $950 a week. After taxes and insurance, usually that drops to like $688 a week. My wife's job doesn't offer insurance, and I added her as a dependent, which took a huge chunk out of my paycheck. If I ever had to drive down to the studio for work reasons, or do production runs, they covered 65 cents per mile. And there would be weeks where I would really push the pickups, add a couple extra bucks on to that paycheck for the week. It's one of the more higher-paying animation jobs, unfortunately. It sounds decent on paper for an assistant, but 60 percent of my paycheck is going to rent alone. And that doesn't include my car payment and other credit card bills I'm trying to get down. So we'll say just under $700 a week.
I've been in a striking mood for a while. I helped unionize my office. One of the reasons we did so was because our studio did not pay us during the holidays. They would just lay us off for three weeks, and three weeks is very disruptive to my pay cycle. You're told that once you're showrunner, or once you're a staff writer or story editor, things will be better, only for it to be revealed that in some ways, it's worse. As a PA, I was making more money than our script ­coordinator — a whole $200 more. That's why I had to unionize the office. We're all under the age of 30, and we're like, "Yeah, capitalism fucking sucks. Let's fight back against it."
I checked my account, and I'm in the double digits because my unemployment hasn't been fully accepted yet. I've been trying to apply for freelance writer gigs that aren't for struck companies. I do have retail experience. I'm sure I can go back into it if I need to. The day-to-day costs are, "What am I going to eat?" I'm trying to make cheaper meals at home. Our parents have been able to contribute in some capacity. But it's still like, "I'm not gonna be going out to eat for a very long time." I have to consider when I'm gonna go to a studio and picket because that's gas to drive over there.
The
Art
Director
Who
Worked
36
Days
Straight
Location: Atlanta
Years in industry: 13
I started in Atlanta's industry when it was a little slower, and Tyler Perry was the only show in town. Then The Walking Dead came, and it was a slow growth. I have a great network, and it's been consistent.
I am supportive of SAG and WGA, but for all intents and purposes, we're on strike with no upside. I feel like what they are striking for versus what we were striking for is kind of emblematic of — I'm not gonna call it a class divide. But we're some of the lowest-paid people on movie sets. There are IATSE contracts where they can legally be making 19 or 20 bucks an hour, and, you know, that's what Target's paying these days.