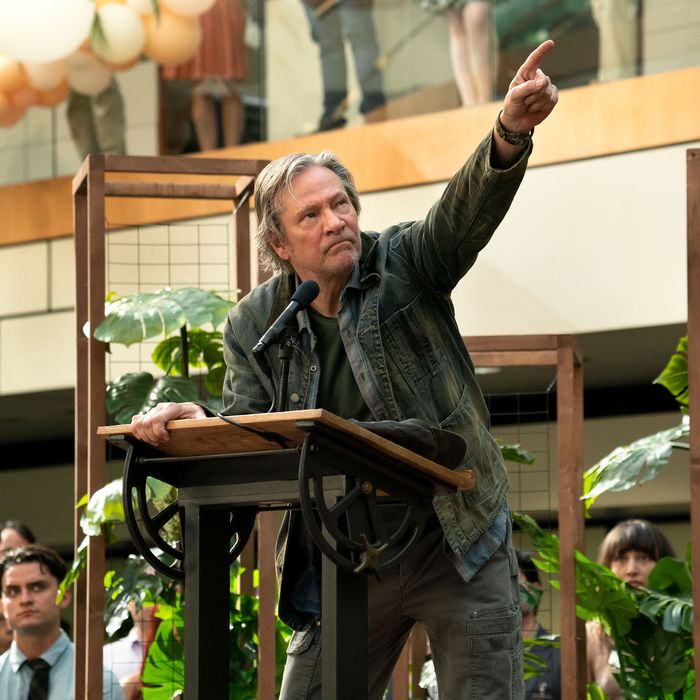 Photo: Ali Goldstein/Amazon Studios
The first season of Homecoming may have led to the unmasking of a diabolical conspiracy between the government and a private company over human engineering, but its dramatic arc was about disillusionment. Heidi Bergman, played by Julia Roberts, was a social worker at the Homecoming Transitional Support Center, a facility ostensibly devoted to the treatment and care of veterans with PTSD. To her, it must have seemed like a bold and edifying experiment in corporate philanthropy, offering the opportunity to mitigate the psychological wounds of war. So as she begins to learn the truth about the facility, we're locked into her feelings of disillusionment and panic.
One of the immediate issues with this second season to date — and I say this with the obvious caveat that it could gain in complexity as it goes along — is that it lacks the same emotional ballast. We fundamentally knew who Heidi Bergman was from the beginning, so we could align ourselves with her perspective as the larger mysteries of the show unfolded. The current season is all mystery. The lead character, played by Janelle Monáe, doesn't know who she is, so we're following along as she pads her way through the darkness. Her vulnerability is clear, and it's adding plenty of tension as she throws herself into a dangerous situation. But even now that she's been revealed as "Alex," we're nowhere near knowing a fraction of information about her — her past, her motives, the nature of her relationship with Audrey, etc. She's a puzzle within a puzzle.
"Giant" picks up right where the first episode left off, with Jackie in the hotel room registered to Alex, emerging back into consciousness after getting punched out by her ER mate. She awakes to the sound of a car alarm blaring in the parking lot and hits the clicker she found on the shoreline of the lake where the season started. The glove compartment reveals that the car is registered to Alex Eastern, the same person who signed for the bill at Skins, and it includes a street address in Oakland. Jackie follows this bread crumb, too, of course, and discovers the occupant of this address to be none other than Audrey Temple, which finally links Jackie to Geist and all the other characters on the show.
Director Kyle Patrick Alvarez plays the sequence at the Oakland house for maximum suspense, tracking Jackie window by window across the side of the house as snippets of Audrey's phone conversation trickle to the outside. Audrey is pleading with "Alex" to pick up the phone. She says she wants to know if Alex is okay, wonders "what got fucked up," and needs to go over stuff at the office. Jackie manages to slip in and out of the house without attracting notice, and she follows Audrey's car to the Geist facility far outside the city. Once inside the main building, where employees are treating the public to an opening event of some kind, Jackie scams her way into a consumer testing group, led by Craig (Alex Karpovsky), who season-one viewers will remember as an underhanded company man. She and her panel are exposed to a new citrusy "aroma," but the whole THX 1138 vibe of the room casts the fragrance-testing in a dubious light.
Once Jackie has entered the Geist building, Homecoming frees itself to break away from her perspective and dig into the internecine battles within the company, starting with its founder, Leonard Geist, played by an irascible Chris Cooper. We got a glimpse of Geist at the end of the last episode, which suggested that he was a botanist first and a company honcho a distant second. "Giant" confirms this impression through his half-shaved, jeans-and-flannel appearance and the way he's turned his greenhouse into a de facto office. When Audrey catches up with him, Geist is watching an episode of Airwolf to get "fired up" for a speech she tries to talk him out of delivering. ("They might not have Airwolf in jail.")
Nothing that gets said between Audrey and Geist — and nothing that gets said in Geist's rambling speech to the public, either — gives any specific information about what's going on. We just know that there's tension between Audrey and Geist over the direction the company is taking, a legal threat looming, and a "new partner" calling the shots that Geist doesn't like. In the speech, which attempts a confusing metaphor about a camping trip, a flutist, and a "giant" acting as puppet master, trying to "take our work away," it's not precisely clear what represents who. (Geist would seem to be the flutist in this scenario, and the giant likely the new interlopers, though he stares at Audrey as he says it.)
In the middle of this chaotic scene, Jackie finally locks eyes with Audrey, and Alvarez holds them in a split screen that revives one of the stylistic gambits of the first season. Audrey surprises Jackie by planting a kiss on her and surprises her further by calling her "Alex" and asking about Walter Cruz, the veteran played by Stephan James, who was second lead to Roberts last season. This, of course, opens up nothing but questions: What is Jackie/Alex's relationship to the company and to Audrey? Is this an authentic romance or a ruse? Who was her companion at Skins that night? And what does Walter Cruz have to do with any of this?
Questions, questions, questions. The big, lingering one for me this season: Will there be anything behind the tease?
Session Notes
• What's the meaning of the cat litter in the back of Alex's car?!?! Possibly nothing. Sometimes cat litter is just cat litter. There's a cat at the Oakland address, after all. Mystery solved?
• Funny exchange between Jackie and the cashier as she's buying a stun gun: "Ever use one of these before?" "Probably." Love a good amnesia gag.
• Jackie trailing Audrey from her house all the way to the Geist office is so conspicuous — especially on the country road where both cars are kicking up dirt — that it seems plausible that Audrey knows she's being followed and has planned for this encounter.
• "We could do something that's fun but chill and optimistic." Ah, the art of DJ-ing sinister corporate events.