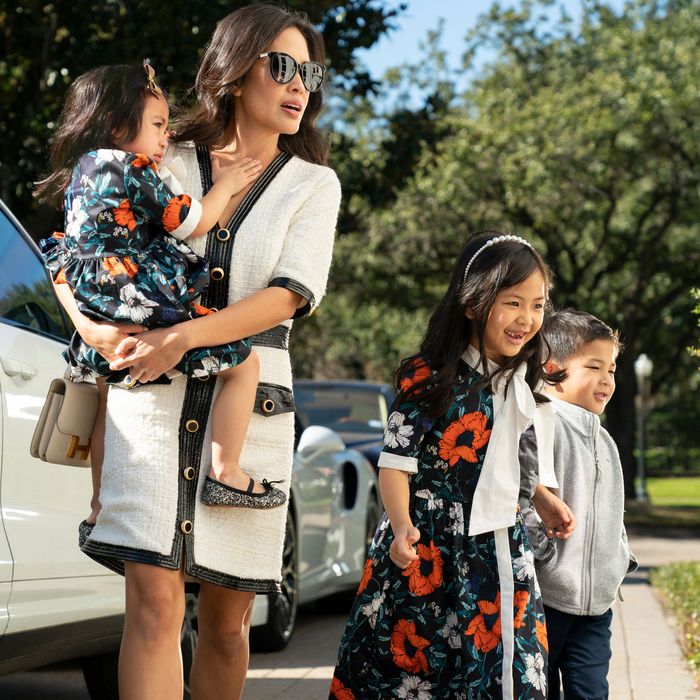 Judy Ho and her children in HBO Max's
House of Ho
.
Photo: Elizabeth Morris/HBO Max
Sunday brunch at the Ho household, in Houston, is a casual affair. The mahogany dining table is loaded to the brim with Vietnamese dishes, the conversation punctuated with the names of dead American presidents. "My wife didn't want to name [our son] a normal name because my father might forget him in the trust fund," declares Washington Ho, father of Roosevelt and Lincoln, older brother to Reagan, and eldest son of Binh and Hue. This topic of discussion is par for the course for the Hos, the Vietnamese American family whose million-dollar homes — complete with chandeliers, marble countertops, and low-simmering drama — provide the setting for HBO's new reality-show venture, House of Ho.
Vietnamese culture occupies a niche space in the American consciousness: Beyond the tragic memory of the Vietnam War, Americans might associate us with mouth-watering cuisine (think phở and bánh mi) and the nail-salon industry. A lot of Vietnamese American families are working-class suburbanites, with an average household income of $60,000 a year — lower than the average for Chinese, Filipino, and Indian Americans. Upwardly mobile folks might own a Lexus or a Louis Vuitton handbag, but to be private-jet rich is nearly unimaginable. It was surprising to me, then, that HBO centered a show like this on a multimillionaire Vietnamese family, marketing their lavish lifestyle like a real-life version of Crazy Rich Asians. "Where did they get all that money?" my dad wondered, after I sent him the trailer for the eight-episode series.
You never really find out. The Hos may be Vietnamese, but according to eldest daughter Judy, they "love being American." That's why her father, in a very Asian display of patriotism, named his male children Washington and Reagan — a tradition his children upheld. (Judy says she was named that because she was a "disappointment" by virtue of being a girl.) The show speeds through the family's origin story, a classic rags-to-riches tale: Binh, the money-making patriarch, sought refuge in the U.S. with his wife, Hue, in the aftermath of the Vietnam War, and worked to establish himself as an astute businessman and investor — the show doesn't get more specific than that — in the Houston area, which has the third-largest Vietnamese population in the U.S.
A refugee back story doesn't make for compelling reality TV. So the bread and butter of House of Ho is the luxury-filled lives of the Ho heirs, most of whom have access to family money without needing to pursue a real career. While the fictional Young family in Crazy Rich Asians carried the aura of generations-old wealth, the Ho clan gravitates toward flashy sports cars and sparkly designer wear. The show introduces some outlying relatives to provide entertainment value and brief commentary on what's brewing inside the Ho household, but the bulk of the family drama is in two plotlines: the unexplored conflict in Washington's marriage, and Judy's tug-of-war with her parents' conservative beliefs, as she seeks personal, but not yet financial independence. Between shopping trips on a private jet and glasses of top-shelf liquor, family tensions start to unfold.
Judy, a former lawyer and the oldest Ho sibling, became financially dependent on her father after a recent divorce, and is raising her three children as a single mom. Meanwhile, the family is discussing the future of Binh's investment business, as Washington is next in line to inherit the position once his father retires. (Reagan, his semi-estranged younger brother, only appears on the show once, and is confrontational with their parents.) But despite being in his 30s and a father of two, Washington still carries the reputation of being a sports car-driving party boy.
"To make money, you have to spend money," is how Lesley, Washington's wife, justifies his habits. She's aware of how little business her husband conducts, compared to his casual drinking and gambling. Lesley, a Vietnamese American pharmacist with humble roots in Oklahoma, seems to be the only family member who is sometimes conflicted by the Hos' decadent displays of wealth. During one of their private-jet shopping sprees, Lesley lingers by the store's sale section, while her sister-in-law Judy makes a beeline to the designer racks. She urges Washington to stop buying her unnecessary gifts, and save that money for his other business expenses.
Early on, it becomes clear that House of Ho is no fantasy — at least for the Ho women, whose lives are steeped in sexist expectations. The elder Hos are committed to traditional Catholic values and overwhelmingly favor Washington over their other children. They rarely hold him responsible for any of his actions, including his excessive gambling and poor business acumen. Instead, Lesley is expected to please both her in-laws and rein in Washington, balancing the role of the dutiful wife and mature advisor, no matter how severely her husband acts up. The elder Hos also frown on Judy's decision to divorce her absentee husband, and refuse to acknowledge how unhappy she was in her marriage. Instead, they offer financial support without recognizing her emotional needs, and continue to suggest that she make amends towards her ex-husband for the sake of her children. The parents' beliefs might seem outdated to a lot of viewers, but are quite common among older religious Vietnamese Americans — and these cruel gender dynamics initially moved me to root for the Ho women, who seemed deserving of a slice of agency and empathy in their lives.
In the vein of Keeping Up With the Kardashians and Bravo's Family Karma, which follows Indian Americans living in Miami, the antagonists in House of Ho — namely Washington — carve out space for its more likable female characters to shine. That's a crucial aspect to every family drama storyline. But it doesn't necessarily mean all the Hos aren't rooting for their collective success.
To its credit, House of Ho makes some attempts to tackle serious issues, such as alcoholism and how toxic masculinity is enabled in patriarchal families. Still, to quote a popular Vietnamese proverb: một giọt máu đào hơn ao nước lã (blood is thicker than water). The Hos have made a choice to stay devoted to the filial status quo, in spite of their quibbles and behind-the-scenes smack talk. They know that maintaining tradition ensures them a seat at the table and, ultimately, financial support. In one jaw-dropping scene, Washington refers to his marriage to Lesley — a traditionally raised, well-educated Vietnamese woman, whom his mother explicitly encouraged him to marry — as "an insurance policy."
There are few dramatic moments like this one on House of Ho. The show's fixation on the narratives provided by the three Ho heirs leads to its greatest blind spot: It fails to capture the generational gulf between the Ho parents and their adult children. The audience rarely receives any tantalizing insight from Binh and Hue, who maintain a reserved presence when the cameras are on. The patriarch and matriarch conduct all their talking-head interviews together, and although they speak English, there are scenes where Hue defaults to Vietnamese while speaking with her children. It's likely that Vietnamese is the elder Hos' preferred language of communication, at least between parent and child. Instead of digging into that, we get staged scenes like a seemingly out-of-nowhere tennis match between Judy and Washington that reduce their rivalry and relationship to something superficial. The format of the show flattens the Hos into the mold of a generic wealthy American family, rather than doing a deep dive into their complexity as an immigrant family.
Still, certain Ho family quirks are refreshing to watch. House of Ho is aimed at a broad American audience, a crash course on Vietnamese culture cloaked in obscene wealth. As foreign as the Hos' ostentatious lifestyle might be to viewers, a sliver of their home life was familiar to me. The siblings' Aunt Tina reminds me of all the gossipy Vietnamese aunties in my life: the brash, free-spirited relative that rolls up with a drink in hand. (Give Aunt Tina her own reality show!) Vietnamese folk love to nhậu — to booze, schmooze, and socialize with good food. The Hos' party instincts, their love of gossip and gambling, reflect that.
House of Ho arrives at a time when Asian Americans, as a whole, are gaining visibility in Hollywood and D.C. Still, "Asian America" is a broad descriptor for a complex demographic, and it's unclear how many viewers will recognize that the Hos are serious outliers among Vietnamese Americans — many of whom, like the elder Hos, arrived in the U.S. as refugees, with little money or education. They share an ethos with a lot of first-generation families who idealize American opportunity and freedom. That's reflected in how a lot of Vietnamese Americans felt about the 2020 presidential election: A pre-election survey found that 48 percent of Vietnamese American voters preferred Donald Trump to Joe Biden. Only 36 percent leaned liberal. The politics of the Ho family might've been glossed over in House of Ho, but their social conservatism and obsessions with appearance and wealth acutely summarize what's important in their world.
Ultimately, House of Ho is a glimpse into rich-people problems — rich people who simply happen to be Vietnamese American. It's unfortunate there was no examination into how the Hos became the Hos: how they grew comfortable with excess spending after years of struggle. We get no external commentary on the family's clout in Houston. The show seeks instead to showcase glamour over substance. Perhaps that's a stylistic decision indicative of the Ho family's tastes. As Judy would say: "More is more."