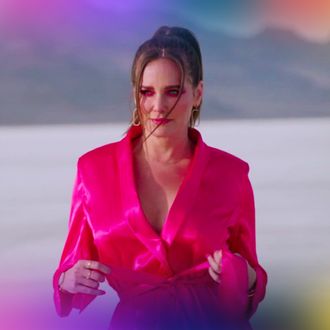 Photo-Illustration: Vulture; Photo by Bravo
There was a lot of mess during this season of RHOSLC, but nothing messier than the "love art" that Whitney Rose Kennedy and her husband Justin Case Rose Kennedy made in the finale. The two of them stripped down to expose Victoria's Secret and Fredrick's Hollywood, smothered themselves in paint, and then, I don't know, rolled around on a canvas and sat for spankings. We need to put an end to all of these Housewives sex scenes. I'm happy for them to openly discuss their sex lives on camera, but, in the immortal words of Aunt Sassy, "I don't need to see that." This is the latest (and hopefully last) in a long line of cringe sex scenes: Ramona Singer giving then-husband Mario a shirtless rubdown; Tamra making out in a bathtub with her new beau, Eddie; Michael and Ashley Darby's sexy guessing game. Yes, we want our reality stars to bare all, but we mean that spiritually, not physically.
I promise no one is getting naked in this week's newsletter. Instead we're talking about the latest developments in the Jen Shah and Erika Jayne legal debacles, Leah McSweeney's family vacation, and how the Housewives support LGBTQIA+ rights. You know how we do here at the Housewives Institute, always keeping it classy.
Not all the news, but all the news you actually care about.
WITNESS FOR THE DEFENSE: Let's say that a certain president of a certain Housewives Institute got a call from a certain lawyer for a certain Housewife of Salt Lake City. Let's say that on that call they asked if the president, whom we will call Dame Brian Moylan, would be interested in being on retainer as an expert to possibly testify at a certain trial of that Housewife. Let's just say maybe that lawyer was asking potentially a lot of questions about how the show is manipulated in post, how Bravo and the producers try to map out the season beforehand, and how they may embellish certain relationships for effect. Let's just say that all, allegedly, happened.
What definitely did happen is that Jen Shah's legal team filed a motion saying, "The defense opposes the use in evidence of any clips from the RHOSLC." Her lawyers wrote the clips "do not have any of the indicia of reliability" and are "highly edited and crafted through post-production." They claim that Shah was not only pressed to exaggerate her wealth and the drama on the show, but also she was "playing that character on a show that has been highly curated and edited to satisfy its dramatic requirements."
That is sound legal reasoning. I mean, we all know reality TV is fake. But the prosecution could also subpoena the unedited footage from Bravo and Shed Media so that we could see the unaltered version of what happened. There has been no ruling yet on whether the show can be admitted as evidence.
Now, why would Shah and her attorneys be seeking experts who could disprove the veracity of the show as well as filing this motion? There was a huge investigation into the operation that Jen was allegedly a part of that sold fraudulent products through telemarketing. We never saw that on the show. What could the attorneys be worried about? Well, Jen is the only person who was supposedly part of the scheme who hasn't pleaded guilty. That includes Stuart Smith, who was billed on the show as Jen's "first assistant" and made to look like one of her closest friends. It would stand to reason that one of the biggest things Jen's team would have to convince a jury is that Stu-Chainz could be guilty while Jen is innocent, which means denying that the two were as close as they appeared on the show. She would have to testify she had no idea what Stu was doing just down the hall from her and that Shed Media (which makes RHOSLC for Bravo) forced them to act like friends for the show. If that's the strategy her defense is hanging their hat on, it doesn't take Matlock to figure out that the odds are slimmer than Brooks Marks's dainty wrists.
Anyway, let's hope that Jen can enjoy her time filming the show and the glamours vacations it affords her. Just this week she was filming for season three with castmates Whitney Rose, Heather Gay, Lisa Barlow, and Meredith Marks in … beautiful Scotsdale, Arizona. The glamour!
JAMAICAN ME CRAZY: RHONY's resident Jewish convert Leah McSweeney wakes up every morning and chooses chaos, violence, unpredictability, espionage, and probably a heaping bowl of Grape Nuts. (Do they even still make those?) She posted a video to Instagram earlier this week saying, "I invited my family on a trip to Jamaica. I paid for everyone, I paid for everything. They think they're here for vacation, but they're actually here because I'm going to confront them about generational trauma and why I have anxiety."
If one of my siblings ever did this to me, I would stab them, drown them, hang them, electric-chair them, and then throw the corpse in Montego Bay. Sure, you can confront your family about your anxiety and generational trauma, but do it in your house. Order some bagels. Call the rabbi over to help. Don't tell them that you're doing a nice thing for them by taking them on vacation, when you're really doing a selfish thing, which is holding them hostage talking about your issues.
Stunts like this show why Leah was cast in the first place, but if account Dorinda Deadly is to be believed (and honestly, it shouldn't be), the only two returning RHONY Housewives are going to be Luann de Lesseps and Ramona Singer. Fans are already pissed about it. The account also floats some other potential names, at least one of whom was previously rumored to be on the show and denied it. So, yeah, I wouldn't believe it. Housewives Twitter is really just people saying, "Bring back Dorinda!" "Bring back Tamra!" "Sonja is fired!" repeatedly in different ways every day.
PLAYING HER TRUMP CARD: The feud between Lisa Rinna and Kathy Hilton that we told you about in the last newsletter is really heating up. Kathy couldn't attend the final cast party because she said she had a previous engagement, which it turns out was attending Donald Trump's Super Bowl party in Florida. Rinna posted a picture of Hilton at the event on her Instagram story with the caption, "Oh, that's where she was," over it. Burn.
Kathy is apparently very unhappy with the "drama" surrounding her in the upcoming season. The Reddit rumor (so take it with a grain of salt bigger than Dorit Kemsley's hair-accessory collection) is that Kathy called Sutton Stracke's assistant the six-letter F-word and that Rinna and Erika Jayne heard it and that becomes the storyline.
Kathy's rep did tell virtual birdcage liner RadarOnline that Kathy might be interested in returning next year under one condition: If her sister Kim Richards would also rejoin the cast. Kim also revealed that Andy Cohen called her about a possible return. I can't believe we're already speculating about season 13 and season 12 hasn't even happened yet. Heady days in Bev Hills indeed.
ERIKA UPDATES: Just as she was dismissed from one lawsuit (whose attorneys say they will refile) Erika Jayne was hit with another lawsuit claiming she aided and abetted her husband, Tom Girardi, in embezzling money that a mother won in a case against the NFL over the death of her son. There was, however, some small vindication for Mx. Jayne when it snowed in Pasadena last week. If you are reading this, I don't even have to explain the significance, which is what I love about our relationship.
THE EX FILES: We learned this past week on RHONJ that Dolores Catania and her long-term boyfriend, David Principe, broke up. Dolores has moved on and so has David who has a new girlfriend, Vanessa Moretto. The funny thing is, Vanessa is the ex of Louie Ruelas, who is Teresa Giudice's fiancé. David said they met through a mutual friend. Please tell me it was Teresa. Please! Seriously, are there only six people in New Jersey and they are all just fucking each other? Anyway, wake me up when there is Tony the Pool Guy news.
LIKE RAIN ON HER WEDDING DAY: Did you know that Southern Charmer Madison LeCroy is engaged? Yeah, I forgot that too. (And forgot that he's a hot piece.) She was in New York City recently shopping for wedding dresses and guess who she ran into? Alex Rodriguez. The very guy she was supposedly DM-ing with and who may or may not have been dumped by J.Lo because of it. Isn't it ironic? Don't you think? A little too ironic, yeah I really do think.
THERE'S SNOW DENYING: Best of Bravo posted that the second season of Winter House starts filming (checks calendar) today! They claim the returning cast is Kyle J. Cooke, Amanda Batula, Paige DeSorbo, Craig Conover, Austen Kroll, Ciara Miller, and Jason Cameron as the only known housemate not in a couple. There are also a slew of newbies, all probably models. Another couple, Carl Radke and Lindsay Hubbard, are supposedly going to drop in to make everyone sandwiches but aren't full-time cast.
HOUSEWIVES INSTITUTE SOCIETY PAGES 
• Once and future champion Shereé Whitfield and her boyfriend, Tyrone Gilliam, have reunited and he even filmed with her at the She By Sheree fashion show that will be the upcoming season finale. This is big news since, just a few months back, he sent Bravo a cease and desist from using his image. Many happy returns to the couple.
• Congrats to Cynthia Bailey, who came in third on Celebrity Big Brother, the best finish ever for a Real Housewife and way better than Teddi Mellancamp, who was kicked out first.
• Margaret Josephs is facing a $180,000 lawsuit. I would tell you more, but right now the Institute's legal department is already overworked so we're giving them a break.
• The Institute will be hosting an EpiPen drive to support Bethenny Frankel who almost died on vacation when she mistakenly ate fish, which she is horribly allergic to.
• Candiace Dillard: still not fired.
• Not Housewives news, but Love Island US is leaving CBS and headed to Peacock, where it can be steamier, sluttier, and altogether better. Between this, Ultimate Girls Trip, RHOM, and all the other Housewives goodies Peacock is giving us, they're doing a good job of making a subscription essential to students of the Reality TV Arts and Sciences.
Meredith
Misses
the
Marks
We need to talk about how the Housewives deal with LGBTQIA+ rights
In the season finale of Real Housewives of Salt Lake City, Meredith Marks got her family (minus eldest son Reid) to pose for a photo shoot for a jewelry line I didn't know she even had. She says that there is no men's jewelry or women's jewelry, it's for everyone. She displays that by taking a bunch of men, women, drag queens, and trans people out to a salt flat where two gentlemen with admirable biceps take their pictures while they wear satin pajama suits in the colors of the rainbow. You know, the gay rainbow. In case you didn't get it, Meredith says that this shoot is also a fundraiser for GLAAD ,formerly the Gay and Lesbian Alliance Against Defamation. How a photo shoot makes money, I don't know. Maybe she just wrote a check to put her money where her mouth is.
My problem is that I don't like where her mouth is. Meredith says that equality means never having to come out. "When we can stop labeling people, then we have equality at every level," she tells us. Sorry, Mere-Mere, but I don't think that's really true. This sentiment reminded me of the chat that Crystal Kung Minkoff and Sutton Stracke had last season on RHOBH when Sutton said she doesn't see color and Crystal had to explain that to deny her race is foolhardy because it doesn't take into account how her experience is different and how, regardless of how Sutton feels, the world still sees her race. Sutton saying that she doesn't see color doesn't raise Crystal up, it denies her experience and the hardships she's suffered.
What Meredith said is basically "I don't see race" for queer people. I want to be labeled! I'm proud to be gay. I'm happy I came out. In fact, I have never met one gay person who wasn't eventually happy that they came out. Why would you deny that experience of liberation to anyone so that you can feel like they're more equal?
I think Meredith has the best intentions, but just like we didn't defeat racism by electing a Black president, we didn't end homophobia by getting the Supreme Court to allow gay marriage. (And since it's still not law, that could be overturned. Just ask our friend Jane Roe and her enemy Mr. Wade.) We're living in a world where Florida's governor backs a bill that wouldn't allow classroom teachers to talk about sexual orientation and Texas's governor told state health agencies to investigate parents who seek medical treatment for their trans teens for child abuse. We are nowhere near where Meredith wants us to be.
The Housewives have a weird history with the LGBTQ+ community. When they first started, there were gay sidekicks everywhere, like Vicki Gunvalson's brother Billy. There was Miss Lawrence, Derek J, and Dwight Eubanks on RHOA. Teresa's lesbian cousin Rosie PIerri was a "friend of" for several seasons of RHONJ, as was Fernanda Rocha on RHOC, who knew Tamra Barney (and later dated Braunwyn Windham-Burke). They have almost entirely disappeared. Meanwhile, support for "the LGBT" — as Sonja Tremont Morgan of the Eagle Leather Bar Morgans calls them — has always been fashionable among the ladies. Remember the fight she got into at a marriage-equality rally with Alex McCord about who liked gays more? More recently, we had RHOM's Alexia Echevarria being honored at Miami Pride (and meeting her dead husband's gay lover) and Erika Jayne giving the gays everything they want.
But, to quote one gay icon, what have the Housewives done for us lately? Anecdotally, gays love the show, but we see ourselves and the issues that actually matter to us on it less and less frequently. Yes, there has been an uptick in representation recently. Braunwyn came out, but after being cast as an ostensibly straight woman. We have Noella Bergener and Julia Lemigova as RHOC's and RHOM's first bisexual castmembers, and Julia's wife Martina Navritalova is a legit lesbian who came out way before it was cool. This is progress, but it's not enough. Where is a trans or nonbinary cast member? Where are the discussions about issues that face the gay community, or Housewives engaging in activism like we saw with Porsha Williams and the BLM movement? Where is Andy Cohen saying he's not going to Dubai to do a reunion special until the Emirate gives queer people some damn rights?
This is my problem with what Meredith was doing, which seems like empty virtue-signaling with a side of fan service. Yes, it's nice that she wrote a check (which is more than Alexia did), but what can she actually do? All we've seen is her saying that the word "twink" is a slur, a bad-faith argument in her feud with Jen Shah. I want her to do more. I want her to do something. Just having a photo shoot and telling us that homophobia is fixed because kids don't have to come out comes across as pandering at best and condescending at worst.
Contrast this with what Heather Dubrow has shown us this season on RHOC. She talks about supporting her daughter Max, who came out as bisexual, and her book launch. We see her talking to her 14-year-old daughter Kat about coming out as a lesbian and facing some teasing and bullying at school. Heather comes across as a lovely and supportive mother doing everything she can for her children. Did she force Kat to sit in front of the mirror doing product placement for a local nursery? Yes, but at least she's showing people how to support their kids when they come out and maybe even showing some teens the reality of what it might be like if they decide to come out at a young age. She's not trying to hide their orientation or look like the PFLAG parent of the year. She's just being real. Well, as real as a phony like Heather can be, but I do believe how she supports her children is real.
What I'm saying is that I want more. I don't want us to be the sidekicks anymore, I want us as main characters. I want one on every show. I want the Housewives to do fundraisers when the cameras aren't around and to write big fat checks to our organizations. What I don't want is more cozying up to us, like Sonja hosting one of her Wednesday night gay salons. That you're friends with gay people and supportive shouldn't be something you're doing to score points, it should just be.
Gays love the Housewives and the Housewives love Gays. That is not in question. What is in question is how deep their dedication to the cause runs. Alexia is in Miami, when is she organizing a rally against the Don't Say Gay Bill? Hmm? That's what I thought. Yeah, your photo shoot is cute and all, but call me back when all the proceeds from your jewelry line go to helping homeless LGBTQ youth. Then I might be interested.
If you're going to have your bachelorette party at the Versace mansion you better show up looking like Alexia Echevarria.
Real Housewives of New Jersey, Season 12, Episode 3: If this storyline fizzles out, where will the drama come from? Is it going to be that everyone hates Teresa's new man, Luis, who has the complexion of that weird piece of paper that you have to peel from the bottom of a pound of ground beef?
Real Housewives of New Jersey, Season 12, Episode 4: This whole situation is stranger than a book by Camus.
Real Housewives of Salt Lake City, Season-Two Finale: Jen's favorite flavor of LaCroix is COCONUT. Someone call the feds (maybe Meredith has their number handy?)! I don't want to say this is a smoking gun, but like, if you're drinking villain juice, you might be a villain?
Real Housewives of Miami, Season 4, Episode 11: Peter says, "I'm healed. I'm fine." Girl, you are not fine. You are getting arrested for domestic violence.
Real Housewives of Orange County, Season 16, Episode 10: My one problem is that I want Shannon to macrodose. Can't we get her, Snoop Dogg, Mauricio Umansky, and Andy Cohen to share a giant blunt on an episode of WWHL?
Summer House, Season 6, Episode 5: Their discussion about race is honest and emotional and one of the best things we've seen on Summer House that didn't have to do with a watermelon being exploded on the floor or Lindsay getting activated.
Summer House, Season 6, Episode 6: Luke is shirtless but has on a fedora and something that looks like a length of rope as if he's in Indiana Jones and the Temple of Dude Where's My Car.
Dean's
List
for
Best
Comment
of
the
Week
Highlighting the best insight from our lovely Institute members. This one is from a recent RHOM recap.
Fitzweiler-Bearymore: Marysol is like every person I've ever met who works in PR — they couldn't tell the truth even if they wanted to, and have as much substance and integrity as the air in an empty Pringles can.
"I could make a fire."

— Luke Gulbranson, Summer House