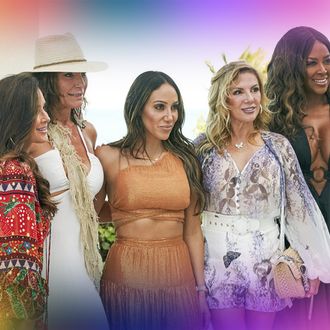 Photo-Illustration: Vulture; Photo by Peacock
It's the New Year, which means it's time to reflect on everything that has already passed and make resolutions that are already starting to wither like the lemon trees in the Capri Room of the Buca Di Beppo in the Valley. It also means it's time for New Year's Eve, which most sensible adults spent sitting at home trying to avoid Omicron and having to play another round of Clue Master Detective with their 7-year-olds. But not Andy Cohen. No. He spent NYE getting publicly drunk with his bestie and fellow twink-magnet (or is that magnate?) Anderson Cooper on national television. On CNN an "overserved" Cohen, who was pouring his own drinks, went after Bill de Blasio, Mark Zuckerberg, and fellow NYE host Ryan Seacrest. While this might have landed another host in hot water, it was so on-brand for Cohen that it only burnished his image and will probably make more people tune in next year. It was sort of like Mariah Carey's famously disastrous December 31, 2017, performance except, somehow, much less gay.
But enough about Andy; we're here for the Housewives in general. As we get ready for the year ahead in Housewifery, the Institute is taking a look at the state of the union, as it were, among our shows, as well as some things that I never want to see on our shows again. But before that, a new year means new news.
Not all the news, but all the news you actually care about.
MARY, MARY, QUITE CONTRARY: As everyone who follows the Real Housewives with even a passing interest knows already, Mary M. Cosby did not attend the season-two RHOSLC reunion, which filmed last week. (Reunion looks are here, and some fans think they're the worst-dressed cast in Housewives history.) It's not hard to guess why. This season featured not only the cast wondering whether she ran a cult and her seemingly unprovoked rebukes of several castmates, but also at least two racist remarks. (She compared Jen Shah, who had recently been arrested, to a "Mexican thug," and told Jennie Nguyen that she liked her "slanted eyes.") Mary has never taken a grilling well, so there was no way she was showing up to listen to Andy Cohen go after her.
She might also be trying to avoid some other rumors. If you go deep into the internet gossip — which we do, but with grains of salt as huge as Lisa Barlow's Big Gulp — you'll find speculation that what Mary wanted to avoid were rumors about her relationship with Cameron Williams, Lisa's friend who was featured on season two and recently passed away. Private Instagram account Bravo and Cocktails (I told you this was deep) claims that Mary and Cameron were having an affair for many years. I mean, I don't believe it, but the speculation is interesting. Andy also says there is a "bombshell" in the last few episodes, so maybe that is what Mary is avoiding?
While we're peddling in deep internet gossip, something called a Tamara Tattles posted what she believes are the RHOSLC salaries. She claims they made $2,000 an episode for season one, which would be $32,000 for the first season, which seems a little low. First-season Housewives typically make around $60,000, but maybe it was less for a new franchise. She claims they made $6,500 an episode for season two (which had more episodes), putting them at $136,500, which is about in line with other franchises.
Season three of RHOSLC is also being rushed into production in the coming weeks in order to capture all of the Jen Shah trial drama before she goes to prison. Or doesn't. Who knows? But as of now it's looking like Mary won't be joining the show's third season. She's only the sixth cast member not to show up for a reunion: Lisa Vanderpump and Adrienne Maloof both dipped out on one to avoid difficult questions, and Jacqueline Laurita skipped the RHONJ season-three reunion because she was mad about what was happening during season four. Luann de Lesseps and Kim Richards both didn't show for a reunion because they were in rehab.
SECRET OF SUCCESS: You know how occasionally some weird brand will commission a "study" on a pop-culture phenomenon so all these press outlets will pick it up and people will click on their brand? (My friend Dan writes a ton of those stories. Hi, Dan!) Well, that just happened with the Housewives and here we are talking about it, but the twist is, I'm not going to name the brand! Yes, that means this is a totally legit and scientific study and it is absolute fact and cannot be disputed in the comments or on Twitter or at a PeeWee football game or anything.
The study is about who is the most "successful" Housewife in the franchise. The data analysts crunched the numbers on each woman's net worth, books published, IMDb credits, monthly Spotify listeners, Instagram and TikTok followers, sponsored-post earnings, Google-search volume, YouTube-search volume, and verified Wikipedia pages and gave each woman a score.  Coming out on top was Porsha Williams, who earns $17,000 for a sponsored IG post and has a net worth of $5 million. Rounding out the top five are Kandi Burruss, Bethenny Frankel, Erika Jayne, and Kyle Richards. That sounds pretty right to me, but did they take into account current scandals, because there is at least one person on that list who is getting more search volume than she is sponsored-post earnings? But no! We cannot dispute. This is science, after all.
TERMS OF ENGAGEMENT: Just three months after breaking up with Vicki Gunvalson, 28th-place gubernatorial candidate Steve Lodge is yet again engaged to be married, this time to a school teacher. It will be his fourth marriage.
Now, if you know anything about Victoria Denise Gunvalson Jr., you know that she is staying as silent about this news as a shrieking cicada that is being dipped in boiling oil. She's called him a "fame whore" and accused him of wasting years of her life. They were engaged for two years and together for five. According to her bestie Tamra Judge, Vicki chased him and the new fiancée out of an OC restaurant. Please say it was the Quiet Woman. Please!
Vicki's getting her revenge, though, hosting a night at the Kings of Hustler revue at the Hustler Club in Las Vegas. Apparently she'll be raking in more than $10K for her appearance at the male strip club. Hell, I'll book my ticket for Vegas right now to help Vicki fuel up her love tank.
Speaking of Housewives' exes getting married, Luann's ex Tom D'Agostino (not the heir to a supermarket fortune) is also newly engaged. Even though he popped the question on their old wedding anniversary, the Countess is not about Tom anymore. She says she is happy for him. How mature and … boring.
THE BAD SON: Alexia Echevarria's oldest son, Peter Rosello, has turned out to be the villain of the fourth season of RHOM, treating both his mother and her fiancé poorly. Sealing his reputation as a heel, he's now been arrested for domestic violence after a fight with his live-in girlfriend of three months in which he allegedly slapped and kicked her. He was charged with a battery misdemeanor.
HOUSEWIVES INSTITUTE SOCIAL PAGES
• Superdetective Meghan King Edmonds filed for divorce from Something Something Joe Biden's nephew after only two (2) months of marriage. Deep sigh.
• The Institute would like to offer a free membership to accent queen Meryl Streep who recently outed herself as a Real Housewives of Beverly Hills fan. Maybe she can play Dorit in her biopic.
• The Institute also supports Carmen Electra's application to be cast alongside her longtime friend Garcelle Beauvais on RHOBH. I feel like Kathy Hilton would hate her and that will make for some great TV.
• Speaking of old celebs who might be on Housewives, the Institute Board of Directors has taken a vote and it is backing Snooki in her apparent feud with Andy Cohen.
• Larsa Pippen has finalized her divorce from Scottie Pippen three years after filing, thereby robbing her of a storyline for this season of RHOM.
• Dr. Nicole Martin got engaged to her boyfriend Anthony Lopez, thereby robbing her of a storyline for this season of RHOM.
• Carl Radke told US Weekly that he's officially dating gaping maw of need Lindsay Hubbard, thereby robbing them of a storyline for this season of Summer House, which debuts on Monday. MONDAY!
• Reality royalty the Other One Hamlin and her Love Island UK boyfriend Eyal Booker have broken up. Maybe we can get them both on the next season of Love Island.
• A hearty welcome back to Monique Samuels who is joining the OWN show Love & Marriage: DMV. The title refers to the Delaware, Maryland, and Virginia area, not getting married where most people renew their licenses.
• A happy 21st birthday to Gia Giudice, which officially makes all of us 152 centuries old.
• Here's Mauricio Umansky in glasses holding a puppy. Just 'cause.
A
Real
Housewives
State
of
the
Union
In my book I talk about how 2009–2010 is the Golden Age of Real Housewives. That's when we had the third season of RHONY with Scary Island, the second season of RHONJ with the Posche Fashion Show, the premiere season of RHOBH with Kyle stealing Kim's house, and, of course, the White House Party Crashers on the cover of every newspaper in the country. Not only were the shows great, but they were also a huge part of the Zeitgeist.
I've talked on several podcasts about how 2021 seemed like the Second Golden Age of Housewives — or as Andy Cohen calls it the morning after before sending his trick home, the second coming. We had the Erika Jayne saga playing out first in the press and then on the show. The same goes for Jen Shah and her arrest that happened essentially on camera, a Housewives first. Not only were these shows great, with ratings to match, but Real Housewives was back in the cultural conversation in a way it hadn't been in a decade. (Hello, some of us have always been here watching while the rest of you were, I don't know, learning how to pop pimples on TikTok or something.)
Even still, these days the franchise is a little bit like a bad high-school boyfriend, giving us mixed signals (and possibly a UTI). Andy Cohen always said that if the ratings sagged for Housewives, they'd put a bunch of them on an island as a last resort — and we got just that when Peacock debuted Real Housewives: Ultimate Girls Trip, which turned out to be not only a fan favorite, but also a fourth-wall busting delight. Peacock also brought back Real Housewives of Miami, which has yet to really ignite but is showing promise, at least creatively (like so many other streaming services, Peacock is as quiet about its viewership numbers as Lisa Vanderpump is about her real age). There are conflicting ideas about Real Housewives of Dubai, which Bravo announced in November. Would the network launch another outpost if the franchise were flagging? No. But should it be launching one in a place where LGBTQ+ rights and women's rights are almost nonexistent? Um, probably not, and many fans were upset with this decision.
The network has been similarly chaotic in its handling of another hot-button issue. Bravo was nominally trying to diversify the cast of its shows even before the murder of George Floyd, but once the Black Lives Matter movement picked up in summer of 2020, it seemed to finally start taking criticisms of its casting to heart. The irony is, adding more Housewives of color ended up highlighting the racism of those who were already on screen. Adding Tiffani Moon, the first Asian on Real Housewives of Dallas, exposed more than one cast member as insensitive, and this was on a show that already had a scandal about race. Ramona Singer making racially tinged comments about Eboni K. Williams, the first Black Housewife on RHONY, led to an official investigation that tanked the show's season-13 reunion. Here we have a channel that is showing Porsha Williams getting arrested seeking justice for Breonna Taylor, while at the same time not giving adequate support to the women of color on the shows with predominantly white casts. They're paying lip service to change but also not adequately condemning the behavior of their worst actors, both onscreen and off.
All of these mixed signals make it a bit of a confusing time to be a Housewives fan. We are in a second Golden Age and yet, to be frank, some of the shows just suck. It's particularly the older shows: RHONY just had one of its lowest-rated and most boring seasons of all time; RHOA seemed like a bunch of co-workers who were forced to hang out with each other and wanted nothing other than a paycheck; and RHOC has been a problem child for many seasons, even before Kelly Dodd wore a "Drunk Wives Matter" hat. Meanwhile, the shows with casts that stayed mostly static — RHONJ and RHOP — didn't really have a problem drawing an audience, nor did the shows where there was big off-camera drama goosing the season. But do we need a crime for every show to pop? Are Bravo's casting directors going to start hunting out those who might commit a felony? Maybe they should get in league with the FBI so they can feed each other subjects for investigation/reality exploitation.
The easing of COVID restrictions, the return of glamorous events, and renewed international travel should add a little bit of oomph to all of the shows in 2022, but it's the current season of RHOC that's really giving me a glimmer of hope. The success or failure of all of these shows comes down to casting, and the powers-that-be in Orange County finally got it right. Emily and Gina may not be the most glamorous or aspirational of Housewives, but their silly sister act is great. The returning Heather Dubrow and the two latest Housewives are new and thirsty, ready to bring drama but also being themselves. And maybe that's the secret: We need our Housewives hungry. When they're guaranteed a job — like Kenya, Luann, or Teresa — they just end up going through the motions. Maybe we need some new people to not only mix up the demographics but also keep our old favorites on their toes, hunting for that paycheck season after season.
That's all that I really want for 2022. When it comes to Housewives, I want to see our women return to form. I want more diverse faces and stories for us to choose from, people answering for the awful things they say, not just on Twitter but on the show itself. I want there to be consequences. I want there to be scandals, yes, but I also want the drama and comedy that we used to take for granted from these shows. I want the Golden Age to never stop, for these shows that have always delivered to keep delivering. But most of all, what I want, what I really, really want, is for no reunion to be longer than two parts.
Things
I
Never
Want
to
See
Ever
Again
in
the
Real
Housewives
Universe
An incomplete and ever-growing list
On the most recent episode of Vanderpump Rules, Tom Schwartz says that he is about to do the third "paint and sip" since the series began. We even see clips from the previous two. If the show is this bereft of things to do it's a bad sign. Yes, it's a pandemic, but there are more than enough activities in the world that we don't need to resort to these overused fads ever again.
These shows have a lot of perennial favorites, like vow renewals, boat trips, game nights, and psychics, but I don't have a problem with these because they always add a lot of drama. There are also some banal activities (shopping, getting nails done, spa days) that are so anodyne I don't mind them because they can facilitate entertaining conversations. But they also have a recurring slate of stunts that never pay off, tired activities, and worn-out trends, and in the spirit of the New Year, I'm asking the Housewives and their offshoots to resolve never to use these again:
• Cryotherapy
• Roaring '20s parties
• Escape rooms
• That stupid place where you go to smash old copiers and glasses and shit
• Gucci print
• White Parties not at Kyle Richards's house
• Riding in tiny cars
• Trips to Ramona's Hamptons house
• Wine tastings
• Pride events not featuring LGBTQIA+ cast
• Hanging yoga
• Car shopping where no one buys a car
• Deciding whether to have another kid
• Vaginal rejuvenation
• Rumors that someone's husband is gay
• The CHA-NEL earrings
• Fans saying Dorinda should come back
The only thing better than seeing this instant-classic Meredith Marks outfit from the front is watching it walk away.
• Real Housewives of Salt Lake City, Season 2, Episode 15: It's also hard to take the "calling Brooks a 'privileged twink' is problematic" schtick seriously after the shit Mary has been spewing — like, just for example, comparing Jen to a "Mexican thug."
• Real Housewives of Salt Lake City, Season 2, Episode 16: "How else did they know we were at Beauty Lab?" Um, maybe because you are filming a TV show that rotates between approximately 3.2 locations?! Like, I'm pretty sure I could roll over to SLC this very moment and pop into Beauty Lab or any of the Osterias and run into at least two of the 46 Angies in y'all's orbit!
• Real Housewives of Orange County, Season 16, Episode 5: Heather also takes Gina to the track where Gina manages to buy the ugliest hat on offer out in front of the horse races and then inserts her head and her hat so far up Heather's asshole that when she comes out, she smells just like one of Terry's leather jackets.
• Real Housewives of Orange County, Season 16, Episode 6: Then Gina asks a question that only has one answer: "What is he doing in Mykonos?" Drugs, Gina. That is all one could or should be doing in the Greek paradise.
• Real Housewives of Miami, Season 4, Episode 5: I'm talking about the final scene of the episode when Alexia, her fiancé, Gringo Todd, and her oldest son, Peter, a stretched-out bracelet to a Diplo concert that someone tried to pass to their friend to get into the VIP section, finally confront not just a recent incident but years of pain, anguish, and dysfunction.
• Real Housewives of Miami, Season 4, Episode 6:  Larsa and Lisa both continue to give me absolutely nothing this season, mainly because their personal stories are boring, and they won't mix it up with the women when they're all together. Like Boris Johnson and Prince Andrew, it is completely baffling that either of them is still employed.
• Vanderpump Rules, Season 9, Episode 13: Whenever you kick the hatchlings out of the nest, you have to watch a couple of them Jackson Pollack on the forest floor. Just ask Meemaw's Beer Cheese.
• Vanderpump Rules, Season 9, Episode 14: She doesn't care that it's a fake stone, just that it's big. She's like a 3-year-old who would rather have 50 pennies than a dollar because it just looks like more.
• Below Deck, Season 9, Episode 10: They share a three-way kiss, but that's nothing compared to back on the boat when Fraser is invited to cuddle with Rayna and a naked Jake — only to leave when Rayna starts giving Jake a handy right there!
• Below Deck, Season 9, Episode 11: A lot of this episode is about what doesn't happen, beginning with Rayna and Jake — who, against all odds, do not fuck.
Dean's
List
for
Best
Comment
of
the
Week
Highlighting the best insight from our lovely Institute members. This one is from a recent RHOC recap.
IsabellaY: Right on about Noella, Dame Moylan. She reminds me of that cautionary tale of the college student who took speed to stay up for days to study for an exam and then on exam day ended up filling the whole blue book (look it up) by writing his own name over and over.  Noella overstudied Housewives.
"No one dates 45-year-old women with kids in Orange County. You'd have to move!" — Emily Simpson