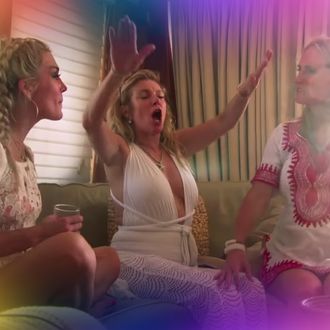 Photo-Illustration: Vulture; Photo by Bravo
Have you seen the Real Housewives of Potomac mid-season trailer yet? It's really good and it looks like we have a lot of season left, which I'm really excited about. It did leave me with one huge question, though: How much do you think Karen Huger had to pay Macy Gray to perform at her vow renewal? Three easy payments of $29.99? The promise to let her host the reunion after Nicki Minaj does? Now I have one more question: A vow renewal is always the kiss of death for a Housewife's relationship, so does this mean Karen and Ray are gonna split? Yes, it does, but how long will it take? I hope by the time you finish reading this newsletter they'll still be together, because right now we need to talk about the RHONY reunion and the next Real Housewives All-Stars, and reexamine the best Housewives vacations of all time. Just try to walk away and you'll stumble.
–Dame Brian Moylan
Not all the news, but all the news you actually care about.
NEW YORK STATE OF MIND: What the hell is going on with the RHONY reunion? Oh no, that's not me asking you. That is actually the subject line of an email from Bravo's head of production to just about everyone in the company, because so far it seems like all we're getting is a shrug emoji and a promise to do better next year. This week marks the end of RHONY's sad, sad 13th season, and it is so bad they haven't even filmed a reunion yet, which is usually taped three-ish weeks before the finale airs so it will be ready after the final episode. It hasn't even been shot yet, so we'll have a lag between the last episode and what we eventually see.
But no one's even sure what we'll see. Earlier this week, Bravo's mascot-in-chief Andy Cohen said on his radio show it will be filmed in a week or two, and since Ramona Singer and Luann de Lesseps are out of town, it will probably be a virtual reunion. So that means we're at least a month out from seeing the first reunion episode? No thanks. Just keep it. Also, how far can Ramona and Luann be? Make them come back! Are they in charge of how this reunion works?
This is all while rumors are swirling in the wake of RHONY's worst season of all time, both creatively and ratings-wise. RadarOnline (so, yeah, grains of salt the size of Kim Zolciak's lips) published an article saying that the show was about to go on permanent hiatus. That seems crazy until you remember the reunion hasn't been filmed, which means the cast for next season hasn't been decided, which means filming for next season is postponed, which means … yeah, permanent hiatus. (Also, see what happened to RHOD below.)
Housewives Instagram also made a big deal about this DeuxMoi posting about an alleged overheard conversation between two Bravo execs at the Rainbow Room talking about the fate of RHONY. According to this, they're only going to keep Ramona and Eboni K. Williams; Luann will once again be demoted to "friend of" to focus on her cabaret; and Dorinda Medley, Tinsley Mortimer, and Bethenny Frankel are all back in the mix. I don't believe any of this to be true — I don't think Bravo execs really even eat in the Rainbow Room, and Bethenny came out on Twitter to put the talk of her return to rest for good. I mean, let's take this one step at a time and get the reunion in the can first.
GHOST OF ALL-STARS PAST: Well, Dorinda will be back on Real Housewives, but it might not be in the way that everyone wants. According to all the gossips (who were right about the first Real Housewives All-Stars, which will air on Peacock this fall), the filming for the second season is about to start in a few weeks and will take place at Blue Stone Manor, Dorinda's house that is haunted by the spirits of a million turds left on the carpet by Ramona's dog Coco. Joining her is going to be a bunch of women who are no longer on the shows, including Victoria Denise Gunvalson Jr., Jill Zarin, Brandi Glanville (say her name three times and she shall appear), Eva Marcille, Phaedra Parks, and the Widow Armstrong. At the end of the series, does the only Housewife left alive get to return to her show? Probably. My money's on Brandi.
TEXAS, MESSED WITH: I'm sure you're all aware Bravo currently has "no plans" for a return to RHOD in 2022, which means that the show is effectively canceled. Bravo hates to cancel a Housewives outpost and risk making the whole franchise look like a late-stage game of Jenga, but the last time they did this to a show, it was RHOM, and that took eight years before it got picked up and relaunched on Peacock. Producers tried to refocus the show on Tiffany Moon and D'Andra Simmons and even tested a few other women with them, but it wasn't going well, so they decided to axe it. Yeah, low ratings and the cast being incredibly racist really does put a damper on a show.
ALL HAIL THE QUEEN: Garcelle Beauvais absolutely murdered Teddi Cougar Mellencamp on Twitter this week. After the Queens of Bravo posted that Teddi said on her podcast that she overheard Garcelle tell production at Kyle's Christmas dinner, "Why is she even here and why does she get to have an opinion?" (good question), Garcelle responded, "Well, that's not true … I said it in front of her while we were filming." Love to see it. Stay buried, Teddi. Stay buried.
ERIKA UPDATES: Things are looking even worse for Tom Girardi than they did already. He's been officially disbarred and was spotted entering a Burbank, California, assisted-living facility rather than the giant mansion that the trustees of his bankruptcy are trying to sell. Earlier this week, the trustee handling the bankruptcy of his law firm, Girardi Keese, filed papers saying the firm is $101 million in debt and also said that the records were old and conflicting and that "the debtor's accounting offices were not well maintained." As part of the firm's assets and liabilities, the $25 million the firm loaned Erika's entertainment company was listed. "Page Six" compiled how that money was supposedly spent. In a "legal demand letter" the trustees sent to Erika's attorney, they spelled out that from 2008 to 2020, more than $14 million was used to pay her American Express bills, more than $1.5 million was used to pay choreographers, and nearly that much was made in "unknown purchases." This just gets messier and messier with each passing week.
ANIMAL HUSBANDRY: The RHONJ Househusbands are notorious party animals, and now you can pay a measly $2,000 to spend a weekend getting wasted with them in Vegas. Joe Gorga, Frank Catania, Joe Benigno, Bill Aydin, and Evan Goldschneider are hosting a trip to Caesar's Palace (home to the Vanderpump Cocktail Gardens) in November. Fans will get an open-bar party hosted by the husbands, photo opportunities with them, and tickets to a concert called "Sinatra Meets the House Husbands," which I hope means a Magic Mike strip show with a hologram of Old Blue Eyes. I've asked Vulture to foot the bill so that I can recount this epic weekend for all of you, but they're cheap, so we might have to start a GoFundMe or maybe an OnlyFans.
A GRAIN OF SALT LAKE: The RHOSLC trailer is here and it is magnificent.
HOUSEWIVES INSTITUTE SOCIETY PAGES:
• Kandi Burruss had breast-reduction surgery. She is fully recovered and, one would assume, resting a bit more lightly.
• Falynn Guobadia is pregnant with her boyfriend Jaylan Banks's child. Does this mean she's already over Porsha Williams stealing her husband?
• There are rumors that Summer House's Lindsay Hubbard and Southern Charm's Austen Kroll are dating, which Austen says would be a "shitshow."
• Caroline Manzo looked absolutely stunning celebrating her 60th birthday. There were no clowns in attendance. Not even Danielle Staub.
• Kandi's restaurant OLG got its second "C" rating from the Atlanta Health Department. Well, does anyone go there for the food anyway?
• Lucky us, a judge ruled that Shannon Beador's daughters can be on the next season of RHOC against their father's wishes. Now David can go back to being hot and dead behind the eyes and leave us alone.
The
10
Best
Real
Housewives
Trips
of
All
Time
You may not know this, because the Real Housewives Institute never closes, but I am currently in Montana. Yes, it is beautiful, but none of the locals seem to want to talk to me about the time that Kristen Taekman dragged the Real Housewives of New York here and forced them to go geocaching, whatever the hell that is. They also don't care that Aviva Drescher not going to their fine state is what eventually led to her throwing her fake leg across a room, but none of us will ever forget where we were when that happened. (We were all in front of a television.)
Since I'm thinking about vacation, I got to thinking about the Real Housewives trips and wanted to do a little ranking of some of the best of all time. Trips to cast members' houses don't count as vacations, so sorry to Berzerkshires partisans.  Feel free to disagree with me (just know that you are wrong).
10. RHOSLC in Vegas (Season 1): This is the first glimpse we got of the full lunatic that is future felon Jen Shah. She freaked out on Meredith Marks and Lisa Barlow for accepting Whitney Rose's apology, causing Meredith to "disengage" and Jen to hit Heather Gay as she was leaving the room in a fit. The next day, she told everyone she was going home, but was really just hiding out so that she could attend a wonderfully awkward afternoon with a psychic who is also maybe a life coach and a psychotherapist? I don't know. It's all lost in a blur of Jen's jungle-print suits.
9. RHOA in Anguilla (Season 5): We could tell in Kenya Moore's first season that she would be a firecracker, but it was her performance on this trip that made her one of the all-time greats. Not only did we get her driving a boat and telling the women to "hold onto their weaves," we also got her jumping in the pool with Apollo Nida to piss off Phaedra Parks and fighting with her forever frenemy Porsha Williams (then Stewart), leading to her classic line about being "Gone with the Wind fabulous." Add in Phaedra's fishnet coverall and Peter Thomas and Cynthia Bailey's vow renewal (and subsequent divorce), and this was a getaway to remember.
8. RHONJ in Lake George (Season 5): This is less of a vacation and more of a family retreat to try to make Joe Gorga and Teresa Giudice get along, but I'm including it because of the epic brawl between Joes Giudice and Gorga and the black mark that Gorga's spray hair left on a wall. The fight was a result of Gorga calling Teresa "scum," and the only person who could fix it was Dr. V from the short-lived Bravo show L.A. Shrinks. Who doesn't love a crossover event?
7. RHOA in South Africa (Season 4): This features one of my all-time favorite fights between Sheree Whitfield and Marlo Hampton, where they stopped using words and just started making threatening noises at each other. Add some great safari footage and some over-the-top drama, and this is definitely something to write home about. (I also remember this as when Kandi and Todd, then a producer, first got together, but I might be making that up.)
6. RHOBH in Hong Kong (Season 7): Remember how awful Dorit was her first season? It was especially clear when she and Erika Jayne got in a fight on a junk boat and Erika accused her of saying "too much boring shit." Then at dinner, Erika freaked out on Eileen Davidson, saying, "You don't know what I deal with at night," and then Lisa Rinna asked Dorit if people were doing coke in her bathroom. I have never been to a more awkward dinner, and I am glad that I have not, but I loved watching every second of this one. Also, a note to Housewives everywhere: This is what happens when you get on a boat.
5. RHOC in Ireland (Season 11): This trip started off awful, with a poor reveal about the trip so that everyone could go tap Meghan King Edmonds's relatives on the shoulder in their country of origin, but as soon as the women landed, it was amazing. Kelly Dodd said it's no wonder why Tamra Judge's daughter doesn't speak to her, Shannon Beador tried to gaslight Kelly into drinking more vodka than she wanted, and then there was a 4 a.m. bus ride to the airport that will live in infamy for Heather Dubrow calling Kelly trash, Tamra yelling at Vicki Gunvalson for saying her husband is gay, and all sorts of other surveillance-camera shenanigans. Erin didn't just go Bragh, she went hard.
4. RHONY in Mexico (Season 9): This really could have just been a list of the best RHONY trips. There are so many good ones to choose from that "Be cool, don't be all uncool," "It's about Tom," and Luann de Lesseps's Johnny Depp pirate didn't even make the list. (Well, not this one, anyway.) What was great about this trip wasn't just Luann falling into the bushes drunk, but also the women's naked antics after a day of tequila tasting, with Bethenny Frankel and Ramona Singer having a teary reconciliation in the pool and Sonja trying to drink margaritas from the jug and then passing out in someone else's swimsuit. Yes, I love drama, but I love these ladies the most when they're just having a good time.
3. RHONY in Cartagena (Season 10): We came for the Boat Ride from Hell, but it wasn't even that singular event that made this one of the best trips of all time. First there was a dinner with two fights: Bethenny and Carole Radziwill's friendship splintered at one end of the table while Luann told Dorinda Medley "she's starting" at the other end of the table. Seriously, one of the best-constructed scenes in Housewives history. Then there was Bethenny freaking out and putting her head in the freezer. Oh man. And to cap it all off, the trip ended with everyone shitting all over their beds, the floor, and themselves. They may have had a shitty time, but we all loved it.
2. RHOBH in Amsterdam (Season 5): Like a fine wine and Yolanda Hadid's children, this trip has only gotten finer with age. You know it's a great trip when no one even remembers that Brandi Glanville (say her name three times and she shall appear) slapped Lisa Vanderpump on this trip. What everyone remembers is the classic dinner where Kim Richards accused Lisa Rinna's husband of something nefarious and called Eileen Davidson a "beast," and then her sister Kyle fled in embarrassment. The more we've processed it over the years, the better it gets. Or maybe it is just the ASMR version. Who can say?
1. RHONY on Scary Island (Season 3): Seriously, what else did you think would be number one? This gave us "Turtle Time," the Hooters boat, "You're not a chef, you're a cook," Alex McCord's awful beach photo shoot, "satchels of gold," "Al Sharpton," "Go to sleep! Go to sleep!", "Hellooooooo!! Surprise!!!!!", Jill Zarin getting turned away, and so many other classic moments I can't even list them all. Also, during these episodes, Luann recorded "Money Can't Buy You Class." Housewifery, on a trip or otherwise, will never reach this apex again.
Real Housewives of Potomac, Season 6, Episode 6: Admittedly, Wendy did herself no favors in the conversation by sporting a comically ill-fitting Versace top to dinner, but being tacky is far from a cardinal sin, and if anyone should know that well, it is the alum of the so-called "Real HU" (don't stone me, Howard Bisons!).
Real Housewives of New York City, Season 13, Episode 15: "She was hungry. She was a fucking cunt. She ate, then she was less of a cunt, but still a cunt, and then she leaves." Yup, that about sums it up. Thanks, Eboni. Where should Vulture send the check?
Real Housewives of Beverly Hills, Season 11, Episode 13: Dorit calls up her husband PK, a case of ringworm wearing a tie-dyed bucket hat. I'm sorry, calling that man up for legal advice is sort of like finding a frog in your backyard and asking it to perform the Judy Live at Carnegie Hall album, both inappropriate and entirely futile.
Real Housewives of Potomac, Season 6, Episode 7: It's indisputable that Wendy is showing a different side of herself, but to use her new style of dress as a matter of concern is ludicrous. Wendy could remain in a knapsack for the rest of the season and I would still want to get an understanding of her pivot into a lifestyle line or her one-liner reads that were clearly rehearsed prior to filming.
Real Housewives of New York City, Season 13, Episode 16: Yes, we need to free Sonja's only paid employee. This poor woman probably has grounds for a sexual-harassment lawsuit thanks to Sonja repeatedly flashing her, and we've now learned that Emma lives with Sonja. Excuse me? Is she chained in the basement along with the vats of Wesson oil?
Real Housewives of Beverly Hills, Season 11, Episode 14: Crystal says that in "normal times," she has two to three parties a week at her house. Two to three parties a week? Who is this woman? The ghost of Michael Alig?
Fashion
Highlight
of
the
Week
Luann has never looked better than in this fun and sexy snow-bunny outfit, including boots made with real fake yak fur.
Dean's
List
for
Reader
Comment
of
the
Week
Highlighting the best comment of the week for our lovely Institute members.
This one is from last week's RHONY:
I_said_what_i_said: Eboni is in an untenable situation. If she reacts the way she deserves to react to such blatant ignorance and racism, she's cast as the Angry Black Woman and will face condescension and intolerance from the rest of the women. When she reacts calmly and intelligently (as she miraculously continues to) she's deemed boring and unrelatable. It's a lose-lose for her, and it's not fair.
"You were a lady of the night, period. With your big feet." — Candiace Dillard on Mia Thornton