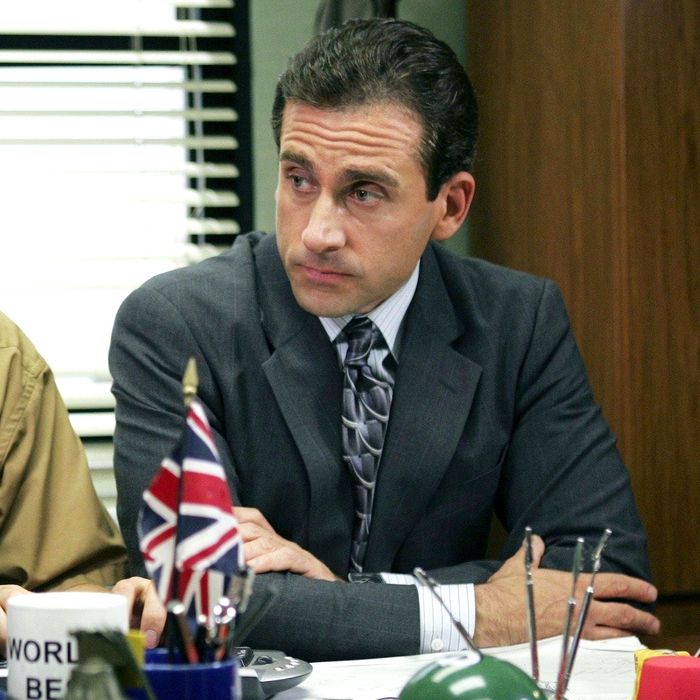 Yes, yes, we all heard the news: The Office, the quintessential show about the mundane lives of others that everyone watches to escape their own mundane life, is leaving Netflix in 2021. How did this happen? NBC is starting its own streaming platform, outbidding Netflix for the rights to stream The Office for $100 million a year for five years. So, you have a one-year head start before the series moves to a new home.
But what if you have a borderline unhealthy relationship with The Office and don't want to subscribe to yet another streaming service? Well, we'll let you in on a secret that not enough people seem to know about: You can just … own the show. As in, the whole thing. All nine seasons!
It'll cost you some money, of course, but maybe you'll find that it's worth it? If so, we've put together a few ways for you to make sure The Office will never not be there when you need it.
Own it on DVD: Probably the safest bet, given that rules and rights changes could affect digital versions in the future. Over at Target, the complete series, in a DVD box set only, is currently going for $49.99; Best Buy has it for $52.99; and on Amazon, the asking price for the complete-series set is $94.16 at the moment, though that seems to be fluctuating with demand.
Own it digitally: Amazon Prime Video has all 201 episodes available, each going for $2.99 in HD. The total for all of them comes to a whopping $600.99. They're also selling seasons three, six, seven, eight, and nine for $19.99 each. Prefer iTunes? You can buy the complete series there for $69.99, or each season separately for $172.91. But stay on the lookout for sales. Earlier this month, iTunes was selling the complete series for just $25.
Other online options include YouTube ($1.99 per episode, $392.03 for the series) and Google Play, where you can buy standalone seasons at various prices, coming out to $244.91 for all nine.
Or, if you want to be sketchy, the show still has more than a year left on Netflix — plenty of time for you to film each episode on your phone, though we're pretty sure that's very illegal. So we don't endorse it. It's simply a possibility. Don't do it. It's just an option.
If you're simply unwilling to pay for The Office at all, you can continue to watch the same free preview clips online over and over, just like someone else we know.