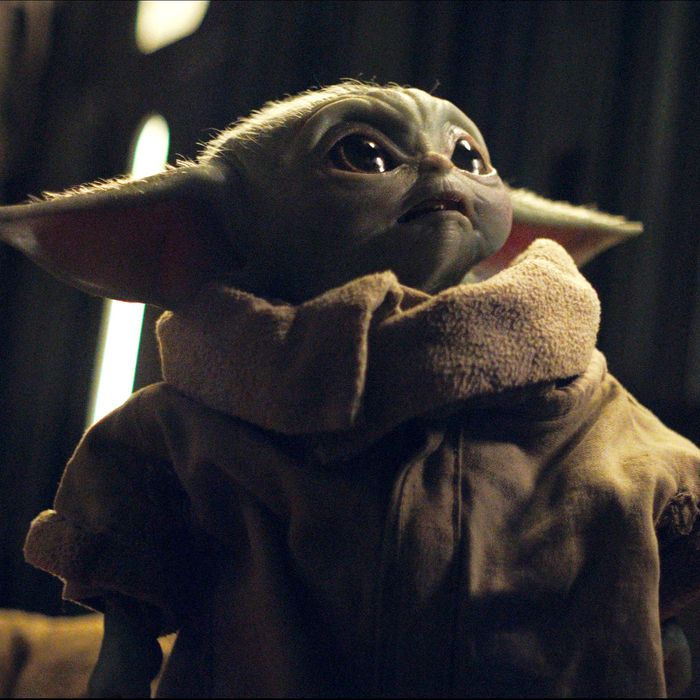 Whether you got a Disney+ subscription as a holiday gift or you've finally decided to give in to the Baby Yoda hype, you might have some questions about setting up the new streaming service, its features, its Hulu-bundled billing structure, and more. Don't worry — it's all pretty straightforward and you might not have even known about some of the helpful things Disney+ has to offer in terms of saving you money and keeping your entire family occupied on the go. Here's everything you need to know.
What movies and TV shows are on Disney+?
The service includes everything Disney itself owns, which is to say, a whole heck of a lot. That includes every classic animated movie, short cartoons featuring Mickey and the gang, every Star Wars movie and TV show (except for The Rise of Skywalker, which will be available soon enough, and the terrible 1978 Star Wars Holiday Special), the entire Pixar and Muppets catalogues, The Simpsons, and all of the Marvel Cinematic Universe flicks, save for the most recent, Spider-Man: Far From Home.
There are also new movies and TV shows, most notably The Mandalorian, which is about to conclude its first season of space adventures featuring the titular bounty hunter and Baby Yoda, a.k.a. The Child. Other new offerings include the live-action remake of Lady and the Tramp, High School Musical: The Musical: The Series, the Anna Kendrick Christmas movie Noelle, and Forky Asks a Question, a series of shorts featuring the new Toy Story 4 character. There are also a number of new originals, including Marvel shows about Loki, the Winter Soldier, and the Scarlet Witch, coming in the future.
Then there are the many, many other movies that you might not associate with the Disney empire. Among Vulture's favorites: Home Alone, Avatar, Flight of the Navigator, Miracle, Remember the Titans, The Sandlot, Three Men and a Baby, Tron, and Willow. There's also a vast trove of movies you might have forgotten about, from straight-to-VHS sequels to animated classics and very random fare, such as young Kurt Russell starring in 1969's The Computer Wore Tennis Shoes. Let the flashbacks to your childhood pop culture ephemera begin!
What won't I get with Disney+?
As noted, newer releases like The Rise of Skywalker and the latest Spider-Man, plus Toy Story 4, Frozen 2, and the remakes of Aladdin and The Lion King, aren't available to stream yet. But they will be, once Disney deems them far enough removed from their theatrical releases. You also won't find movies and shows from other studios and networks like you would on Netflix, Hulu, or Amazon Prime, so you'll have to get your fix for more mature content elsewhere.
You also won't find 1946's Song of the South, the tale of Uncle Remus and Br'er Rabbit that's long been kept hidden in Disney's vaults due to its racism. Some other movies and shorts come with a disclaimer saying they might contain "outdated cultural depictions," but are otherwise shown in their original form, which some people might find offensive.
How much does Disney+ cost?
The standard price is $6.99 per month, which you can cancel any time, or $69.99 for a year, a $14 discount. If you're looking to give someone a subscription for the holidays, you can buy the annual subscription as a digital gift card for anyone who hasn't signed up already, or, if you prefer, you can go to a Disney store or theme park and pick up a physical card for the same price. Alternately, you can purchase a subscription for someone else by setting up a new account ahead of time, then gifting them the login and password info as a present so they can jump right in and start streaming. That might be the way to go if you're giving it to a child or someone else who's not as technically savvy.
Disney+ is also available as a bundle where, for $12.99 a month, you can also get the ad-supported version of Hulu and ESPN+, which carries a number of live sporting events that you won't find on TV and the entire 30 for 30 documentary series. If you already have Hulu or ESPN+, you'll need to take a few extra steps to figure out the account set-up and billing — it's a tad complicated, but Polygon has an easy-to-follow guide on how to do it.
What equipment do I need to use Disney+?
You can watch Disney+ in a number of ways through an internet connection. You can watch on a computer at DisneyPlus.com, mobile phones and tablets like the iPhone, iPad, Amazon Kindle Fire, and Android devices, gaming consoles like Xbox One and Playstation 4, and streaming devices like Roku, Apple TV, Amazon Fire Stick, Google Chromecast, and more.
You'll also notice that Disney+ touts its 4K video quality and how many of its shows are available in HDR. This means that all of videos come in the highest resolution, with compatible devices. But if your TV or mobile device is older and doesn't have these features, don't worry — all of the movies and shows will stream just fine. There's no need to rush out and buy a new television or phone! It's also a standard feature for the subscription, so you won't have to pay anything extra for 4K and HDR.
What other features does Disney+ have?
One of the best things about Disney+ is that it allows you to download its movies and shows on up to ten mobile devices so you can watch them anywhere, even if you don't have an internet connection. This is especially great for travel, and the only limit on how much you download is how much free space you have on your phone or tablet. When you're in the Disney+ app, you can go to the settings menu, choose "Video Quality," and adjust whether you want to download the content in High, Medium, or Standard. High gives you the best resolution, while Standard takes up the least amount of space, so you can download a lot more stuff.
The other cool feature is that Disney+ allows users to stream its offerings on four different devices at the same time, no matter where they are, whether it's in different rooms in a house or on opposite sides of the country. You don't have to pay for a more expensive family plan to share the account, either — this is standard for every $6.99 subscription.
Finally, there's also the option of setting up seven different profiles for each account. This means that a family of seven can each have their own individualized account, where they can add the movies and shows they want to watch to their viewing list and get more personalized recommendations. This also allows parents to make a separate account for kids that prevents them from watching some of the more mature content on the service, whether by accident or on purpose. Take it from us, adding the parental control is much easier than explaining the Na'vi mating ritual from Avatar.
Every editorial product is independently selected. If you buy something through our links, New York may earn an affiliate commission.