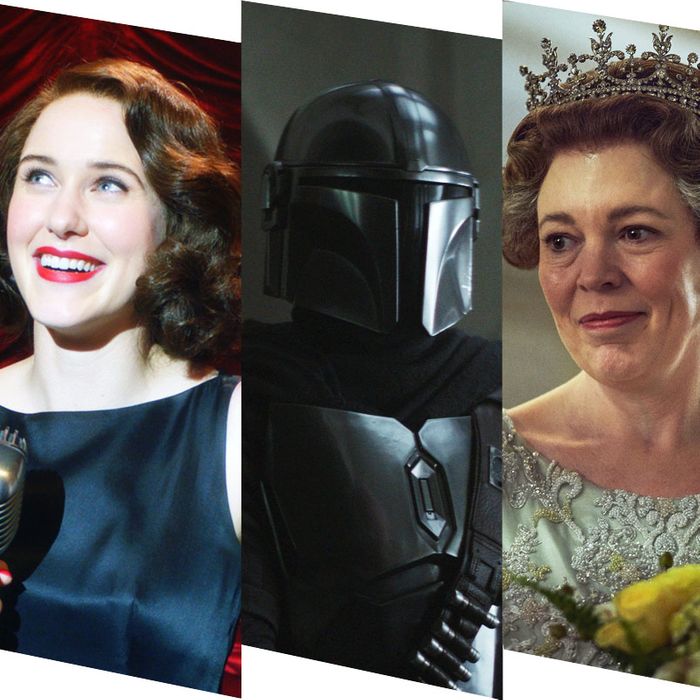 Photo-Illustration: Vulture, Netflix, Disney+, Prime Video and Fox
Gifting a streaming subscription — especially a new or underrated service — can be a nice way to help you and your loved ones stay on top of the rapidly growing library of content. But figuring out how, exactly, to do that can be confusing. How do you even gift a subscription? Which one does gift cards? Are there bundles? Which is the service with Baby Yoda? No worries, we'll take you step-by-step on how to start shopping for streaming services for your loved ones, co-workers, friends, or even yourself.
Photo: Netflix
The gist: If Netflix's algorithm hasn't already suggested a show (or five) that piques your interest, you might just be impossible to please. The streamer is constantly churning out content ranging from prestige cinema to trashy reality shows and everything in between. The past month alone has had the world buzzing about chess and Princess Diana again, thanks in part to titles like The Queen's Gambit and The Crown, so why not get your uninitiated loved ones acquainted — or reacquainted — with what the streaming service has to offer.
How to gift it: A gift card! To give Netflix, you can buy $30, $60, or $100 gift cards, either online or in stores like Walmart, Target, or Best Buy. And unlike some other services' gift subscriptions, a Netflix gift card can apply to new and existing subscribers. They can redeem those cards on Netflix's website and then finally go to town on The Queen's Gambit.
The gist: Catch up on two seasons of The Mandalorian, watch Pixar's Soul on Christmas Day, and ring in the new year with Marvel's bonkers-looking WandaVision, which premieres on January 15. It'll keep the kids entertained and the adults buzzing about canon and multi-verses.
How to gift it: First things first, Disney+ will unfortunately only let you gift a subscription to new users, so if you're trying to gift it to the Disney Adult in your life … there's a 99.99 percent chance they already have it. But for anyone else, you can head over to the Disney+ gift subscription page on their website, follow all the instructions and voilà! They'll get an email laying out exactly how to redeem their subscription, then they'll be blessed with the gift of seeing Baby Yoda in beautiful 4K. And if you want to bundle Disney+ with Hulu and ESPN+, you can upgrade for a discounted price. Log in to your billing details page to switch to the bundle, and the credit from your gift subscription will carry over, so you only pay $7.16 a month instead of $12.99.
The gist: WarnerMedia's streaming service may have had quite the confusing rollout journey this past year (and if you're still figuring it out, fret not! We've broken down everything you need to know about HBO Max), but it still boasts a very impressive library of content that anyone would appreciate. From classics like Singin' in the Rain and The Red Shoes to DC Universe content and, of course, HBO shows like The Undoing and Succession, featuring our No. 1 boy Jeremy Strong, HBO Max has a little something for everyone, so cheers to that!
How to gift it: You can't! But nothing says "I love you" more than surprising your best friend with your log-in info, right?
The gist: If someone you know doesn't have a Prime membership yet (an impressive feat in the year of our Lord 2020!), it can turn out to be a great multipurpose gift. Where else can you simultaneously buy a value pack of clay face masks and stare at the hot priest from Fleabag? Plus, the Prime Original movie The Vast of Night deserves more eyeballs.
How to gift it: You just can't gift Amazon Video, you gotta gift all of it, with Give the Gift of Prime. Log in and fill out the usual details: your giftee's email address, when you want it delivered, and a special little message. Amazon offers a three-month gift subscription for $38.97, and a yearlong gift subscription for $119.
The gist: If you miss flipping through channels or crave that cable TV experience without actually paying the price for it, Hulu's your best bet. The Disney-owned streaming service drops prime-time shows from NBC, ABC, Freeform, and other TV networks the day after they air, so you can still have your date night with a new episode of Law and Order: Special Victims Unit or This Is Us. Or you can watch FX on Hulu, announced earlier this year, which gives FX shows like Mrs. America and A Teacher exclusive runs on the service. Hulu also has its fair share of original shows and movies, including the Sarah Paulson–led thriller Run, and the fantastic Groundhog Day–style rom-com Palm Springs.
How to gift it: For Hulu, you can gift digital or physical gift cards to new or existing subscribers, which you can buy at retailers like Best Buy or Target for $25, $50, or $100 dollars.
The gist: The streaming service for old souls, cinephiles, and the guy in your life who insists on calling movies "pictures," the Criterion Channel boasts a library of over 2,000 titles to get lost in. Discover the entrancing work of French New Wave filmmakers like Agnès Varda and Jean-Luc Godard, and dive into the independent works that probably inspired a lot of your current favorite directors.
How to gift it: The Criterion Channel offers a surprisingly easy gifting process. On the Criterion website, all you have to do is click "gift subscription"and pick however many months you'd like to give, from one month for $10.99, up to a one-year subscription for $99.99. Just note that you can only buy a subscription for new users.
The gist: While other new streaming services shot onto the scene with a bang, Apple TV+ was more of the introverted friend who quietly cheers from the sidelines. But never underestimate an introvert! Apple TV+ may have mostly original content, but much of that is surprisingly good original content. It's Always Sunny in Philadelphia's Rob McElhenney wrote, filmed, and edited a delightful quarantine episode of Mythic Quest: Raven's Banquet in just three weeks. And here at Vulture, Jason Sudeikis's bumbling and sweet Ted Lasso has really lassoed its way into our hearts.
How to gift it: Apple TV+ is one of the cheaper subscriptions on the market, going for just $4.99 per month. To gift a subscription is as simple as buying an Apple gift card, available basically anywhere. Then, there's also Apple One, where you can bundle Apple Music, Apple TV+, and more for $14.95 per month. (That's a $6 discount compared to buying each service individually.) Or if you're feeling super generous, you could just purchase a loved one an Apple product, which comes with a free yearlong subscription to the service. Either way, you got options here.
The gist: The home of original shows like Shameless, Billions, and Vulture's favorite show of 2017, Twin Peaks: The Return, the streamer/premium channel (the lines are blurred nowadays) also boasts a great catalogue of recent films. Showtime is a great option for anyone you know who's looking to flesh out their personal top 2020 film lists. (First Cow is a fantastic place to start.)
How-to gift: With those sweet, sweet digital and physical gift cards. You can purchase them at most online or physical retailers for $25 and $50 increments.
The gist: Paramount+ (formerly known as CBS All Access) sets itself apart by being the only streamer on this list that offers live broadcasts of its channel to its subscribers. The service's library has grown a lot since rebranding as Paramount+, with new originals on the way and "thousands" of shows and movies from BET, Comedy Central, MTV, Nickelodeon, and Paramount Pictures' back catalogues. They join CBS All Access original titles like The Good Fight, Jordan Peele's The Twilight Zone, and of course, as much Star Trek content as you could ever possibly need.
How to gift it: The best way to gift a subscription to Paramount+ is by buying a digital gift card. A month's subscription to the streaming service costs $9.99/month. (A $5.99/month tier is also available — but it'll drop to $4.99 in June and lose live TV.) Gift cards come in $25 and $50 dollar amounts. And yes, CBS All Access gift cards can still be applied to Paramount+.
The gist: For the horror fans in your life, Shudder is the most obvious, yet underrated, choice of a streaming service to gift. From innovative horrors like a Zoom séance gone wrong (at this point, do they ever go right?) in Host to unique horror documentaries like Xavier Burgin's Horror Noire, Shudder is dedicated exclusively to the kinds of films that get your heart racing, with a library full of horror, thriller, and suspense titles.
How to gift it: There are unfortunately no gifting options, but you could always just buy your horror-loving BFF a Visa gift card and provide explicit instructions that it absolutely must be used for a Shudder subscription, or else.
The gist: Peacock is a streaming service dedicated to content from NBC and other entities from the NBCUniversal family, like Paramount, Bravo and E!. The service is similar to Hulu, using a next-day release schedule for its prime-time shows, and Peacock also offers a "Channels" feature that can get you scrolling through a program guide.
How to gift it: Again, you can't. But you could always offer your friends and neighbors an official open-door policy to come watch Peacock at your house whenever they want (once we're all vaccinated, of course).
The gist: The go-to network for lifestyle-brand reality TV entered the streaming landscape in January, with a huge library of content that spans Discovery's portfolio. Along with archives of Discovery Channel, Animal Planet, Food Network, TLC, and HGTV shows like Property Brothers; Diners, Drive-Ins and Dives; Planet Earth; and Say Yes to the Dress. Discovery+ is also home to new and upcoming original programming including three new 90 Day Fiancé spinoffs, a nature documentary narrated by David Schwimmer, and a partnership with Chip and Joanna Gaines's Magnolia Network.
How to gift it: Discovery+ offers two gifting options, depending on the tech savviness of your giftee. The easiest option is to email a gift subscription directly to your recipient, but you can also print and hand deliver a gift certificate.
All recommendations are made independently by our editors. Services you subscribe to through our links may earn us a commission.