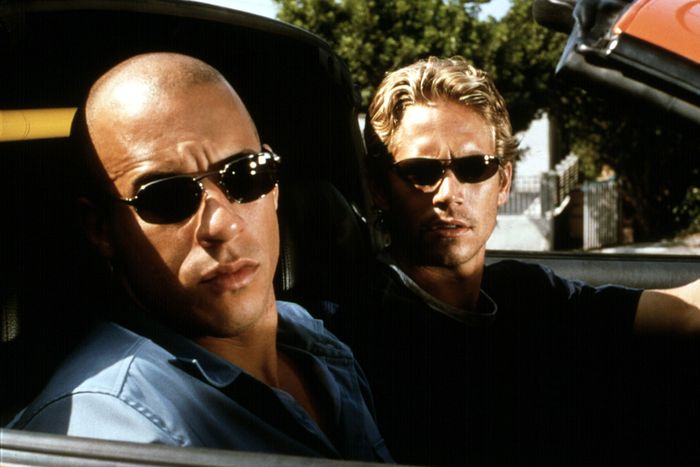 El primero, el original,
The Fast and the Furious
.
Photo: MCA/Courtesy Everett Collection
What pairs nicely with a family gathering and an ice-cold Corona with a lime wedge? Streaming your favorite testosterone-heavy, NOS-injected, high-speed Fast & Furious movie. Whether you first met this franchise through The Fast and the Furious, rife as it is with L.A. charm, or through the schmaltzier, sillier, bigger-budget entries it became known for, you can't deny its dominance. They even made a cartoon not too long ago. With Fast X zipping into theaters, we figured now would be a helpful time to tell you where to stream every Fast & Furious movie, plus a few extras to meet along the road. ¡Salud!
The Fast Saga
The Fast and the Furious
The one that started it all holds up as a pretty tight action movie even if street racing and VCR stealing feel a little quaint compared with the franchise's escalating ambitions today. The visceral editing, cinematography, and attitude of its racing scenes set a high-octane bar for the next 20 years. Most important, it introduces the relationships that would form the backbone of the series: those between Dom (Vin Diesel) and Brian (Paul Walker), Dom and Letty (Michelle Rodriguez), and Brian and Mia (Jordana Brewster).
2 Fast 2 Furious
Roger Ebert wrote that 2 Fast 2 Furious "doesn't have a brain in its head, but it's made with skill and style." With all respect to Roger, he was wrong about that first part. Anyone can watch this two-minute supercut of director John Singleton's commentary and immediately grasp the genius he put into this movie. Singleton knew it was a summer movie about "cars and girls, cars and girls, cars and girls" but nonetheless masterminded its editing, shot composition, and acting with meticulous intentionality — and canny Sergio Leone references.
The Fast and the Furious: Tokyo Drift
It's understandable why Tokyo Drift got the short shrift for years — it sometimes feels more like a spin-off than a sequel, due to its stars' absence and faraway setting — but it also dramatically expanded the series' ambitions. This film took the franchise international, winkingly self-referential (Vin Diesel's pre-Marvel, very Marvel-esque stinger; "Han Seoul-Oh"), and flashier and more boldly self-assured than ever before in the hands of director Justin Lin. He went on to helm another four Fast movies after it.
Fast & Furious
Fast & Furious reunited the first film's Diesel, Walker, Rodriguez, and Brewster and wove Gal Gadot and Sung Kang into the fold. For better or worse, that makes this weakest film of the franchise a bit of a soft reboot. Directed by Lin, it set the table for the movies to come by forcing Walker's character, Brian, to choose between a life devoted to his found family and a career in federal law enforcement. Guess which he chooses.
Fast Five
Fast Five is a masterclass in "yes, and …?" In it, Diesel can race a very expensive Ford GT40 against a speeding train … and Walker can then jump off that train and onto that car as the train explodes into a giant fireball … and the two of them can then drive that car off a cliff, surviving the fall by jumping into the river at the bottom. Then the movie can start in earnest. Fast Five shifted the franchise into a world where everything is possible as long as it makes the rest of the film more dope. It even made the Rock drop an F-bomb.
Fast & Furious 6
If "I got a tank on my ass!" were the only thing this entry gave us, it would be enough, but 6 also delivers with the return of Rodriguez, the conversion of the Rock from foe to friend (and gradually to full-blown offscreen feud), and the conversion of Diesel into Superman.
Furious 7
Walker's tragic death made this the most poignant film of the franchise — and in some ways the most impressive from a narrative perspective. It's not a spoiler to say the end of the film retires the character, but the way it does so in its final minutes, soundtracked to Wiz Khalifa and Charlie Puth's "See You Again," is a moving, fitting tonal departure from the two hours of action set pieces and flashy chase scenes. Furious 7 is a must-watch, and not just to see a car jump skyscrapers.
The Fate of the Furious
It's hard to overstate how badly this franchise needs genuine villains to work. Some of the series' best adversaries — played by the likes of the Rock and Jason Statham — wound up as part of the larger Fast familia. Not Charlize Theron, fresh off the action-movie success of Mad Max: Fury Road. An international criminal mastermind, she puts a target on Dom's whole team, becoming the series' Big Bad in the process. She's perfectly comfortable with jeopardizing babies, which leads to a terrific fight scene on a plane.
F9
Yes, they go to outer space in this one. Yes, it somehow makes sense within the sibling rivalry and trauma bond between Dom and his long-estranged brother, Jakob (ably played by John Cena). Also, the Tokyo Drift crew — including Han — comes back. Please don't ask me how. It doesn't actually matter.
Fast X
This film introduces Jason Momoa as the latest villain to terrorize Dom and his team — delivering on explosions, dramatic pauses whenever lines about "family" are spoken, and even a neutron bomb. It's out in theaters now, so don't expect it to stream anywhere for at least a few months.
The Spinoff
Fast & Furious Presents: Hobbs & Shaw
So far the franchise's only full-on spinoff, Hobbs & Shaw isn't exactly required reading on the Fast & Furious syllabus, but it's still a blast, complete with Idris Elba as a "cybergenetically" enhanced villain, explosive stunts helmed by John Wick director David Leitch, and a memorable Ryan Reynolds cameo.
The Shorts
The Turbo-Charged Prelude for 2 Fast 2 Furious
Bridging the gap between the original film and its first sequel, this six-minute short is mostly a promotional clip. In it, Brian wordlessly leaves L.A. for Miami, where 2 Fast 2 Furious begins. Its non-flashback material largely consists of shots of Walker shaking hands with various associates and modifying cars as he tries to evade arrest. It's maybe for the diehards, but there is in fact racing in it.
Los Bandoleros
Not everyone knows this, but Diesel got his start directing little indie movies like Strays and the short ​​Multi-Facial. He directed this 20-minute film, too, which approximates what a Fast & Furious TV show might look like. Los Bandoleros is a lo-fi effort shot with handheld cameras and set in the Dominican Republic, where Dom, Han, and others have to rob an oil tanker. It's intended to explain what he was up to during the time frame of 2 Fast 2 Furious.
The Cartoon
Fast & Furious: Spy Racers
Spy Racers is actually better than any Fast & Furious cartoon should be, given that we're talking about a live-action franchise that lives and dies on how cool its street races and impossible stunts look. Though it's really made for kids who perhaps aren't ready to see the Rock say the F-word, it's still got action-packed DNA and follows Dom's cousin Tony Toretto as he travels, races cars, and saves the world, with each season focusing on a new location.