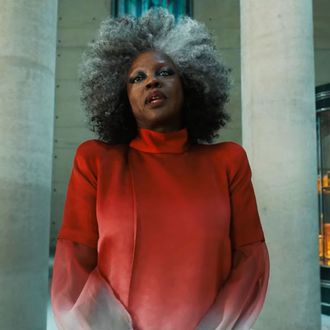 Why did they do this to Viola Davis, you may ask yourself as you take in the latest trailer for The Hunger Games: The Ballad of Songbirds and Snakes. Makeup decided to give her offputting mismatch color contacts — one blue and one black — to emphasize how unhinged Davis's character, and her nutty worldview, is. She plays the original mastermind of the annual child-murdering Super Bowl, an aging professor named Dr. Gaul, who thinks humans are homicidal machines once placed in their state of nature. "Mr. Snow, after everything you've seen out there in the world, what are the Hunger Games for?" she asks the 18-year-old future president Coriolanus Snow (Tom Blyth) as they jointly prepare for the tenth annual Hunger Games, 64 years before Katniss Everdeen enters the arena. "If you want to protect people, it's essential to accept what human beings are," she says. "Fueled with the terror of becoming prey, see how quickly we become predator?" "Hanging Tree" soundtracks the trailer, where we see the titular songbird and District 12 tribute Lucy Gray Baird (Rachel Zegler) and Coriolanus grow close. Academy dean Casca Highbottom (Peter Dinklage) instructs mentors like Coriolanus Snow (Tom Blyth) to turn the tributes in this year's deadly competition into "spectacles, not survivors." See who lives when The Ballad of Songbirds and Snakes enters the arena theaters on November 17, 2023.
What is Songbirds and Snakes about, and who's in the cast?
Before the trailer, Hunger Games fans were previously fed an image of Lucy Gray Baird lying in snow back in August 2022. (Okay, she was lying on top of Blyth's Coriolanus Snow, but it was snow nonetheless.) According to the dreamy and romantic first look images and director Francis Lawerence, the prequel is a "very intimate love story" between Baird and Snow. Decades before he becomes the president of the original trilogy, Snow finds himself preparing Baird, who captures everyone's attention by singing during the reaping ceremony, for the televised fight to the death between district tributes. Per Deadline, Viola Davis will star as Head Gamemaker Volumnia Gaul. "Dr. Gaul is as cruel as she is creative and as fearsome as she is formidable," director Francis Lawrence said, adding that central character Coriolanus' "savvy as a political operator develops in no small part due to his experiences with her as the games' most commanding figure." Euphoria's Hunter Schafer passed on Lexi's play to join the movie as Tigris Snow, his mentee and older cousin. Josh Andrés Rivera, Jason Schwartzman, and more are also set to star.
The Hunger Games prequel will expand on the lore of the Games, including the origins of the music like "Hanging Tree." Production designer Uli Hanisch shared that they have created a "new version" of Panem and are excited they get to "remake District 12, remake all of the Capitol, and a brand-new arena." Assassin's Creed and Macbeth screenwriter Michael Lesslie will pen the script for the adaption of Suzanne Collins's book series.
Other Songbirds and Snakes announcements have arrived in a far less straightforward manner. In a Taylor Swift–inspired move, West Side Story and Snow White's Rachel Zegler posted a cryptic tweet (tweet!) on May 30, 2022 in which the first letter of each word spelled out "Lucy Gray Baird," a main character in the Hunger Games prequel. The following day, Deadline confirmed that Zegler had been officially cast to join the series as Baird.
Who is on the Songbirds and Snakes soundtrack?
Plenty of songbirds were recruited, including Olivia Rodrigo. Her contribution to the movie, "Can't Catch Me Now," dropped on November 3 ahead of the full soundtrack's release on November 17. Other featured artists include Molly Tuttle, Billy Strings, Sierra Ferrell, Flatland Cavalry, Bella White, and Charles Wesley Godwin. And of course, there's Zegler herself — the movie lead performs several songs on the tracklist, including "The Hanging Tree," "Nothing You Can Take From Me," and "The Ballad of Lucy Gray Baird." Starring in another beloved franchise in which you can show off your insane singing voice? It's like killing two songbirds with one stone.
This post has been updated.