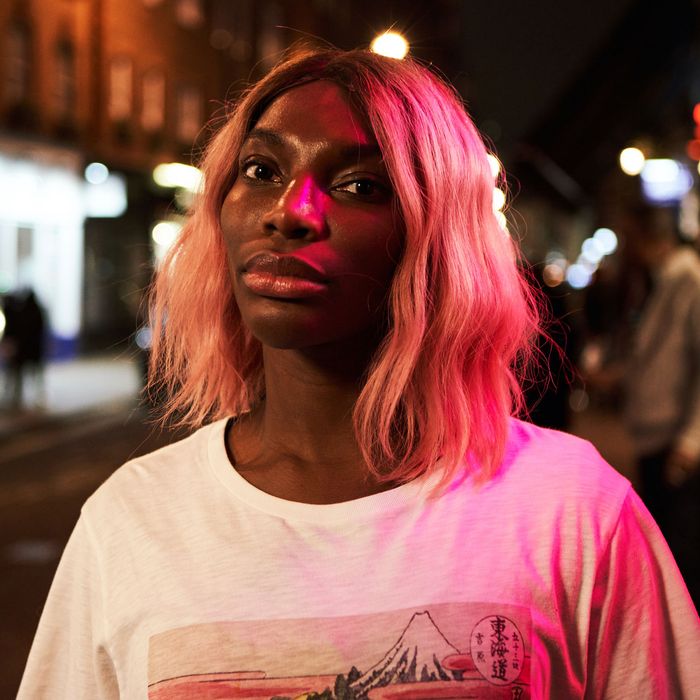 Still shaken by her mysterious blackout the previous night, Arabella doesn't eat the food on her plate. She pushes around some vegetables and twirls the pasta around her fork to pretend like she's eating, but her best friend Terry knows that the meal isn't leaving the plate. Arabella's mind is wandering between their lunch conversation and the hazy image of a man panting on top of her. Still unsure if that's even a real memory or a made-up one, she's spent her downtime exploring the science of fake memories on YouTube. She hasn't slept since the incident.
In the second episode of I May Destroy You, "Someone is Lying," Arabella begins to move through the shock of that night's events, playing a sleuth to solve her own hellish whodunit and enter the heartbreaking stages of reckoning with what really happened. When Terry asks more questions about last night –– like how did her phone's screen crack? –– Arabella's head spins as her memory draws a blank. She stops in her tracks, her face in a stunned look. Although she's on her way to her own audition, Terry jumps into the role of Watson to Arabella's Sherlock, calling Simon, the friend who was with Arabella last night, when he ignores her calls. He seems to be dodging her, taking advantage of the fact that she doesn't remember the night's events. Even after Arabella shares her concerns and tells him about the injuries and broken phone she woke up with, he waves them off when she admits they're not so bad. Later in the episode, Simon is smoking with a stressed look in his eyes, but it's unclear if it's related to Arabella or something else that happened.
In trying to piece together the fragments of the night, Arabella visits Simon and his girlfriend Kat to ask him for his Uber receipts. Her search then takes her to the doorstep of Simon's lover, Alissa, where an awkward discussion soon brings things to an uncomfortable focus. Arabella wasn't the only woman that night to have her drink spiked, as Alissa recounts a similar story. But the conversation quickly sours, as Arabella insinuates that maybe Simon had something to do with it, and Alissa lashes out with an angry defense. The lines she shouts, like Simon not having a "criminal bone in his body," sound a lot like the things people say when defending someone close to them to dismiss accusations of sexual misconduct. Arabella makes a hasty retreat away as Alissa screams that she has been seeing Simon for months, and that it's Simon who wants to keep her away from Kat. Arabella has a lot more on her mind than her friend's — perhaps now her former friend's — infidelity.
With the help of another close friend, Kwame (Paapa Essiedu), Arabella decides it's time to go to the police station. Yet, even though she knows she needs to report it, show her scrapes and bruises for the record, and submit to various medical tests, she's hesitant to use the big words of "assault" and refers to the flashbacks as part of her "memory." But as the counselor's questions progress, as Terry's had done at the beginning of the episode, Arabella's doubt begins to melt before crashing into a wave of tears. Wanting to hide from the truth and the people in the room, she tucks her head in her shirt and finally lets out a loud cry.
Coel's performance and writing alongside Sam Miller's direction in "Someone is Lying" are impeccable. It is likely one of the strongest 30 minutes of television you'll see this year. No storyline feels like a filler, every character and shot is arranged perfectly to reach the episode's emotional crescendo. Coel moves Arabella through her trauma with painful precision, never skipping a step or realization. She embodies the various stages of her characters' emotional arc from dumbfounded to determined to devastated. In keeping with the show's pilot, the dim happy lights of the bar are no longer a part of Arabella's world. Instead, she's left with only the recurring view of a man looking down at her as he thrusts, bracing himself with the red walls of a bathroom stall. The show alternates between harsh grey daylight and the cold green and blue lights of the police station as Arabella tries to make sense of her murky memories. The night is only just beginning to come into focus for her, and she's frightened by what she sees.
Fortunately, this episode also establishes her support team, Terry and Kwame, who rally around her in this time of crisis. Terry's audition is a cringe-filled break from the main drama but becomes a poignant moment about her own struggles to establish herself. While Arabella has found some success in the publishing world, she's still trying to launch her own acting career, cheerfully telling casting agents how many Instagram followers she has and answering nonsense questions. But she can't dodge a white casting director's request for her to take off her wig, no matter her insistence that it's natural hair and can be washed for the campaign. In Arabella's room, still upset from her auditions, Terry hints that she may also have had a similar experience as her friend that she's never told anyone about, but that storyline is left to continue another time. Simon, who was there for most of the night's events, alienates himself from the others to hide the truth from Kat, leaving a lot more questions for future episodes to answer.
In addition to building out her characters, Coel also continues to populate the world they live in, making their stories feel more realistic. There's a reminder that everyday life continues regardless of what's happening, as screens throughout the show play the news or random internet ephemera. It's on in the background of their lives, but it's also something Arabella turns to for comfort, like a form of self-medication to put off mentally dealing with the trauma she'll soon have to face. Another striking moment occurs near the end when Arabella is undergoing a rape kit test and steps out to smoke in her hospital gown. Another woman joins her, there's a large bloodstain on the front of her gown. She asks Arabella, "Is this your first time?" It's such a heavy question asked in such a casual fashion, a painful reminder of what so many others have gone through and suppressed. The very existence of I May Destroy You rebuffs the usual suppression of #MeToo stories and memories of sexual assault and dares to bring them out into the open.