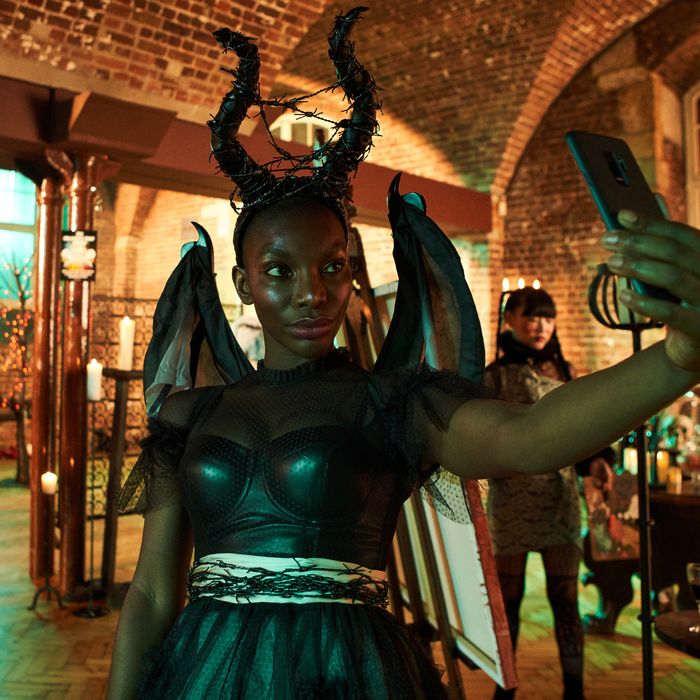 "Are you all right?" Arabella is not in the mood to answer her well-meaning roommate, Ben (Stephen Wight). Ignoring the flashbacks of her rape, she says yes to soothe his concern before going back to being absorbed by her phone. Her search for comfort in her social-media presence takes a more serious turn when a stranger tweets their rapist's address at her account. Arabella's eyes well up, and tears roll down her cheeks. She may have just wanted virtual camaraderie, but her fans want a hero. She's overwhelmed not only by the internet's support but also its new demands of her: to keep outing and fighting against abusers. Another user follows up: What if they started doxing men? Arabella looks reinvigorated. In this latest episode, "Social Media Is a Great Way to Connect," I May Destroy You takes on a heavier double meaning: As Arabella is trying to help avenge those speaking out against their abusers, she is herself drawn into the vicious cycle of sharing her private pain for public consumption — the likes and shares that drive internet interaction.
No scene better encapsulates this full-bloomed obsession than when Terry accompanies Arabella to the doctor. Instead of listening to her latest health results, the budding influencer interrupts her doctor to share her MRI results to prove she's not "crazy" for waging a crusade against rapists. The moment is so unabashedly self-absorbed that her doctor and Terry exchange awkward looks as Arabella tells her followers a flurry of self-care catchphrases. Terry jumps in the frame to plug her social-media handle and try to wrap up Arabella's stream-of-consciousness rant. With Arabella's attention back in the room, her doctor warns her to watch her blood pressure because of the heightened risk it poses for people of Afro-Caribbean descent, a phrase that ignites Arabella's anger. She lectures the stunned doctor about the problematic nature of being generalized, but the best explanation he has for her is that it's a phrase from a form, not him. Arabella storms off in anger, leaving Terry to have the last word with the doctor.
In a final attempt to be helpful, the doctor tells Terry that perhaps Arabella should quit vaping if her blood pressure remains high, to which Terry counters by pointing out that Arabella's stress over working day and night to combat rapists online is doing more harm than any type of smoking could. The doctor meekly agrees with her. It's a powerful moment, not just because Terry spoke up about a medical issue and, instead of being ignored, she was listened to, but because it acknowledges stress as a genuine cause for concern. It's something that may hurt some people more than others. Even stressful virtual threats and demands can directly affect someone's mental and physical health.
When we last saw Arabella, she was wading in the pristine waters of a beach in Italy. Her relationship with Biagio now officially over, her search for validation has taken her to the company of online strangers. Terry has redoubled her efforts for Arabella's self-care journey, but Kwame and Arabella's enthusiasm for things like elaborate paint-and-wine nights has waned considerably. Still, in the spirit of Halloween, they agree to go along with it and even let Terry have her pick of a group costume. On their walk home, Arabella runs into a fan who thanks her for her social-media activism and shares how it's helped him talk about his own trauma. Kwame walks away, still uncomfortable talking about his experience, and joins a dejected-looking Terry a few feet away. He mocks the guy's candid interaction with Arabella, but as he turns to walk away, he wipes away a tear. Terry reminds him that he might need to talk to Arabella openly about what happened to him someday.
Now dressed in their angelic and demonic finest, the trio paint alongside each other in costume. Despite Terry's scolding, Arabella can't seem to put her phone away, even going on one of her long rambling posts, much to the embarrassment and gentle teasing of Kwame and Terry. Kwame finally opens up about his disastrous hookup with Nilufer, and, at first, he has both of his friends' support. That changes when Arabella pieces together that Kwame actually didn't tell his date that he was gay and that he technically had sex under false pretenses. Arabella's outrage stifles Terry's objections as she tells her friend that since she hasn't experienced rape, she should only be listening. Terry confronts Arabella head-on about locking in Kwame with a stranger at her birthday party when he was in a bad place, and Arabella dismisses her, moving her anger over to a cowering Kwame, whose eyes begin to fill as he looks nervously around for an escape. His soft-spoken answers downplay the seriousness of the moment, a tense altercation between friends depicting the real-life imperfections of these new rules of engagement. Even some of the hard-and-fast rules around talking about these experiences can be flawed and emotionally volatile. In the scene, both Kwame and Terry are dressed in swanky white angel costumes, but Arabella is dressed in a head-to-toe lacy goth-inspired demon costume. This time, she's the Devil in disguise, using the language of survivors to silence and write off her own friends.
Arabella storms off with her Maleficent horns and bat wings to a pub, where she fruitlessly tries to revive her dying vape and get a picture of her costume. Her anger has yet to subside. When a guy tries to compliment her costume, she snaps back with a mean retort and leaves. She resumes her social-media rants with righteous anger, calling out the various ways patriarchy has seeped into our everyday lives. The post earns a number of reactions that fill the screen with cheers and compliments. Arabella is illuminated by a bright fuchsia light against the blurry nightlife behind her, as if surrounded by a bubble of her own making. When a user asks if she's okay, the camera takes a step back. Her pink spotlight begins to fade in and out, and less than pleasant messages begin to fill the screen. She looks stunned and lost, overwhelmed by the responses.
Arabella ends up at the home of her therapist, Carrie (Andi Osho), to talk things over. She's outraged that Kwame would do such a thing to another woman after all the work she's done online. As Arabella weighs the duty she feels to take a public stand against her friend, Carrie asks her, "Do you need social media?" Arabella looks incredulous — no, of course not. Who wants to admit to a social-media addiction? Carrie points out that social media incentives us to perform these behaviors and suggests that if Arabella can't quit the apps altogether, then at least she should take a break. She uses Arabella's habit of hiding the bags of evidence she got back from the police under her bed as an example of trying to neatly categorize everything into good and bad things. Unfortunately, life isn't that simple.
Emboldened by her therapist's lesson, Arabella goes home, deletes her social-media accounts, and exhumes the stuff she's thrown under her bed. Ben stops by again to see how she's doing, and this time Arabella stops to look at an opaque plastic bag. Inside are the leftover contents of a long-ago abortion, something else she's buried under her bed to forget about. Ben asks if she regrets it, and when she says no, he says, "Doing what you have to do doesn't always feel good, does it?" The words she used against Kwame are now repeated back to her by an imaginary version of herself. Knowing what she must do next, Arabella apologizes to Kwame and spends time with Terry when they visit her apartment. After Kwame makes a quick exit for a hot hookup, the two women empty the bags of police evidence and go for a walk, ending at the bar where Arabella was raped, Ego Death. The episode ends as the two take a seat, and Arabella stares at the crowd of masks and costumes to see if she spots her rapist.
Although it's hard to believe that anyone who spent as much time on social media as Arabella did wouldn't know what doxing is, Michaela Coel's writing continues to incisively explore the unevenness of the Me Too era, pushing those uncomfortable conversations to the forefront, including how social media has factored into the movement and the moment. In "Social Media Is a Great Way to Connect," she homes in on the online noise that has both helped and hurt people. Like many issues on the show, this too is complicated. Social media helped people share their stories and find a community with other survivors, but it may have also caused others to feel pressure to tell their story or trigger someone else. That Arabella gets caught up in a posting and livestreaming frenzy is no accident. What happens to social media's idea of justice when engagement becomes more important? Coel uses social media as a double-edged sword, neither inherently good nor bad but just as capable of hurting its wielder as its target.