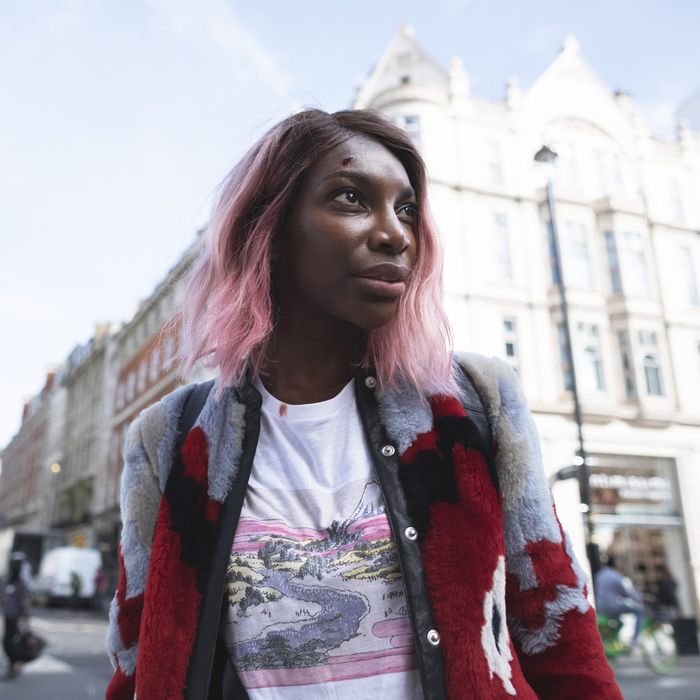 The premise of HBO's new series I May Destroy You is sadly an all-too-common Me Too story. You go out to have fun with friends and end up with only a hazy recollection of the night's events. Was it too many drinks? Was it something else? Is your mind playing tricks or were those foggy memories actually waking nightmares? It's a terrible prospect to piece together what really happened, a terror writer and star Michaela Coel recreates in painful detail, starting with the events leading up to that night.
Although she's running out of time on her new book's deadline, Arabella (Coel) takes a detour to visit her long-distance Italian boyfriend Biagio (Marouane Zotti). She tries — and fails — to talk about their undefined relationship, a conversation he waves off as he throws her luggage in the trunk and wishes her well on her trip back to London. Put out by his response, Arabella waffles between going out with Simon (Aml Ameen) and Kat (Lara Rossi) to get rid of her blues or hunkering down to meet her book's impending deadline. Eventually, her need for friends wins over and Arabella escapes to meet them for a trip to a bar, where she sets, and then ignores, a reminder to get back to work.
Suddenly, what seemed like a fast-paced night of fun slows down. Arabella starts to lose control of her body. She knocks a glass over, her hand unsteadily grabs napkins and straws while trying to regain her balance. No one helps her as she stumbles past them, gripping onto chairs and losing her footing. There's a quick jump forward, and it seems like our hero has rallied, gotten herself back into the office and sent in her draft on time. She showers and preps for her meeting with her agents later that morning, but something is still off. Not only is her meeting a disaster, she's somehow picked up a cut on her forehead and her phone was smashed at some point. When did that happen? She leaves the building but struggles to find her way to her place, as if she were walking through the haze of a heavy migraine. Once safe at home, something clicks in her mind that hadn't before, triggering the half-forgotten memory of a sexual assault. Now what?
"Eyes, Eyes, Eyes, Eyes" plays like a prelude to the chaos that will upend Arabella's life, slowly introducing the main character until a flashback stops her cold. We learn that she's a famous author — well, at least on Twitter. It's not the kind of fame that gives her a fancy condo in London's most posh neighborhood. She's still got a flatmate and feels under pressure to deliver a successful follow-up. She's got plenty of friends but can't quite sort out her love life. In other words, she's like many other working millennial women out there, having survived the first set of hurdles of young adulthood and figuring out what's next when faced with a sexual assault that threatens everything. The title suggests Arabella fights back, but we're not there yet. It's also quite possible that the destruction is headed toward Arabella.
Coel, who's also the creative force behind the bitingly funny Chewing Gum, deftly moves into dramatic territory unafraid of creating an entire show around a topic many might still feel uncomfortable bringing up to a therapist. This is also personal for Coel, who based I May Destroy You on her own experience of sexual assault while under the pressure of making the second season of Chewing Gum. To make matters worse, she was forced to reckon with her trauma under deadline, something that may be explored in future episodes, as the publishing world, much like television production, runs on tight schedules.
I May Destroy You is not just about surviving sexual assault, however. It's also about navigating the murky waters of consent as dating and hook-up habits change. Already in the show's first episode, we're introduced to Arabella's friend Simon, whose long-term girlfriend Kat is open to adding a third person to their relationship. After a bad first group date with Alissa (Ann Akin), a young woman who's too upfront about her problems, that seems like the end of that conversation. However, once Terry goes home and Arabella arrives, Alissa rejoins Simon on their night out without his partner's blessing. For those out of the modern dating game, this constitutes a major betrayal of trust, one that even a drunk Arabella teases Terry about ruining his relationship.
The group's wild night out looks fun yet casual, full of neon lights and rounds of shots, but not extravagant. It's a weeknight, after all, which only adds to the everyday feeling of this experience. But when the party's over, even the show's look undergoes a shift in the sober light of day. Everything looks too bright, strangely blurred and disorienting, echoing Arabella's post-night-out experience. There's a marked difference between the way she greets an excited fan the night before and the way she relies on one to get her into a cab home. There will likely be many more ways her world will change in the episodes to come.
While slow at first, I May Destroy You begins where it needs to. Not only does the show introduces the lead character, involving the audience in her romantic disappointment, her bountiful group of friends, and work schedule, it also starts at the point where many survivors of sexual assault might revisit, replaying the events of the day leading up to the moment where things go terribly awry. Was there something they shouldn't have done, some drink they shouldn't have drunk? Coel is smart to include those moments where Arabella ignores her phone's reminder and keeps drinking. It's a decision any one of us might and possibly already have made countless times before. The hours leading up to her assault are just like any other, but it's how she handles the hours, days, and possibly the weeks after that will come to define I May Destroy You.

An earlier version of this recap mixed up a few characters' names and listed an incorrect episode title. It's been updated and republished.