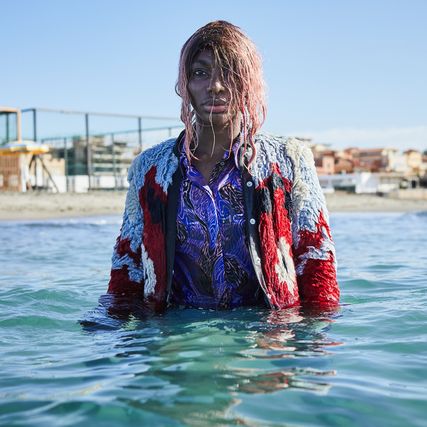 The episode "Line Spectrum Border" is yet another showcase of Michaela Coel's boundary-pushing writing, taking two of I May Destroy You's most in-turmoil characters and allowing them to make mistakes that affect others. This installment begins back in group therapy, where Arabella confidently responds to a woman's story about a man who is avoiding her because he believes everything has gone too far with the current call-out culture and Me Too movement. Arabella draws a connection between men taking advantage of victims' shamed silence over their harassment and assault and men expressing outrage over the cultural movement empowering women to speak up. Theo even hides a small smile as she watches Arabella progress from shy newcomer to motivational leader in her group.
When reunited with her best friends, Terry and Kwame, Arabella vapes, eats chips, and enjoys their company. She's back to being herself again. Since Kwame is still recovering from his sexual assault by a male partner, he tells them he's going to explore the other side of his sexuality and try dating a woman. His friends playfully tease him about that prospect. Arabella says she's not straight when she corrects Kwame's assumption that she and Terry are, but their fun is interrupted by a call from his next potential date. A second call breaks up the group's fun, this time sending Terry and Arabella on a trip to the police station for an update on Arabella's case.
It has been nine months since her world was upended by rape, and after an investigation of the details and the DNA samples, the caseworkers deliver the harsh news that they've reached a dead end. There wasn't enough of a DNA sample from the perpetrator to substantiate a match, and the DNA they did try to match ended up negative. The news returns Arabella to the station lobby in a quiet state of staring off into the middle distance while surrounded by garbage bags full of her belongings. Trying to get her friend back on the path of self-care, Terry suggests leaving and going to a happier place. Arabella then asks for a plane ticket to see Biagio in Italy, which Terry tries to argue against, only for Arabella to twist her reasoning and justify the spur-of-the-moment trip to reunite with him. Arabella hurriedly gets ready, putting on the wig Biagio last saw her in even though she has essentially stopped wearing it since she had her head shaved.
That night, Kwame awkwardly starts his date with Nilufer (Pearl Chanda). After a bumpy start, she smiles at him reassuringly and takes off the hat she wears when feeling self-conscious. Walking back to her place, she asks Kwame if he's into white girls. He says he's into everything and asks what she's into. "I'm into Black guys. Couldn't you tell?" she says, laughing. Kwame's eyebrows dart upward; he's taken aback by her frankness. "Well, yeah, that's me," he says, shrugging, with a hint of apprehension, but he follows her lead to come up to her flat.
In a taxicab in Italy, Arabella nervously looks at the crumpled bills in her hands. Since she's still short on funds, as we saw in the previous episode, this adventure isn't going to look like the all-expenses-paid trip to Italy she took with Terry last year. With no luggage or bag, she sprints to Biagio's place and rings his bell. There's no answer. She tries to call him but runs out of data. Undeterred, she sneaks into the building when someone enters and, using the spare key, lets herself into his apartment to wait for him.
Meanwhile, Nilufer begins kissing Kwame, who looks uncomfortable and awkward. When things escalate to sex, certain moments remind him of his traumatic experiences. As soon as it sounds as if she's finished, he lies on his side, shaken. Still maintaining a flirty air, she smokes a joint in bed and relaxes with Kwame, who eventually eases into conversation. The two bond over a rap song they know the lyrics to, but he stops when she substitutes the word ninja for the N-word. He laughs and says it's weird. She tries to defend herself, saying she wouldn't say it because she has Black friends — and out of precaution because she can't even ask for the British slang term for a cigarette without offending gay men. Kwame is puzzled by the hypocrisy and points it out, finally telling her he's gay. Angry that he lied to her, she kicks him out. Later, he's back on Grindr, ready to return to male company.
In Italy, Biagio comes home and startles Arabella, who tries to regain her composure and play the song they heard when they first made out. His shocked expression never quite goes away and instead curdles into anger. Yelling, he asks why she broke into his house. Arabella meekly responds that she wanted to apologize, but this is obviously not the way she planned their conversation would be. "You're crazy," he says over and over. She continues to explain herself and her plans: She ordered his favorite pizza, and she wanted to see him. His resistance seems to melt, and he apologizes. She tells him she's there as long as he wants her to be.
When Arabella runs downstairs to get the pizza, she comes back to find the door locked. She knocks, bangs, and yells, calling out that she left her passport inside, so she can't leave without it. Almost immediately, her passport slides back to her from under the door, a definitive rejection. Arabella snaps, yelling insults and kicking his door in retaliation. Finally, Biagio appears — with a gun in his hand. Arabella runs off without a word, sneaking onto the beach where they watched the sunrise on their first night together. Now she sits on the sand, alone and cold in the dark. She groggily awakens in the morning sun, stands up, and walks into the ocean as the episode ends, her pink head bobbing above the surface in the final moments.
In previous episodes, Arabella may have made some mistakes — the most egregious one being to lock Kwame into a triggering situation she didn't know about — but she made a seriously miscalculated, messy move by crash-landing on Biagio's doorstep. He has clearly kept his distance intentionally, choosing to ghost her and ignore her previous calls. Rather than taking his hint, however cool and callous it was, Arabella gives in to her obsessive impulses and forces her way back into his life for an in-person chat that goes terribly for her. Nobody's in the right in this situation. The same goes for Kwame keeping his sexual identity from his hookup, no matter how imprecise her policy on slurs may be. This show's exploration of complicated relationships is a journey that will leave no taboo or problematic subject untouched, and no party fully innocent.