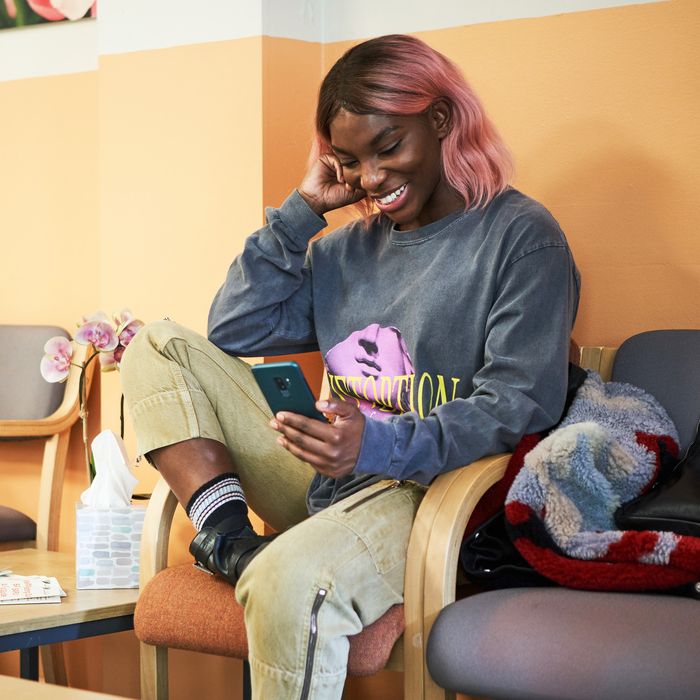 After Arabella (Michaela Coel) and Terry's (Weruche Opia) trip to Italy a few months back, I May Destroy You returns to the present day in London as Arabella meets with her new therapist. She wants Arabella to start talking about her sexual assault, but unfortunately, Arabella still struggles to find the words to recount her experience. She looks uncomfortable in the office, leaving her chatty personality outside. Instead, there are awkward pauses in between each question and an uncertainty about what to say next. Eventually, Arabella begins to open up about how she's coping, mentioning the flashbacks that continue to interrupt her thoughts and how she's struggling to focus on the next draft of her book. Her therapist suggests taking care of herself even under pressure, listing a number of soothing activities like coloring. Unable to immediately summon a friend who can join her in these activities, Arabella nervously tells her therapist, "I know what I'm going to do" with a reassuring smile. "I'll be okay. I'll be fine." Is that eager response more for her sake or the therapist's?
Her reluctance to talk will be reflected in her friend Kwame's (Paapa Essiedu) experience in the fourth episode of I May Destroy You, "That Was Fun." As with Terry's arc in episode three, the story flits between Arabella and one of her best friends as they navigate the modern dating scene. Kwame's story begins on a supermarket run where, in between helping an elderly relative shop, he hooks up with one of the cashiers at the back of the store. On Kwame's way out of the store, they don't even make eye contact, and the expression on his face almost seems a little let down.
But there's soon someone else who earns Kwame's attention. Damon (Fehinti Balogun) finds Kwame teaching one of his workout classes and joins him on a walk home. The two bond over cultural backgrounds and Kwame vents a bit about his dad visiting from Ghana. Damon is unsure if he's into guys, but Kwame sees his questioning as a good sign and convinces him to come along on his next hookup as a possible third if he's into it.
Arabella's self-care quest also takes her to Kwame's class, where even in the middle of a grueling workout, intrusive thoughts threaten to derail her focus. They'll intrude again and again in a bar, on the bus, and mid-kiss, throwing her off-balance. Sensing she may be struggling to finish the new draft, her agents set her up with a fellow writer, Zain (Karan Gill), to help her to completion. After the coffee shop where Arabella was working closes, the pair head to a bar, which triggers Arabella into becoming too afraid to even accept water from a waitress, much less focus on her book. She bolts out of there without telling Zain what she's been through.
This is also the first episode where Arabella mentions or sees her family, when she briefly stops by the family home to pick up coloring pencils. It's not explained, just presented as a matter of fact that Arabella's chosen family of Terry and Kwame will support her through this difficult time more than her family will.
Kwame soon meets a tall, handsome stranger, Malik (Samson Ajewole), on the Grindr-like hookup app he uses and brings along a hesitant Damon. After sharing a quick, timid kiss, Kwame and Damon are welcomed by Malik into his flat. Immediately, there's something off about the moment — the camera feels distant and it's too drably lit to make it seem remotely romantic, even as Kwame and Malik begin to have oral sex. When Malik asks to have sex without a condom, Kwame declines, saying he's not into that. Malik relents and puts on a condom, and the problem seems averted. Damon, still nervously watching from a corner, finally excuses himself and leaves, taking Kwame's hopes with him.
Later, as Kwame is getting ready to exit his half-hearted fling, Malik takes advantage of Damon's absence. He pushes Kwame back on his bed and, although Kwame clearly objects, proceeds against his wishes and rapes Kwame. The frankly shot scene unfurls without interruption, the camera now close to Kwame's face, capturing him shaking from the assault. Unlike Arabella's fragmented memories of her rape or Terry's discovery that the men she had sex with misled her, the deceit, the loss of control, and the assault all happen at once for Kwame. The man on top of him callously does not care what he's done, even though Kwame's pain is so vividly apparent on his face. Malik breathes heavily with satisfaction, flaunting his indiscretion. Finally, Kwame is able to bolt out of the bedroom and into the safety of the night air outside.
Back at Arabella's flat, Zain joins her and the two make a quick agreement to have sex to get over the tension between them. Again, the flashbacks threaten to interrupt her evening, but Arabella pushes back. She also asks her partner to put on a condom, which he does — until he slips it off when her back is to him. His betrayal isn't apparent until after they've finished, when she angrily confronts him and demands that he buy her the morning-after pill. He selfishly put his desires over her conditions, putting the onus on her to address whatever consequences may arise. Arabella buries her misgivings about the ordeal and reconciles with Zain, for now.
"This Was Fun" is a dual story of violated consent. Removing a condom after your partner has asked you to wear one is a flagrant violation of their trust and counts as sexual assault because it is against their will, exposes them to potential STDs or in some cases, a pregnancy risk. It's a violation that perhaps is not as obvious as those of the random guys who raped Arabella and Kwame, but it is one of those grey areas the show aims to expose. Both characters will have to grapple with what they've been through and how they will move forward. Unlike when Arabella reached out to her friends for support, when Kwame reaches out to her, he's unable to tell her what's happened, playing it off as just a friendly phone call. Hopefully, he's able to lean on Arabella as a friend just as she's been able to rely on him.