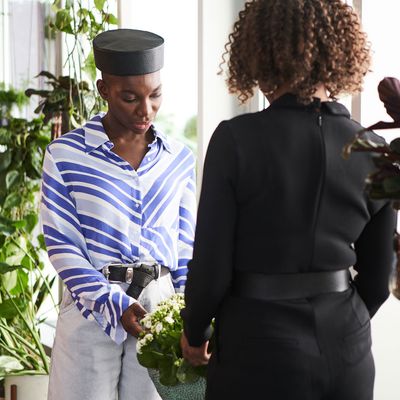 Spirits are high leading into the penultimate episode of I May Destroy You. "Would You Like to Know the Sex?" opens with a burst of energy, with Kwame leading his fitness class through a rigorous exercise. When he pauses the workout for a water break, Kwame goes back to check his phone, leaving a Grindr message left unreturned. Arabella goes back to her latest book, and Terry also checks her phone. She begins to break down in tears, and her friends rush to her side. Fortunately, the news is good: a new job! The trio embraces and celebrates her joy.
At Arabella's place, Kwame and Terry talk with Ben, who's busily repotting some herbs for his garden. Kwame asks if this new date is making him nice, which he doesn't see himself. Terry insists they're all nice, and sneaks back in to get Arabella, who was last seen obsessively reading her book on the toilet. Once outside, Arabella finishes her book and says she must meet its author, who's practically her doppelgänger on paper, with the same publisher and a sound-alike name. But she can't ask her publisher Susy for an introduction — that would prompt awkward questions about how her book is going. Instead, she tries making an earnest video asking to meet the author, Della, but then goes for a more daring approach, filming herself as if she couldn't put the book down even for a bathroom break. She sends the video and contact information to Della's messages, but sadly they're left unread, and then Della blocks her altogether.
This sends Arabella to Susy's plant-lined office, where as Arabella feared, she asks about the book's progress. She asks to meet Della for advice, and Susy denies her, curtly ending the visit. When Arabella stops by her agents, she finds out that Susy has dropped her and is asking to be repaid the advance Arabella has already spent, which prompts her agents to also dump her. Arabella retreats to Terry's side at a café, where Terry slips her cute waiter her number. Della finally responds and offers to meet Arabella, breaking her crying spell, and as Terry dashes off to an impromptu date with their waiter, Arabella stays at the café waiting to meet her literary hero.
Kwame meets Nilufer again for a daytime chat to try and smooth things over. He apologizes profusely, but her anger remains, and she even goes so far to call him a criminal for deceiving her. After a short time, she angrily declares him canceled and storms off. Over on Terry's date, things seem to be going pretty well until their server gushes over her date, as if he were famous. She excuses herself for the bathroom and looks up her date, Kai (Tyler Luke Cunningham), on her phone and finds out that he's a trans musician. She returns to the table tense, and Kai offers to get the bill since she seems uncomfortable. Terry says that she's okay, and the pair keep talking. He's upfront about the fact that he's trans just as Terry's food arrives. She says, "If I leave, people will think I'm transphobic." Kai asks, "And you're not transphobic?" She stays, insisting she's not, and cuts into her meal. He teases her that she's a prude. "I'm not a prude," Terry says with a smile. "I've had a threesome." They talk about the experience more, and Kai senses something's off. He figures out that the two men Terry hooked up with might have not been strangers she met at a club, but two men who had plans to deceive someone for sex. She looks hurt and goes quiet, and Kai acknowledges her pain.
Still at the café waiting on Della, Arabella sees Zain and he catches up with her. She lies, saying she's living her best life. She grimaces, trying to avoid his look, but he stays and then it dawns on her: He's Della. He explains that Susy picked the name so she could still publish his book and that he was supposed to help her the first time and didn't, so when Arabella sent him the video asking for help, he decided to try to make things right.
Zain gets to work laying out what Arabella needs to do to finish her story. Arabella invites him back to her place — not like last time when they hooked up, but to work. She begins laying out cards for her story and handing them to him to tack up on her wall. Her work is finally taking shape. Some time later, the note cards fill her wall, as new ones start to join them. There's another noticeable difference in her work, too. "I thought you were writing about consent," Zain comments, to which Arabella answers, "So did I." He admits he doesn't understand it, but she thanks him anyway. On his way out, she asks him to throw out the trash she hasn't been able to take out herself. She thanks him again, this time as Della.
Now alone with her work, Arabella begins to rearrange the cards on the walls, bringing up flashes of past memories in Italy and as recent as Halloween. The work continues into the daylight hours and for many days later, as the scene becomes a montage of Arabella furiously working, staring intently at her walls of cards and eating bowls of cereal. She emerges from her room ready for another bar watch and invites her roommate to come with her. He declines, staying instead with his garden and watching a video on loneliness.
Kwame is enjoying a happier time with kindhearted date Tyrone (Gershwyn Eustache Jr.) at a museum exhibit. Even Nilufer's angry text messages can't bother him as they both look at large photographs of Black men kissing and holding onto each other. There's two parallel stories of forgiveness in this episode, Kwame and Arabella's, each following different trajectories. Kwame tries to apologize to the woman he lied to, but she rejects it and remains angry. Zain comes back into Arabella's life in an unusual way and tries to make amends for what he did. She accepts, and the result is a renewed creative life for her. The series doesn't judge Nilufer's anger, but it follows Arabella's growth as it offers the most possibility for change.
Back at Ego Death, Arabella watches everyone intensely. Just after a smiling Terry joins her friend after her successful date, Arabella recognizes a face in the crowd next to her rapist. She flashes back through the memories she thought had been lost, all the details of that terrible night she couldn't remember. Arabella stares directly at the screen as she's looking through the bar window at the two men responsible for her sexual assault. Then the episode cuts to black. Arabella may be learning to forgive, but how will that play out now that she's found her raper?