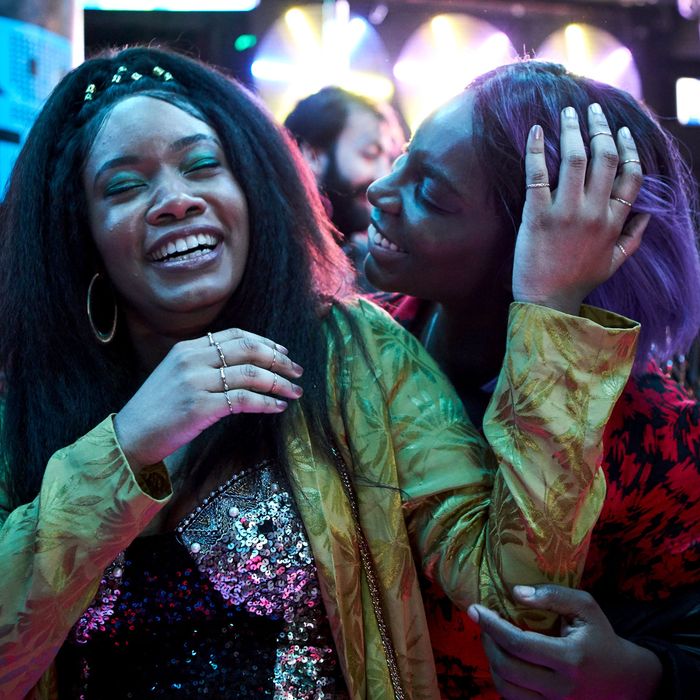 "We had to have a big conversation about what Arabella would listen to."
Photo: HBO
Even without its own score, Michaela Coel's groundbreaking show I May Destroy You incorporates a stunning lineup of songs to puncture tense moments and accentuate the emotional highs and lows of its fraught story. Some tracks reflect certain characters or places, others set the mood for the scene. Some standout numbers even make repeated appearances the way a traditional score would, recurring along with the character's development. Although the music seems so organic to the series, when music supervisors Ciara Elwis and Matt Biffa joined I May Destroy You, the show was already halfway through production. Coel already had a few songs in mind for certain scenes and moments when a producer approached Elwis's agency, Air-Edel, to collaborate.
"At that point we met Michaela, and obviously, we had to have a big conversation with her about the visuals she intended for the show, what sort of music she wanted in the series, what she [Arabella] would listen to, and what sorts of things she'd be interested in hearing more of," Elwis tells Vulture. "And obviously that conversation must have gone quite well because we ended up getting to work on it."
With more than 150 musical cues in the show, both from Coel's original ideas and Elwis and Biffa's playlists, the show's songs span gospel, women-led R&B, and new British hip-hop artists. Ahead of the U.S. broadcast of the finale, Elwis took Vulture on an audio tour through some of the series's unforgettable needle drops.
Tierra Whack, "Only Child" (Episode 1), "Pretty Ugly" (Episode 2), and "Gloria" (Episode 12)
One of the show's first musical cues, Tierra Whack's "Only Child," comes in just as Arabella is leaving Biagio to go back to London to work on her novel. The easygoing, head-bopping number sets the tone for the character. Whack was one of the first artists that came up in early conversations, so Elwis and Biffa pitched many of the Philly rapper/singer's songs for the series.
"[Whack] has quite a fun energy to her, but is also quite soulful, and she feels like Arabella," Elwis says. "She's haunted but also full of life. So, I think she ended up totally syncing, especially with that beginning scene where we see Arabella before anything's even happened to her. It really helped to emphasize that this is the sort of music Arabella would listen to because she's not got a care and she's enjoying her holiday, and this is a strong female artist that she would want to listen to."
The series bookends itself with another Whack track, "Gloria," in the final episode. "I think it's clever the series is also finished with another Tierra Whack song. It gives a feeling that she's been on a journey, and she's come back to who she is," Elwis says.
Ghali, "Cara Italia" (Episode 3)
In order to whisk viewers off to Italy, episode three opens with Arabella sitting in an Italian café while an Italian rap song plays in the background as she waits for Terry to arrive. "We thought it might be a good idea to use some Italian hip-hop to make it feel a bit more reflective of where we were. It's a bit of a funny thing to go from the U.K. and that type of music to then having a whole episode in a different language," Elwis says.
"It made the club scene feel a lot more realistic because it's really hard to do club scenes in general, to make it feel like a club without it feeling like it's just three tracks put together. So we went out and spoke to a whole load of rights-holders that we know who have Italian hip-hop and then they came back with a huge amount of stuff."
Blanco, "Pull Up" (Episode 4)
When Blanco's "Pull Up" makes its appearance in episode four, Arabella is fighting back traumatic flashbacks of her assault while sitting on a bus ride back from a visit to her childhood home. She reminds herself that there are people suffering worse than she is, desperately trying to keep the intrusive memories at bay while this sweet-sounding hip-hop song plays. It was a subtle way to introduce some of the best new artists within that U.K. scene to a wider audience.
"'Pull Up' was one we had in our original list that we sent over to Michaela," says Elwis. "One of the initial conversations we had was about trying to use a lot of new British music, because obviously that is a good way to accent the characters we've got in the series, in terms of everyone wanting to be modern and up-to-date, but also because it's a great opportunity to show some great British talent as well."
Janelle Monáe ft. Grimes, "Pynk" (Episode 5)
After outing Zain at a literary event for assaulting her, Arabella has a tearful argument with Biagio, who blames her for her own sexual assault. Upset by their fight, Arabella retreats to social media, where fans praise her brave move to publicly accuse him.
"It's such a beautiful moment, we almost didn't manage to clear the song," says Elwis. "I think we had another song picked for that moment because it's got an Aerosmith sample in it [Editor's note: "Pynk" interpolates "Pink"], and at the time we were trying to clear it, we just couldn't hear back from Aerosmith."
It was a happy accident that the creative team realized "Pynk" would be a perfect match for the emotions in that moment. "I think Christian [Sandino-Taylor] was the editor on that one; he put that one in straight away … When we realized we might not be able to have it, it was just a nightmare to replace it with anything else because it was just so perfect for that moment," Elwis says. "I feel like it's got a feminine strength to it. She's a perseverer. She's like, No, I'm going to overcome this; I don't need a guy."
Kristine Blond and Club Asylum, "Love Shy — Club Asylum Remix" (Episode 6)
Transporting the series to Arabella and Terry's schoolyard days gave Elwis an unexpected challenge. Although the team sourced together a number of tracks — Coel contributed music she listened to growing up — many of the options weren't legally cleared to use.
"A lot of that stuff is actually bootlegs, which was really difficult, so we did have a lot of different music in that episode, because a lot of the early garage stuff [like this song] is … yeah, not actually, really legit," says Elwis. "Songs you've listened to so much growing up [you then come to] realize don't actually check all the boxes legally, so then you can't have them. We had four or five different options for one scene because everything seemed hazardous to use."
Young T & Bugsey, "Strike a Pose" (Episode 7)
Creating the ultimate party playlist for Terry's birthday was also tricky because Elwis and Biffa wanted to avoid making the scene sound "contrived." But two songs stood out to Elwis that made sense.
"With 'Strike a Pose,' it's funny, because Young T & Bugsey are obviously doing quite well now, but at the time we were like, 'I'm not really sure who these guys are, but this works so well,'" says Elwis. "[Another that comes to mind] is 'Take It There,' which isn't even out yet. I've had so many people sliding into my DMs on Instagram asking about that and harping me on Twitter asking me about that song, but Shakka hasn't even released it yet, so we have to clear it with the director of his management. But I really hope he releases it soon because people seem to love it."
Kojey Radical, "Eleven" (Episode 8)
In episode eight, Kwame decides to try dating a young woman after a Grinder date ends in assault. After an awkward hookup, the date devolves into a heated argument over the use of slurs as Kojey Radical's "Eleven" plays in the background.
"One of the things the show does very well is addressing really heavy topics in a context that makes it feel more accessible," says Elwis. "That scene was actually the first thing that we worked on. When we had the first conversation, the first thing we did was work on finding a song that would be right for that moment, because they have a conversation about the N-word. I think Michaela has worked with Kojey [Radical] quite a few times before. I can't actually remember which of us ended up suggesting that one, but that was the first track that we worked on for the series."
Grimes, "Oblivion" (Episode 9)
Like "Pynk," the addition of Grimes's light and airy pop song "Oblivion" came out of the group's collaborative process. The song complements the scene where Arabella is reading the emotional responses to her inspirational social-media posts; its futuristic sounds and delicate vocals heighten the emotional act of Arabella's vulnerability online.
Elwis credits the episode's editor. "When we sat in the first preview with that, everyone was just like, 'Oh my gosh, that is absolutely perfect.' I mean, obviously there's Grimes in 'Pynk,' and in many ways she is a good choice for the series, but that particular song works so well especially for the way it functions in [episode] nine. All the episodes in some ways have their own individual thing, and nine is that beautiful Halloween episode. It's also quite dark and mysterious, and about social media. It's almost like Black Mirror–esque."
The Comet Is Coming, "The Universe Wakes Up" (Episode 10)
Leaving almost no transitional moment without musical accompaniment, a number of songs used throughout the series act like bridges between scenes, like the Comet Is Coming's "The Universe Wakes Up" in episode ten. "We knew that we wanted to have a very British feel to it. I had heard the Comet Is Coming at Glastonbury last year, and had been very keen to use them in something because I think they're absolutely genius," says Elwis. "It's this new jazz coming out of southeast London, and it felt like a good fit, especially since the show doesn't have any score. It's actually useful to have instrumental stuff that feels upbeat and current."
The Blackbyrds, "Street Games" (Episode 11)
A handful of songs, like the gospel number "It's Gonna Rain" from Rev. Milton Brunson Thompson Community Singers and Daft Punk's "Something About You," make more than one appearance throughout the series. The Blackbyrds' "Street Games" is another recurrence. Similar to Biagio's attachment to the Daft Punk song, "Street Games" accompanies Arabella's publisher, Susy Henny, like a theme song.
"It's this upbeat, jaunty thing. You know what you're going to get when she goes to Susy's," says Elwis. "It's almost like the musical version of the 'Wah-wah-wah.' Susy as a character is just hilarious; the actress who plays her [Franc Ashman] is an absolute genius."
Janelle Monáe, "BaBopByeYa" (Episode 12)
Monáe also makes another appearance later in the series with a different track, and as with "Pynk" before it, the team wasn't sure they would be able to get her music legally cleared, so they had to prepare for a backup plan. "After [episode] nine went in, we started looking at all the Janelle Monáe tracks, and because she has that fantastical feel to her music, I think it just worked as one of the sort of eventualities really nicely." Coel was the one who chose "BaBopByeYa" and "found tracks that would work around it" as well, Elwis says. "I think the way the whole last episode works is really great because you have a very different musical feel for the three different sections."