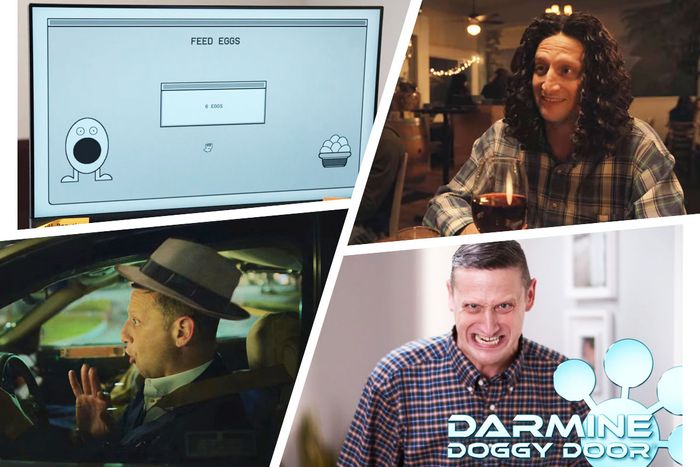 Photo-Illustration: Vulture. Photos: Netflix
Rising like a phoenix from the prestige ashes of Succession, Barry, and Ted Lasso, I Think You Should Leave couldn't have come back at a better time. Tim Robinson and Zach Kanin's hysterical sketch series entered the cultural lexicon like a hot-dog car crashing into a menswear store. Season three of the much-memed Netflix series absolutely lives up to the cult-classic fervor, already inspiring an indie game based on one eggcellent sketch.
Favorite players including Sam Richardson, Patti Harrison, Will Forte, and Biff Wiff (whose fans are currently crowdfunding for his cancer treatment) return, and ITYSL newcomers such as Ayo Edebiri, Jason Schwartzman, and Tim Meadows beautifully add to the cosmic gumbo. It just made sense to give and rank all the new sketches so every absurd new moment got its due.
26. "Gelutol"
While ITYSL delights in having sketches careen into wildly different directions, "Gelutol" is an untethered mix of multiple ideas that never fully gel. At a St. Patrick's Day party, a man going bald self-consciously looks at himself in the mirror. Robinson reassures him by recommending Gelutol, a hair-loss medication that restored his full head of hair in just five weeks. When another balding partygoer appears, Robinson shuts his pitch down, claiming they were talking about sex, or fingering, or getting killed to prevent helping his apparent enemy. Even though Robinson's rage will always be funny, the stop-start structure of "Gelutol," cutting between commercial and chaos, doesn't work as well as similar ITYSL sketches, so you can pinch this one and move on.
25. "Friend Tier"
Saturday Night Live alum Beck Bennett guest stars in "Friend Tier," a co-workers' lunch that takes a turn when his character Stuart starts bragging about his friend group that's 200 guys strong. The catch? He's paying for it in a convoluted system where Stuart's tier doesn't allow him to have more than three parties a week, or a decent meal at the risk of becoming "a lot more annoying." Robinson, playing the orchestrator of the scheme, confronts Stuart and tries to intimidate his co-workers into ratting him out and/or paying for the same 200 friends. Like the scheme, "Friend Tier" isn't strong enough to last, but it's amusing enough to try.
24. "Street Sets"
Fred Armisen guest stars as a father hoping to scare his children into behaving through a guerilla video of him beating up a random child. As the scene unfolds on the family flatscreen, it becomes increasingly clear that Armisen staged the whole thing with a comically elderly stunt double at a faux street set. Sketches that rely on continuous throws to a pre-taped element can be a gamble, and "Street Sets" doesn't quite pull it off. Still, it has all the yelling crescendos you need to be scared straight. Those kids will never mess with dad's kitchen marble island again.
23. "Dirty Songs"
At a 40th birthday party, Robinson surprises the man of honor not with coke, but with a dirty old man singing blue songs. Alberto Isaac charms as Don Bondarley, "king of the dirty songs," even when he's crooning, "Oh, old Bart Dogfuck had a dong a mile long." However, poor Bondarley continually forgets the rest of the words to his bestiality-laden limericks, leaving the birthday party stunned in awkward silence. It's all capped off with an unbelievable blowline: "Now comes the time of night where I face the wall and give you guys a chance to jack off." The cringe is strong in this one.
22. "Team Building Workshop"
If there's one thing Robinson is gonna do, it's take a joke too far. "Team Building Workshop" descends into chaos after a facilitator jokingly suggests to Robinson's Stan and his co-worker Rick that they're mortal enemies. Stan relishes in the hypothetical, speculating that Rick ruined his dream orgy. He grunts at his nemesis and pretends to splash water on him over and over until Rick can't take it anymore. Enter their co-worker Alex, who somehow throws the biggest tantrum of all and drenches Stan for real. While the show has stronger roasts of corporate culture, "Team Building Workshop" manages to flush it all the same.
21. "Randall"
Robinson's characters are often full of shit or used to be a piece of shit. Randall appears to be the same way when we first meet him at a dry accounting meeting, suggesting that a thunderous rumble could be the sound of a volcano in suburban Detroit. One co-worker quips, "I wish I could be in this guy's brain," sentencing the meeting to how Randall sees the world. A red pen is a little knife. A yellow highlighter is a pimp walking around. A food cart is a body bag. The best part is the ending: When that co-worker holds Randall's hand, she finally sees all his bizarre visions come to life. Thank goodness Randall and Robinson both see "the world wildly and in wild ways."
20. "Kids"
Jason Schwartzman guest stars as a dad at a house party who jokingly asks his peers to stop him from talking about his kids too much. Robinson takes it to the extreme, violently threatening Schwartzman whenever he mentions them. Better yet, Robinson resorts to absurd dog tricks to draw the room's attention away from kid talk, from dancing to pretending an innocent doggo is giving him a blowjob. For all the chaos, Schwartzman becomes the life of the party when he learns to embrace who he is beyond fatherhood. At six and a half minutes, "Kids" is a long walk that could've benefitted from some paring down. It's the ultimate irony: ITYSL spent too much time talking about "Kids."
19. "Sidewalk"
It's hard to beat Will Forte's season-one guest appearance as "The Man," an old creep who stalks Robinson on an international flight, but his screaming ponytailed persona at least scratches the itch. We reunite with Forte while he's pinned under an SUV, yelling for increasingly demanding help. Passersby are not to cut off his ponytail that goes down past his butthole, but instead must text back his friend at a restaurant and Google a photo of diarrhea so he can get on with his day. While it's a very disjointed scene, even for an ITYSL sketch, Forte is the standout force keeping it all together.
18. "Pic Party"
Tim Meadows beautifully eviscerates those corny wedding-reception photo booths in his ITYSL debut. Guest starring as a father of the bride on his last nerve, Meadows reluctantly joins his daughter and other guests for a group photo, only for the photographer to insist they take a silly one. Meadows panics when everyone descends on the props table, deciding at the last second to deep throat a purple feather. He pukes before raging "Three seconds to think of something silly? That's fucking insane! That's not enough time!" It's a delight to see Meadows go ballistic over the most mundane thing, and bringing up inane details about Barney and board games just adds to the comedy.
17. "Metal Motto Search"
Sam Richardson takes up hosting duties again in "Metal Motto Search," a bizarre puzzle game show. Heavily influenced by '80s cartoons, Richardson's Danny Green (not the b-b-b-b-b-basketball star) hypes up the Metaloid Maniac as an intergalactic warrior that will zip around the wall HE BUILT. After very convoluted instructions, the contestants send the Metaloid Maniac off to his wall, only for our metallic star to awkwardly and slowly fail to scale the board. The set and costume designers are the real heroes of "Metal Motto Search," ambitiously setting the silver stage for the sketch so the Maniac's literal downfall is even more satisfying.
16. "Conflict Resolution"
Alison Martin is the finest character actor to grace ITYSL since "Focus Group" favorite Ruben Rabasa. Here, she plays a woman in an HR class asked to comment on a video of what's right and wrong in the workplace. She jokingly replies to a hypothetical with "Back away, banana breath! What the hell did you just eat, a banana?", which earns her co-workers' laughter. Martin's gleeful pride is infectious as she continues to laugh at herself, replay her one-liner in a daydream set to '80s-inspired music, and suggest everyone should get T-shirts with her joke on it. Unlike Martin's pitch for class shirts, "Conflict Resolution" is a success, proving the most delusional characters can be the most delightful.
15. "Sitcom Taping"
ITYSL has a knack for perverting the ordinary. In "Sitcom Taping," Robinson's character uses his newfound knowledge of live studio audience mics to call out a string of companies who've scammed him. Rather than laughing along with Al's Coffee Shop, he details a watch exploding on a date and a creepy limo hiding other guys in the back. It's a joy to see strangers sympathize with Robinson's absurd characters, but the ending montage of all the scams — especially the exploding watch springs flying into his date's face and soup — really elevates Al's Coffee Shop to greatness.
14. "Surprise Party"
Patti Harrison has established herself as the MVP of ITYSL. Every sketch she touches is a highlight, from the wine-obsessed mogul in "The Capital Room" to the cautionary TAYBULLS tale in "Driver's Ed." She gradually reveals herself as the antagonist in "Surprise Party," vandalizing a cardboard cutout of her boss at his office birthday party by dousing it with vodka shots, shining a laser pointer in its eyes, and drenching its face with cleaning fluid. Once Harrison secures a bag of dog poo from outside, her boss preemptively eats shit (metaphorically) and apologizes for being harsh about her obsessive desire to keep rats at the office. Let Harrison be a rat mom, cowards!
13. "VR Shopping Spree"
In true ITYSL fashion, what begins as an inane game-show premise turns into something far more hellish. Guest star Ayo Edebiri is the charming host of Supermarket Swap: VR, warmly instructing Robinson's Mr. Mitchell how to play the VR Shopping Spree round. Mr. Mitchell takes shop-til-you-drop to a whole new level, completely forgetting how to breathe or tell reality and the virtual world apart in an absurd echo of David Cronenberg's eXistenZ. Robinson's physicality wonderfully sells his existential crisis, contorting his face into an unnerving smile, flailing his limbs, and hysterically screaming into the void. Cronenberg, eat your heart out.
12. "Dog Hair"
It's hard to picture a more satisfyingly horrendous wig on TV than the one Robinson wears in this sketch. It's terrible — '80s romance-paperback hunk terrible. As his character's restaurant date continues, he overhears a bunch of jabronis making fun of his overly-coiffed brunette hair. A flashback to Robinson's date prep uncovers the tragic origins of his "dog hair": a tabloid photo of Bryan Cranston he took to the barber, only for his barber to reference a dog on the next page. As if that payoff wasn't enough, the kicker is a canine-haired Robinson revealing this was all a bid to get two girlfriends.
11. "Barley Tonight"
ITYSL's season opener skewers Washington TV pundits, but not in the way you'd think. Robinson bursts onscreen as Barch Barley, an aggressive debate-show host with an unbeatable debate strategy: When he's losing on air, he'll shrink down into his phone. It's immensely satisfying to see Barley repeatedly slump into his armchair like a defeated child between obsessive declarations of all the cool things he obviously has on his phone, obviously. "Barley Tonight" is a sharp way to set the table for what we've come to love Robinson for: detailing the mundane with manic energy.
10. "Children's Choir"
You'll want to be shirt brothers with Biff Wiff after watching "Children's Choir," a sketch about a fourth-grade concert that ends in riotous glory. Wiff played an over-the-top Santa playing the over-the-top "Detective Crashmore" in ITYSL season two, which turned him into a fan-favorite guest star. Here, he plays a grandfather who sees Robinson wearing the same blue-and-white patterned polo as him at their (grand)daughter's school, declaring them to be shirt brothers. Wiff calls on Robinson's help after he completely trashes a classroom mid-concert because of, as Wiff explains, a pop-punk earworm called "No Rules." With music by Turnstile, "Children's Choir" is bound to make "shirt brother" catch on like a punk hook.
9. "ABX Heart Monitor"
"ABX Heart Monitor" ascends to one of ITYSL's funniest commercials by going well off the rails. Following a heart attack on the dancefloor at Club Aqua, Robinson's doctor installs a life-saving medical device that will alert him whenever Robinson's heart rate spikes. Played to chaotic perfection by Tim Heidecker, the doctor longs to go clubbing with Robinson, intrusively texting him whenever Robinson is partying without him. Despite Robinson's pretending he's just jacking off, Heidecker eventually catches up with his patient at Club Haunted House. With enough escalating club madness to rival Stefon, "ABX Heart Monitor" is Robinson and Heidecker's best team-up yet.
8. "Pay It Forward"
At a drive-through window, Robinson tells a fast-food worker he'll pay for the next driver's meal in the hopes of starting a pay-it-forward chain. He aggressively drives back around, cutting a woman off to place an obscene order. Robinson's rhythmic "55 BURGERS, 55 FRIES, 55 TACOS, 55 PIES, 55 COKES …" is brilliant, delivered with such force that he ends up drooling at the mouth. As a driver confronts Robinson over his scheme, the woman from earlier overhears their turmoil and reverses her car to place the very same supersized order. Driving stunts impressively add to the chaos with good steering wheels that don't fly off while they're driving, making "Pay It Forward" a memorable ride.
7. "Pacific Proposal Park"
Sam Richardson is an essential player in ITYSL, carrying some of the show's strongest sketches including "Baby of the Year." He guest stars as the pitchman for Pacific Proposal Park, complete with spongy soil specially designed for proposing knees. But wait, there's more! Wrestlers from Toilet Truck to Baby Duff suddenly overtake the park, unable to resist the perfect cushioned terrain for their brawls. Considering Robinson's previous wrestling sketch in The Characters only teased matches with sound effects and cutaways, it's huge fun seeing fighters actually body each other over benches and through toilet seats in ITYSL Mania III. From comedy to the ring, sheer physicality brings the show to the next level.
6. "Eggman Game"
From "Santa brought it early" to "You can't skip lunch," ITYSL will never stop skewering office culture. Feed Eggs is a lo-fi, bug-laden desktop game Robinson's Marcus obsesses over, to the detriment of his co-workers. As they confront him in his office, Marcus is singularly fixated on winning the game by feeding as many eggs as he can to, uh, a larger egg? Just as the titular egg gives Marcus a NSFW happy ending — complete with presenting its bush, rear, and egghole — Marcus gives us a satisfying kicker: "You should be able to look at a little porn at work."
5. "Tasty Time Vids"
Conner O'Malley is a frequent guest star on ITYSL, giving outrageous performances as a horny driver, sleazy music producer, and irate dog owner. Thanks to him, "Tasty Time Vids" is tremendously weird, one of the best sketches of the season and O'Malley's wildest performance on the show to date. Playing campaign-office co-workers, O'Malley's Draven shrieks at Robinson's David for not following him on Instagram. Draven makes David follow him and repeatedly texts David in the middle of the night demanding he watch Tasty Time Vids. It's pitch-perfect satire of the creator economy, the most warped endpoint of the pressure to be popular online. You're doing something right when you can make Robinson look normal.
4. "Summer Loving" & "Summer Loving: Farewell"
Given Perfect Match features a Robinson-worthy character, it was only a matter of time before ITYSL came for the endless deluge of dating shows. In "Summer Loving," one woman must find true love in a pile of buff boys, making the not-so-tough call to eliminate Robinson's Ronnie due to overwhelming evidence he's only in it for the zip line. Cut to a *chef's kiss* montage of Ronnie making jump after jump into the pool as the rest of the contestants look on. ITYSL later treats us to another zip-lining montage complete with a butt-rock guitar solo, a delightfully corny ribbon on the whole affair. Awwww!
3. "Jellybean"
"Jellybean" is a masterclass in the Tim Robinson School of Losing Your Shit. Robinson plays silent performer Richard Brecky, whose latest revue, Jellybean, is billed as 73 heartwarming stories that delight the imagination. However, nobody can tell what the hell he's doing. Brecky declares, "If I talk, you get money, but I never talk," only to be proven wrong again and again to hilarious effect. Robinson's trademark cadence is on full display, punctuating lines such as "LEAVE! ME! ALLLLONE!" like the unholy lovechild of William Shatner and a drill sergeant. Every single moment of Brecky muttering under his breath and full-on turbo time outbursts is comedic gold.
2. "The Driving Crooner"
"The Driving Crooner" easily cruises into the "Calico Cut" pantheon of great ITYSL sketches. It all begins with a classic Robinson misdirect: a co-worker's DUI that inspires our hero to volunteer as a designated driver for his colleagues. Little do they know he's the Driving Crooner, a maniac at the wheel behind window decals of an old fedora and cigar. Robinson's exaggerated puffs and jaunty waving are matched only by his road rage when he insists passing cars are trying to make him look fake. The Driving Crooner may not make any money, but with expert camerawork, it makes a hell of a bit.
1. "Darmine Doggy Door"
What the fuck?! What the fuck?! "Darmine Doggy Door" is season three's phenomenal answer to "Has this ever happened to you?" and Corncob TV, an ad turned utter descent into madness. Robinson's increasingly erratic delivery lends itself well to commercials, this time peddling doggy doors with a hard cut to a squealing inhuman creature that burst into his home. Further down the spiral of non sequiturs, we learn it was a sleep-deprived hallucination of a pig in a Richard Nixon mask, because why not? Every nth detour ITYSL makes from the original premise takes sketch comedy to absurd new heights. There are monsters on the world, and they're all Tim Robinson characters.